(We seldom hear about the lives of pioneer women so I was truly excited when I found this autobiography of Margaret Eades. She was the wife of Jeremiah Austill of the Legendary Canoe Fight. She, like her husband was an early pioneer of Alabama. In this autobiography we hear her own words as she describes her experiences when her family moved to Clarke County, Alabama. This autobiography was published in The Alabama Historical Quarterly in 1944)
LIFE OF MARGARET ERVIN AUSTILL
My father, John Eades,was a native of Georgia, my mother, Jenny Fee, was born in Ireland, in the County Atmah. Father and Mother first met in Augusta, Georgia, where they were married in 1802. They then left Augusta and bought a farm in Washington County on the… where they lived happily and made money rapidly.
I was afraid to go near the big bag
Father had a saw mill and cotton gin, about the first one that was put up in the County. I well remember the mode of packing cotton in that early day. A round bag was fixed in a round hole in the floor of the gin house, which hung down some ten feet. A big negro man jumped in with an iron crowbar, two hands threw in the cotton, and the packer did the work by jambing it hard with an awful grunt every lick. I was dreadfully afraid to go near the big bag with the negro inside shaking it.
Oh, it was a sad day when Father determined to move to Louisiana, but so it was, that on a bright morning in the spring of 1811, the wagons were loaded and three families were assembled at my Father's house. My Uncle, Daniel Eades, his wife and one daughter, Mr. Billy Locklin and wife, and about one hundred slaves, men, women and children, and with much weeping at parting from dear old friends, the drivers cracked their whips and off we rolled, much to my delight. But my sister, five years older than myself, was weeping bitterly. I was all talk, she said to me "Do hush, you too will rue the day." Childlike, I reveled in a bustle and change.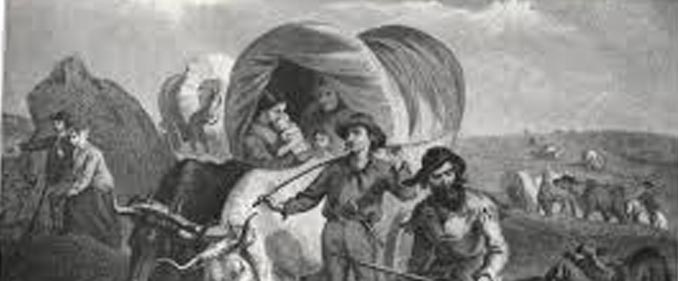 We spent the first night at Sweetwater Iron Works
Well, the first night we camped at Sweetwater Iron Works, where Father's sister, Mrs. Jenkins, came to bid us good-bye. She was a jolly old soul,—was Aunt Priscilla. She spent the night with us in camp, after breakfast next morning she drew put a flask of rye rum from her pocket, saying "John and Daniel, I drink to all, good luck attend you, but the next thing I hear will be that you all have been scalped by the savages, so be on your guard, for war will surely come, and that soon. Farewell, may the Lord guide you through the wilderness."
Our party traveled on through the Cherokee Nation without the least trouble. The Indians were kind and friendly, but as soon as we entered the Creek or Muskogee Nation, we could see the terrible hatred to the white, but as we advanced, we were joined by many movers, which gave us more security.
At night the wagons were all fixed round the encampment, the women and children and negroes in the center, the men keeping guard with guns, so we made a formidable appearance of defense.
A most terrific earthquake took place
One night after a fearful day, the Indians had followed us for miles, we camped in an old field. Just as supper was announced, a most terrific earthquake took place, the horses all broke loose, the wagon chains jingled, and every face was pale with fear and horror. The Indians came in numbers around us looking frightened, and grunting out their prayers. The trees lapped together, and Oh, the night was spent in terror by all, but next day some of the Indians came to us, and said it was Tecumseh stamped his foot for war.
Tecumseh, (March 1768-October 5, 1813)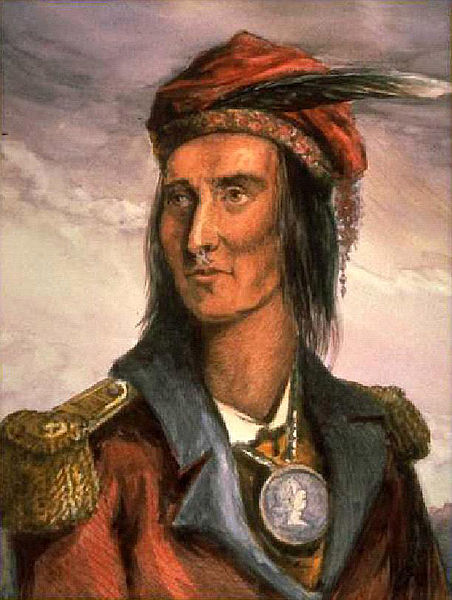 Then the rain set in, not a day without rain until we crossed the Alabama, there were no roads, and mud and water large creeks to cross with slender bridges made by the Indians, which they demanded toll at a high price for every soul that crossed a bridge, and often rather than pay, the men would make their negroes cut trees and make a bridge, which gave the Indians great anger, and they would threaten us with death.
He used Grandfather's long sword to threaten the Indians.
No doubt we would have been killed had it not been for Uncle Daniel Eades, who had been stolen from the Fort in Georgia by the very people that threatened us. He was a little boy, only a year old when the Indians took him from the nurses and carried him to the Nation, and gave him as a present to their big Medicine Man, who raised him and taught him his craft in roots and herbs. He would talk to them and defy them, he would go to his wagon and draw out Grandfather's long sword that he wore in the Revolution, brandish the sword, and speak to them in their own language, telling them they were fools, that they were nothing, and could never whip the whites, but that their Nation would be destroyed. They would listen to him, and raised their blankets around their shoulders and move off, doggedly shaking their heads.
Well, finally we crossed the Alabama River at Bale's Ferry, we then were in Clarke County, bound for Louisiana, expecting to cross the Tombigbee next day at Carney's Ferry. That night we camped at this place, some of the neighbors came to see us, Mr. Joel Carney, Mr. Henry B. Slade, Mr. George S. Gullet, and every one begged Father and all the travelers with him to stop here until they could recruit their teams that were completely broken down. They said we could never get through the swamp on the other side of Bigbee, and after a consultation, all consented to remain until they could make corn to fatten their teams.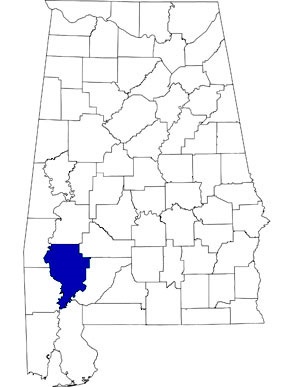 Father bought this place with a log cabin on it
Father bought this place, which was only a claim with a small log cabin on it. Daniel Eades rented the Sun Flower Bend, Billy Locklin built a cabin on Salt Creek, and put up a saw and grist mill on the creek in a very short time, the first saw mill that was built in Clarke County. So Father put some hands to cutting cane and planted corn. He had brought a whip saw with him, he put up large logs of pine on a scaffold, and with two negroes, one on top and one at the bottom. They sawed planks for flooring, for every family then lived in cabins on ground floors.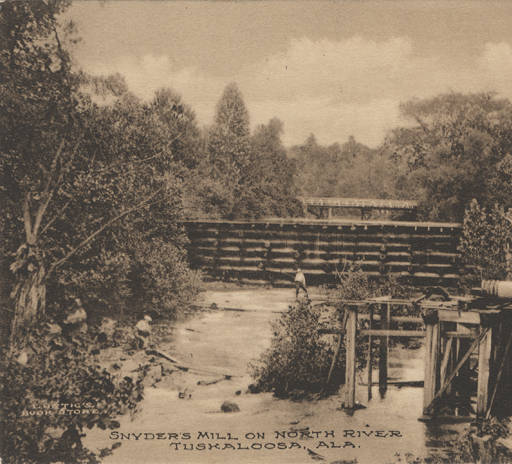 Snyder's Mill on North River, Tuskaloosa, Ala  – example of an old mill unknown age (Alabama Department of Archives and History)
Father kept on building and making us comfortable, but when the corn was gathered, Uncle Daniel Eacles said, "Well, John, it is time to be off, let us hurry up and be gone, the waters are low, the roads good, the teams fat, and all well. This is no country for us, let us travel." Father said, "Daniel, I am getting fixed up here, the water is splendid, the land good enough, and you have made a fine crop of corn, we have wild game plenty for the shooting, and I can't see that we could do better." "John," he replied, "You will never make a fortune here, so come with me, I hate to leave you, but here I will not stay." But Father would not leave, so Uncle Daniel left, and we only had one year of peace, for the Indians came down upon us with vengeance. Uncle Daniel came back for us, said everything he could to get Father to go with him, but all in vain, so he left us to battle through the fearful war.
 SOURCE
The Alabama Historical Quarterly, Vol. 06, No. 01, Spring Issue 1944. (Margaret Eades who has left this hitherto unpublished account of her experiences as a young girl, daughter of a pioneer and witness of many of the bloody scenes of the Creek Indian War of 1813-14, married Jeremiah Austill. Mrs. Austill died in 1890 having borne several children whose descendants still live in South Alabama and other sections of the country.)
Other stories include:
The Yazoo land fraud;
Daily life as an Alabama pioneer;
The capture and arrest of Vice-president AaronBurr;
The early life of William Barrett Travis in Alabama, hero of the Alamo;
Description of Native Americans of early Alabama including the visit by Tecumseh;
Treaties and building the first roads in Alabama.