NATHAN SLAY
BIOGRAPHY and GENEALOGY
(1798 – 1865)
South Carolina – South Alabama
Nathan Slay was born in 1798 in South Carolina, came when a boy with his parents and settled on Dog River, near Mobile. Some time later he moved with his parents to Winchester, Mississippi.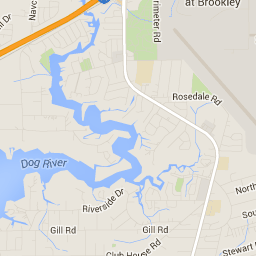 Location of Dog River 
Schools being scarce in his community, he did not have the advantage of a formal education. In 1817, at the age of 19, he married Miss Polly Powell, daughter of a preacher in that neighborhood. He felt the call to preach but not until during a long spell of sickness did he yield to the divine call to preach. His ministry was hampered by the lack of education.
His devoted wife taught him to read by a pine knot fire at night. He studied his Bible almost constantly and became well versed in the scriptures. Most of the early churches of Southwest Alabama and Southeast Mississippi were organized by him, and he was probably the key man in the organization of Concord Baptist Church. He also organized the Liberty Association in 1838.
He died in 1865 and was buried at Clear Creek Baptist Church.