Memories of my home in old Perote, Bullock County, Alabama
REMINISCENCES OF PEROTE IN BULLOCK
By A Native
Catharine Elizabeth (Hixon) Rumphi
(This transcribed excerpt was written before 1958)
A list of the men who served from Perote in World War I includes: Alton L. Foreman, Henry S. Hardin, Benjamin Petty Hixon, Oscar L. Hooks, Floyd S. Knight, Edgar C. Low, Franklin W. Parks, Earlee Pope, George T. Rodgers, Daniel R. Trussell, Charley Winfield, Wesley H. Winfield. Dr. Frank Petty Hixon enlisted in Pensacola, Florida, Dan Frank Hixon and R. C. Richardson.
Highlight of my life
My grandmother Hixon Baxter and Mr. Malachi Ivey bought some stock in the Mobile and Girard Railroad. The first Wednesday in July was stockholders day and one adult and a child under twelve years of age could go to Columbus, Georgia on each share. That was one of the highlights in my life. It was country come to town. We got off the train at the Broad Street Station and there was always a boy at the station selling ice cream cakes that we enjoyed very much. I suppose I was about 10 years old when the Central of Georgia leased it for 100 years. That put an end to our trips to Columbus.
My grandmother Hixon went to spend the day with her close friend Mrs. George Rodgers (who lived about four and one-half miles east of Perote) and was leaving unusually early. Mrs. Rodgers asked her why, she said, "I am getting married tonight." She married Mr. Ezra Baxter.
Mobile and Girard Rail Road Company from the 1st July 1866 (Wikipedia)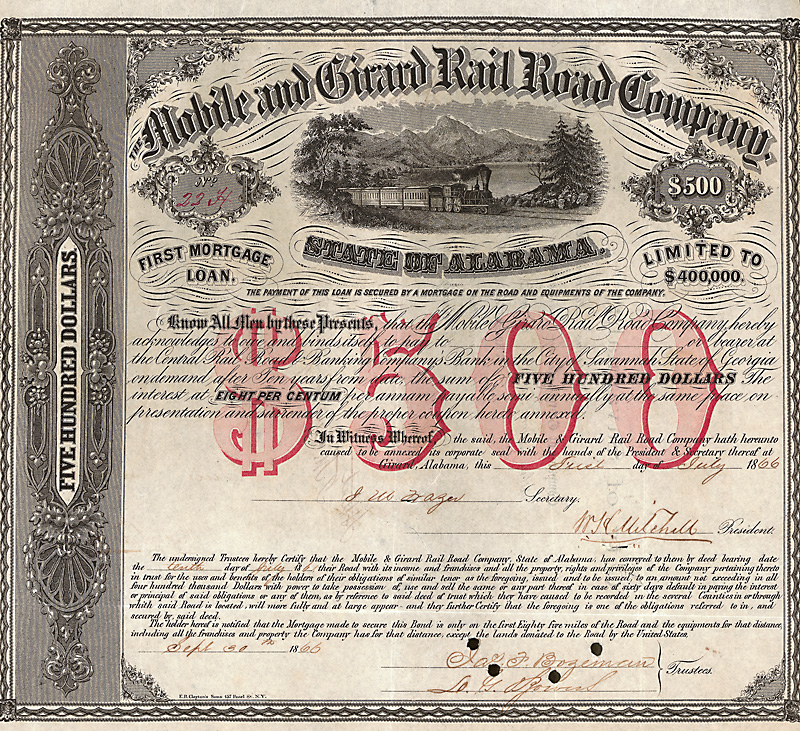 Random memories
The furniture my father and mother commenced housekeeping with was made in Perote by a Mr. Slaton(?) He must have been the man Mrs. Rumph wrote about having a factory here. We still have the dresser, a table and safe.
There was a colored man, King Bell who rented land from Sam J. Starke. One day he was plowing near an old stump and plowed up a pot of money. No one ever knew how much it was except Mr. Starke. He bought the Walter Brooks house with part of it and colored people have owned it ever since.
Mr. Tasso Culver lived in the Brooks house and while he was living there his son James had appendicitis. Dr. Hunter from Union Springs came down and operated on him on a table. The operation was a success. Before, that time operations were not performed often.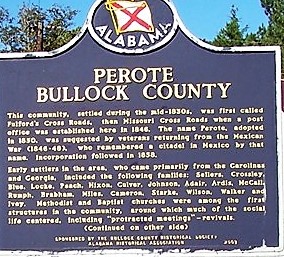 After the war Captain Dawson taught school here at two different times, first 1879-80, second 1882-83. Soon after that, he died leaving his wife with five girls and one son, the youngest about six years old. She moved to town and taught school in her home. Her daughter Amorette assisted her. We went to school to her, then they moved to the country for her son to farm but they were not there very long. He was so stout and his feet were so small he could not walk much, They moved back to town and Mrs. Dawson taught school again in her home. We went to her there. Mr. Arthur Peach taught in the schoolhouse at the same time.
We had one cold spell in the winter of 1899. The temperature dropped below zero. There was enough snow on the ground to sleigh ride. The young men put runners on a goods box, hitched a horse to it and carried the girls to ride.
My father had a tenant living in front of his home. The tenant family consisted of the man, his wife, and two children. It was in the winter and the children were playing in front of the fire on a quilt. The man was on one side of the fireplace, his wife on the other and a dog was lying under the stove in the kitchen asleep, A thunderstorm came up, lightning struck the chimney, tore it down, the mantle and window on the opposite side of the room, scattered live coals all over the room, set the bed afire and killed the dog that was in the next room and did not hurt a member of the family. It was raining so hard they dipped water out of the cotton rows and put out the fire.
Perote, Bullock County, Alabama (landsofamerica.com)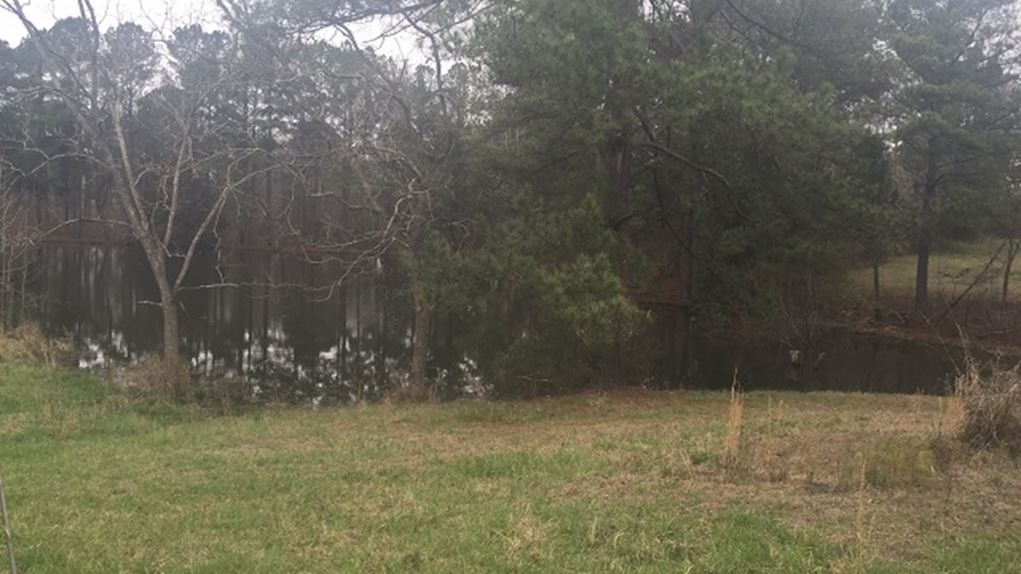 Two amusing incidents
Mr. and Mrs. Jake Brooks lived in a small house north Walker's where the parsonage now stands. His sister Isabella ("Ibbie") lived with them. After Mrs. Brooks died then Mr. Brooks' relatives from Troy came to move Miss Ibbie in a wagon. Miss Ibbie sat in a rocking chair in the back of the wagon. They tied the cow to the chair and the cow not being able to keep up it was not long before Miss Ibbie and the chair were pulled out. Her arm was broken but no more serious damage was done.
"Mrs. Dillard Henderson (Miriam Kirby) was so sick one night that someone had to sit up with her all night and it was to be Mrs. C. W. Rumph, Jr., and Miss Louise Rumph. It was cold and C. W. was afraid that Mrs. Kirby did not have enough wood to burn all night. It was dark and he went home and put some wood on his truck and carried down there. He backed the truck up to the back fence and threw the wood over in the yard. The next morning early Mrs. Kirby (Juline) went out on the porch and came back excited and said: "Somebody has stolen my fence. That is the meanest thing I ever knew of anybody doing"
About the same time C. W. went out and found the fence hooked on to his truck. He immediately went for a negro to help him put it back, thinking he might get it back before it was discovered.
iCatherine Elizabeth (Hixon) Rumph was born in Bullock County and has lived during her entire life time there. She is the daughter of a Confederate Veteran who was some time a prisoner at Ship Island off the coast of Mississippi and grew up in the environment of the small country village about which she writes and among interesting Confederate associates, Mrs. Rumph has collected Americana, folk lore and historical data and contributed in no small way to the life of this rural community
SOURCE
The Alabama Historical Quarterly, Vol. 20, No. 03, Fall Issue 1958
Discordance: The Cottinghams
 Inspired by true events and the Cottingham family that resided in 17th century Somerset, Maryland, and Delaware, colonial America comes alive with pirate attacks, religious discord, and governmental disagreements in the pre-Revolutionary War days of America.