In 1938, Byron Thornhill, a Tuscaloosa County resident and president of a local labor union, went all the way to the United States Supreme Court to win the right to picket employers and distribute information about labor disputes. The 1940 SCOTUS decision struck down the Alabama law under which Thornhill had been arrested and imprisoned. His sacrifice made him a hero to Alabama workers and defined First and Fourteenth Amendment rights.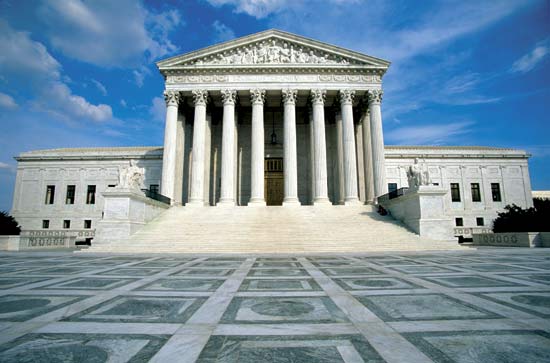 Peacefully picketing
Thornhill had been arrested for peacefully picketing and loitering at the Brown Wood Preserving Company to interfere with business during a strike by a local union affiliated with the AFL. Upon conviction in the interior Court of Tuscaloosa County, he appealed to the Circuit Court of Tuscaloosa County. He was fined $100 and costs, but refused to pay and was sentenced to prison for 59 days for not paying. Failing his appeal the circuit court increased the prison time to 73 days. The Alabama Supreme Court denied Thornhill's petition, but the U. S. Supreme Court heard the case February 2, 1938, and decided in Thornhill's favor April 28, 1940.
Supreme Court decision
The Supreme Court held that:
The free speech clause protects speech about the facts and circumstances of a labor dispute.
The Chief Justice, Charles E. Hughes, and Associate Justices Harlan F. Stone Owen J. Roberts, Hugo Black, Stanley F. Reed, Felix Frankfurter, William O. Douglas, and Frank Murphy presented the majority opinion with only Associate Justice James C. McReynolds dissenting.
Decision redefined the scope of the First Amendment
Seventy-seven years ago, this decision helped redefine the scope of the First Amendment, has been cited in many Freedom of Speech and Press decisions and supported by the Fourteenth Amendment.
Byron Thornhill was a hero for many people, not only in labor unions, or residents in Alabama but to those committed to a better America for all.
Published in the Tuscaloosa News February 3, 1938.

SOURCES
Thornhill v. Alabama
Tuscaloosa News February 3, 1938
Dorothy Gast lives in Romulus, Alabama on the Graham family farm. She taught in Tuscaloosa County Schools for nearly 30 years. She has a "Mine, yours, and Ours" family. She has volunteered in numerous organizations after her husband's eight year struggle with Alzheimers' ended. She helped organize a volunteer fire department after she was 60 and served as board secretary and nationally certified firefighter after extensive training. Her attempts to get the community reading failed, but she contributed books to the new Sipsey Valley high school from the library in her home friends helped her establish. She is known locally by the silhouettes she cuts free hand of children. She began to write nostalgia stories after a grandson asked her to write down the stories often told at family events.