"SCRAPS"
RELATING TO THE EARLY HISTORY OF LIMESTONE COUNTY
By Thomas Smith Malone
Excerpt of a transcription from The Athens Post, May 16, 1867.
Page 2, Column 2
Part XI
The first Baptist Church built in this county, is believed to have been the "Baptist Meeting House" on Round Island Creek, on Mr. Richard Henderson's plantation, some three quarters of a mile Northeast from his present dwelling, and within a hundred yards of the old tan-yard on this Creek. This house was built late in the fall of 1816. Mr. Thomas Obanion is believed to have first occupied this house, as a preacher.
Two preachers occupied the pulpit jointly
The next year 1817, Mr. Jere Tucker occupied this pulpit, jointly with Mr. Obanion. Towards the close of this year, Mr. Obanion was dismissed, and Mr. Tucker then appointed one Sabbath in every month to minister to the brethren and citizens of the neighborhood, which he did regularly until the year 1823, when the members worshiping here removed their society, with Mr. Tucker still as their Minister, to the road leading from this place to Browns ferry, five and a half miles from Athens, on the head of Broyles Creek, where Mr. Tucker regularly and promptly served the congregation for many years.
Early in 1818 Mr. Obanion made an appointment which he filled a few times, at Mr. Antony Agee's on the plantation of Mr. John Blair, near four miles this side of Browns Ferry, on the road, Township, to Huntsville. During that Spring, (1818) Mr. Agee was rented out by Mr. Wm. Malone, and Mr. Obanion's preaching there came to an end.
Three distinguished Baptist Ministers
About these years three very able and distinguished Baptist Ministers made their appearance in our midst, and impressed the large congregations, which attended their ministrations, very favorably. The first, and perhaps the most impressive pulpit man, was Rev. Mr. Haygood, (the writer believes) originally from Kentucky. He is spoken of as a most eloquent and fluent speaker, and attracted the largest congregations to all of his appointments.
Rev. John L. Townes began to fill appointments occasionally, in this county, as early as 1819. During the year 1820 and 1821, Judge John McKinley made a present of a lot of land, directly east of the present Female Institute, to a Board of Trustees, composed of Wm. J. Mason, Daniel Coleman, Joshua L. Martin, Robert Beaty and John D. Carroll, for a Female Academy, which Board accepted the gift, and employed Rev. Daniel P. Bester as President.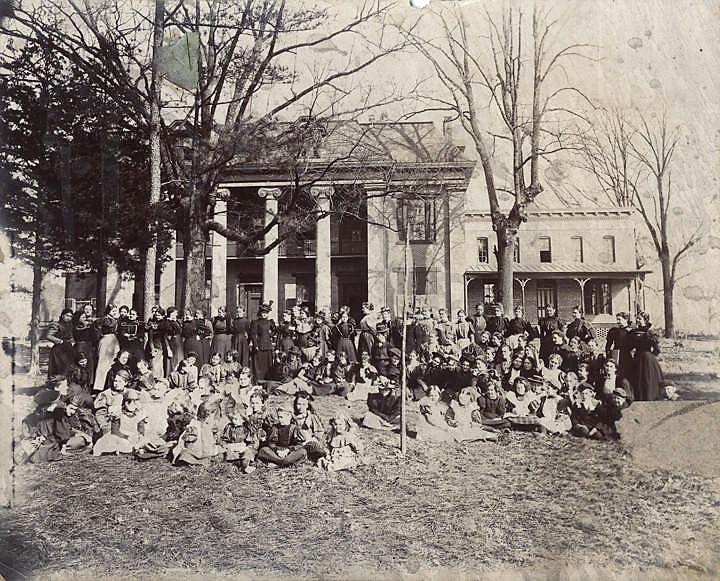 Students at Athens Female College in Athens, Alabama ca. 1880 – later became Athens College, then Athens State University (Alabama Department of Archives and History)
The Female Academy
It is believed Mr. Bester entered upon the discharge of his duties in October 1821, and remained at the head of that Female Academy for many years. There are several ladies in this county who were pupils of his, with some of whom, I have conversed, and they bear testimony to his great worth and usefulness.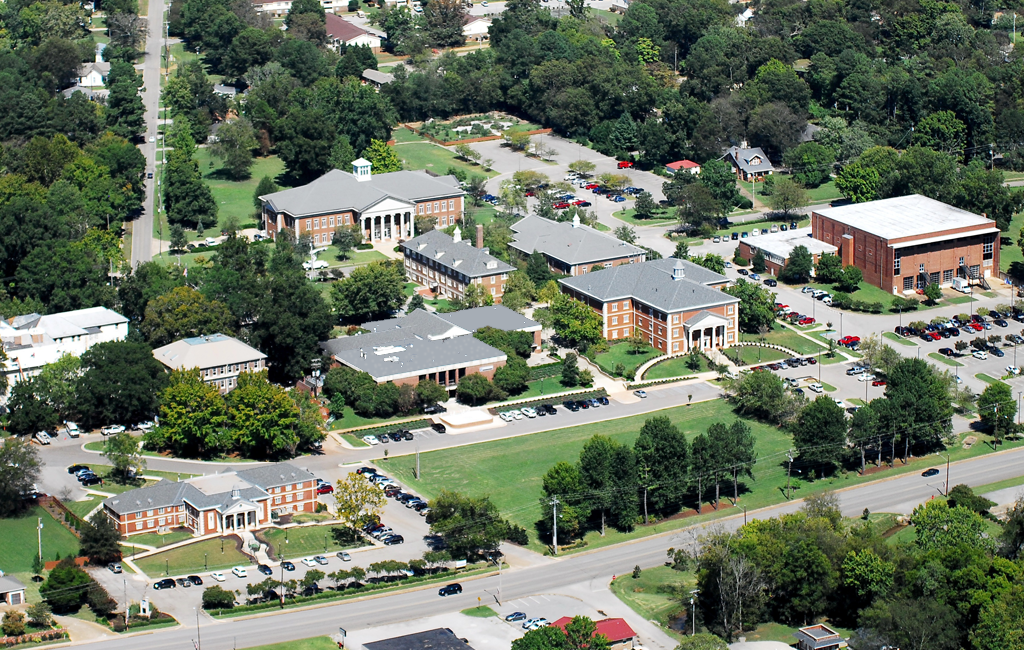 Athens State University
The writer remembers him with great satisfaction, as an elegant, classical, accomplished Christian Gentleman. He was in the pulpit chaste, fluent, rhetorical, to a degree, and very persuasive. His abilities were marked likewise with forcefulness and energy. The writer remembers a noted debate between Mr. Bester and Bishop R. Pain in 1830, in La-Grange, Franklin county, Ala., in which Mr. Bester gave the fullest satisfaction to his friends.
All have gone to their reward except Mr. Bester
These Baptist brethren have all gone to their reward, save Mr. Bester who is now stationed in Columbus, Mississippi. He did a good work for Limestone county in elevating the moral character of our people; training their minds, not only morally, but literally and this good impression still lingers in families here, the mothers of which were trained and educated by him. He is a sweet, lovely good man, and may God bless him in his advanced years and labors, and give him peace, quiet and happiness in his declining days.
Revs. Hopwood and Bester preached in many portions of the county, and frequently were called to adjoining counties, owing to their great fame as pulpit men. Mr. Bester, for a number of years, preached almost every Sabbath, in this town, and deserves much credit, in getting up a spirit to build a church here, although a Union Church at its inception, and for years, thereafter, was built through his popularity mostly. May 10, 1867. Respectfully, T.S.M.
ALABAMA FOOTPRINTS Statehood 

presents the times and conditions they faced in lost & forgotten stories which include:
Who Controlled And Organized The New State of Alabama?
Tuscaloosa Had Three Other Names
Chandelier Falls & Capitol Burns
Alabama Throws Parties For General LaFayette
Francis Scott Key Was Sent to Alabama To Solve Problems