(This has been transcribed from The Alabama Historical QuarterlyThe Alabama Historical Quarterly, Vol. 33, Nos. 03 & 04, Fall and Winter 1971 – The diary was shared by Edith Grace Jemison and Lucretia Hutton. Both are great-granddaughters of Robert Seaborn Jemison. Edith Grace Jemison was also a noted historian and author of the book, Historic Tales of Talladega , published in 1959 which is still available and a good source for historical and genealogical research in Talladega, Alabama. Hugh D. Reagan, a noted Alabama Historian added endnotes throughout the Diary)
JOURNEY TO TEXAS, 1854 PART II:
THE DIARY OF ROBERT SEABORN JEMISON OF TALLADEGA
by Hugh D. Reagan
April 20th Remained at Manchac Springs Recruitingi12 until two oclock in the evening—Much improved. Changed our Notion as to direction concluded to go to Lockheart Cladwell county 25 miles East & from there to San Antonio, Struck out head & tale up for that point—got lost in what seemed to us an Interminable prarie could find no Road—finally met up with a Negro boy engaged in herding cattle—paid him 50 cts to show us a Road—After carrying us about Eight Miles we struck a Road which we took—going in a Northerly direction for four Miles found a Road crossing at Right Angels the one we were in—took the end leading in an Easterly direction—traveled until 11 oclock in the night not knowing whether right or wrong— came to a little Ranche the first habitation that had greeted or seen since leaving Manchack. It was truly an Oasis in the Desert—We got consent to decamp for the night.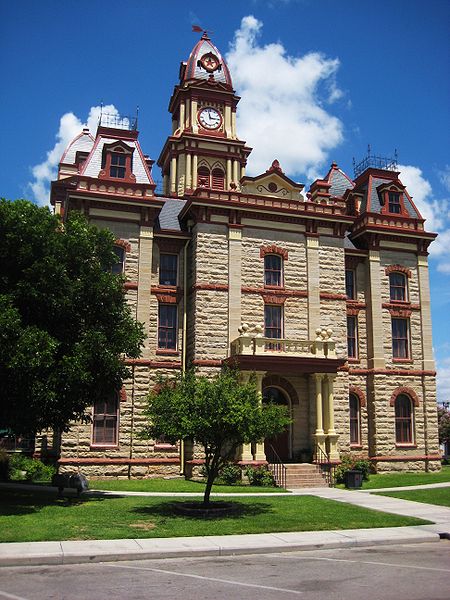 Staked our Ponies for the ballance of the night-Rousted the lady—got supper & laid us down to sleep praying the good Lord our souls o keep—arose from our Blankets 21st Much Refreshed—ate breakfast doned our saddles—mounted our mustangs and struck a strait shirtail for Lockheart—Where we landed in about one hour It being only three miles—Staid there until late in the evening—looked Round at the fine Springs which are very numerous & the only thing about the place worth noting—They are bold & large, but the water warm & strongly Impregnated with Rotten lime as is all the water through this section. Lock-heart is situate in a wooded prarie & at this season is a very pleasant villa. Some good houses & some very inferior—herd there of a neighborhood six miles east composed chiefly of Talladegians—The Gillerlands—Sims—Carpenters—Jim Long & others. Concluded to go on and see them—I and Carter stoped with Black Gillerland. Shack & Dave went over to Carpenters where they now are—We are looking for them—don't know what will be our next move.
April 22 Dave & Shack have joined us. We all agree on having spent a pleasant night with old acquaintances. Stoped with them until after dinner—partook freely of their glorious Repast-enjoyed mightily their Conversation & after many Regrets on both sides took our leave for Lockheart once more—where we arrive sometime before night—Stoped at the Union house—got the best fare & lodging we have had in Texas. On consequence of which Lockheart looks much better & more inviting than as we went on to the Talladega settlement. My health is much improved—In fact I think I may safely note a Recovery—Our friends are living in Rather a poor section (Sandy Poast Oak) at which we expressed Some Surprise—but they say they can make five times as much as they did in Ala the water they use is horid.
San Marcos River, Texas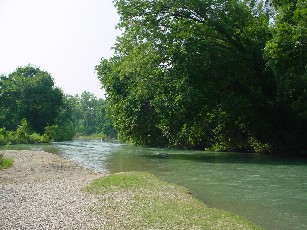 April 23 Left Lockheart enroute for San Antonio-passed through some of the most delightful Country I have seen in Texas. Rich Hog Wallop Prarie—stoped on the banks of the Blanco for dinner- one of the prettiest streams I ever saw in any country—I un-harnessed and was meself that bathed my Wearied limbs in Its cooling waters—one mile from the Blanco we crossed the San Marcos River equal in beauty to the former—on Its banks is located the town of San Marcos the County site of Hays Co. from that place our Road Runs along in a South Westerly direction at the base of the Mountains—on our left is an eternal prarie— Mountains on the Right—Making It one of the Most Romantic Countries I ever saw—The Dutch13ii are settled every 1/2 mile on the Roads lands productive—Staid at Crawfords all night the filthiest people & place in the World—to look at the landlady- much less eat is enough to make a dog Puke—though none of us did. We are hardened—We ought to be.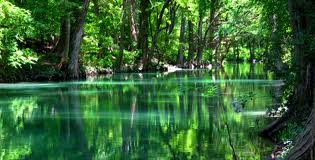 April 24th Traveled today a distance of 38 miles—partly through Guadeloupe & Comal counties—Crossing the Guadeloupe River a beautiful stream at New Bransfels and on the San Antonio—where we arrived a little after dark & put up at the Plaza house—the best in the place as we are informed—passed in the vicinity of Bransfels a delightful country—but the whole population is Dutch or chiefly so. Lands are very high—asking from five to 20 dollars per acre. That is the case generally in the Inhabited portions of the State. Attended Old Joe Sweeneys Negro concert to night—highly entertained with the performances—particularly Ol Joes—Not many ladies out but a host of Men—Great Scarcity of timber in these parts—Country pretty —but Monotinous. Water scarce except Rivers & they are some distance a part. More tomorrow.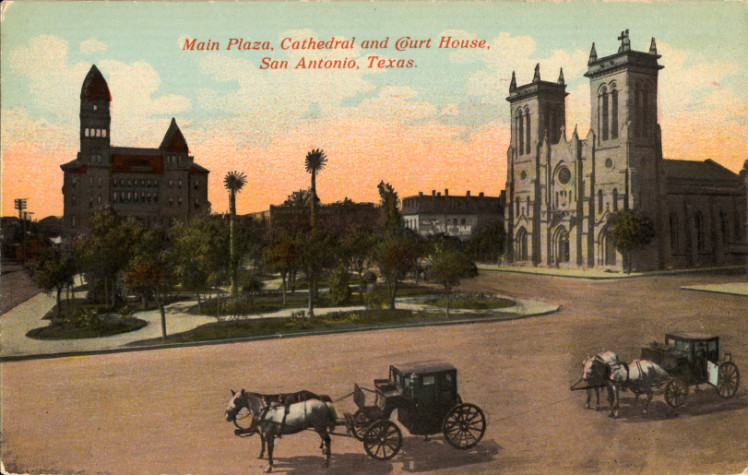 April 25 Spent the fore noon resting—after dinner hired a Buggy and driver that was acquainted with the Town (San Antonio) and Rode all Round the Citty—taking in the Range of Ride—the San Pedro Springs one mile and a half from town decidedly a grand Spring and quite large. San Antonio is decidely a peculiar place taking into consideration the variety of popultion—queerness of buildings, amusements & C.—Population American-Dutch & Spanish-buildings many of them resembling Indian huts covered with straw—other cottage style & some after the usual order. Many of the most beautiful Residences & grounds I ever saw. In fact as to beauty & pleasantness San Antonio is unsurpassed. The River of Same name heading all Round & Running through the town in a serpentine form adapting itself fully to the wants of the place—a mill being situate thereon—Bath houses & C.—Tonight we—the boyes attended Joe Sweneys concert again—after which we hired an Avalancheiii11 oclock & attended in co with J. Brown & Sweney a Mexican Flandango—the Richest thing out in the way of dancing—We pitched in too—and the fun oh Lordy—This is as far as I dare go.
San Antonio
April 26th More & more am I delighted with the novelty this place. This morning Rode out in Company with J. Brown (who formerly drove on the lower end of Powells Rode into Wetumpka) six miles South of town to the old Mexican San Hozie Mission—we spent several hours most pleasantly Indeed—viewing and prying into the Ruins of that ancient & one magnificent building—It is truly a great curiosity as well as worthy speeimin of ancient architecture the material of which it is built is rock and mortar entire floors, Roof and everything except doors— around the latter is some of the finest sculptor work I ever saw, It is fast going to decay In consequence of neglect though It will stand as a monument for many a long year to come. Several Mexican families live near by & one family occupy a Room in the Mission though they take no sort of care of the buildings or grounds around it. It was built in the year 1781 as I learn from building dates Carved in the Rock. I would advise everyone visiting San Antonio not to leave without giving that venerable building a call—It will pay any one well for the trouble—I would also advise anyone desirous of seeing the curious not to come to Texas & leave without visiting San Antonio.
The Alamo in the 1860s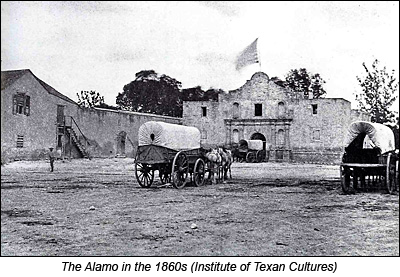 The country Round about is delightful Indeed & particularly so above the old Mission—This evening visited the Alamo and stood on the ground where the brave & Gallant Crockett with others lost their lives. Saw old Davies name cut on the wall in the Room where he fell—Said to be done by himself after he was wounded, I felt strange Indeed while standing on that consecrated spot & devolving in my mind the scenes that were enacted then-Confound It how my blood boiled & as quickly cooled leaving a very strange sensation.
The Alamo is very much after the order of the Mission. In fact It is one though now used to keep stores & munitions for the United States army. It is on the east bend of the River about half mile from the Piazza or Square. This whole country is a chapparell Interspersed with large Pecon trees—a few, very few live oaks & an occasional large Muskeet tree—After leaving the Alamo Rode out four miles to the head of the San Antonio River—talk about your springs but here are some of the finest I ever saw & you know I have seen some good ones—got back to town in the night ate supper & am now writing—am done thank goodness.
April 27th Forgot on last page to note that at the head of the Spring is Gen Worthsiv grave & a few others — near the Alamo are deposited the ashes of Crockett — Gillespie & others of that noble band. I also visited the Prison & saw several Lapan Indians — One of the chiefs his wife and daughter 13 years old — this party were brought in by the soldiers who were out in search of those who committed Recent depredations on the frontier. These are known or believed to be accessory to the crime or to have some knowledge of It — This morning 9 oclock left San Antonio in a South Easterly direction for Seguin— 64 miles distant from San Antonio — We are now nooning It under a hack Berry tree — Dave & Carter sleeping — Shack Whittling & Grumbling at the lameness of his horse — has sent a boy off one mile for a fellow to swap horses with. I predict If they trade Shack will get bit — Country that we have passed over this morning Resembling that in the Immediate vicinity of San Antonio — except a scarcity of Water — This whole country is pretty much alike — Timber powerful scarce & most places Water too.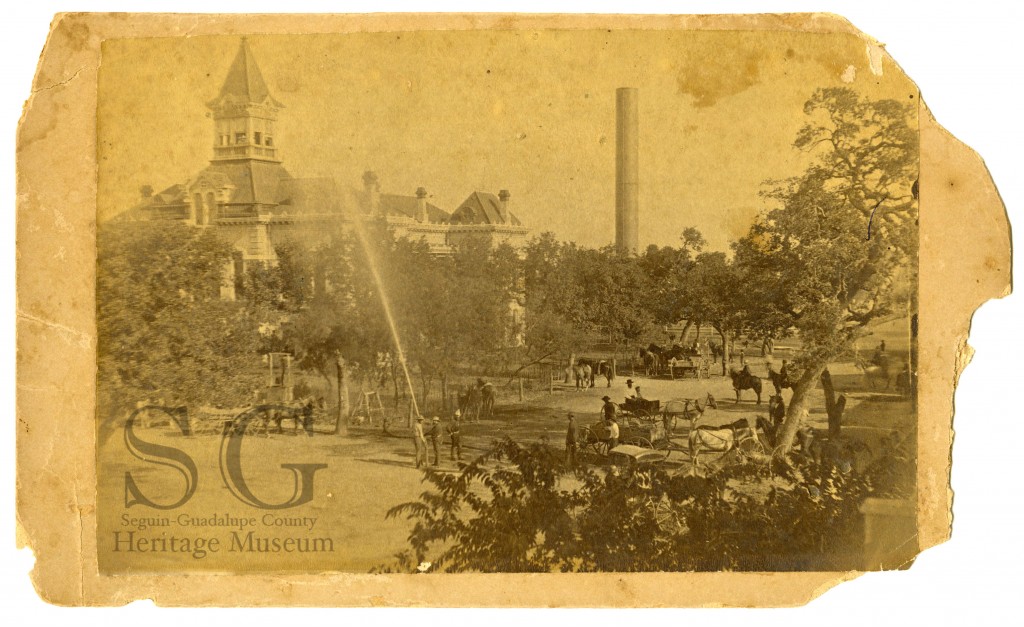 Rode only five miles this evening in consequence of Shacks horse being too lame to travel faster. Passed over a Rich live oak Prarie mostly hog wallow and came to Mr. Ferryman a thrifty farmer on the banks of the Cibola a very pretty Stream. Mr. Perryman has the best corn—prettiest farm—coldest Spring Water & lives more like a white man than anyone I have seen mTexas — he has been offered 15 dollars per acre for his lands. 11 hundred acres. The lands I mentioned above unimproved an worth Mr. P tells me 3 dollars per acre — I don't wish Shack any harm but I am almost tempted to wish that his horse will be unable to travel tomorrow. I would like amazingly to lay by a day or so here — lots of fish in the creek & I reckon we have seen one hundred deer to day — this morning Dave took a Crack, this evening Carter, no game.
28th April -Left Mr. Ferryman in Guadeloupe County & traveled onto Seguin in County Seat of same county to diner Crossing the Guadeloupe 15 miles below where we crossed It going out toSan Antonio. Lands through here are Somewhat a different character on the Road leading direct from Austin to San Antonio having Rather more sand in them & not so much Hog wallow — as to timber & water verry little difference. At this place I am informed there are a good many Springs.
But I tell you It is a long time in this country between streams. Whenever there is water they build up little towers — Shacks horse still lame —having his foot examined here & shod — don't know whether we will get off this evening or not — Dave & Carter are sleeping, Shacks horse being too lame to travel. We are spending the evening & night here. I had a light chill this evening—fever & severe headache. Stiff northern been blowing all day—The boyes say this (Seguin) is a pretty little place. Robin too sick to examine.
April 29th Leaving Seguin this Morning 61/2 oclock & traveling a North easterly direction to this point—near Prarie Lee. Under a large oake where we are nooning it.Our ponies stake dour appetites gratified to some extent & our Blankets spread We design taking a Nap — from Seguin here — Most of the rout is through a poor-high-graveley poast oak country on the San Marcos River one mile back the land is verry Rich & well timbered — from the River on this side We are Merging into an open Prarie—No settlements or Water from Seguin to Prari We are compelled to go back there in order to see the Northern Counties that We design visiting — Shacks horse much better though Daves Pony slightly ailing — I feel better to day though my time of day for chill is not at hand quite. Arrived in Lockheart in time for Supper but being unwell could not enjoy the viands of our tasty land-lady. The Record this evening from noon layes over a broken prarie the most so of any I have in Texas. We have concluded to go through 30 miles from here Sell our Ponies & buy some sort of a waggon.
Stone capitol in the City of Austin 1875 during funeral of Governor Andrew Jackson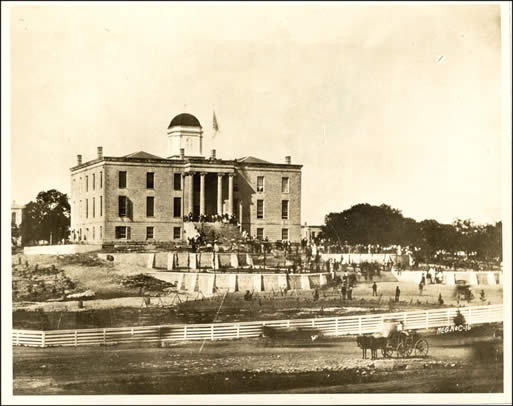 April 30th  Well to day We landed in Austin again—from Lockheart here It is certainly the Most dreary — desolate — disagreeable — monotinous countries I ever saw — being one everlasting prarie for a few miles after leavin Lockheart. You see an occasional Muskeet tree—Resembling a verry old peach tree—then see neither trees or water until you get to Onion Creek withing six miles of Austin. Onion is a verry pretty little stream winding Its way through that Immense prarie & It has some good land on It — though I presume that the timbered land on It overflowd — the land through that large prarie is generally verry Rich as is most of the lands we have seen — but great goodness What does that avail When you cant get timber to enclose a farm I wish you could see some of the fences in Texas — three feet high & of all the shapes — Many farmers here hall cedar poles from ten to twenty miles at a cost of from ten to twnety dollars a hundred — wherever you find Well timbered lands on the Rivers & Creeks they Rate high this dollar & a half & three dollars per acre land by the time you Improve It costs all of from 15 to 25 dollars per acre. I have had a high fever all day and traveling is verry disagreeable. I thought several times that I would not hold out to get to Austin but here I am —We have concluded to trade our Ponies for a Waggon or sell out & take the stage — that conclusion is what brought us back to this paint. It being the most convenient to make such arrangements.