JOURNEY TO TEXAS, 1854:
THE DIARY OF ROBERT SEABORN JEMISON OF TALLADEGAi
by Hugh D. Reagan
In the two decades prior to the Civil War Texas acted as a magnet drawing hundreds of settlers from other regions, especially from the south-eastern United States. The independence of Texas in 1836 made it far more attractive to new settlers.
Among those who became interested in Texas in the 1850s was Robert Seaborn Jemisoni of Talladega, Alabama. Born in Perry County, Alabama, January 15, 1824, he was the second son of Robert Jemison III of Lincoln County, Georgia, and Margaret (Peggy) Mims Jemison of Twiggs County, Georgia. Around 1821, Robert Jemison III moved from Lincoln County, Georgia, and purchased land in Perry County, Alabama, which was formerly a part of the recently acquired Choctaw Territory. When the Creek Territory was opened to settlement, he sold his holdings in Perry County and purchased two Indian villages, Choccolocco and Cheaha, located in present-day Talladega County. He settled in the forks of these creeks and built a spacious home.
It was here that Robert Seaborn Jemison was reared. He was educated under the tutelage of William L. Lewis who lived in the home, and at LaGrange Methodist College near Florence, Alabama, the first college to receive a charter in Alabama.
Robert no doubt inherited the Scotch-Irish love for land and the migratory urge of his father and grandfather. When the newspapers became full of fabulous stories of opportunities to be found in the new state of Texas, he could not resist the temptation to see for himself. Thus Robert, his brother Shadrach (Shack) Mims, Carter Edmunds and David Hamilton Remson, neighbors and boyhood friends decided to make a scouting trip to Texas to look over the land and explore the possibilities of moving there.
Robert kept a journal of the trip which provides many interesting comments about the people, the topography, climate, and farming possibilities of the parts of Texas this group traveled through. Though this trip ended unsuccessfully, the migrating spirit still remained. In 1856, Robert and his youngest brother, Albert Sevier went to Texas and took an option on some land and made arrangements to move there. Robert purchased a league of land in Anderson and Navarro counties. Due to bad health as partially revealed in the diary he could not enlist in the Confederate Army. He died in January, 1868, and is buried in a Methodist cemetery in Wadesville, Texas.
Robert left a family of two married daughters, a young son, and two small daughters. His son and his two sons-in-law died a few years after his death. The slaves had been freed and scattered, and the three widows with small children moved back to Talladega to be near relatives, abandoning the farms in Texas. They sold a small farm at great sacrifice but never heard anything further about the other lands.
The journal begins with the departure of the group from Talladega by stagecoach on
April 1, 1854: Myself-Remson-Shack and Carter Edmunds left home for Texas on the 1st day of April 2 oclock p.m. on Powels line of stages for Montgomery. Left Talladega Village 3 oclock as nigh with a coach full of passengers—had quite a pleasant trip to Montgomery except being slightly crowded—had the pleasure of Miss Eva Cowles company as far as Wetumpka Ala which conduced greatly to the amsuement and pleasure of our party—gave her the parting hand on Sunday evening the 2nd greatly to our regret and the loss of many tears from arrived in Montgomery 7 o'clock, took a drink and supper met with several old friends & then retired for the night. Arose early much refreshed.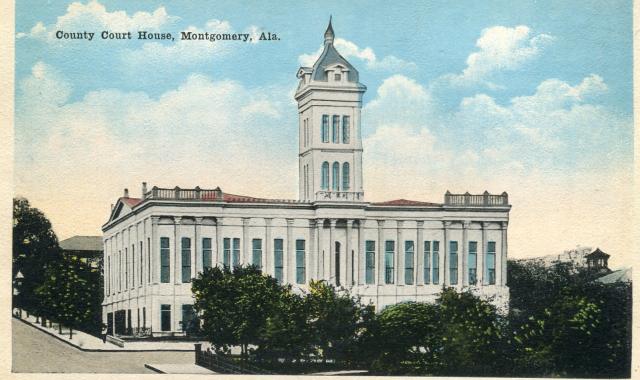 Flew Round the city—called on one or two female friends and at 8 oclock on the 3rd Went aboard the steamer Messengerii for Mobile—at which Port we landed Wednesday the 5th had quite a pleasant time—saw ten Aligators & various curiosities on the Ala River. Remained in Mobile until Thursday the 6th one oclock p.m.—Met a great many acquaintances at our Hotel (Battle House) attended a very poor Theatrical performance on the night of the 5th—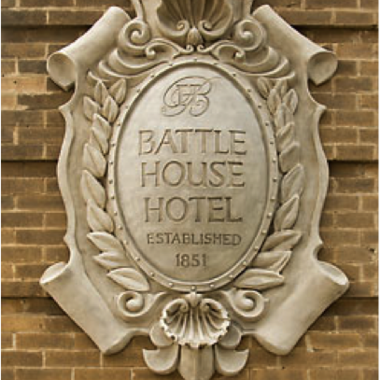 Battle House Today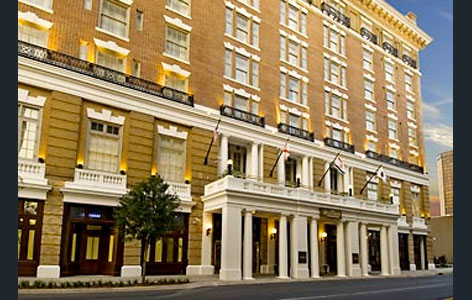 Left for Orleans on the Steamer Oregon and after Eighteen hours delightful Run on a calm bay & choice vessel landed at the Crescent-hired a cab and made for the Charles Morgan bound for Galveston Texas—desired much to spend a day or so in Orleans—But found It would be five days before another steamer would leave for Galveston Port—concluded to Part- saw but little of Orleans merely passed through enough how- ever to discover that It was one busy scene—Hacks-Cabs-omni- busses Running in every direction and more people than one could imagine. Voyage across the Gulf Mexico verry pleasant out sight of land for two days & one night, landed In Galveston Saturday night the 8th Inst—left the Steamer Immediately & went up to the Tremont House where we remained until Monday evening 10th.
Tremont House in Galveston now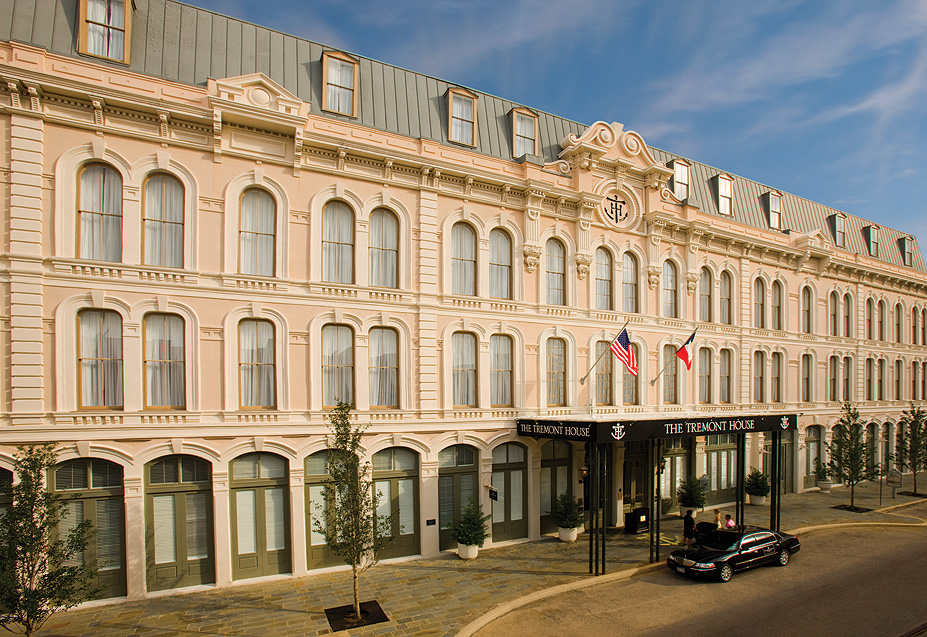 Found Galveston decidely a full town. No. from six to eight thousand Inhabitants. The location is a beautiful one and the most convenient Port on this Gulf The People are kind-communicative and disposed to extend every courtesy to a stranger—attended Episcopal church on Sabbath Morn—Rode out on the Beach in the afternoon—the most glorious sight in the world and/ no mistakes We left there on the 10th for Houston on the steamer Neptune, a crazy old craft but landed us safe on the morning of the llth from Whince We took passage on Browns line of oposition stages for Austin on the 12th. That day passed through perhaps the poorest prarie in Texas & made the slowest time—in consequence of bad roads full coach & C. Saw nothing to disturb the monotony of a tedius trip— except an occasional Buck grazing & large droves of cattle— Brown Hens & cat which the boyes took a crack or so.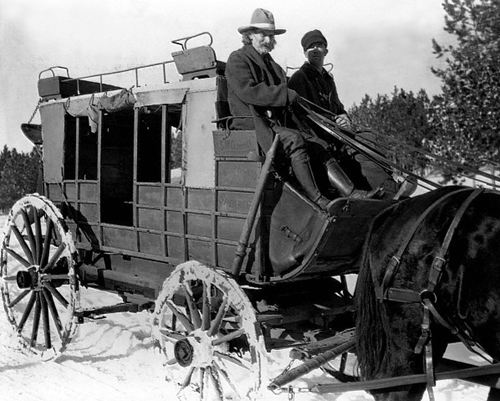 April 13th Left Brenham the Court of Washington County traveled westward on Browns Pioneer line of coaches through a most delighteful beautiful country—Mostly Rolling prarie-watered by limpid creeks abounding with fish. I am writing this seated on a rock on Cedar house branch one of the tributaries of Mill creek. The praries are full of the fattest sleekest cattle I ever saw & thousands of Mustang Ponies tamed.
Old Mill Creek near Brenham, Texas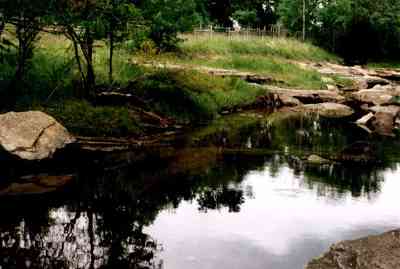 And they are one eternal flower garden. The grass about knee high and as green can be. It is called Labarder Praire.iii about four oclock we struck the Poast oak lands of Washington, the prettiest and levelest country I ever saw, but not productive, being rather sandy. The grass is as fine in the praire and cattle are scattered all over it. No one settled in this region except a few herds-men. Late in the evening struck a better prospect in the way of settlements & C. Staid all night with a Mr. McFaddeniv who we found clever, the owner of an excellent wife and father of two pretty girls. The old lady gave us good eating & fine butter milk. This is the most accommodating line of coaches I ever saw. Stop for the passengers for short stay & C.
April 14 Here we are on the Banks of the Colorado seated under the shades of a cotton tree. We landed in this place Bastrop—Bastrop County ten minutes ago. We have traveled today through a variety of lands & scenry. This morning for a few hours the lands were Prarie & Rich. The ballance of the time through a broken uninhabited section except by herds of cattle & Deer of the latter we have seen about two hundred. Dave & Carter have shot several times but got no game, of the latter.
Colorado River at Bastrop, Texas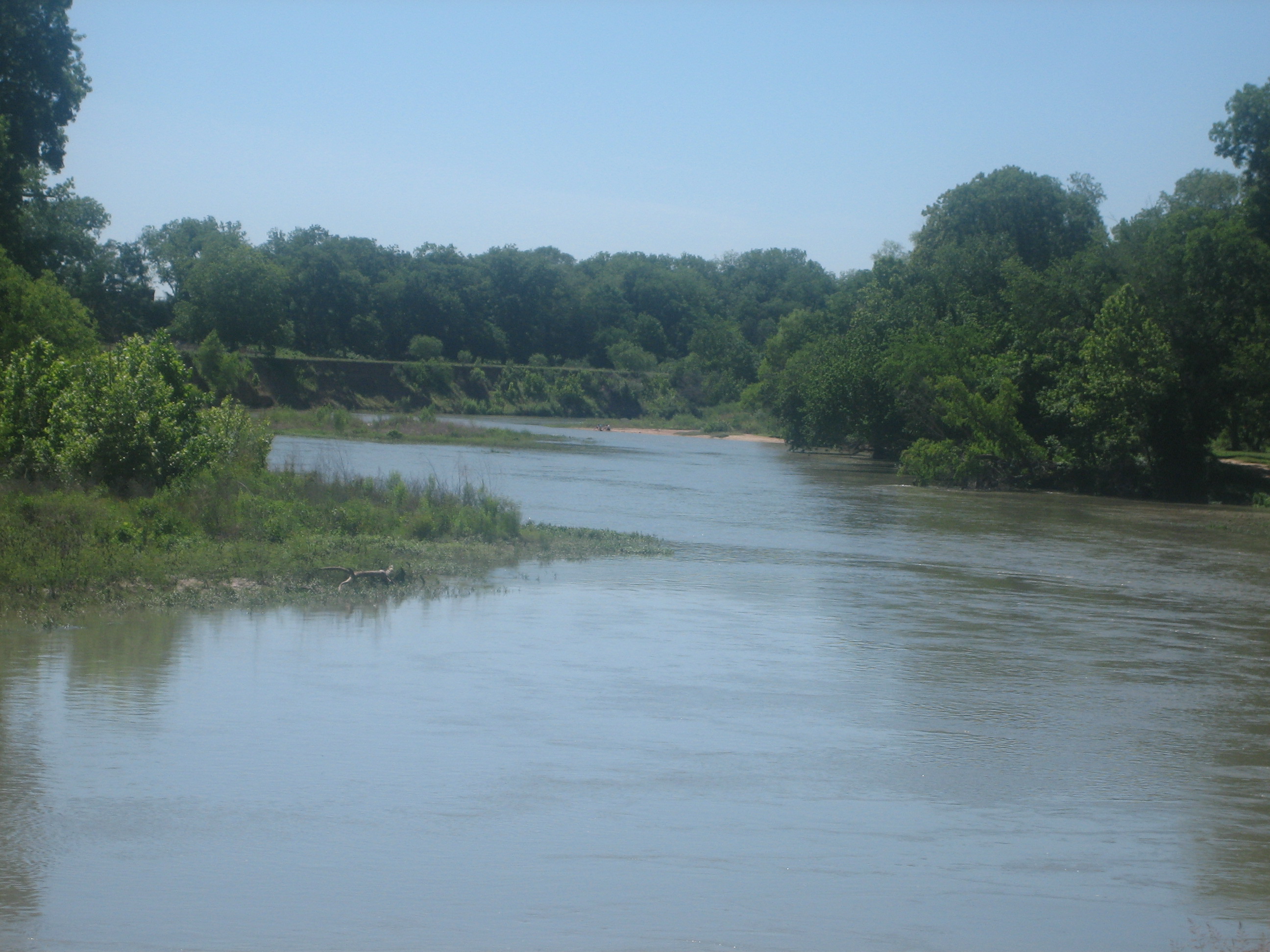 It would be Impossible to compute. Turkey in abundance for a mile or so back the country has been Rocky-growth pine. Now we are just entering the Rich lands of the Colorado & from what we see from this point I presume they are Rich sure enough. Town of Bastrop a Beautiful little place, Population I suppose two thousand. Greatest objection inconvenience to market. Haul cotton to Houston 180 miles at a cost of seven Dollars & 50 cents per Bag.
April 15th Traveled through a good deal of very poor sandy broken country and some that was just good enough. Wherever you find the latter you find a scarcity of water-good water we have not met up with in Texas so far. In some places there is Plenty but of very indifferent quality. Landed in Austin the capitol of the state 3 oclock this afternoonv—have walked Round little—find It a pleasant thrifty place containg a few fine houses—built chiefly of unburnt Brick & some of stone. The capitol fronts Main street—very much after the style of the Ala State house. Think they must have patterned after Ala– Most of the buildings & fences through the section we have passed are built of cedar. This closes our staging If we can buy Ponies or Horses and God knows I am glad of It. If our poor bones have not been well shaken for the last five days I am mistaken. I hear a lady playing on the Piano the first since leaving home &-oh! how Refreshing & astounding.
Travis County Courthouse Austin, Texas 1876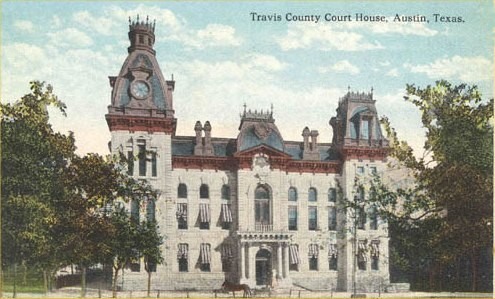 April 16th Lay over in Austin—Wrote a letter to Eva Cowles in the morning—attended preaching at the Episcopal church- sermon delivered by Rev. Fontaine.vi Went up to Capitol Hill in the evening in Company with Frank Thompsonvii —spent the evening verry pleasantly—Ate supper—conversed an hour or so & retired to bed—Slept but little on account of Bed Bugs of which Texas seems to be infested.
Rev. Edward Fontaine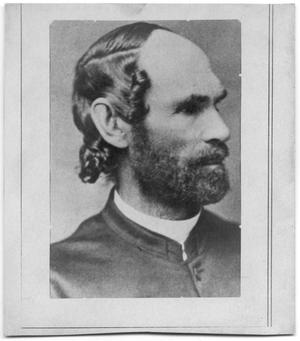 April 17th In Austin Still-trying to buy horses. Shack and I have succeeded—Remps & Carter bargained. Horses are scarce & long prices. Rode out in the evening one Mile to where the Soldiers are Stationed pro tempore at Gen. Hameys the prettiest place I ever saw—Herd the Military Band perform. Music fine-play every evening from one hour by Sun until Sun down. On the occasion kindly furnished a horse by Capt. Conner & accompanied by him—Shack Dave Top of Mississippi & others. The United States officers are all in Austin at this time attending Court Marshall. They make quite a display—saw Col May-Rough huge looking.
April 18th Still in Austin—too unwell to travel—Sevear head-ache & high fever—Lay up all day. Remps & Carter have horses and I guess if Robinviii is able to travel, we will be off for San Antonio. This is a dark day nothing of Interest to Note.
April 19 Dolph Wearsix 12 miles west of Austin—Man Shac Springsx—Stampededxi—for the night—quite unwell—consider-able fever & headachexii—unable to go farther. This is truly a delightful place—fine large spring bursting out from a beautiful eminence on which the house is built—beautiful water oak grove in the midst of a large open Prarie covered with Green grass that waves gracefully to the constant Breeze—the wind blows out here, all the time except at Night—Whilst our ponies were staked Daves got loose & he had a sweet Rapid ride for five miles. Succeeded Running him down and Lassoing him. This section is all Prarie some poor & and some rich—Much better water than that back of us—badly timbered.
Live Oak Cemetery with pioneers graves – two miles east of Manchaca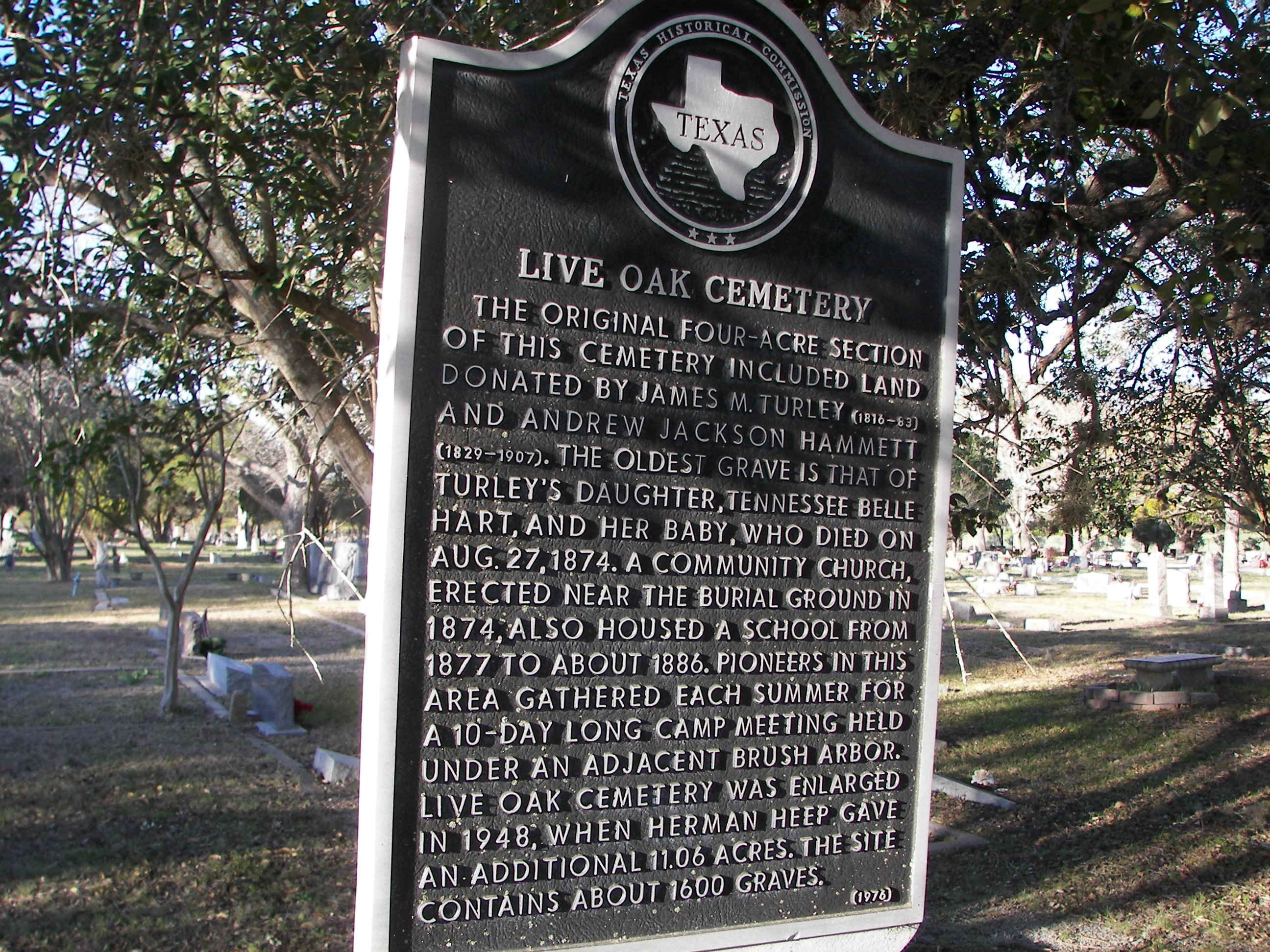 iRobert Seaborn Jemison is the great-grandfather of Edith Grace Jemison and Mrs. Lucretia Hutton of Talladega, Alabama Edith Grace Jemison wrote the book Historic Tales of Talladega which was published in 1959.
http://www.findagrave.com/cgi-bin/fg.cgi?page=gr&GRid=66453972
iiThe Messenger was a fast running, double-engine, passenger steamer which made
regular weekly trips between Mobile and Montgomery. Mell A. Frazer Early
History of Steamboats in Alabama, Alabama Polytechnic Institute Historical studies, 1907, 30-31.
iiiThis area exists just west of Brenham, Texas. The area is in some manner related to the La Bahia Trail. An 1841 map in the possession of Mrs. Bess H. Habekottle ° Brenham, Texas, shows the spelling, "Labiar Road." Today this prairie area wtermed, "La Bahia." Letter of Mrs. Bess H. Habekottle, chairman, Washington County Historical Survey Committee, September 20, 1966, to editor.
ivIdentification of many of the names mentioned in this diary proved impossible. n possible individuals will be identified by footnote.
vFor a more detailed description of Austin in 1854 see F. L. Olmsted, A Jonrney Through Texas (New York, 1857), 109-15
viThis was probably Edward Fontaine who served as rector of the Church ofthe Epiphany in Austin at this time. Walter P. Webb, ed., The Handbook of Texts (Austin, 1952), I, 615.
viiProbably related to Wells Thompson who migrated to Texas from Marengo County, Alabama, in the early 1840's. Webb, The Handbook of Texas, II, 775
viiiEvidently this is the nickname of the diary's author—Robert S. Jemison. The diary entry for May 2, confirms this.
ixDolph Wears (Ware) was a distant cousin of Robert S. Jemison
xManchaca Spring, on Onion Creek in southern Travis County
xiStampeded" is probably used here to indicate that the party hurriedly made camp for the night.
xiiRobert suffered for several days with malaria.
Source
iThis has been transcribed from The Alabama Historical Quarterly The Alabama Historical Quarterly, Vol. 33, Nos. 03 & 04, Fall and Winter 1971 – The diary was shared by Edith Grace Jemison and Lucretia Hutton. Both are great-granddaughters of Robert Seaborn Jemison. Edith Grace Jemison was also a noted historian and author of the book, Historic Tales of Talladega , published in 1959 which is still available and a good source for historical and genealogical research in Talladega, Alabama. Hugh D. Reagan, a noted Alabama Historian added endnotes throughout the Diary