RECOLLECTIONS OF CAROLINE LEADINGHAM
Transcribed from The Alabama Historical Quarterly, Vol. 18, No. 03, Fall Issue 1956 — Continued below
Our home and the place of my birth was near Mooresville, Limestone county, Ala. In the cemetery there sleeps my dear parents, awaiting the resurrection.
The house stood on a hill, at the foot of which ran a creek— a delightful place to fish or row. Water lilies and a variety of wild flowers grew in abundance; to me, the rose was the sweetest. In one of my rambles I found one of pretty shape and size, and transplanted it in our yard, beneath the big oaks, where, by care and trimming, it grew to be like a small tree, and delighted me with its lovely blooms.
I have never seen anything prettier
Near the home was a skirt of woods, in which sister and I found a circle of water oaks with bamboo, rattan and woodbine growing over them, and honey-suckle all around. This we selected for our playhouse; trained the vines, whitewashed with old brooms and white clay, and decorated with pink and white honey-suckle. I have never seen anything prettier.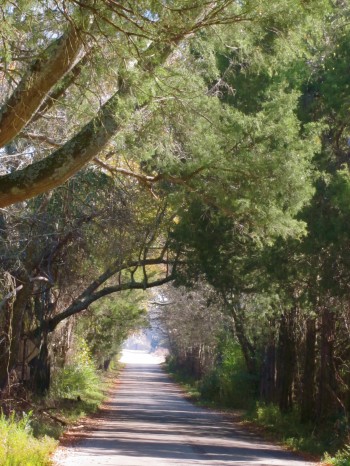 Tree-shaded street in Mooresville, Alabama 2010 by Carol Highsmith (Library of Congress)
Blessed with health and a cheerful disposition, I loved nature with all my heart, and we had a Christian mother to teach us of the goodness of God. When we grew older we gave the playhouse another name—the "reading room." By then the vines had grown to make a dense shade, and here we read and studied our lessons.
Those days are dear to me yet. We had a married sister living in Moulton. who wanted one of us to come and stay with her. It was decided that I should spend the summer with her and go to school I had just entered my ninth year.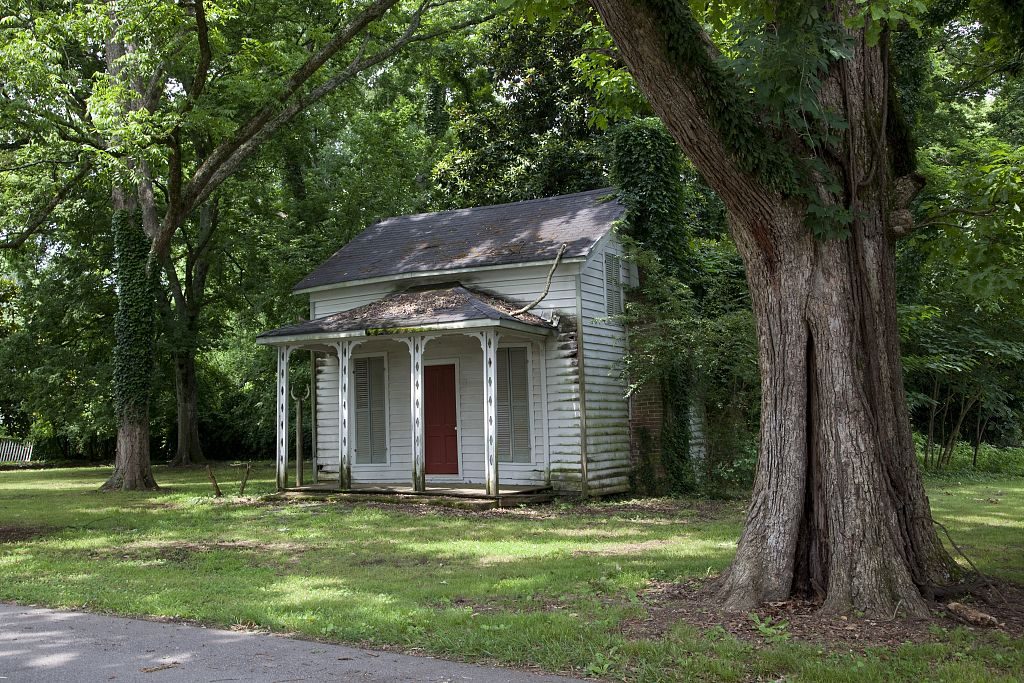 Historic house in Mooresville, Alabama 2010 by Carol Highsmith (Library of Congress)
Crossed on a bridge of logs and plank
Preparations made, the morning came for my departure. My clothes packed in saddle bags, my sun-bonnet tied on by loving hands, I kissed my sweet little sisters and dear mother goodbye, with promise "to be good and not to forget to say my prayers." Lo! mounted on Maggie, a faithful animal of excellent gaits, my brother by my side, we began our journey of twenty-eight miles.
Six miles brought us to Swan Lake, which we crossed on a bridge built of logs and plank, and soon we were on the bank of the river at the present site of the ferry, where I had my first view of Decatur, March, 1829. I was sorely disappointed, as I had thought of it as a great city.
Passed elegant houses
Crossing on a flat ferry boat, we rode up what is now called Railroad street, passed the Polk House, which was then being built and owned by Col. Frank Dancy, great-grandfather of Mrs. W. W, Littlejohn. A little further on to the left was Dr. Rhodes' large, elegant house, in a beautiful grove of large oaks, extending from the present depot to Maj. Downs' house on Lafayette street. This was the handsometh house that was ever in Decatur—was afterward bought by Simon Sykes, and from him by Mrs. Scruggs, mother of Mrs. Sue M. Nelson.
Where the school house now stands was a rope and bagging factory, owned by Dr. Rhodes.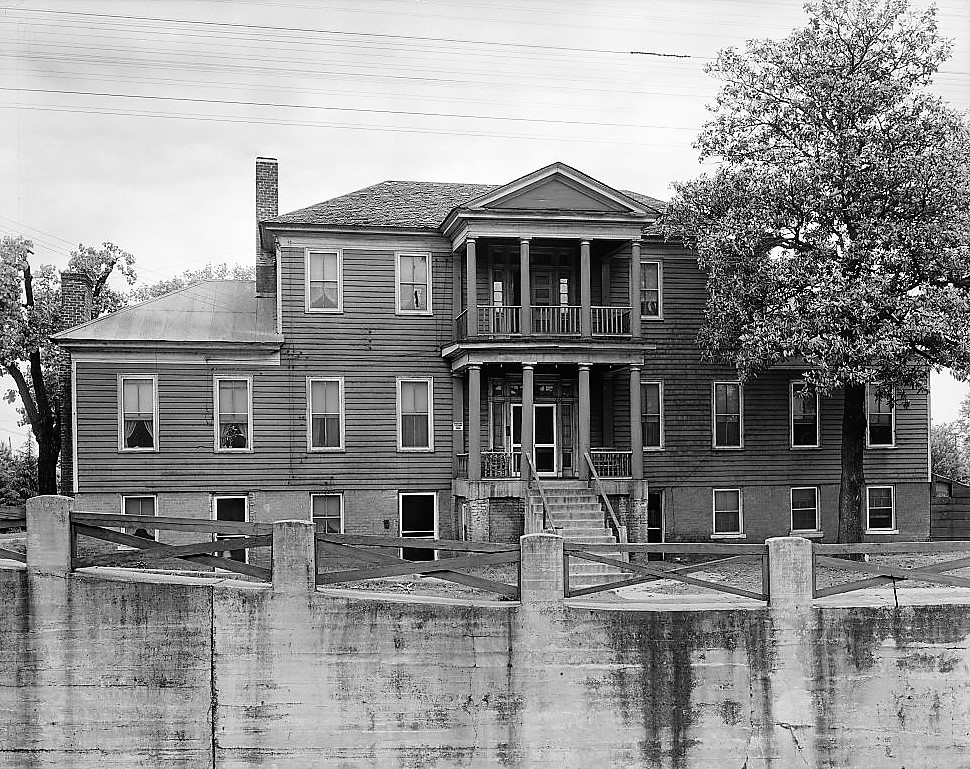 Dwelling, Virginia type, 901 Railroad St., Decatur, Morgan County, Alabama by Frances Benjamin Johnston 1939 (Library of Congress)
Six months after, my brother and Maggie came to bring me home. How my heart leaped for joy, soon to be in my mother's arms again! Now, on the north side of the river, opposite the town, was a great field of hemp, belonging to Dr. Rhodes, which he grew for his factory-the first and the last hemp I ever saw growing.
Now, on the north side of the river, opposite the town, was a great field of hemp, belonging to Dr. Rhodes, which he grew for his factory-the first and the last hemp I ever saw growing.
In 1832, my brother, Samuel Hollingworth, moved to Decatur, after which time I often visited here. He lived on the cornet now owned by Maj. D. L. Downs.
Drs. Rhodes and Dancy, Simon Stykes and Gen. Garth, father of Mrs. Sally Dancy, were among the first settlers, and held their deeds from the government. They were all men of considerable wealth.
The bank was established here about the year 1832, and the first money deposited in it was two thousand dollars ($2,000) in silver, sent from New Orleans by steamboat to Florence, and from there, hauled by wagon to Decatur by Peter Hovis, and guarded by two men. Before this banking business was transacted in a little log house.
There was no church in the town, and the first sermon I heard here was in a two-story frame building, the upper story being the Masonic Lodge.
In 1834 the railroad was built from Tuscumbia to Decatur, and was finished to the present site of the M. & C. freight depot. I saw the first train, which consisted of the engine and three coaches, come in. I suppose there were a thousand people on the ground to witness it. In January, 1834, it was completed to the warf, and celebrated by a grand ball on the eighth. The warf was then where the bridge begins now, and walled with stone, A few years after, the steam cars were abolished and coaches drawn by one horse were used for awhile. But when the country recovered from the money panic of '37 the steam cars were restored and used until the Memphis & Charleston road was built.
"The Atlas;" was the first steamboat that run the river over the shoals to this point.
In 1835 the Methodist church was built, and in '37 Decatur was made a preaching station.
In '36 John S. Rhea, a prominent merchant, built the brick, known as the Burleson-Hines house; also a large brick warehouse on the river, foot of Bank street.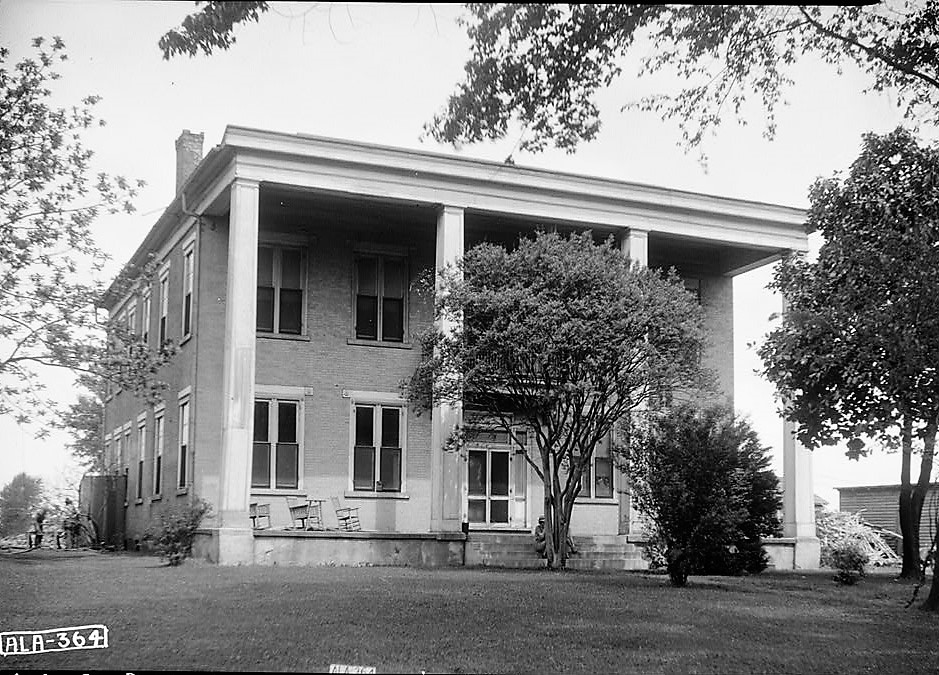 Rhea-Burleson-McEntire House, 120 Sycamore Street, Decatur, Morgan County, Alabama ca. 1939 (Library of Congress)
In '39 a nice brick church was built by Baptists. In 1838 a large cotton factory was built near the site of the charcoal ovens.
In 1854 the Presbyterian church, a frame building, was erected on the present site of Cross & Brock's new stores.
The Odd Fellows built a large brick in 1856, corner Lafayette and Canal streets, which accommodated a large female school besides their own hall. A male school flourished where Charlie Todd's house now stands. Many comfortable and handsome homes adorned the town, when, in 1864, Federal troops took possession of it and ordered all the citizens to leave. When permitted to return they found the bank, the McCartney, the Polk and the Burleson houses were all that was left of our once pretty town.
To link back to my own life: We left the dear old home in 1839 and moved to Morgan county. In 1840 I was married and came to Decatur to make a home, where, after the vicissitudes of life and of war, I live, surrounded by the best of neighbors, whom I dearly love, and with five great grandchildren for my play-mates, I love the play-house still.
Caroline Leadingham
June 8, 1895.
Related Story and Film
RIBBON OF LOVE: 2nd edition – A Novel of Colonial America "We're all going to die!" echoed from below deck amid the frenzied screams and cries from terrified women and children between decks. Sounds of chaos below deck filled the air as the hands scrambled to free the foremast before it broke through the ship. "Quickly, men" We need to free that fore-mast now!" bellowed Captain Potts. "But, by God be careful, we don't want to lose another man!"