In 1818, before Alabama became a state, Anne Newport Royall (June 11, 1769 – October 1, 1854) was a traveler in Alabama. After her husband died, she was left penniless and she toured Alabama for four years as one of the first newspaperwomen in America. She wrote letters to her friends about Alabama and the letters were published as a book entitled Letters from Alabama in 1830.
On April 20th, 1821, Anne was in Moulton Alabama (now in Lawrence County, Alabama). In this story she describes her experiences and observations of a robbery, a case of witchcraft that took place and the court system in early Alabama.
The letter has been transcribed exactly as published. (Including the misspellings)
Moulton
Same date.(April 20th, 1821
Dear Matt,
In answer to yours—This place is growing. The county seat of justice is fixed here, ever since the state was admitted in the Union. It contains several genteel families, mostly merchants, lawyers, and doctors. When I first came here there were but four cabins: It is now a considerable town. I dare say you will be pleased with it. It has no navigation, but it is healthy. This is the richest county, in land, in the state, and contains many planters of great wealth. But the society is the best this side of Huntsville, and the flower of it boards at our house.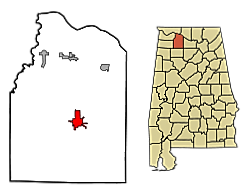 Map of Moulton in Lawrence Co., Alabama
Irish Gentlemen
In the first place we have two Irish gentlemen, Mr. Gallegher, and Mr. Maden, and Doctor Baker, the latter of North Carolina. Mr. Gallegher is a man of highly accomplished manners, very sprightly and gay, and tells a good story. Mr. Maden is also good company, and sings, and plays well on the flute. The Doctor is the best singer I ever heard. He sings the "Turban'd Turk," "Blithe Sandy," and " Poll, and my partner Joe," with much taste. These are all young men, and full of mirth and fun. Mr. B. himself, is not a bad hand at a story; and Mrs. Burlison is one of the most amiable of her sex. These, and Miss Burlison, a great beauty, form the society at Mr. B's, besides a great number of travellers; of course I spend my time pleasant enough.
Fire inspired conversation
We had had a shower of rain after dinner, and being late, Mr. G. (who is a merchant) declined going to the store; the strangers had proceeded to their respective homes, and the air being cooled by the rain, rendered it necessary to have a fire. A fire has something cheering and social in its aspect, and always inspires pleasure and converse.
We all drew our chairs round the hearth, which was neatly swept, and amused ourselves on the incidents of the day: and I gained no small credit for my ingenuity in taking the lady in at dinner. Mr. B. said it was the best preaching he ever heard—that the woman insisted she was " not a christian." Mrs. B. who would do honor to any church, is a baptist, and dislikes this tumbling about, and said she "did not think there was any good in it."

All had something to say, and the whole of it was very justly turned into ridicule. Now, what astonished me was, that when Mr. Porter preached here, he did not excite the least noise—but to-day, when this babbler preached, you could not hear your neighbors speak. Yon may judge of his qualifications to teach the ignorant—In speaking of the children of Israel, he said, "they were conveyed captive to Babylon by the Romans!" With such leaders, no wonder they hoth fall into the ditch. But I am going to apprise you of of a singular occurrence which has excited much interest in the country round.
A man and boy asked to stay all night
The house being thronged a few evenings since, on account of the court which is sitting, I arose from the table when I had supped, to make room for those who were waiting, and walked to the door. While I was standing at the door with a glas of water in my hand, it being now quite dark, a ragged old looking man, with a heavy pack on his back, followed by a little boy, approached, and asked me "if he could stay all night," supposing me to be the woman of the house. I spoke to Mr. B. who went to the door and. told the man to come in.
He came in, and taking his pack from his back, (which was a skin with the hair on,) laid it down on the floor, and, seeming weary, sat down. He was all in tatters; a small man, and about 60 years of age. The son, for it was his son, was about 12 years, and something better dressed. When the rest had supped, he and the boy, also sat down to supper; and while he was eating, some of the party asked him how far he had travelled, and what course he came.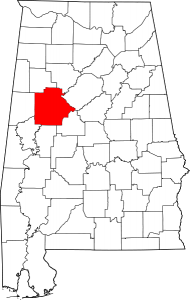 Map of Tuscaloosa
He was from Tuscaloosy
He said "from toward Tuscaloosy;" and made no other reply. When he went to bed, which was in another house, he left his pack where he first laid it down. Next morning he walked about the town, and was out most of the day: sometimes his boy was with him, and sometimes he loitered about the door— the pack still lying in the same place.
Pack was heavy
But when Mrs. B. went to sweep the dining room, she gave the pack a kick with her foot, to move it out of her way, thinking it was nothing but clothing. "Hump!" said she, "you are heavy;" and applying her hands to it, was not able to lift it, but with difficulty rolled it over out of her way; and no more was said about it. Towards evening, the man came in, and said he would be going, and asked Mrs. B. what was to pay? She told him, nothing; supposing him to be very poor, from his appearance; though she said she saw him with money in his hand, when he asked "what was to pay."
He had been robbed
Sometime after dark he returned, and to our astonishment, said he had been robbed of 1500 dollars in silver! Every one was amazed, that a man with so much money, should dress as he did, and walk on foot; he was in his shirt sleeves, and they were hanging in ribbands. Mrs. B. now repeated the weight of the pack; and various were the opinions on the subject. Some thought his story correct, and that he dressed in that manner to avoid suspicion; and others gave him no credit, as lie was so careless about the pack.
Men standing in the yard
He stated, that drawing near a house about three miles distant from the town, where he intended to stay all night, he saw several men standing in the yard drinking. When he came up to them he did not like their looks, and laying his pack on the fence, to rest himself, made some inquiry about the distance to the next house. The men cursed and swore, and turned him into ridicule, instead of giving him satisfaction; pressed him to drink with them; which he refused. But while he was considering what to do, one of the men went to the pack, and felt it.
Man jumped out of the bushes
Finally, he resolved to return; and putting on his pack, said he would go back to town. As he said this, one of the men sat off from the house, nearly in the same direction, but did not keep the road. He left the house and proceeded back the same road he came; and another man, he said, followed. When he had proceeded some distance from the house, the first man jumped out of the bushes, with a large club, and threatened his life, if he did not immediately stop and deliver his pack. By this time the other man appeared, and by them he was robbed of every dollar!
Men were of bad character
The men he spoke of, were immediately taken, and proved to he men of bad character, one in particular; but no money was found with them. As court was sitting, they were immediately brought to trial, before his Honor, C. C. Clay, and Mrs. B. and myself were called on by both parties successively.
The Commonwealth summoned us the first day, and the prisoners the next, when and where we stated the substance which has been related. A number of witnesses were summoned, and the boy was examined apart from his father, and agreed nearly with him; and always told the same story, which was not a very probable one; but neither would tell how they obtained the money, except that they made it by trading in furs, towards the Rocky Mountains, and were absent seven years; and were amongst the Pawnee Indians, and at the lead mines.
People did not think he told the truth
But his appearance, and his coming such a circuitous route, induced the most people to think he did not tell truth; and though a few of the witnesses seemed to corroborate, with his testimony, as to the weight of the bundle, not one ever saw the money. The men accused were acquitted. I never was more staggered in my opinion, as was also the judge, and almost every one, so much so, that the smallest particle would have turned the scale one way or the other.
Some said it must have been lead; others said it might have been silver oar, For the honor of Judge Clay, he gave the old man every opportunity to establish the fact; sending off, to a great distance, for witnesses; protracting the trial, and seemed anxious to do the old man justice.
The Judge did not put up at our house, but very politely called several times. Judge Clay is a very youg man, of pleasing manners, handsome person, and said to be a man of the first talents in the state. Though this is a new country, I have witnessed very few judges who might rank with Judge Clay in elegance of manners.
Thus ended the mighty matter, which excited much interest, and is still a cause of wonder in the neighborhood. The old man seems quite chop-fallen, and still hangs about the house.
Woman said she was bewitched
Another strange occurrence has, for some time, thrown the whole neighborhood into confusion and surprize. A woman, a few miles hence, was taken strangely ill, and said she was bewitched! She threw up knots of pins, and other things equally unaccountable; was racked with excruciating pains, so that she had no rest night or day. She laid this upon one of the neighboring women, whom she pointed out by name!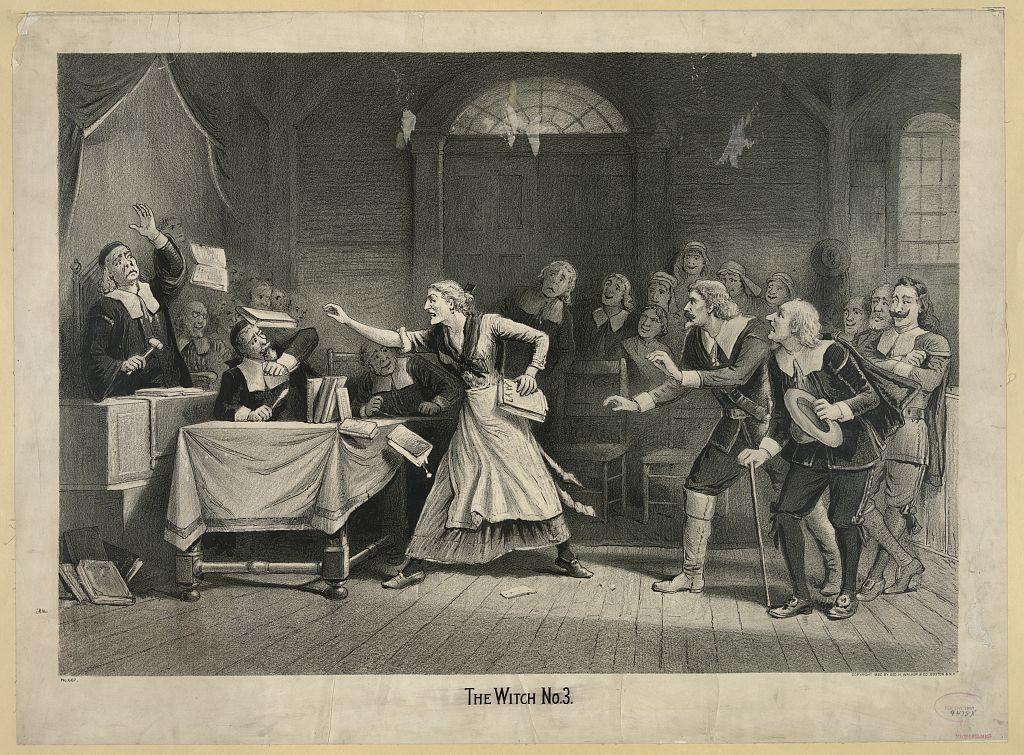 The Witch No. 3, Geo. H. Walker & Co. (Library of Congress)
Her neighbors attended her, and was often present when she threw up the pins, knots of hair, and other unaccountable substances. The matter ran on for several weeks, during which she contrived to inspire a large portion of the neighbors with the belief that she was actually bewitched.
Respectable physicians testified
Even respectable physicians were imposed upon, and were ready, and actually did testify that she was afflicted with some supernatural disease, over which medicine had no controul. Finally, they carried on the farce so far, as to have the supposed witch apprehended and brought before the magistrate, and hundreds (likewise bewitched) attended to hear the trial.
But the magistrate happened not to be bewitched, and the woman, producing proof of a fair character, was acquitted. The patient now became worse than ever, and the neighbors said it was a shame that the witch should have been acquitted; and the whole neighborhood seemed to combine in a dangerous conspiracy, and the phrenzy of witchcraft at length alarmed the thinking part of the community, and three or four gentlemen took horses and rode to the house of the bewitched, with a view of putting an end to the cheat.
Barrel of brandy was the real witch
It appeared that the husband of the bewitched woman, had traded for a barrel of brandy, to speculate on, and this barrel was in the house where the woman lay. The gentlemen having made this discovery, together with certain symptoms of the afflicted woman, kept a close watch, and at length discovered the. real witch, which was the brandy barrel, having detected the lady drawing the brandy.
They immediately made this known, and told the husband (who was deeply concerned for his wife) to send the barrel of brandy away, and his wife would soon be well. The neighbors now turned against the woman, and (he husband of the. lady who was persecuted, brought an action for slander, and finally, the bewitched lady, and her worse bewitched husband, became so obnoxious, they were compelled to leave the country. So much for ignorance.
ALABAMA FOOTPRINTS Confrontation: Lost & Forgotten Stories (Volume 4) is a collection of lost and forgotten stories that reveals why and how the confrontation between the Native American population and settlers developed into the Creek-Indian War as well as stories of the bravery and heroism of participants from both sides.
Some stores include:
Tecumseh Causes Earthquake
Terrified Settlers Abandon Farms
Survivor Stories From Fort Mims Massacre
Hillabee Massacre
Threat of Starvation Men Turn To Mutiny
Red Eagle After The War