Photo by : Carmen K. Sisson/Cloudybright http://goo.gl/WwFY1s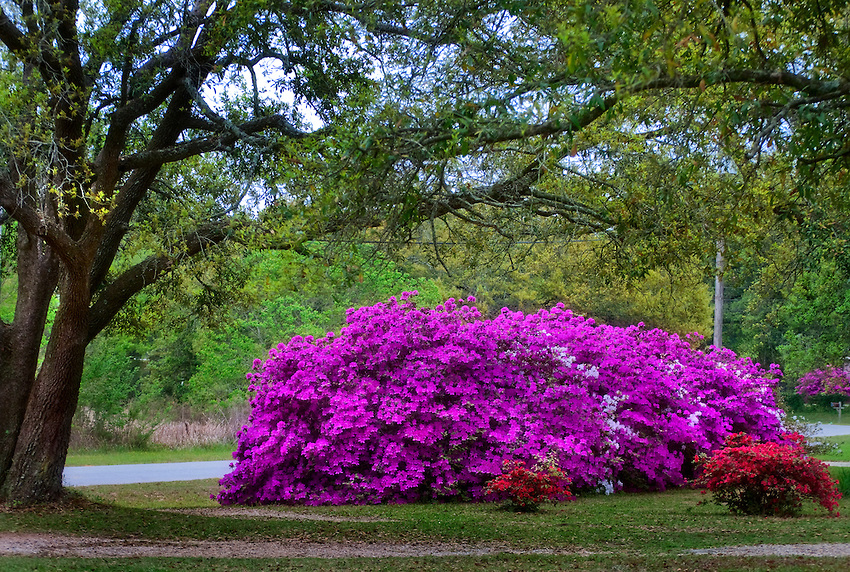 It's a shame this interesting 1935 film is not in color so you can truly enjoy the beautiful azaleas blooming at Bellingrath Gardens in Mobile, Alabama this time of year. The city of Mobile has been famous for being the Azalea City and Bellingrath Gardens and Home has a dramatic display of azaleas every spring. in the the Gardens.4  
The Azalea's history is even older than the state of Alabama.
" In the middle of the Eighteenth Century Fifise Langlois, returning to Mobile from a visit to his childhood home in Toulouse, France, brought three colors of Azaleas to Mobile. From that time on we find the Azaleas woven into the pattern of Mobile's history.  When France ceded Mobile to England in 1763, visitors came to see the Azaleas; and in 1779 when the Spaniards took Mobile they marveled at the glory of these flowers.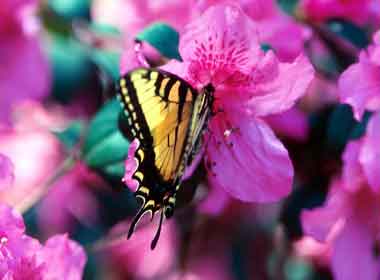 Since the turn of the Twentieth Century some of the bushes planted about the middle of the Eighteenth Century have become almost trees, towering fifteen to twenty feet in height and measuring over a hundred feet in circumference.
Ancient azaleas have been saved in Bellingrath Gardens near the city of Mobile.
Many of these ancient bushes have been brought into Bellingrath Gardens, where they are zealously guarded for this and other generations to enjoy and admire." 3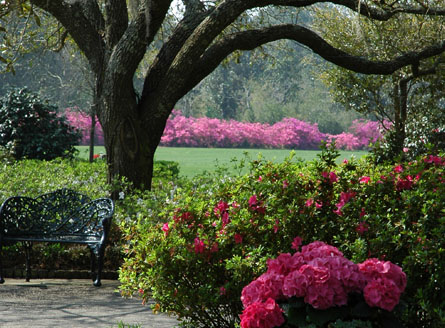 Azaleas are so important in Mobile's History that in 1929, with the encouragement of Mr. Sam Lackland, and the Mobile Junior Chamber of Commerce (now known as Mobile Jaycees), citizens of Mobile were asked to plant azaleas that would line local streets. This "azalea trail ran through many areas of the city and was marked by a pink line that ran through the middle of the street."
Trail Court of Girls Greet Visitors
A Trail Maid Court of 10 girls greeted visitors to the opening on the Trail every year. The Court became so popular during the 1950's that girls from around the Southeast bid to be a member of the court. "A decision was made to only allow girls from Mobile County to participate in the court and the America's Junior Miss was formed as scholarship program for girls around the country.
Azalea Trail Maids become Ambassadors
The court as grown from its original 10 that only gathered for three days to 50 girls that represent the city of Mobile year round."1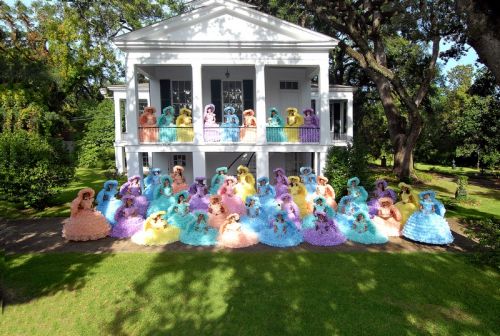 Besides serving as ambassadors for the city of Mobile, the girls have appeared nationally at "the Fourth of July Parade in Atlanta, the Macy's Thanksgiving Day Parade in New York City, the Rose Bowl Parade in Pasadena, the Christmas Parade in Chicago, the Thanksgiving Day Parade in Philadelphia, the Presidential Inauguration Parade for George W. Bush in Washington, D.C. and the Easter Parade in Walt Disney World."2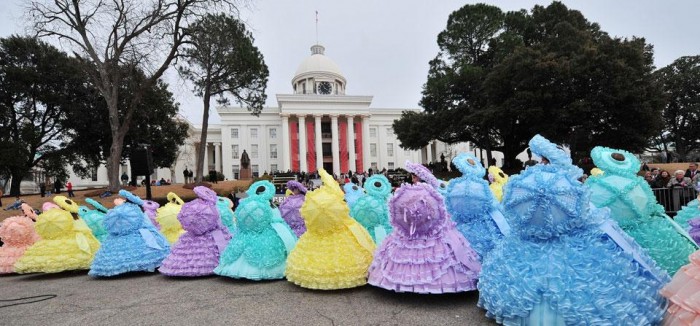 In the video below they participated in 2010 Easter Parade at Walt Disney World.
Check out all genealogy, history books, and novels by Donna R. Causey
lost & forgotten stories such as:
Nobodies Became Somebodies
The Birth of Twickenham
Captain Slick – Fact or Fiction
Routes Taken To The Alabama Territory
The Death of Stooka