Nestled in the northeast, Alabama mountains, the beautiful county of DeKalb has a rich and intriguing history filled with sadness, as well as 'boom times.'
DeKalb County was once home of the famous Cherokee Native American Sequoyah, an Cherokee Chief who single-handily created an alphabet which allowed an entire nation of Indians the ability to read and write. it took him twelve years to finish it, but "within a few months almost all of the Cherokee Nation could read and write."
To the north and west of DeKalb lie Marshall and Jackson County. On the east is the Georgia line, and Cherokee County, Alabama, and to the south lies Etowah County.
The county forms a part of the geographical area known as the Appalachian province. Its surface consists of broad, level plateaus, alternating with narrow valleys. The trend of its mountains, valleys and streams, create a lush, beautiful countryside, from northeast to southwest.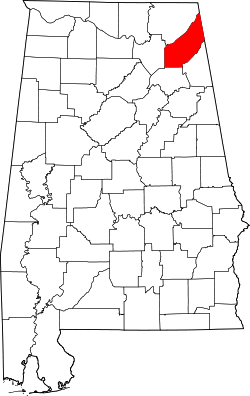 Parts of its southern section was set off as Etowah County, December 7, 1866. In its name, it honors the memory of Maj. Gen. Baron DeKalb, who was mortally wounded fighting for the independence of the American Colonies, August 16, 1780. The county seat is Fort Payne.
Little River Canyon, just outside Fort Payne city limits.
National Park Service photo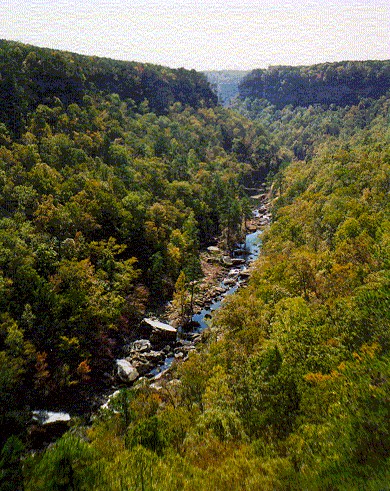 DeKalb County, Alabama was created by the Legislature, January 9, 1836. Its territory formed a part of the Cherokee possessions in the northeastern part of the State, which were ceded to the Federal government/ by the treaty of New Echota, made December 29, 1835.
The following were the first county officials:
Robert Hooks, judge county court, commissioned January 12, 1836;
Robert Murphy, sheriff, March 24, 1836;
John Cunningham, clerk circuit court, March 24, 1836;
Solomon C. Smith, clerk county court, March 24, 1836;
William. Withrow justice of the peace May 25, 1836;
Benjamin F. Greene, justices of the peace, May 25, 1836;
A. H. Lamar, constable, May 25, 1836.
In the late 1880s, Fort Payne experienced explosive growth as investors and workers from New England and the North flooded into the region. This period is called the "Boom Days", or simply as the "Boom". In 1885, coal and iron ore were discovered in the area and investors envisioned a Pittsburgh of the South. The Fort Payne Coal and Iron Company was organized in 1888 and purchased 32,000 acres in and around Fort Payne. The City of Fort Payne was incorporated on February 28, 1889.
"Tapestry of Love is a new Historical series about the ancestors of a family who originally settled on the Eastern Shore of Virginia in 1638 and migrated to Alabama in the early 1800's."
Many of the notable and historic buildings in Fort Payne date from this period of economic growth, including the state's oldest standing theater, the Fort Payne Opera House; the former factory of the Hardware Manufacturing Company (today known as the W. B. Davis Mill Building, and home to an antiques mall and deli), and the Fort Payne Depot Museum, formerly the passenger station for the present-day Norfolk Southern Railway. Today it serves as a museum of local history. A 125-room hotel was built and occupied an entire city block.
The DeKalb Hotel – built in the Boom in 1889, burned 1918.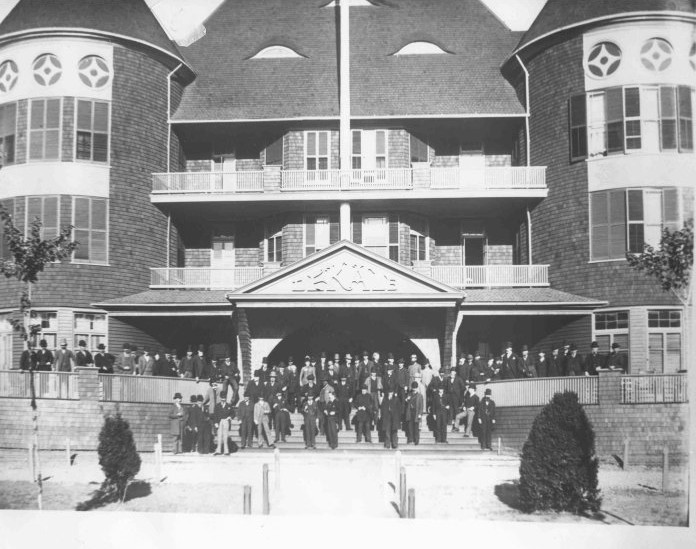 Another principal city in Dekalb County is Mentone. "Mentone literally means, "musical mountain spring," and while natural cascades and rippling streams create a melody all their own, it's the sound of church chimes and harmonizing home folk that draw the most interest, musically, today" Mentone is home to many private summer camps,
The town is also well known as a center for arts and crafts, with numerous shops and several great restaurants. During the summer, the population more than doubles. During the winter, it is famous for being the only place with snow skiing in Alabama, at Cloudmont Ski and Golf Resort.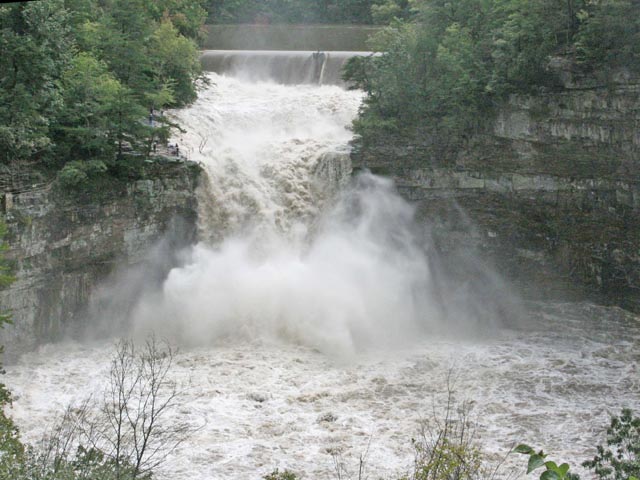 Sallie Howard Memorial Chapel, built into a boulder, is located in Mentone, Alabama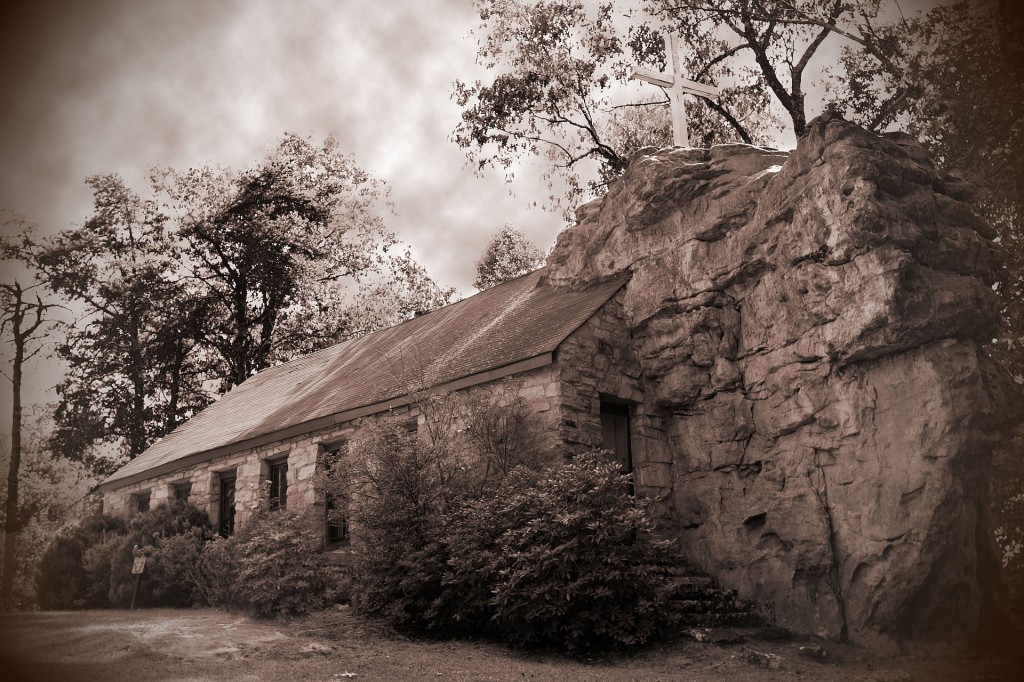 Lookout Mountain lies to the southeast, forming another plateau several miles in extent, and characterized by the same features as Sand Mountain. This plateau has a maximum elevation of about 1600 feet, the intervening valleys affording a striking contrast to the broad flat type of table mountain or plateaus. The city of Rainsville is located on the top of Sand Mountain. At the 2000 census the population was 4,499.
An EF5 tornado struck Rainsville hard on April 27, 2011 leaving twenty-five fatalities and considerable damage.
The film below reveals the extensive damage on Sand Mountain from the tornado.
The resilient people of DeKalb County, Alabama have recovered and are prepared to face anything Mother Nature throws at them as this news report from 2013 reveals.
Aerial view of Fort Payne, Dekalb County, Alabama
Lookout Mountain in background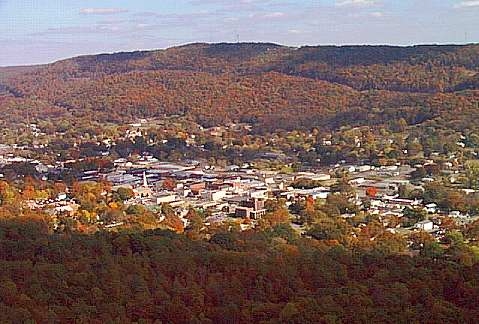 The three photographs below are of Desoto State Park in Fort Payne, Dekalb County, Alabama. The park is accented by rushing waterfalls and fragrant wildflowers. The atmosphere of the CCC further enhances the restaurant, lodge and cabin facilities. Nestled atop beautiful scenic Lookout Mountain in northeast Alabama, this 3,502-acre park provides mountain chalets, log & rustic cabins by photographer Carolyn Highsmith (Library of Congress)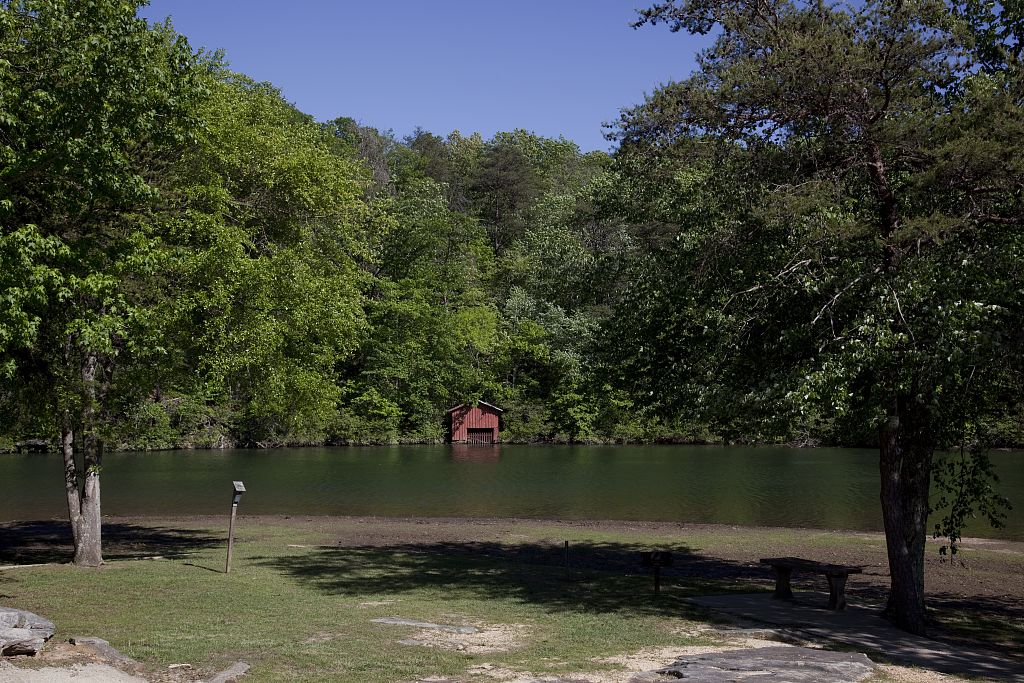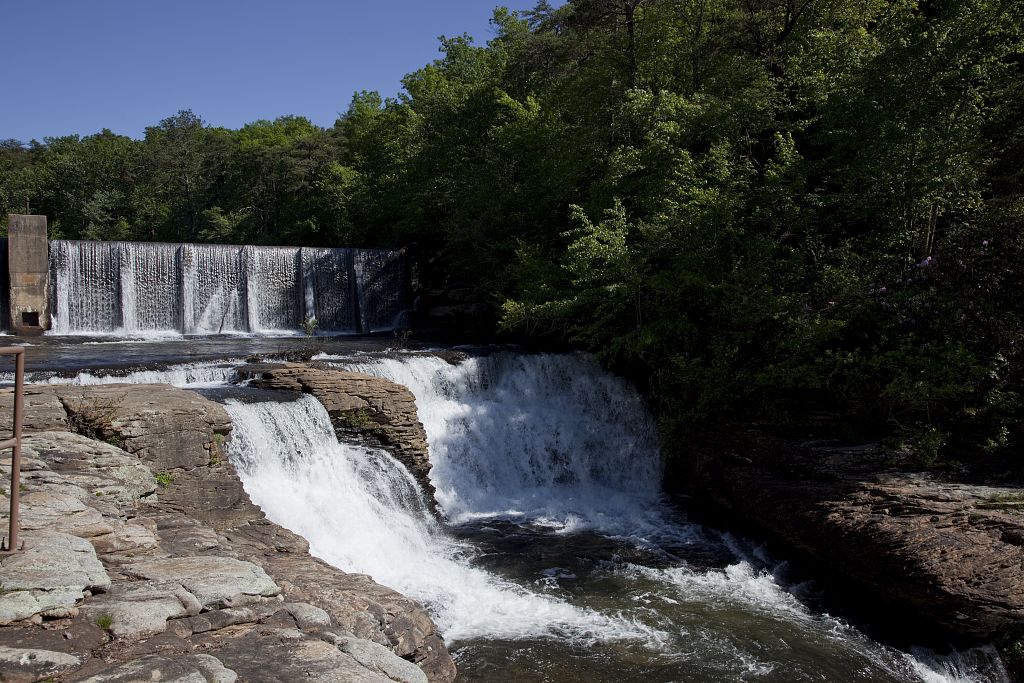 The valleys themselves are broken by elongated ridges, so that frequently between the plateaus they are divided into two or more parallel valleys. The rocks of the area are all of sedimentary origin, and belong to The Paleozoic age.
Along the northwestern section of the county lies Sand or Raccoon Mountain, to the northwest of which lies Jackson County. This plateau has an elevation of about 1300 feet. Its eastern extension forms a bold escapement facing Will's Valley, a rich and beautiful section of the county, extending throughout its entire length.
Big Will's Creek is Its principal stream, flowing into the Coosa in Etowah County. Other streams are Town and Sauty. Little River in its upper course forms a part of the dividing boundary between DeKalb and Cherokee Counties.
In the 19th century, the site of Fort Payne was the location of Willstown, an important village of the Cherokees who relocated to Tahlequah, Oklahoma during the Cherokee Trail of Tears.
Willstown, was named after, a red-headed mixed-race man named Will Weber. It was first called Willisi and then Will's Town. "What is officially now called DeKalb County was known as Will's County until 1836 when the name officially became DeKalb County. The first general use of the name "Fort Payne" came several years after the Cherokee removal stockades had been abandoned in 1838. Fort Payne became an official name in 1869 and on May 5th, 1878, Fort Payne became the county seat of DeKalb County."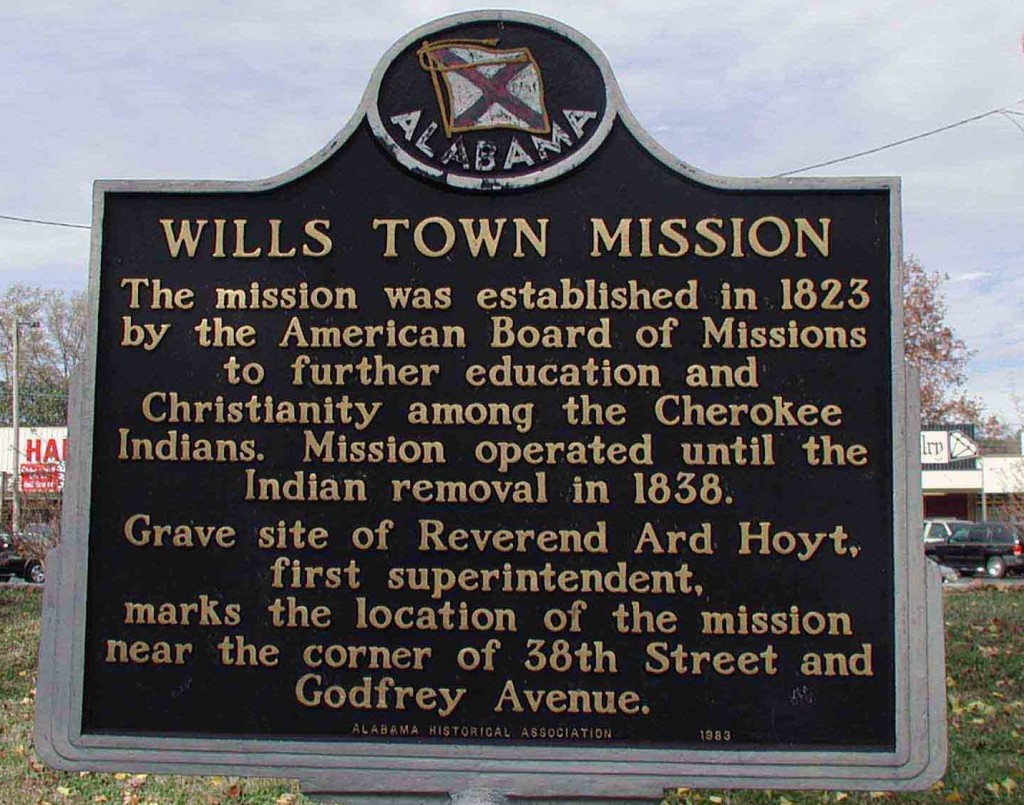 According to Major John Norton, a more accurate transliteration would have been Titsohili. The son of a Cherokee adoptee of the Mohawk, Norton grew up among Native Americans and traveled extensively throughout the region in the early 19th century. He stayed at Willstown several times.
Willstown Mission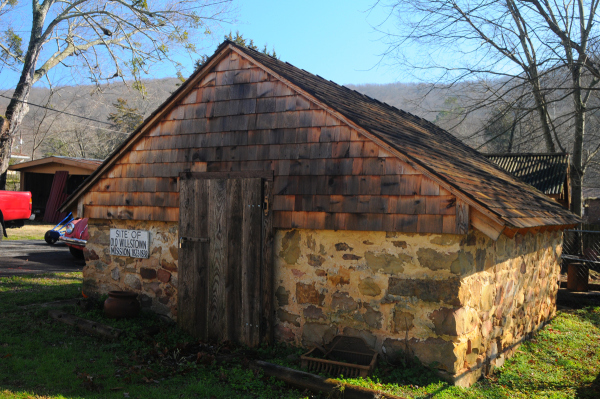 During the 1830s prior to Indian removal, the US Army under command of Major John Payne built a fort in Fort Payne that was used to intern Cherokees until relocation to Oklahoma. Their forced exile became known as the Trail of Tears.
Native American burial places, denoted by charred shell-heaps are reported from points near Collinsville, but they are probably not numerous. Will's Town, a place of considerable importance in Cherokee history, was situated on Big Will's creek, just above the present village of Lebanon.
Here also resided Col. Alexander Campbell, the British agent for the Cherokees during the Revolution. Large sand stone mills, or mortars, have been collected from some sections of the county.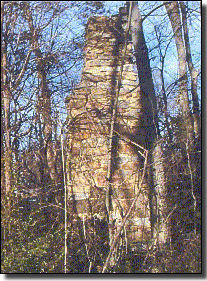 "Today there is no fort or stockade, just this old chimney standing as a stark reminder of what the Cherokees and other Indian tribes endured. Historic markers now stand where Indians once gathered to learn to read and write using an alphabet created and taught by Indian Chief Sequoyah and one where a fort once stood and held Indians against their will. While we can't turn back the clock and undo this tragic act, we can at least bring awareness to it and educate others in the hope that this never happens again to another race of people."
"Landmarks of DeKalb County, along with the National Park Service and the Alabama Trail of Tears Association, hosted the opening ceremony of the Benge Route of the Trail of Tears on June 23, 2012. The ceremony was held at the Cabin Site, Landmarks' property at the end of 4th Street S. and Gault Ave. in Fort Payne, containing the old cabin foundation and chimney, which is now an officially certified historic site on the Trail of Tears Historic Trail."
The old cabin site is where in 1837, Federal troops arrive to construct the fort.
Confederate Commands from County.—The commands listed below were made up in whole or in part from this county.
Infantry
Co. I, "Yancey Guards," 10th Regt.
Co. E, "DeKalb Invincibles," 12th Regt.
Co. B, "Wills Valley Guards," 48th Regt
Co. B, "DeKalb Rifles," 49th Regt
Co. G, 49th Regt.
Co. K, 54th Regt. (Formerly Co. K, Walker's 40th Tenn. Inf. Regt.)
Miscellaneous.
Co. A, 3d Confederate Regt.
Co. B, 3d Confederate Regt.
Co. C, 3d Confederate Regt.
Co. K, 3d Confederate Regt.
"In the 1890s, iron and coal deposits began to play out and coupled with a national economic panic the Boom ended in 1893. In 1907, a new era began… the era of the hosiery mill. Fort Payne would soon become the largest single location of hosiery manufacturing in America and become known as the "Sock Capital of the World".
"At the turn of the 21st century, about 8,000 people worked at the 125 hosiery mills in Fort Payne, by the estimate of DeKalb County Economic Development Authority Director Jimmy Durham. Today, said Durham, the 20 or so remaining mills employ about 600, a staggering decline for a town whose economy has long relied on sock production."
"With soaring cotton prices and cheaper costs overseas, with companies citing the threat of global competition, the dynasties in Fort Payne have disappeared."
Post Offices and Towns Revised to July 1, 1917, from U. S. Official Postal Guide, numbers indicate the number of rural routes from that office.
Battelle
Henegar—2
Chavies—2
Higdon
Collbran—1
Collinsville—4
Crossville—3
Dawson—2
Kaolin
Fort Payne (ch)—5
Mentone
Fyffe—2
Nightingale
Groveoak—3
Painter—1
Delegates to Constitutional Conventions.
1861—William O. Winston, J. H. Franklin
1865—William O. Winston, Alfred Collins.
1867—W. A. Austin.
1875—David Nowlin.
1901—John A. Davis, D. C. Case.
Senators
1839-40—Solomon C. Smith.
1841-2—Arthur Foster.
1844-5—Solomon C. Smith.
1847-8—William H. Garrett.
1849-50—William Garrett.
1853-4—James Lamar.
1857-8—S. K. Rayburn.
1859-60—Robert W. Higgins.
1861-2—John P. Morgan.
1863-4—James Critcher.
1865-6—William O. Winston
1868—C. O. Whitney.
1871-2—C. O. Whitney.
1872-3—A. Snodgrass.
1873—A. Snodgrass.
1874-5—A. Snodgrass.
1875-6—A. Snodgrass.
1876-7—L. A. Dobbs.
1878-9—L. A. Dobbs.
1880-1—P. Brown.
1882-3—Preston Brown.
1884-5—Ira R. Foster.
1886-7—J. L. Sheffield.
1888-9—W. W. Haralson.
1890-1—James F. Waddell.
1892-3—Thomas Tumlin.
1894-5—Thomas Tumlin.
1896-7—D. C. Case.
1898-9—D. C. Case.
1899 (Spec.) D. C. Case.
1900-01—L. B. Stone.
1903—Lucius Bennett Stone.
1907—W. W. Barbour.
1907 (Spec.) W. W. Barbour.
1909 (Spec.) W. W. Barbour.
1911—J. A. Nance.
1915—W. H. Elrod.
1919—
Representatives
1837-8—Solomon C. Smith.
1838-9—Solomon C. Smith.
1839-40—Andrew Wilson; W. F. Mooney.
1840-1—Andrew Wilson; William O. Winston.
1841 (called).—Andrew Wilson; William O. Winston.
1841-2—Thomas J. Rodgers; William O. Winston
1842-3—M. Lankford; William O. Winston.
1843-4—M. Lankford; William O. Winston.
1844-5—B. K. Webb; William O. Winston.
1845-6—Notley M. Warren; R. Murphy.
1847-8—Notley M. Warren; Robert Murphy.
1849-50—Madison Hendricks; Robert Murphy.
1851-2—Notley M. Warren; Alexander W. Majors.
1853-4—M. C. Newman; Robert Murphy. Higgins.
1859-60—F. J. Burgess; Seabird Cowan. Cowan.
1861 (2d called)—G. W. Malone; L. W. Lynch.
1861-2—G. W. Malone; L. W. Lynch.
1862 (called)—G. W. Malone; L. W. Lynch.
1862-3—G. W. Malone; L. W. Lynch.
1863 (called)—G. W. Malone; Jeptha Ed-
1863-4—G. W. Malone; Jeptha Edwards.
1864 (called)—G. W. Malone; Jeptha Edwards.
1864-5—G. W. Malone; Jeptha Edwards.
1865-6—G. W. Malone; Notley M. Warren.
1866-7—G. W. Malone; Notley M. Warren.
1868—G. W. Malone.
1869-70—G. W. Malone.
1870-1—John B. Appleton.
1871-2—J. B. Appleton.
1872-3—John N. Franklin.
1873—John N. Franklin.
1874-5—J. N. Franklin.
1875-6—J. N. Franklin.
1876-7—F. M. Baxter.
1878-9—R. F. Gilbert.
1880-1—B. Bruce.
1882-3—W. H. Clayton.
1884-5—W. J. Haralson
1886-7—B. A. Nicholson.
1888-9—R. M. Blevins.
1890-1—J. B. Appleton.
1892-3—D. C. Case.
1894-5—J. B. Franklin.
1896-7—J. B. Franklin.
1898-9—W. T. Fuller.
1899 (Spec.)—W. T. Fuller.
1900-01—W. W. Haralson.
1903—William Frier son Fulton.
1907—W. H. Elrod.
1907 (Spec.)—W. H. Elrod.
1909 (Spec.)—W. H. Elrod.
1911—W. E. Quinn.
1915—J. E. Johnson.
1919—
SOURCES
Acts 1835-36, p. 170: 1838-39, p. 36; Brewer, Alabama p. 234;
Riley, Alabama as it is (1893);
Alabama 1909 (Ala. Dept. of AG. And Ind., Bulletin 27),
Ala. Official and Statistical Register, 1903-1915, 5 vols.; Ala.
Anthropological Society, Handbook (1910);
Geol. Survey of Ala., Agricultural features of the State (1883);
The Valley regions of Alabama, parts 1 and 2 (1896, 1897), and Underground Water resources of Alabama (1907).
Library of Congress
Wikipedia
Owen, Thomas McAdory, History of Alabama and Dictionary of Alabama Biography,
ALABAMA FOOTPRINTS Confrontation: Lost & Forgotten Stories (Volume 4)
is a collection of lost and forgotten stories that reveals why and how the confrontation between the Native American population and settlers developed into the Creek-Indian War as well as stories of the bravery and heroism of participants from both sides.
Some stores include:
Tecumseh Causes Earthquake
Terrified Settlers Abandon Farms
Survivor Stories From Fort Mims Massacre
Hillabee Massacre
Threat of Starvation Men Turn To Mutiny
Red Eagle After The War
Check out these books by Alabama Author Donna R Causey