Bennett, the Magician
(Lawrence County, Alabama)
by
Col. Edmond Saunders
written ca. 1890s
There was, however, in early times, a man called Dr. Bennett, who had a wonderful run with a simple game with three thimbles, placed on his knee, and a small paper ball.
He was dexterous in handling the ball, and would bet that no person could tell under which thimble the ball was left. The boys lost a good deal of their change, and even grown-up men had their curiosity excited about that tiny ball. General B. used to tell an amusing story about it.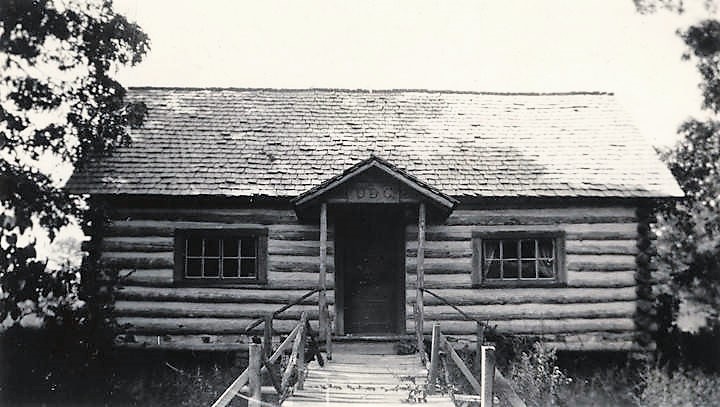 The United Daughters of the Confederacy Lodge between Courtland and Moulton in Lawrence County. UDC met here ca. 1930s (Alabama Department of Archives and History)
Met late at night to bet on a game
One night he and Mr. H., a rising lawyer, went to Bennett's room, not to bet on the game, but just to see how it was done. Bennett very politely agreed to perform his trick for them, as they were men of high standing. He would maneuver the ball and they would guess where it was; very often successfully.
At length, he proposed to bet Mr. H. that he could not tell where the ball was. Mr. H., who had acquired confidence, from guessing correctly, put up $25, and lost it.
Bennett having tasted blood, continued to handle his thimbles, until General B. saw exactly where the ball was. He was a land dealer, and never had any money, but plenty of land; a quarter section was staked, and lost. The two gentlemen rose. Bennett, while politely lighting them down the steps, said: "Call in daytime, gentlemen, you will have better light." "Thank you," said the General, "we are perfectly satisfied".
Bennett used the profits to buy considerable land around Tuscumbia
There was a perfect epidemic in the country in regard to the thimbles. The profits of Bennett were so great that he is said to have purchased a large part of the town of Tuscumbia, when an untoward event put an end to his harvest.
At Columbia, Tenn., he won from a gawk of nineteen years of age, his horse. It belonged to the boy's father and he hesitated to deliver him to Bennett, who jerked the bridle from the boy's hand, and carried the horse to a livery stable. He was thrown into jail on a charge of robbery. He thought light of it at first, but in a few days, he was convinced that the people were bent on having him hung. He sent for the great advocate, Mr. Grundy, and was acquitted. He invited the advocate to his room and inquired the amount of his fee. Mr. G. pulled a slip of paper from his vest pocket, and answered, "$752.10."
"Yes, sir," said Bennett, counting out the money and paying it over. " And now, Mr. G., do tell me how you arrived at the fraction in the fee." "Oh! that is very simple. I had a notion of charging you $1000, but I had falling due in the Nashville Bank a note for the amount specified."
" Yes, sir," answered Bennett, " you have relieved my mind."
This sleight of hand knight went to the Texan war with the invincible Davy Crockett and fell bravely fighting the Mexican foe.