A former First Lady's who passed away on July 11th had ancestors who came from Alabama. She even lived here when she was young and attended the University of Alabama.
Billingsley is in Autauga County, Alabama about 25 miles northwest of Montgomery, and in the northern part of the county near the Chilton County line. It was incorporated by the legislature, March 5, 1901.
Billingsley was named after Clement Billingsley, (b. 1753 Stafford, Virginia -d. Oct 1841 Autauga Co., AL),  a Revolutionary War Soldier who settled in Autauga County, Alabama. He married Cynthia Rebecca Turner in January 1781 in Stafford County, Virginia. He was 84 years old in 1840 according to the census of pensioners.  During the 1880s, the town of Billingsley had a pony express station.
President Johnson's wife had relatives in Billingsley
Lady Bird Johnson, the former first lady, had relatives in Billingsley and Autauga County. Her great-grandparents lived in Milton, a small community near the Dallas County line, and her grandparents lived in the Billingsley area.
Lady Bird Johnson, wife of President Johnson
Parents were born in Autauga County, Alabama
Lady Bird was born Claudia Alta Taylor, and her mother before marriage was Minnie Lee Patillo of Alabama. Her father, Thomas Jefferson Taylor II, was a merchant, philanthropist. He was born August 29, 1874, in Autauga County, Alabama, the son of Thomas Jefferson and Emma Louisa (Bates) Taylor. He moved to Texas in the mid-1890s and opened a store in Karnack, Harrison County, Texas.
Minnie Lee's maternal father (Lady Bird's grandfather) was Luther Patillo. Her mother (Lady Bird's grandmother) was Sara Jane (Myrick) Patillo. Both are buried in the Patillo Cemetery in Autauga County, Alabama.
Lived in Oxford, Alabama
"The Patillo family lived in Oxford, Alabama shortly before the turn of the century. They resided in a beautiful colonial home at 112 Gray Street, apparently for the sole purpose of allowing the children to attend old Oxford College. Luke Patillo, head of the clan, continued to live on the Autauga County plantation while his family resided in Oxford. Two of the Patillo children, Effie and Harry, were students at old Oxford College. The older children, Claude and Minnie lived in the Patillo home at Oxford after they completed college. Minnie Patillo married Thomas Taylor, II. Their wedding was held at the Patillo plantation in Autauga County. The family attended the First Baptist Church of Oxford while they lived there."1
In 1900 Thomas Taylor, II married Minnie Lee Patillo of Autauga, Alabama and they had two sons and a daughter, Claudia Alta (Lady Bird) Johnson.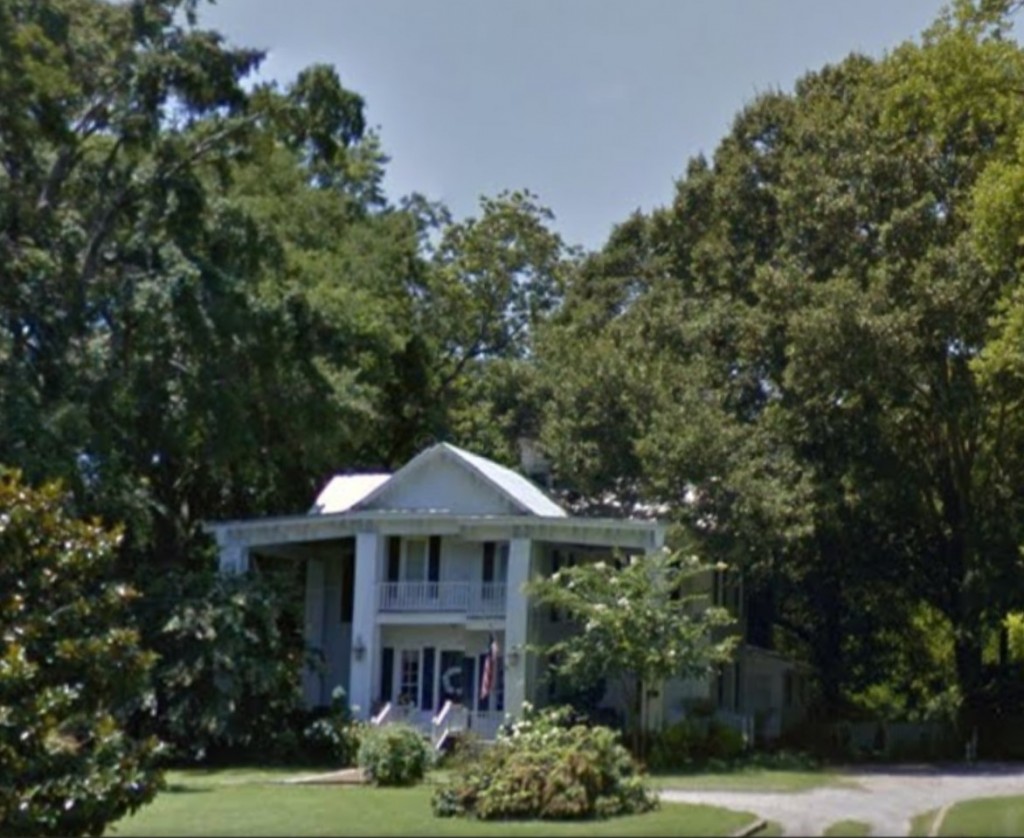 Patillo-Lindblom House in Oxford, Calhoun County, Alabama ca. 2010
Mother fell down the stairwell
Lady Bird's mother, Minnie Lee, died from a miscarriage following a fall down a stairwell when Lady Bird was only four years old. After her mother's death, Lady Bird, "her father felt he was ill-prepared to raise a young daughter, so she moved to Billingsley when she was 6.2 She lived in Autauga County until she was 13, then moved back to Texas, but "she continued to spend her summers in Autauga County until she was in college.3
Lady Bird continued to visit her Pattillo relatives in Autauga County, Alabama, every summer until she was a young woman. As she explained, "Until I was about 20, summertime always meant Alabama to me. With Aunt Effie we would board the train in Marshall and ride to the part of the world that meant watermelon cuttings, picnics at the creek, and a lot of company every Sunday." According to Lady Bird, her aunt Effie "opened my spirit to beauty, but she neglected to give me any insight into the practical matters a girl should know about, such as how to dress or choose one's friends or learning to dance" [1]
Entered University of Alabama
After graduating from high school in May 1928, Lady Bird entered the University of Alabama for the summer session, where she took her first journalism course, but being homesick for Texas, she did not return for the fall term at Alabama.[2]
After graduating from St. Mary's College in May 1930, Lady Bird toyed with the idea of going back to Alabama, but another friend from Marshall, Texas, was going to the University of Texas, so she chartered a plane to Austin, Texas. As the plane landed, she was awed by the sight of a field covered with bluebonnets and instantly fell in love with the city.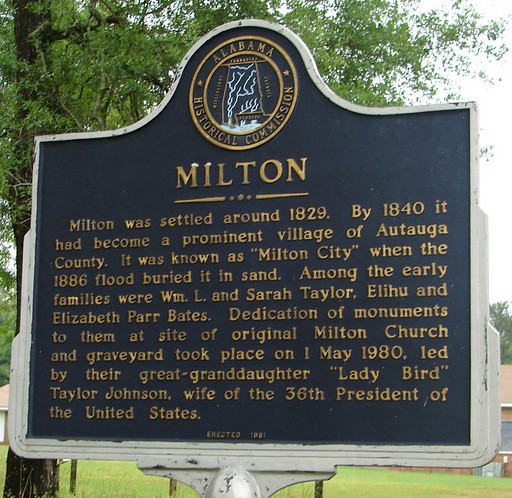 Inherited property in Alabama
After her father's death, Lady Bird inherited property in Alabama and once President Johnson left the White House, she made trips back to Autauga County every few years.  She last visited Autauga County around 1997 when a historic marker was dedicated in Milton. As of 2007, her family stilled owned acreage in Autauga county. Technically the property was owned by a company that belonged to her two daughters and their families and managed forestry products.
Some of her relatives in Alabama included: a cousin, Mrs. O. L. Allen of Selma: a half-cousin, Mrs. Elaine Fischesser of Montgomery; a cousin Mrs. A. B. Moore of Tuscaloosa; Mrs. Neil Robinson of Lowndes County; and a cousin Mrs. William Cousins of Wetumpka.
[1]Wikipedia
[2]Wikipedia
SOURCES
Find A Grave Memorial# 51934496 # 51934566
Times Daily, July 13, 2007, Florence, Alabama
Times Daily, March 28, 1965, Florence, Alabama
The Tuscaloosa News Nov. 23, 1963, Tuscaloosa, Alabama
Gadsden Times July 13, 2007, Gadsden, Alabama
The Anniston Star, December 1, 1963
Alabama Official and Statistical Register, 1915
In this action-packed novel depicting true events, the family saga continues with Ambrose Dixon's family. George Willson witnesses the execution of King Charles II and is forced to leave the woman he loves to witch hunters in 17th century England as he flees to his sister, Mary, and her husband Ambrose Dixon's home in Colonial American. Ridden with guilt over difficult decisions he made to survive, George Willson and the Dixons embrace the Quaker faith which further creates problems for their existence in the New World.