During the "Alabama Fever" period of United States history, early settlers migrated to Alabama from North Carolina, South Carolina, Virginia, Mississippi, Georgia, Kentucky, and Tennessee in search of more land to grow tobacco and/or distance themselves from the Revolutionary War.
Bibb County, Alabama Pioneers Volume I focuses on the pioneer families of FREDERICK MONROE JAMES (b. 1793-d. 1863) ADAM JAMES (1800-1884) HOPKINS LEE (b. 1765-d. 1834) STEELE FAMILY (who immigrated from S.C. ca. 1780), WILLIAM WRIGHT, (b. 1778 SC) and GEORGE PETERS (b. 1790 Italy) Genealogy reports with supporting evidence, notes, brief biographies, wills, deeds and census records, when available are included.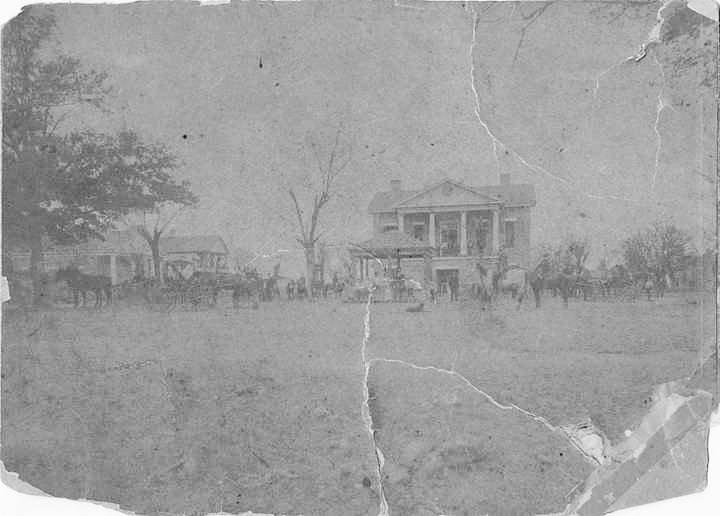 Bibb County Courthouse in Centreville, Alabama.  Looking north. The structure was built in 1859 and was razed to build the current courthouse. (Alabama Department of Archives and History)
Some Descendant surnames included in Bibb County, Alabama Pioneers Volume I are: ADAMS, ARNOLD, AVERY, BAKER, BAMBERG, BARNES, BATES, BLAKE, BISHOP, BOLING, BOLLING, BOSCHUNG, BOYD, BRACKNELL, BRADLEY, BRAG, BRANSDORF, BROADHEAD, BURNS, CANTERBURY, CARDEN, CARR, CARROLL, CAUSEY, CATES, CHAMPION, CLARY, CONWAY, COOK, COOPER, COTTINGHAM, CREEL, CREWS, CROCKER, CRUNK, DAUGHERTY, DAILEY, DIXON, DOCKERY, DOVER, DREOLIA, DUGGAN, EASTERWOOD, ERVIN, FAIR, FARMER, FAUCETT, FAUCETTE, FERGUSON, FIKES, FONDREN, FRANCIS, FRIDAY, FRY, FULGHAM, GEORGE, GOLDEN, GREATHOUSE, GRIFFIN, HANCOCK, HAND, HART, HAYES, HILL, HOLLAND, HORTON, HUBBARD, INGRAM, ILES, JACKSON, JAMES, JOHNSTON, KINNAIRD, KIRBY, KORNEGAY, KROUT, LAGRONE, LAND, LARKIN, LEE, LEMLEY, LEWIS, LEVERT, LIGHTSEY, MADDOX, MAJOR, MARTIN, MASON, MCALLEN, MCBRIDE, MCCALEB, MCCULLEY, MCDOWELL, MCLEOD, MCMILLAN, MEDDERS, MEIGS, MERPHY, MESSER, MILLER, MILLS, MITCHELL, MONTGOMERY, MUELLER, MURPHY, MYRICK, NICHOLS, OGLESBY, OWENS, PALMER, PARKER, PEARSON, PETER, PETERS, PETERSON, PHELPS, PIERSON, QUINN, RAGLAN, RAGLAND, RAINES, REACH, REED, RITCHIE, ROAN, ROBINSON, SATTERWHITE, SHAW, SHOWS, SHUTTLESWORTH, SMITH, SNIPES, STACEY, STACY, STAMPS, STARLING, STEELE, STEFANICK, STEWARD, STEWART, STRICKLAND, THOMPSON, TIBBS, TUCKER, TURNER, VARNEL, VERNON, WAGGONER, WAGONER, WALKER, WALLACE, WARD, WOOD, WOODWARD, WOOLLEY, WRIGHT, WYATT, YEAGER, YOUNG
Save money and hours of genealogy research with this 245 page E-book of compiled records.
READ THIS BOOK FOR FREE ON YOUR COMPUTER!
THEN SIGN-UP FOR THE 30-DAY FREE TRIAL BELOW: