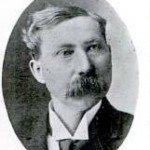 ANTHONY PETER RASMUSSEN DAHL
BIOGRAPHY and GENEALOGY
(ca. 1842-1922)
Wisconsin, Minnesota, Dakota, Michigan, Iowa, Illinois and Shelby County, Alabama
Anthony Peter Rasmussen Dahl was a surveyor of Shelby county who resided at Calera, Alabama. He came to the United States with his mother, three brothers and one sister, in 1857, his father having preceded them five years, and settled in Bloomer, Wisconsin. Here A. P. R. Dahl was reared and given a common school education.
He went into the United States army with his father but did not enlist until February 1864. While with his father in the army (not yet enlisted) he was wounded; on his recovery his father sent him home and he afterward enlisted without his father's knowledge in Company K, Thirty-sixth Wisconsin infantry, and served as corporal to the close of the war. He was recommended by General Eagan for the position of first lieutenant, but Captain Fisk, who had command of the regiment, objected on account of his age.
After the war he attended Atwell's Business college at LaCrosse, Wis., then the Galesville (Wis.) university, and later took a course in civil engineering. Mr. Dahl practiced his profession in Wisconsin, Minnesota, Dakota, Michigan, Iowa and Illinois, his headquarters being at Chippewa Falls, Wis. He removed to Alabama, started a fruit farm one mile east of Calera on the Southern railway, and besides his farming, attended to surveying in Shelby and adjacent counties.
In politics, he was a Republican in national elections, but acted independently in State and local matters. He was a Presbyterian and was a member of the Masonic fraternity. Mr. Dahl was a widower in 1904; his wife, Johana Lee, whom he married in Wisconsin, died in 1882.
His father, Ole Rasmussen Dahl, came from among the wealthy farmers of the old country, and his grandfather was a great believer in education and gave his sons good training. Ole Rasmussen Dahl was of unusual ability, carefully educated. He was admitted to the military academy in Norway and graduated as a military engineer. On account of his skill in drawing, King Oscar presented him with a set of drawing instruments. He raised Company B, Fifteenth Wisconsin infantry, was commissioned engineer and served on the staffs of Generals Carlin, Rosecrans, Grant and Schofield.
While with General Schofield he was captured and in prison for one year. He was in thirty-six of these Confederate prisons, of which he "made sketches, and these drawings he afterward used in writing a book. He died in Wisconsin, Dec. 30, 1882.
The maiden name of Mr. Dahl's mother was Bolete Polina Lied. She was also of a noted family in Norway, the daughter of Frederick Christian and Anna Astrop Lied. Frederick Christian was a brevet colonel in the regular army of Norway; his father was a general in the war between Norway and Sweden. Frederick Christian in his youth ran away from the military school at Copenhagen and joined the Norwegian army during the war between Sweden and Norway. He was at once commissioned first lieutenant, at the age of seventeen. He would have been promoted time and again but for his bitter dislike for King Carl Johan. The mother of Mr. Dahl died in October, 1860, in Wisconsin.
Anthony Peter Rasmussen Dahl passed away March 6, 1922 and is buried in Salem Cemetery in Calera, Shelby County, Alabama.
SOURCES
Notable Men of Alabama: Personal and Genealogical, Volume 1 edited by Joel Campbell DuBose
Find A Grave Memorial# 42897593
Start researching your family genealogy research in minutes.

 

This inexpensive Ebook has simple instructions on

 

how to get started with FREE sources. Download 

WHERE DO I START? Hints and Tips for Beginning Genealogists with On-line resources 

to your computer immediately with the a FREE APP below and begin your research today!
Reviews
"This book was very informative and at a very modest price. One web site I may have missed in your book that has been very helpful to me is genealogybank.com. I found articles about several of my ancestors in their newspaper archives. Thank you for your great newsletter and this book."
"The book was clear & concise, with excellent information for beginners. As an experienced genealogist, I enjoyed the chapter with lists of interview questions. I'd recommend this book to those who are just beginning to work on their genealogies. For more experienced genealogists, it provides a nice refresher."