From Tuscaloosa News August 2, 1937
Triplets Arrive in Perry County
Three girls born to dairy farmer's wife in a Selma hospital
All girls born to Dobbins
Selma, Alabama, August 2—Triplets, all girls, were born here Sunday night to Mrs. David Dobbins, wife of a Perry County dairy farmer.
The babies were all thriving today to set a new birth record for Dallas County for never before have triplets been born to white parents within the county.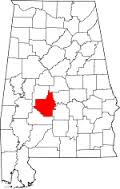 Dallas County, Alabama
The three babies arrived at King Memorial Hospital within nine minutes of one another, at 9:55 p.m. Each is perfectly formed, and their aggregate weight is 13 pounds, 10 ounces.
First to arrive, Marcia, weighed 4 pounds and 2 ounces. Allison weighed 4 pounds 7 ounces, and Leah weighed 3 pounds and 1 ounce.
The Dobbins reside eight miles from Marion. Prior to her marriage, Mrs. Dobbins resided for some time at Birmingham. Family records on both sides fail to show any previous multiple births, it was said.
The Birth of Twickenham
Captain Slick – Fact or Fiction
Vine & Olive Company
The Death of Stooka
152349607X