CALEB OWEN
BIOGRAPHY and GENEALOGY
( 1759 – 1842)
Lawrence County, Alabama
Caleb Owen, of Welch ancestry from Camden, SC married Mary Nabors, of Laurens County, SC in 1795. She was the daughter of Isaac and Mary (Boyd) Nabors. Caleb and Mary moved with their children to Madison County Alabama in 1813, then to Tuscaloosa, Alabama in 1818. He was a Revolutionary War Veteran.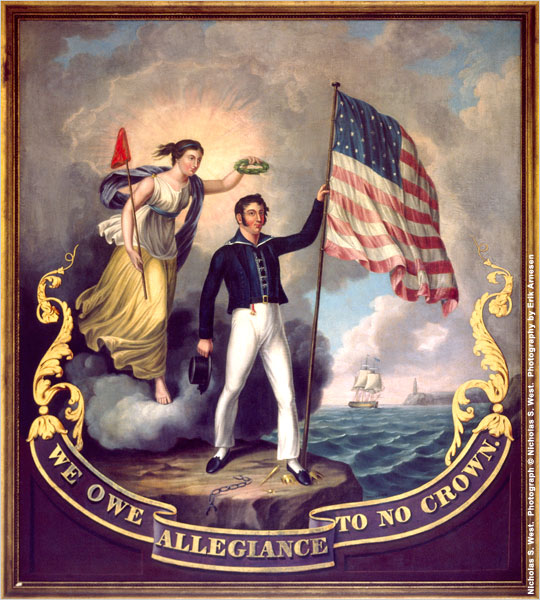 The next move was to Jefferson County, Alabama in 1821 and later to Pickens County, Alabama. Caleb's final move was to Tipton County, Tennessee where he died in 1842. Caleb and Mary had seven children.
Jane Owen (b. 1798 Darlington District SC. d. 1848) married Percivial Pickens Halbert in 1822 Jefferson County, Alabama.- They had a son Prof.. Henry Sale Halbert of Crawford, Mississippi who was an author and Indianologist;
William Owen (b. 1800 d. 1841 unmarried;
Isaac N. Owen (b. 1803 SC d. 1880 Nashville, TN) Merchant in Moulton, Lawrence Co., Alabama
Nancy Boyd Owen (b. 1805) married 1823 in Jefferson County, Alabama (1)Thompson Brown and (2)Rev. Henry Wortham Sale They had a son Henry T. Sale, a lawyer in Denver, Colorado;
Allen G. Owen ( b. 1808 d. 1882 )
Franklin C. Owen
Louisa Owen (b. 1818- d. 1844.) married 1840 Dr. B. H. Ligon.
Isaac N. Owen was born 1803 in South Carolina and came to Moulton, Lawrence Co. Alabama in August 1821. He was a clerk for James Elliott and then went into business for himself. "He was of fine judgment and unswerving integrity; and won the esteem and confidence of the people in a remarkable degree. His manner was dignified and somewhat reserved; except in company with his intimate friends. In person, he was tall, fully six feet and spare, but broad across the shoulders. His eye was dark and his complexion sallow" In 1829, Isaac married Martha Craddock, a small, well-educated daughter of Pleasant Craddock. Pleasant operated one of the best hotels in Nashville for a long time. All his children had the advantage of the best schools and his daughters were highly-accomplished. Later in life, Pleasant Craddock sold his properties in Nashville and moved his family to Moulton, Lawrence Co., Alabama. His wife suffered excruciating rheumatism many years before her death.
Col. Isaac N. Owen had a long career as a merchant and was able to support his family in comfort and provided his children with a good education. He was a decided Whig in his opinions but was not interested in politics. However, in 1834 was nominated for the legislature and won by a large majority.
Col. Owen was an influential member of the Baptist Church but had "no bitter sectarian feelings toward other denominations." He moved with his son-in-law, Mr. Harris, to Nashville and suddenly died in the spring of 1880. He and Mary had the following children;
Mary Owen, who married Thomas C. Sale (son of Rev. Alex Sale). He died about 1852. Their daughter Anna was married to John Phelan, Esq. John and Anna lived in Courtland for some years, then moved to Chattanooga. Anna's mother, Mary went with them. Later they moved to Birmingham, where Captain John Phelan died. He left a wife and five children.
William Franklin Owen went to Pine Bluff, Arkansas and practiced law with Simpson Harris and William Galloway The firm was doing well before the Civil War. He was a Captain in the War and was taken prisoner. He was held at Johnson's Island for two years and died a year or two after he returned home.
Martha Owen married Isaac M. Jackson and they lived on the Cotaco River in Morgan County, Alabama
Louisa Ligon Owen married Daniel Johnson of Mississippi.
Harriet Perkins Owen was the youngest and married Andrew J. Harris, a merchant of Moulton, Alabama. They later moved to Nashville, Tennessee.
Allen G. Owen was b. September 6, 1808, in SC and was the second son of Caleb and Mary He came to Moulton February 1829 but left in 1839 and returned from Texas in 1850. He married, a widow Martha (Mayes) Alman, daughter of Michael Mayes, Esq. "Major Allen G. Owen was a member of the Baptist Church, and is a gentleman of singular amiability and courtesy and much respected by all who know him. He was a merchant, for many years, in Moulton, and since 1875 has been the clerk of the Chancery Court." Major Allen Owen and his wife Martha had three children (1) Nannie, who married W. H. Hicks, of Henderson, KY.; (2) Frank C. Owen who conducted a mercantile depot for General Wheeler (3) Patty Owen, an accomplished daughter, unmarried. Major Allen G. Owen died in 1882.
Frank Caleb Owen was the third son of Caleb and Mary Owen. He was born 1817 in Madison County, Alabama. Frank "was a merchant for many years in Moulton, and had a high character for integrity." In 1850, he married LUCY, daughter of Col. Benjamin Harris, of Russell's Valley, one of the first settlers there. Col. Benjamin Harris surveyed and speculated in lands with the Gilchrist's of Lawrence County, Alabama, forming a partnership from which he became quite wealthy. Col. Benjamin Harris was the brother of Nehemiah Harris of Lawrence County, Alabama. Frank Caleb Owen died in Moulton, Lawrence Co., AL in 1857. "is only son Benjamin L. Owen married Miss Watson, the daughter of a planter in Eastern Mississippi." Benjamin lived a few miles southwest of Moulton and later moved to Mississippi.
SOURCES
1.Saunders, Col. James Edmonds, Lawrence County, Ala. EARLY SETTLERS OF ALABAMA, NOTES AND GENEALOGIES, by his granddaughter Elizabeth Saunders Blair Stubbs, New Orleans, LA. 1899, pp 51-52
2.From "ROSTER OF SOUTH CAROLINA PATRIOTS in the AMERICAN REVOLUTION", by Bobby Gilmer Ross; Genealogical Publishing Company;1983:is this entry on page 746: "Owens, Caleb b. 1759 c. 1842 m. Mary Nabors He served in the Third Regiment from 13 November 1777 to 1 July 1781, and was at one time under Captain Oliver Towles. PI; SCHEG; V.152; NA 246; NA853."
3.The National Society of the Daughters of the American Revolution Volume 155  page 43 –  Caleb Owen m. 1795 Mary Nabors. Caleb Owen (1759-1842) enlisted, 1777, as a private in Capt. Oliver Towle's company, Col. William Thomson's 3rd South Carolina regiment. He was born in Camden, S. C.; died in Tipton County, Ind. Also No. 78418.