Click http://www.alabamapioneers.com/honor-your-ancestor-on-alabama-pioneers-for-the-bicentennial/ to see how to honor your ancestor as a Notable Alabama Pioneer
HUGH MORROW
Genealogy and Biography
(1873- 1960)
Jefferson County, Alabama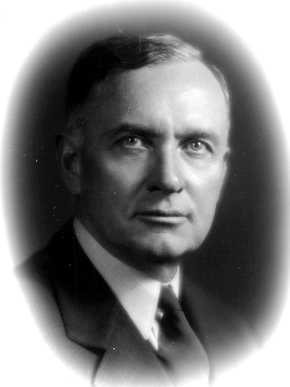 Hon. Hugh Morrow, born May 19, 1873, in Birmingham, Alabama, was the son of Probate Judge of Birmingham, John C. Morrow, a lawyer and Civil War hero, and Mary A. (Walker) Morrow. His father held the office in his native county for nineteen years and died in 1887.
Hugh's mother died in May 1898. She was the daughter of William A. Walker, Sr. In 1874, Hugh's grandfather Hugh Morrow was vice-president of the Sloss Company.
Hon. Hugh Morrow was born in Birmingham, May 19, 1873, and spent his life in the city of his birth. He attended the grammar and high schools and then into the sophomore class of the University of Alabama. As a student, he ranked among the first in academic studies, in a military promotion, in athletic sports.
His genial nature, his high-toned manliness and his devotion to duty won to his friendship both the faculty and students and gave earnest of the early and marked success attending his career. He was a member of Phi Delta Theta and Phi Beta Kappa fraternities at the University of Alabama. While at the University of Alabama, Hugh Morrow became a pitcher for the University baseball team in the fall of 1889 and remained as a pitcher until he graduated. Dr. Eugene A. Smith stated that he was the greatest pitcher the University ever had.
Hugh graduated from the university in both the academic and law departments, receiving the bachelor of arts degree in 1893, and his doctor of laws degree in 1894. In 1895 the faculty and trustees conferred on him the honorary degree of A. M. During the session of 1893-94 he was an assistant instructor in English, and in 1899 was elected president of the Alumni Society of the University.
He began in 1894 the practice of law in Birmingham, serving as assistant county solicitor from 1896-99 when he joined in partnership with Lee C. Bradley to form the firm of Bradley & Morrow. In many of the prominent cases before the courts, he was professionally engaged. He was a direct, forcible speaker, and a successful advocate. In 1900 he was elected State senator from Jefferson County to serve until 1904 and in (1903) chairman of the judiciary committee, a member of committees on corporations, mining and manufacturing, and public buildings and grounds and re-elected in 1910. He was a member of both the Birmingham and State bar associations, of the Knights of Pythias, of the Methodist Episcopal Church South, and he was vice-president of the Jemison Real Estate and Insurance company.
In 1925, he succeeded James W. McQueen after McQueen's death as president of the Sloss-Sheffield Steel and Iron company in Birmingham. Under Morrow and Allied Chemical and Dye, engineer James P. Dovel replaced the two original furnaces built by James W. Sloss in the 1880s with two completely new stacks that were adapted to southern raw materials and integrated them into an up-to-date layout in 1926.
Hugh married, June 9, 1897, Margaret 'Maggie' Smith, the daughter of Joseph R. and Kate (Molton) Smith, and they had five daughters and one boy.
SOURCES
The American bar By James Clark Fifield
History of Alabama and dictionary of Alabama biography By 3.Thomas McAdory Owen, Marie Bankhead Owen
The personal and family history of Charles Hooks and .Margaret Monk Harris By James Coffee Harris
One thousand American men of mark today
1874 Daily News – Birmingham, Alabama
SLOSS FURNACE -ENCYCLOPEDIA ALABAMA
Find A Grave Memorial# 91958299 # 91957240 # 91950916