Click http://www.alabamapioneers.com/honor-your-ancestor-on-alabama-pioneers-for-the-bicentennial/ to see how to honor your ancestor as a Notable Alabama Pioneer
Happy Birthday!
JOHN TYLER MORGAN
Biography and Genealogy
(June 20, 1824- 1907)
Talladega and Dallas County, Alabama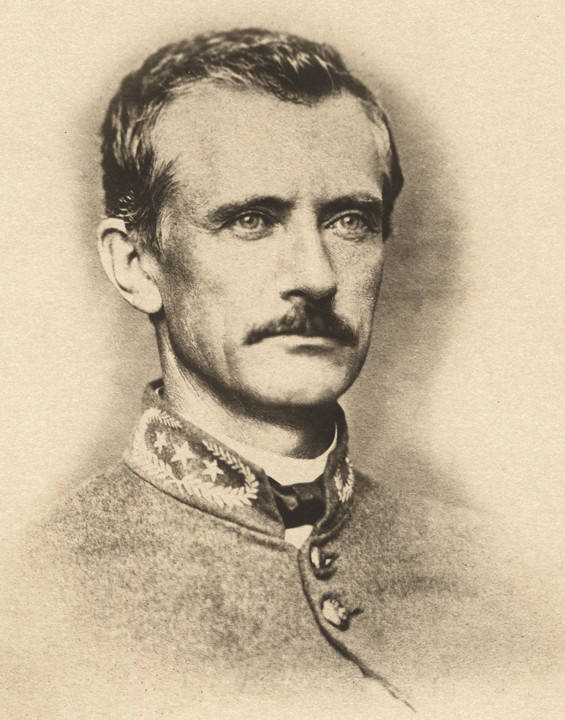 John Tyler Morgan, United States Senator from Alabama, was born in Athens, Tennessee, June 20, 1824, to George Washington and Mary Frances (Irby) Morgan.
His father was born July 9, 1788, in Saratoga Springs, New York, USA, and married Frances Irby Nov. 16, 1813, in Nashville, Tennessee. Frances Irby was born January 31, 1795, Virginia and died May 12, 1857, in Macon County, Alabama. She is buried in Tuskegee City Cemetery in Macon County, Alabama.
George Washington Morgan died on May 15, 1884, in Nashville, Tennessee at the age of 95 and is buried in Mount Olivet Cemetery, Davidson County, Tennessee. George Washington Morgan's father was Gideon Morgan (b. 1751 in Springfield, Mass. – d. Nov. 15, 1830, Kingston, Roane County, Tennessee) and his mother was Patience Cogswell (b. 1754 in Washington, Connecticut and died 1831 in Staunton, Virginia.)They were married in Kingston, Roane, Tennessee June 16, 1772. Gideon died Nov. 15, 1830, in Kingston, Roane, Tennessee.
John Tyler Morgan's siblings include the following;
Mary Katherine Morgan (b. Oct. 16m 1814 KY- Aug. 31, 1845, AL) m. William Parish Chilton in Virginia
Musidora Morgan (b. Mar 28, 1817, TN-March 4, 1907 AL) m. Daniel Sayre She was a schoolteacher. They were the grandparents of Zelda (Sayre) Fitzgerald He was Grand Secretary of the Grand Lodge of Free and Accepted Masons of Alabama. One of their children Anthony Dickinson Sayre was Judge of the Alabama Supreme Court.
Irby Morgan b. 1819 AL died 1894 TN m. Julia Ann Demoville
Lucy Ann Morgan (b. 1821 TN or AL-1887 TX) m. Eramus R. Burt
Elvira Frances Morgan (b. Dec. 10, 1826, TN – d. Feb. 2, 1891, AL) m. William Parish Chilton 1847
Philander Morgan b. 1829 in Athens, McMinn, Tennessee. He resided in Bluff Eye, Talladega, Alabama in 1900 and died 1917 in Birmingham, Jefferson County, Alabama. Philander married Martha Ragland and had several children.
Cornelia Reed Morgan (b. July 7, 1833, TN d. Jan 8, 1865. AL) m. James Lawrence Howard in AL
Lauretta Morgan (b. May 1, 1836, AL – May 6, 1857)
John Tyler Morgan was initially educated by his mother and it was reported that many of his playmates were Indian children as he grew up so he had an understanding of their traditions. When he was about nine years of age his parents moved to Alabama to Calhoun County where Senator Morgan grew to manhood. He received an academic education, entered the law office of William P. Chilton as a student, passed the bar and admitted to practice law in 1845 without having ever having attended college.
He started a law practice in Talladega and married Cornelia Willis of the prominent Hardie family in 1846. John Tyler Morgan's business travels had frequently taken him by Thornhill where he met and married Cornelia Willis, the niece, and ward of Mary Hardie. Cornelia lived at Thornhill until she was married. at Thornhill on 11 February 1846 to John Tyler Morgan. Two of their children, who died in their youth, are buried at Thornhill. Morgan organized the Alabama 51st Cavalry Regiment, Partisan Rangers, in which Alva Finley Hardie served after September 1862.
After the war, Morgan served in the U.S. Senate, and he and Cornelia were frequently in Washington, DC. Cornelia kept a picture album which is still in the hands of her family.
They had the following known children:
Daughters Mary E. Morgan and b. 1856 and Cornelia Irby Morgan b. 1861 were listed in the 1870 census in with their parents in Selma, Alabama and in the 1900 census in Washington D. C. with their father.
In 1855 the family moved to Selma, Dallas County and practiced law. He was a delegate from Dallas County to the convention that passed the ordinance of secession, where he added to his laurels as a debater and parliamentarian. He gained political prominence when he was appointed an aide to William Lowndes Yancey and like Yancey, Morgan argued forcefully in favor of Alabama leaving the Union in the Alabama secession convention of 1861.
In May 1861, he enlisted as a private in Company I, Cahaba Rifles, which company afterward became a part of the Fifth Alabama Infantry, and upon the organization of the regiment, he was made major.
At the close of a year's service, the regiment was reorganized, when Senator Morgan, who in the meantime had been promoted to the rank of lieutenant-colonel, resigned and returned to Alabama to recruit a regiment of partisan rangers. This regiment was mustered in 1300 strong, at Oxford, August 11, 1862, with Morgan as a  colonel. On June 6, 1863, he was made brigadier-general at the instance of General Lee, who personally notified him of his promotion.
After the war, he resumed his law practice at Selma but as many other southerners during and after Reconstruction, he was never able to forgive those he perceived as enemies of his region's way of life. In 1876 he was nominated for an elector on the Tilden and Hendrick's ticket,and again canvassed the State, renewing his old friendships and forming many new ones. However, when he arrived in Washington D. C., the state's senior Senator serving in Washington, George E. Spencer, a carpetbagger from New York served on the Committee of Privileges and Elections and tried to block Morgan's confirmation. The Senate mood was one of reconciliation so he was seated in 1877.
At the succeeding session of the legislature, he was chosen United States Senator for the term beginning in March 1877 and was re-elected every six years.
For his fifth term, which began on March 4, 1901, he was nominated by a caucus of the Democratic party, and also by the Republican and Populist parties, and on November 17, 1900, was elected by the unanimous vote of both branches of the Alabama legislature to succeed himself in the highest legislative body in the nation.
He quickly earned a reputation as one of the most widely knowledgeable men of his generation though he was best known for his efforts to promote white supremacy and foreign policy.
He was a member of the commission to prepare a code of laws for the Hawaiian Islands; was appointed by President Harrison in 1892 as one of the representatives of the United States in the arbitration tribunal which met at Paris in 1893. As a soldier he was courageous and discreet, as a
As a soldier he was courageous and discreet, as a lawyer, he was a wise counselor and an earnest advocate, and as a legislator, his voice and vote were heard and recorded for more than a quarter of a century on the side of human liberty and human advancement.
Senator John Tyler Morgan died in Washington D. C. while still in office in 1907. His wife, Cornelia died April 28, 1894 in Washington D. C.
The remainder of his term was served by John H. Bankhead. He and his wife are buried in Live Oak Cemetery in Selma, Alabama.
SOURCES
Bewley-Burt family tree on ancestry.com
1850 Cahaba County Census
1870 and 1900 Washington D C census
Notable Men of Alabama edited by Joel Campbell DuBose
Find A Grave Memorial# 31363031 # 31364486 # 31363885 # 8025338 # 7092043  1373 # 8446380 # 8210355 # 33935533 # 33938849 # 8760 # 41699249 # 36735862 # 66829204 # 34212195 # 49101673 # 8535453 # 8535438 # 76997199 l# 76997200 # 76997198