Happy Birthday!
JOSEPH C. BARKER
BIOGRAPHY and GENEALOGY
(1863-aft. 1896)
Hale and Jefferson County, Alabama
This patient and cool-headed young man was born December 20, 1863, near Laneville, Hale county, Ala. His parents, Sherrod and Caroline Barker, are both living and members of the Spring Street Missionary Baptist Church, Birmingham, Ala. They are living monuments of temperance, patience and obedience.
Young Joseph was sent to school when still quite young. Filled with self, family and race pride, and feeling grateful toward his parents for their strenuous efforts to educate himself, his sister and brothers, and desiring to help them in return, at their consent, he sought employment with a benevolent merchant, who, after noting his higher qualities, gave him every advantage and privilege available. After three years of pleasant and profitable services, he left his beloved employer (Mr. J. M. Manders), who gave him a final settlement accompanied by a worthy recommendation and valuable presents. He is widely experienced in mercantile enterprises.
He had two years experience on the United States jetty and log boats under Capt. J. McKee Gould, who gave him such an honorable and flattering recommendation as would have been more suitable for a pilot than for a cabin boy. By studying at home and attending summer schools, he was prepared to enter Selma University in the session of 1884, remaining two scholastic years. Under President E. M. Brawley, D. D., he won a prize for map-drawing over forty-eight competitors.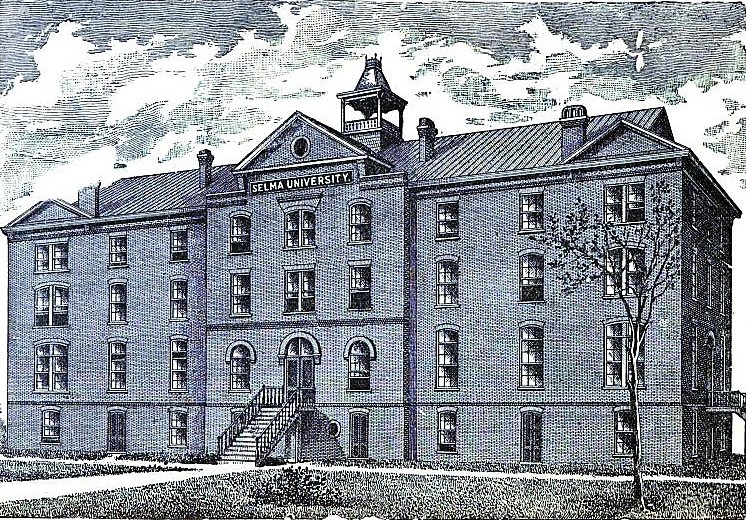 Drawing of Selma University, a black university in Selma, Alabama (The Cyclopedia of the Colored Baptists of Alabama – Their Leaders and Their Work copyright 1896)
He has taught successfully in the schools of Jefferson and other counties. Was four years secretary of the Jefferson County Teachers' Institute. Re-entered Selma University in 1893, and won the only prize offered for drawing over twenty or thirty competitors under President Dinkins, D. D. He is now preparing specimens to exhibit at the Atlanta Cotton Exposition in September.
He is employed by the Monarch Book Company, of Chicago, Ill.
To know him, is to know a man possessed of a great soul, affable, and naturally gifted in making friends. He is a financier, and is rapidly acquiring means. As an artist and penman, he is a prodigy. In the session of 1884 he was converted to the Christian religion, and was baptized in the University pool by Rev. E. M. Brawley, D. D., and joined the St. Phillip Street Baptist Church under Rev. C. O. Boothe, D. D. On removal to Birmingham in 1886, he united with the Sixteenth Street Baptist Church, of which Rev. Dr. Pettiford was pastor.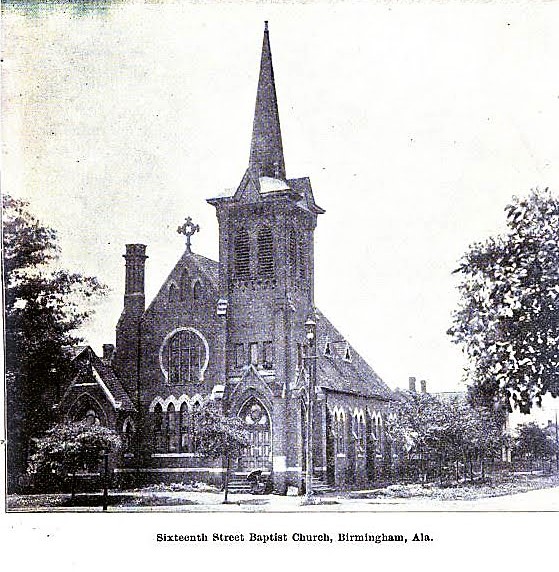 Sixteenth St. Baptist Church, Birmingham, Alabama ca. 1895 (The Cyclopedia of the Colored Baptists of Alabama – Their Leaders and Their Work copyright 1896)
Last term, he was principal of the Oxmoor public school. He is now corresponding secretary of the Mt. Pilgrim Sunday School Convention. On all lines of manhood, Mr. Barker is a genuine success.
SOURCE
Excerpt from The Cyclopedia of the Colored Baptists of Alabama – Their Leaders and Their Work copyright 1896
Where Do I Start?: HINTS and TIPS for BEGINNING GENEALOGISTS with ONLINE RESOURCE

 Do you need some guidance in your genealogy search? Save time and avoid pitfalls in your research. This book provides simple, no-nonsense instructions to help you get started. Many FREE research links included.
Tips include:
WHERE TO FIND – on-line resources, experienced genealogists will not be aware of many of these.
COURT RESEARCH – how to do courthouse research, where to find birth, death, social security records free on-line.
EIGHTY – ONE QUESTIONS – you should ask your elderly loved ones before it's too late.
TIPS ON BREAKING DOWN THE WALL – Everyone faces some difficulties in research, often called a 'brick wall' but WHERE DO I START? provides suggestions for overcoming them.