Coosa County was created by the legislature December 18, 1832, from the lands included in the Creek Indian Treaty of Cusseta, executed March 24, 1832.
Coosa River is named after two Native American towns
It was named for the Coosa River, which forms its western boundary. The river commemorates the name of two Native American towns, the one. Old Coosa on the western bank, near the confluence with the Tallapoosa, and the other, the more noted Cosa of Talladega County, lying near the mouth of Talladega Creek.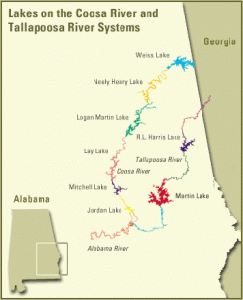 The name is a word of the Alibamo-Kossati dialect, and is written Kusa, or Kusha as slightly nasalized, and signifies "reed brake." The first, or old Coosa, was certainly an Alibamo town, and there is hardly a doubt that the second was likewise of the same stock, a colony of the mother town, which in prehistoric days, either from conquest or from an influx of Muscogee settlers, became a Creek settlement.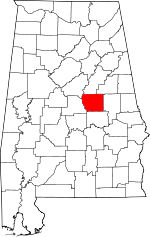 Location of present day Coosa County (Wikipedia)
Settlers and Native American relations were strained
The act of establishment named Washington Campbell, William Lovelady and Archibald Downing as commissioners to organize the county. The organization was retarded, however, because of the troubles with the United States Government and the Native Americans, growing out of the treaty of cession.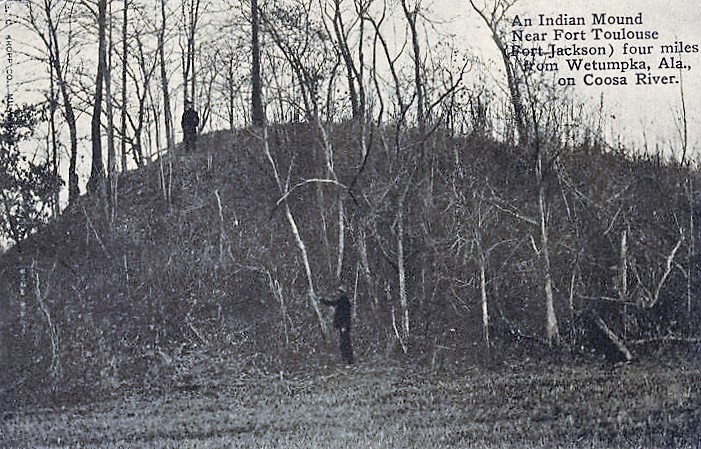 An Indian Mound Near Fort Toulouse (Fort Jackson) four miles from Wetumpka, Ala., on Coosa River. ca. 1920 (Alabama Department of Archives and History)
Disagreement over court site
Practically nothing was done until 1834. Under a new act of November 28, 1833, Alfred Mahan, Larkin Cleveland, Simeon Chapman and George Taylor were appointed commissioners. A site was selected by them on the south side of Hatchemadega Creek, in what afterward became a part of Albert Crumpler's plantation. In accordance with the act, it was called Lexington. All courts were held there for 1834.
The commissioners, however, chose another site, and January 9, 1835, the legislature confirmed their selection, to which the name of Rockford was given. The offices and records were moved there, and it has since remained the county seat.
Elections were held at early settlers houses
The first election precincts in the county were at the houses of Archibald Downing and Washington Campbell, designated January 12, 1833. In 1838 election precincts appear from the county records to have been established at Rockford, Wetumpka, Socopatoy, and at Kimbrell's, Terry's, Robblns', Gogglns', James Lindsey's, A. Chancellor's and Littleberry Clark's.
DeSoto passed through the area
This county is one of the richest in the state with evidence of primitive settlement. Many of the creek and place names suggest occupancy by the Upper Creeks from a remote period. In 1540 De Soto passed through and stopped at Itawa on Hatchet Creek, where the road from Rockford to Sylacauga crosses that stream. The later Creek towns of Atchina Hatch!; Hatchi Tchapa (upper); Ka Ilaidshi; Opil 'lako; Oti tut 'tchlna; Pakana-talahassi; Potus'-hatchl; Sakapatayl; U-i-ukufkl; Wako-kayi were all in the locality embraced in the present county. Near Dollar at the mouth of the present Weogufka Creek are found Indian graves.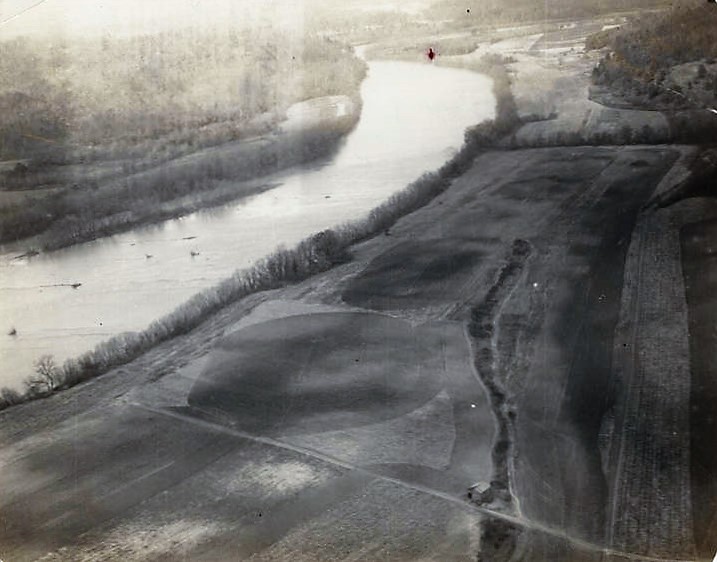 The site of an Indian village on the Coosa River in the southern corner of Etowah County, Alabama, one and a half miles above the Greensport Ferry – According to a note on the back of the photograph, "Here Soto crossed to this town of Taski en route to Coosa." (ca. 1930 by Alabama National Guard, Alabama Department of Archives and History)
Europeans trade articles were found in early Coosa County
This is no doubt the site of one of the Coosa River towns, probably Ui-ukufki. Thousands of objects formerly belonging to the Indians have been picked up in all parts of the county. They show many European trade articles. Practically all the mound and burial sites have now been leveled by cultivation.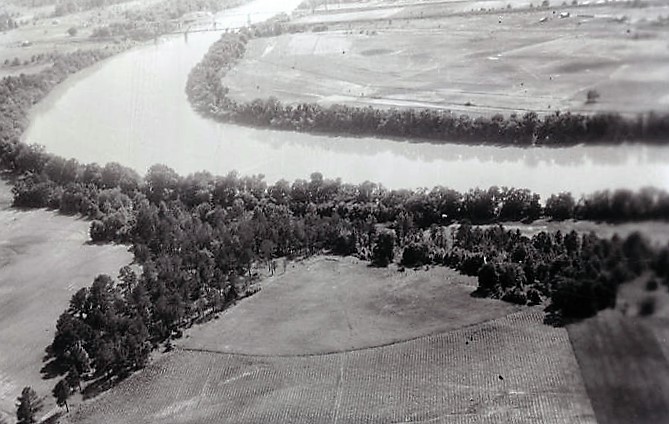 The site of ancient a Coosa village at the edge of a river in Alabama. Note on back – field to right site of ancient Coosa village (Alabama Department of Archives and History)
Early settlers traded with the Native Americans
Before the Treaty of Cusetta on March 24, 1832, a few white men were scattered about among the Native Americans, but only a few of these are known. Greenberry Clark lived at Pumpkin Town; Alexander and John Logan, brothers, on Hatchet Creek above Rockford; Eli, Jesse and Adam Harrell, in the Oakchoy section, above Nixburg; James Lindsey, in the Hanover region; Archibald Downing and William A. Wilson in Marble Valley; Washington Campbell and William Lovelady near the present Eclectic; and W. H. Ray just below Rockford.
About the time of the organization of the county Solomon Robbins, William H. Weaver and Larkin Cleveland, with his sons, Joseph, Benjamin, Robert, David and Harry Cleveland, lived near the present Nixburg; and Albert and Robert Armstrong, Joel Speigner and Thomas and James Wall, near the present Buyckville. The Chapmans, Goodgames and Lauderdales had located near Socopatoy; and Jack McNeily was among the Indians in the neighborhood of Shelton Creek. John Underwood was a blacksmith among the Native Americans, with a shop near where the turnpike crosses Hatchet Creek; and a Mr. Kibler had a store near the Coosa and Talladega line, above Goodwater.
Confederate Commands from Coosa County The commands listed below were made up in whole or in part from this county.
Infantry.
Co. I, "Wetumpka Light Guards," 3d Regt. (in part from Coosa.)
Co. B, "Governor's Guards," 8th Regt.
Co. B, "Coosa Independents," 12th Regt.
Co. C, "Alabama Borderers," 13th Regt.
Co. H, "Coosa Mountaineers," 13th Regt.
Co. D, "Cochran's Greys," 17th Regt.
Co. D, "Coosa Farmers," 18th Regt.
Co. B, 34th Regt.
Co. A, 34th Regt. (in part from Coosa.)
Co. C, 34th Regt.
Co. A, "Southern Defenders," 46th Regt.
Co. B, "Coosa Rangers," 46th Regt.
Co. H, 47th Regt.
Co. C, 59th Regt. (Formerly Co. F. 2d Battn., Hilliard's Legion.)
Co. K, 59th Regt. (Formerly Co. B, 2d Battn., Hilliard's Legion.)
Co. B, "Rebecca Williams Rifles," 60th Regt. (Formerly Co. C, 3d Battn., Hilliard's Legion.)
Co. C, 61st Regt.
Co. E, 65th Regt. (Originally 4th Reserves Regt.)
Cavalry.
Co. G, "Knox Dragoons," 2d Regt. Co. C, 53d Regt. (Mounted Infantry; in part from Coosa.)
Post Offices and Towns.—Revised to July 1, 1917, from U. S. Official Postal Guide. (Numbers indicate the number of rural routes from that office.)
Cottage Grove.
Nixburg.
Dollar
Equality—2.
Goodwater—4.
Hissop.
Kellyton—2.
Marble Valley.
Quinsey.
Rockford (ch)—3
Salter.
Welona.
Weogufka—1.
Delegates to Constitutional Conventions.
1861.—George Taylor, J. B. Leonard, Albert Grumpier.
1865.—Daniel Crawford, C. M. Cabot, William A. Wilson.
1867.—James P. Hurst.
1875.—John B. Kelly, William Garrett.
1901.—John H. Porter.
Senators.
1837-8.—Daniel B. Watrous.
1840-1.—Dixon Hall.
1843-4.—William L. Yancey.
1844-5.—Sampson W. Harris.
1847-8.—Seth P. Storrs.
1849-50.—Seth P. Storrs.
1843-4.—James R. Powell.
1857-8.—Daniel Crawford.
1859-60.—George E. Brewer.
1861.—George B. Brewer.
1863-4.—William Garrett.
1865-6.—William Garrett.
1868.—Thomas Lambert.
1871-2.—Thomas Lambert.
1872-3.—John A. Terrell.
1873.—John A. Terrell.
1874-5.—John A. Terrell.
1875-6.—John A. Terrell.
1876-7.—W. L. Johnson.
1878-9.—W. L. Johnson.
1880-1.—W. P. Oden.
1882-3.—W. P. Oden.
1884-5.—Jefferson Falkner.
1886-7.—Jefferson Falkner.
1888-9.—J. H. Parker.
1890-1.—E. H. Berry.
1892-3.—E. H.
1894-5.—R.
1896-7.—R.
1898-9.—P. Berry. S. Nolen. S. Nolen. O. Stevens.
1899 (Spec.)
1900-01.—P. O. Stevens.
1903.—Walter Scott Smith.
1907.—D. M. White.
1907 (Spec.)
1909 (Snec).—D. M. White.
1911.—W. B. Merrill.
1915.—J. R. McCain.
1919—O. T. Smith.
Representatives.
1837-8.—William W. Morris.
1838-9.—W. W. Morris.
1839-40.—A. B. Dawson.
1840-1.—W. W. Morris.
1841 (called).—W. W. Morris.
1841-2.—William L. Yancey.
1842-3.—Anderson H. Kendrick.
1843-4.—Howell Rose.
1844-5.—Howell Rose.
1845-6.—Howell Rose; James R. Powell
1847-8.—Samuel Spigener; Daniel Crawford.
1849-50.—Anderson H. Kendrick; P. P. Poscue.
1851-2.—Henry W. Cox; Neill S. Graham.
1853-4.—William Garrett; James H. Weaver.
1855-6.—George Taylor; N. S. Graham.
1857-8.—George E. Brewer; Evan Calfee; Alexander Smith.
1859-60.—Calvin Humphries; W. D. Waiden; Alexander Smith.
1861 (1st called).—Calvin Humphries; W. D. Walden; Alexander Smith.
1861 (2d called).—A. T. Maxwell; D. W. Bozeman; Albert Grumpier.
1861-2.—A. T. Maxwell; D. W. Bozeman; Albert Grumpier.
1862 (called).—A. T. Maxwell; D. W. Bozeman; Albert Grumpier.
1862-3.—A. T. Maxwell; D. W. Bozeman; Albert Grumpier.
1863 (called).—T. U. T. McCain; E. g. C. Parker; James VanZandt.
1863-4.—T. U. T. McCain; E. S. C. Parker; James VanZandt.
1864 (called).—T. U. T. McCain; E. S. C. Parker; James VanZandt.
1864-5.—T. U. T. McCain; E. S. C. Parker; James VanZandt.
1865-6.—T. U. T. McCain; John Edwards; James VanZandt.
1866-7.—T. U. T. McCain; John Edwards; James VanZandt.
1868.—James VanZandt.
1869-70.—James VanZandt.
1870-1.—William L. Johnson.
1871-2.—W. L. Johnson.
1872-3.—Daniel Crawford.
1873.—Daniel Crawford.
1874.—R. H. Gulledge.
1875-6.—R. H. Gulledge.
1876-7.—J. B. Kelly.
1878-9.—D. J. Thompson.
1880-1.—R. S. Nolen.
1898-9.—Joseph Porter.
1884-5.—J. A. Suttle.
1886-7.—J. N. Neighbors.
1888-9.—W. C. Brown.
1890-1.—R. S. Nolen.
1892-3.—R. S. Nolan.
1894-5.—H. R. Robbins.
1896-7.—J. H. Porter.
1898-9.—Joseph Porter.
1899 (Spec.).—Joseph Porter.
1900-01.—J. H. Porter.
1903.—John Willis Johnson.
1907.—John W. Johnson.
1907 (Spec.).—John W. Johnson.
1909 (Spec.).—John W. Johnson.
1911.—W. R. Walker.
1915.—J. A. Darden.
1919—J. M. Parker
SOURCE
History of Alabama and Dictionary of Alabama Biography
Other stories include:
The true story of the first Mardi Gras in America and where it took place
The Mississippi Bubble Burst – how it affected the settlers
Did you know that many people devoted to the Crown settled in Alabama –
Sophia McGillivray- what she did when she was nine months pregnant
Alabama had its first Interstate in the early days of settlement
Check out genealogy books and novels by Donna R. Causey