LEVI WELBOURNE LAWLER
BIOGRAPHY AND GENEALOGY
(1816-1892)
Madison, Shelby, Talladega Counties
Levi Welbourne Lawler, business man, was born Oct. 4, 1816, in Madison County; son of Joab "Buck" Lawler (1796-1838), and Elizabeth Baker Lawler (1796-1826). In early life, he united with the Baptist Talladega church, of which his father was pastor in 1835.
General Levi W. Lawler (The Baptist Encyclopædia: A Dictionary….Volume 2 William Cathcart L. H. Everts, 1883)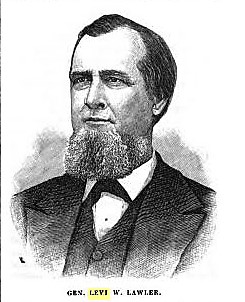 He moved with his parents to Talladega County in 1835; was well-educated; and when he was nineteen years old, succeeded his father as receiver of public monies of the Coosa land district, under appointment of President Jackson. After four years in that office, he was suspended because of his opposition to the administration of President Van Buren, but was restored to the position in 1841 by President Tyler, and held it for another term of four years.
On the expiration of his term of office, he returned to Talladega County from DeKalb, where he had moved with the office, and gave his attention to planting. While a resident of DeKalb County, he was elected a brigadier general of militia.
In 1848, he located in Mobile and engaged in the commission business. He was a delegate for the state at large to the Charleston convention in 1860; was elected to the State legislature in 1861; and was re-elected in 1863, serving in that body throughout the entire period of the War of Secession, and for three years as chairman of the committee on ways and means.
He served in the Talladega County Militia Home Guard during the Civil War.
He continued in the commission business after the war, and was a member of the firm of Baker, Lawler & Company of Mobile. He drafted the plan of settlement, and performed the principal labor in its execution among creditors of the State – a work which brought great relief to the people of Alabama.
In 1874, he was appointed by Gov. Houston as one of the state commissioners to adjust and liquidate the State debt. For many years he was one of the trustees of Howard college, and of the Agricultural and mechanical college of Alabama. The Baptist Encyclopædia spoke highly of him in 1883:
"He has been and is still a man of handsome fortune, of great energy, industry, and financial skill; liberal to objects of benevolence and to public enterprises. It is conceded that the gubernatorial honors of Alabama have been within his reach for years, but he has declined them. His vast influence affects for good all the higher relations of life, political and civil, social and educational, financial and denominational, in the State. He maintains the constant confidence of all grades of society. When a master he was famous for his tenderness to his slaves, and now that they are free he has their uniform confidence and highest regard. He has no superior in Alabama."
He married :
(1) Miss Mourning Cathrine Jenkins (1818-1839) of Talladega County on August 23, 1838 in Talladega, Alabama. She was the daughter of a wealthy Talladega County planter. They had one child, Cathrine Lettice Lawler. Mourning died one year after their marriage and Levi married again to
(2) Susan Jane Smith, a grand-daughter of Hon. William Smith of South Carolina, a member of the First U. S. Congress in 1847. They had three more daughters.
He died September 10, 1892, in Talladega County, Alabama. The following obituary appeared in the Alabama Public Service Commission Report of 1892
"THE DEMISE OF
OUR ASSOCIATE RAILROAD COMMISSIONER,
HON. LEVI W. LAWLER.
We would do violence to our feelings if we should fail in the conclusion of this report to express our deep sense of the great loss we have sustained in the death of our Associate Commissioner, the Hon. Levi W. Lawler, which occurred on Friday the 10th day of September 1892, at his summer home in Talladega County, in this State. Our constant association and business contact with General Lawler extending over seven years gave us the privilege to know him well, and to understand and appreciate his many virtues of mind and heart. He was a man of great energy, of inflexible integrity, and of unceasing devotion to public and private duty. He was a wise and safe counselor, and was courageous in the discharge of every official obligation. His disability commenced on the 7th day of January, of this year, and continued until he rested on September 10th, from all earthly work. The Commission has felt the great loss sustained in his death. His sound and matured judgment was at all times a comfort and support to us in our every duty. The State has lost one of its best, most competent, and worthy officers; society an ornament, and the church a constant and devoted member.
We herein give the proceedings of our board at. its next session after General Lawler's death:
EXTRACT FROM THE MINUTES.
Office Of The Railroad Commission Of The State Of Alabama,
Montgomery, Ala. Oct. 5th, 1892.
This being the first regular session of this Board since the death of our lamented associate railroad commissioner, the Hon. Levi W. Lawler, it is fit and proper that we express our sorrow that our distinguished and loved associate has been called from this earthly kingdom.
Gen'l Levi W. Lawler was a gentleman whose life and character was admirable at all times. Gifted by nature with a strong analytical mind, of a noble and generous disposition, of great energy and activity, he was vigilant and earnest in discharge of every duty he owed his country, his State, his family, and friends. Our most pleasant remembrances of our departed friend and associate are followed by the solemn thoughts that our association with him in life's busy work is broken—forever broken.
The personal character of General Lawler was affluent in all those qualities which make up a good man; he was devoted to principle, of a kind and courteous temper, courage unquestioned, and honor unstained. We knew him well. In all the close and tender relations of private life which bound him to his family, his friends, his kindred, and his servants, he was all that affection could claim, friendship could ask, or humanity and kindness enjoin. With his kindness of heart, devotion to duty, and generous sympathy coequal with his great powers, he bound us in ardent attachment.
He is gone from us forever. His vacant desk reminds us painfully of our great and irreparable loss. We will cherish within the warmest recesses of our hearts a lasting remembrance of his manly, sterling virtues. Farewell! thou golden-hearted gentleman.
Now be it resolved by the Railroad Commissioners of Alabama in regular session convened:
First, That by the death of our Associate Railroad Commissioner, the Hon. Levi W. Lawler, the State has been deprived of one of its most valuable officials, society of one of its chief ornaments, and the Commission of his great wisdom and valuable counsel.
Second, That we tender the family of the deceased our sincere condolence in their great bereavement.
Third, That the Secretary of this Board shall record these proceedings in the minutes of the Commission, make a memorial page thereon, and transmit a copy to the family of the deceased.
Henry R. Shorter,'
President, 30W. C. Tunstall, Associate Commissioner.
SOURCES
History of Alabama and Dictionary of Alabama Biography, Volume 4, By Thomas McAdory Owen, Marie Bankhead Owen, S. J. Clarke publishing Company, 1921 – Alabama
The Baptist Encyclopædia: A Dictionary of the Doctrines, Ordinances, Usages, Confessions of Faith, Sufferings, Labors, and Successes, and of the General History of the Baptist Denomination in All Lands : with Numerous Biographical Sketches of Distinguished American and Foreign Baptists, and a Supplement, Volume 2 William Cathcart L. H. Everts, 1883
Alabama Public Service Commission Report 1892