Happy Birthday!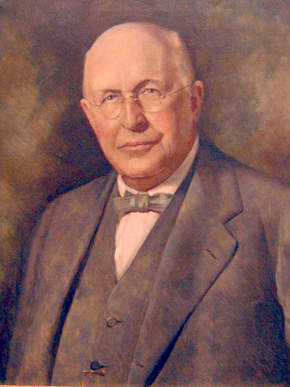 LUTHER LEONIDAS HILL
BIOGRAPHY and GENEALOGY
(b. 1862 – d. 1946)
MONTGOMERY, ALABAMA
Luther Leonidas Hill was born in Montgomery, Ala., Jan. 22, 1862, the son of Luther L. Hill and Laura Sarah (Croom) Hill. His father (1823-93) and grandfather, Rev. William Wallace Hill were prominent ministers.
The young Luther attended Howard College in Marion, Alabama, from 1878 until 1880, was a distinguished scholar of Latin and Greek and prepared himself to enter the ministry. But in the Fall of 1880 enrolled in the Medical Department of the University of the City of New York. In March of 1881, after one scholastic year of studies, the 19-year old Luther received an M.D. Degree.
Later he studied at the Jefferson Medical college, Philadelphia, where he was graduated in 1882, and then took a post-graduate course at King's College hospital, London, England (1883-84). Here his proclivity for the science of surgery markedly manifested itself. He sought the advice and teachings of Lord Joseph Lister. He was greatly impressed by Sir Lister and wrote "Lister's" name is imperishably embalmed in the memory of man wherever surgery is taught as a science and practiced as an art. He credited Lister with "the wondrous achievement of completely revolutionizing surgical treatment by the methods of asepsis and antisepsis -the chart and compass of all surgical advancement."
Upon his return to the United States, he began the practice of his profession in his native city. In 1887 he was elected president of the Montgomery County Medical and Surgical Society, and a member of the board of health of the county of Montgomery in 1888. In 1890 he was made the president of the board of United States pension examiners. Doctor Hill was elected president of the Medical Association of the State of Alabama in 1897 and was made the president of the Montgomery board of health in 1898.
He was a grand senior counselor of the Medical association of the State of Alabama; member of the American Medical association; surgeon of the Hill infirmary in Montgomery; examiner of the Traveler's Life Insurance Company; surgeon of the Central railroad of Georgia, and of the Mobile and Ohio railroad, and is a member of the Social Medical club of his city. He made many valuable contributions to the surgical literature of his profession and regarded as one of the surgical leaders in the State.
In 1900 he published Wounds of the Heart with a Report of Seventeen Cases of Heart Suture. Because of his expertise in heart wounds, on September 15, 1902, Hill was asked to examine a young Montgomery man who had been stabbed through the heart. With the successful operation to the victim's heart, Dr. Luther L. Hill thus became the first American surgeon to successfully suture the human heart.
Over the next three decades, Hill would continue to publish papers in various medical and surgical journals. His Wounds of the Heart was republished in 1915 in the third edition of the Reference Handbook of the Medical Sciences. In addition to research and publication, Hill also maintained his successful Montgomery practice.
Dr. Hill also proposed the creation of the State Medical Association's annual Jerome Cochran Memorial Lecture honoring the State Health Officer. In 1959, the Society for Vascular Surgery presented the Luther Leonidas Hill Memorial plaque to Senator Lister Hill, son of Dr. Hill, in honor of his father's pioneering contributions in cardiovascular surgery
He retired in 1932 at the age of 70. Dr. Hill was married, on July 12, 1888, to Lillie Lyons of Mobile.
Their children were:
Luther Leonidas Hill III
Lillian Hill (b. 1889) m. Dr. Edward Rucker (see note below)
Amelie Hill (b. Dec. 29, 1894 – d. Apr 27, 1990) Montgomery, Alabama m. Carney Graham Laslie (see note below)
Joseph Lister Hill (b. Dec. 29, 1894, Montgomery, Alabama d. Dec. 21, 1984, Montgomery, AL) m. Henrietta Fontaine McCormick (Dec. 6, 1904, AL – Mar 23, 1986)
Luther Lyons Hill (b. Dec. 9, 1896, Montgomery, Al d. Des Moines, Iowa) m. Mary Hippee (Oct. 26, 1921 Des Moines, Iowa)
After a fifteen-year retirement, the successful and famous Luther Leonidas Hill, M.D., passed away in Montgomery, Alabama, on April 4, 1946, at the age of 84.
After Dr. Hill's death in 1946, his children donated these materials to the Medical College of Alabama Library. A formal presentation and acceptance ceremony was held in Birmingham on December 14, 1947. The materials remained in the Library until the Fall of 1997 when they were transferred from the Lister Hill Library of the Health Sciences to the UAB Archives. The materials were then processed by archives staff.
SOURCES
Landmarks in Cardiac Surgery By Stephen Westaby, Cecil Bosher
Notable Men of Alabama  edited by Joel Campbell DuBose
http://www.healthcarehof.org/honorees01/hill.html
Find A Grave Memorial# 91117248 # 90976898 # 66788947 # 66788982 # 6406792 # 66788759 # 83824626 # 83824578
I am writing to correct an error in the article on alabamapioneers.com and ancestry.com entitled "Luther Leonidas Hill" and written by Donna Causey in 2009. Two of his children's spouses are incorrectly identified.
Lillian Lyons Hill was married only once to Dr. Edward Rucker. They had no children and lived in Birmingham until Lillian was widowed and came to live with her sister Amelie Hill Laslie in Montgomery. Amelie Hill was the twin sister of J. Lister Hill, and was the second wife of my grandfather, Carney Graham Laslie, a prominent Montgomery doctor. Carney Graham Laslie is one of three related people with this name. The two others are his son, my uncle, now deceased, and his nephew Carney Graham Laslie who was a famous coach at the University of Alabama with Paul "Bear" Bryant. Carney Graham Laslie and Amelie Hill did not have any children. Amelie died April 27, 1990.
Thanks in advance for making appropriate corrections.
Adele Laslie Kellman
(daughter of John Lewis Cobbs Laslie who was the 2nd son of C.G. Laslie and Isabelle Cobbs)
Anyone can read E-books—even without an E-book reading device—with the FREE Kindle app for computers, smartphones, and tablets. Store your books on the Free Kindle Cloud Reader and save space on your computer. Borrow the book and read it for FREE if you belong to Amazon Prime.
Join Amazon Prime – Watch Over 40,000 Movies