Happy Birthday! 
REV. NATHAN ASHBY
BIOGRAPHY and GENEALOGY
(1810-1887)
Monroe and Montgomery County, Alabama
Ashby, Rev. Nathan, of Montgomery, was born in Fredericksburg, Va., August 5, 1810. He knew nothing of his parents, and to the age of 16 he was under the care and direction of his grandmother. At this point in his life he was sold, with some horses, to traders, who brought him to Alabama. He says of this trip: "At first I was not aware that I was sold, but thought (as I had been told so) that I was only helping the man to put his horses well into the way. When informed that I was among the stock sold, I wept bitterly at the thought that I could see my dear grandmother no more. While in this state of grief, an old cake woman came on, selling cakes. She, looking into my hand, professed to read as follows: 'Don't cry, for you are born for good luck. The man who will buy you will be more a brother than a master. Fear God and be obedient, and you will do well.' This counsel, no matter whence it came, removed my fears, and I left oft' crying."
Bought his liberty
When about 32 years of age he bought his liberty, paying for the same the sum of $900. His good wife, Mrs. Nancy Ashby, had been freed a few years before by a Mrs. Tate. Both being of an intellectual, industrious and economical turn of mind, it was not long before they were well under way to notoriety and prosperity. Touching her experience in servitude, Mrs. Ashby tells the following: "When I was 16 years old, my mistress, in urging me to be pure and faithful, promised that if I would obey I should serve no one after her. So, when I was 24, she set me free, giving me a daughter that had been born to me."
Bro. Ashby was baptized by Mr. Shrovell in Monroe county, Ala., and was ordained to the full charge of the gospel ministry just after the close of the war, by Rev. I. T. Tichenor, D. D., and others. His labors in the ministry, however, began about the year 1845, from which time he increased in favor with God and man to the day of his death, in 1887. He led to the organization of the First Colored Baptist Church (Columbus street) of Montgomery, in which, under his presidency, the Colored Baptist State Convention was constituted in 1868.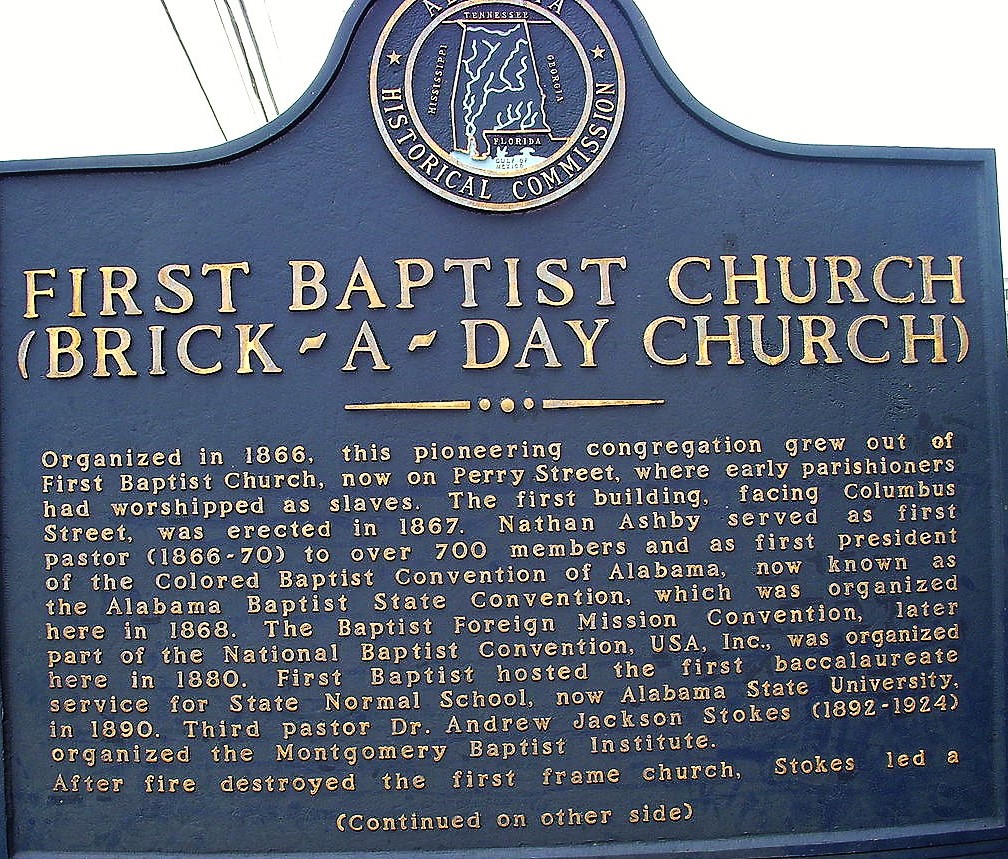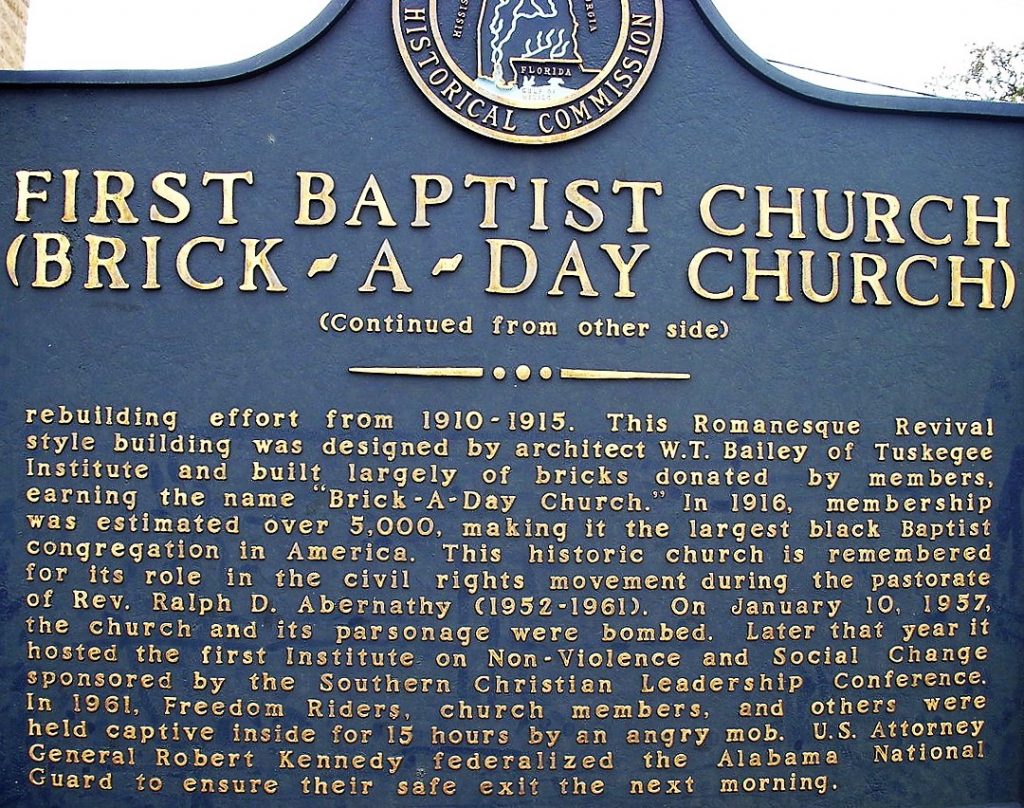 Disabled last seventeen years of life
The last seventeen years of his life he was an invalid from paralysis, and four years of this time he was blind.
During this time the writer frequently visited him, and it would seem that his faith in God was mightier in the days of his weakness than in the days of his strength. Heavenly sunshine illumined all the way of the dark valley, even to the day of his departure.
Bro. Ashby was a man of naturally fine parts. His sermons and speeches were characterized by order, thought and doctrine. He was not an emotionalist nor dreamer; with him Christianity was faith in the gospel and right-doing. It affords the writer much pleasure to record that each member of his family not only receives, but also contributes honor to his valuable life and honored name.
Mr. Ashby was by trade a carpenter, by which means he was able to earn fair wages, and was not long in coming into the possession of valuable real estate.
Legal Document
In order to show the condition of a free colored man in Alabama prior to the close of the late civil war, I submit a legal document here, bearing upon the good man whose name is now before us:
"The State Of Alabama, ) Montgomery County,
"Know All Men By These Presents, That whereas, heretofore, to-wit: on the 1st day of April, A. I). 1859, Charles T. Pollard sold and conveyed to Wm. B. Bell, as guardian or trustee for Nathan Ellis (now called Nathan Ashby), a certain lot in the city of Montgomery, State and county aforesaid, which is described in the deed of said Pollard as 'Lots number three and four in square number fourteen, Scott's plat, in the city of Montgomery.'
"And, whereas, the said Nathan Ellis (or Ashby), is now capable in law of holding property in his own name, and desires to hold the title to said lot and premises in his own name; and the-said William B. Bell also desires to relinquish and give up the duties and responsibilities devolved on him by the said deed as the trustee or guardian of said Nathan Ellis (or Ashby);
"Now, therefore,in consideration of the premises and for the further consideration of five dollars, to the said Wm. B. Bell in hand paid by the said Nathan Ellis (or Ashby), at or before the sealing and delivery of these presents (the receipt whereof is hereby acknowledged), I, the said Wm. B. Bell, do hereby release, relinquish, transfer and convey by quit-claim unto the said Nathan Ellis (or Ashby), and unto his heirs and assigns, all my right, title and interest both at law and in equity of every kind or description whatever, in and to the said lot and premises herein above described.
"In witness whereof, I, the said Wm. B. Bell, have hereunto set my hand and seal, this day of January, A. D. 1872.
"Attest: "William B. Bell."
"A. R. Bell."
This manuscript is recorded in "Book 4 of Deeds, page 314," March 26, 1872.
Note.— Seven years elapsed after freedom was declared before Mr. Ashby received from his "trustee" the transfer of his property. He had been free ever since 1842, but his "trustee" must hold and manage both him and his.
SOURCE
Where Do I Start?: HINTS and TIPS for BEGINNING GENEALOGISTS with ONLINE RESOURCE

 Do you need some guidance in your genealogy search? Save time and avoid pitfalls in your research. This book provides simple, no-nonsense instructions to help you get started. Many FREE research links included.
Tips include:
WHERE TO FIND – on-line resources, experienced genealogists will not be aware of many of these.
COURT RESEARCH – how to do courthouse research, where to find birth, death, social security records free on-line.
EIGHTY – ONE QUESTIONS – you should ask your elderly loved ones before it's too late.
TIPS ON BREAKING DOWN THE WALL – Everyone faces some difficulties in research, often called a 'brick wall' but WHERE DO I START? provides suggestions for overcoming them.