Happy Birthday!
WILLIAM BOYD, JR.
BIOGRAPHY AND GENEALOGY
(1783-1855)
Madison County, Alabama
By
Lavone Johnson Anglen
William Boyd was a Junior he was born March 22, 1783, in Laurens District, SC. He died February 21, 1855, in Alabama. At the age of fifteen, William Boyd Jr. ran away from home and he went to fight the Indians. He received in 1853 a military grant of land nearly 80 acres for four months service for fighting in the War of 1812, with Captain Baskerville and Johnson's Companies, Tennessee Volunteers.
The Military Grant was in Huntsville, Meridian Township 4 South, Range 4 East, E ½ of NW ½. This information appeared in the Old Land Records of Jackson County, Alabama, but he also lived in Madison County. Jackson and Madison County were connected at one time. He fought with Andrew Jackson at the Battle of New Orleans.
William Boyd, Jr. never wrote or visited his family, in Laurens, South Carolina. His father was William Boyd and his mother, Catherine McClurken Boyd. They all came to South Carolina from Ireland, but they were really Scotch who had transplanted to Ireland.
William Boyd, Jr. married Harriet Allan, who was born March 1784 in England. She emigrated to Georgia from London to Charlestown, SC on the Port Mary, July 1801, with her parents, David and Mary Knight Allan, brothers James and John and sisters, Mary Ann and Eliza Allan. Mary Ann Allan married the Captain of the ship, Port Mary when it arrived at Sullivan's Island. Charlestown, now Charleston. They were having a sickly time and they would not let the ship dock.
Harriet (Allan) Boyd, wife of William Boyd, Jr.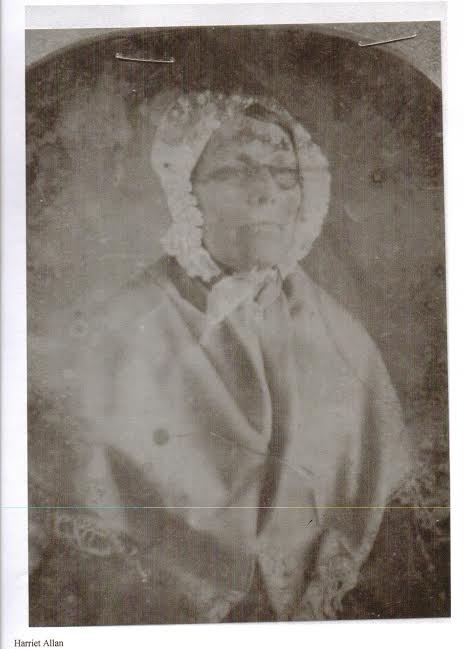 The family traveled to the home of Mary Knight Allan's brother, Matthew Knight near Augusta, Georgia and later moved to Athens, Georgia where they started a boarding house for young women. Harriet and her mother taught the young ladies in their care, French, English Language, Elements of Geography, Writing, Arithmetic, and all kinds of fashionable needlework. Harriet's mother came from a wealthy family in Dorset, England by the name of Knight.
Harriet Knight and William Boyd married July 20, 1824, in Huntsville, Madison Co., Ala. We believe Harriet came to visit her brother, Rev. John Allan, minister of the First US Presbyterian Church of Huntsville, Ala. Harriet was forty years of age and William was forty-one year of age. Neither had been married before this marriage. Harriet and William had only one child, James Allan Boyd, born 28 June 1826 at Bellefonte, Jackson Co., Ala. but Harriet cared for a child by the name of Mary Ann Beal born 12 Aug 1822 in Alabama who died 02 November 1852. This information was in a newsletter. Harriet Knight Boyd received a considerable amount of money 400 pounds from her uncle, Thomas Knight who gave each niece and nephew of Mary Knight his sister money. Thomas Knight was a famous actor and playwright.
William Boyd purchased property prior to his marriage in Madison Co., Ala. Huntsville from John Wright and his wife at a cost of $2,000. The property was section twenty-five beginning on the banks of the Flint River and in 1828, he purchased land from Joseph Weatherly and his wife, Regina for property adjoining his property. At 55 years of age he gave his land, slaves, etc. to his only son, James Allan Boyd as a Deed of Gift for the cost of $1.00.
William's son was a minor at twelve years of age. He gave him the property, but kept control of the property. However, at 57 years of age in 1840 he took out a Deed of Trust for the land given his son 14 years of age to allow Thomas McCrary to use the land and to pay him and his family annuity to release William from the burden of management of the property, with rights to live on the property. This property later reverted back to James Allan Boyd, when he was of age. The plantation was a large plantation with 100 slaves at the time of James Allan Boyd.
In the 1850 Census, William Boyd indicates he was born in South Carolina. He died in 1855 and he was probably buried on the plantation. He does not appear in the 1860 US Census, but Harriet does appear. Everyone appears in the 1840 US Census.
According to William Marion Jackson as told to him by his grandfather, James Allan Boyd, his great grandfather, William Boyd acquired a considerable amount because he was paid for his services in wars for land, for that was the way they paid the soldiers off, in land grants and scrip.
As a result his grandfather ended up with two large plantations. We believe prior to his grants he lived near Sumner County, Tennessee.
Children of Harriet Knight and William Boyd:
James Allan Boyd b. 28 June 1828, Bellefonte, Jackson Co., Ala. d. 04 Aug. 1920, Windsor, Henry Co., Missouri m. Mary Deane Forsey 31 Oct. 1848 Huntsville, Madison Co., Ala.
Start researching your family genealogy research in minutes.

 

This inexpensive Ebook has simple instructions on

 

how to get started with FREE sources. Download 

WHERE DO I START? Hints and Tips for Beginning Genealogists with On-line resources 

to your computer immediately with the FREE APP below and begin your research today!
Reviews
"This book was very informative and at a very modest price. Thank you for your great newsletter and this book."
"The book was clear & concise, with excellent information for beginners. As an experienced genealogist, I enjoyed the chapter with lists of interview questions. I'd recommend this book to those who are just beginning to work on their genealogies. For more experienced genealogists, it provides a nice refresher."
 Download unlimited Ebooks for FREE to your computer or other electronic devices! Click below to see how.