MUSIC OF THE BANDS
by
Here comes the Million Dollar Band! This was music to my ears in late 1950's as I stood in the sunlight in Denny Stadium in Tuscaloosa, Alabama watching the band march across the field.
Colonel Carlton F. Butler was the Band Director at that time.
First Year after Col. Butler in 1969
In 2012, the University of Alabama celebrated the 100 year anniversary of the band. Many former band members returned to the Tuscaloosa Campus for a big celebration.
Picture this…..the Million Dollar Band comes out on the football field with the lead Drum Major in his white suit and tall hat leading with a baton. Behind him marching to the beat is the Miss Alabama Sponsor in her white suit, but it is a suit top and an ankle length skirt! The shoes are white leather. On her head is a white military hat. In her arms is a huge bouquet of white flowers. The pedals of the flowers drop softly to the ground as she marches.
What a contrast today! I enjoy high school football games. I guess I do even more so since two of my grandsons play football. The bands are great and the enthusiasm they show is unbelievable! The high school bands give more opportunities for the students to participate in the music programs at their schools.
Besides the band members there are the Flag Girls, Dance Team Girls and the Majorettes. The show the band puts on at halftime requires many hours of preparation. The costumes of the girls usually are bright sequins and spangles. The girls do dance numbers that are both entertaining and graceful. I never understood how the band members could play their instrument and make their formations perfect at the same time.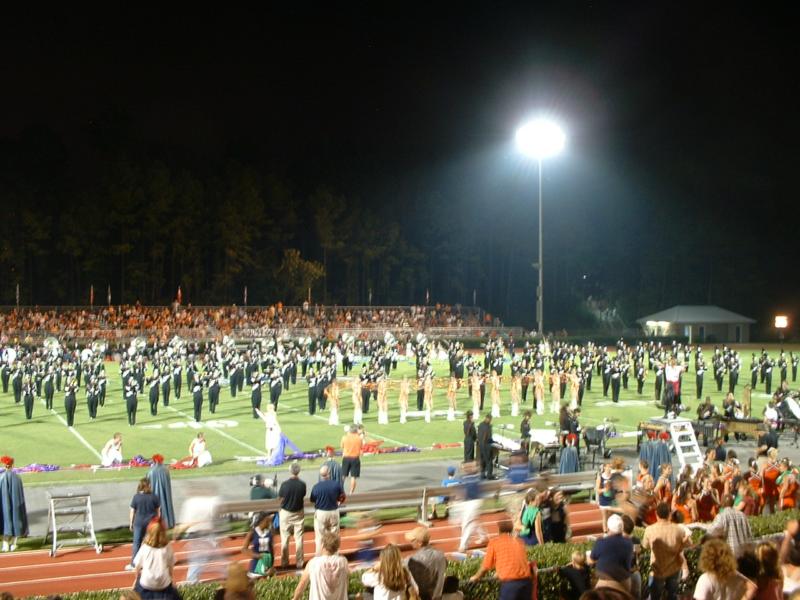 High School band music and cool fall Friday nights at a football game go together in such a way that you find yourself caught up in the roar of the crowd as they play the school's fight song! Many young people find a way to use their musical skills after high school by participating in church orchestras, local small bands, clubs, or even symphonies.
So the next time you have an opportunity to attend a high school football game….go and get caught up in the music of the bands!