Blocton is a town in the northeast corner of Bibb County, about 20 miles northeast of Centreville.  The town was first known as Gresham.and its population in 1888 was 1,000; 1890, Blocton precinct— 2,709; 1900, same— 3,823; 1910, same— 3,315; 1913, town proper— 2,500. The town was founded by Truman Aldrich around 1883.  "Blocton is a sister town of West Blocton, although there is no defining boundary between where the two once existed. The settlement of Blocton got its name from a huge block of coal, weighing at least one ton, that was taken from a slope in the mines."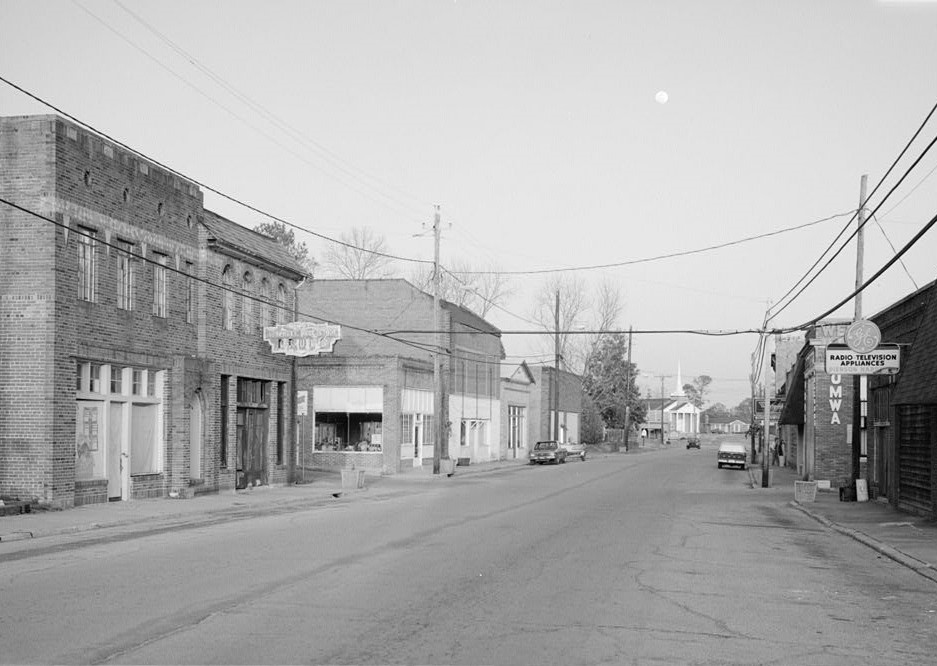 Main Street (Commercial Streetscapes), County Road 24, West Blocton, Bibb County, AL (Library of Congress)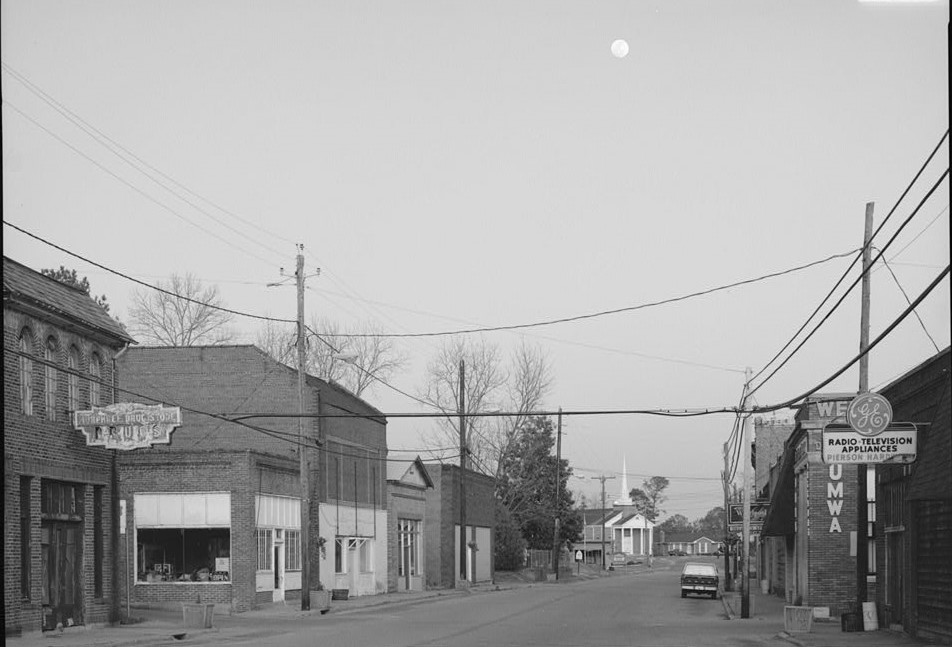 LOOKING EAST – Main Street (Commercial Streetscapes), County Road 24, West Blocton, Bibb County, AL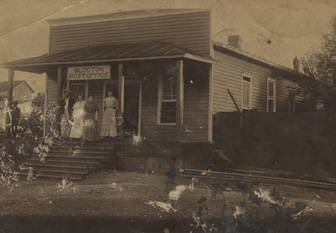 Group standing in front of Blocton Post Office in Bibb County, Alabama (Alabama Department of Archives and History)
 Truman Aldrich and future site of Blocton
Truman Hemingway Aldrich, a civil engineer, and mining executive resigned as superintendent of the Pratt Coal Company to build his own new coal world in the Cahaba coal field. Aldrich served briefly in the United States House of Representatives and as Postmaster of Birmingham.
In 1875, he purchased the thousands of acres of coal lands in the Cahaba coal field for a price of $400,000,000.  The land contained coal that was excellent for coking, steam, and domestic use. He located the apex of the coal field, and the future site of Blocton, eight miles south of the Alabama Great Southern Railroad line at Woodstock."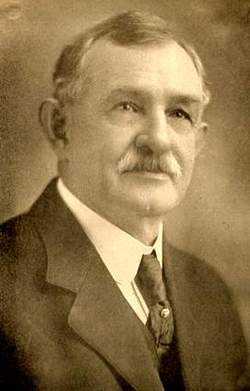 Truman Hemmingway Aldrich
Aldrich advertised heavily for miners all over the United States, as well as Western and Central Europe. People flocked to Blocton in the 1880's for the coal rush. Between 1880 and 1900, Bibb County's population doubled as a result of mine development in the Cahaba basin.
Cahaba Coal Mining Co. was opened about 1883, for the development of its coal properties. He built a model community on the banks of Caffee Creek. Blocton coal enjoyed an excellent reputation as an efficient fuel for steam locomotives. The company was expanded and by 1890 over 3,600 people were residents of Blocton.
In 1892 the Tennessee Coal, Iron & Railroad Co. acquired its holdings.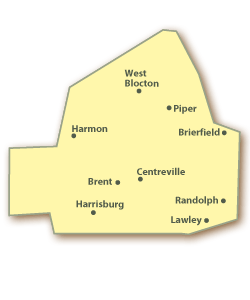 Jewish and Catholic Immigrants
Jewish immigrants followed the miners in the 1880s and became merchants who helped fuel the commercial economy. William "Wolf" Israel, a Russian immigrant, opened a clothing and furniture store in 1890. His sons and family continued his business. By 1892, twenty Jewish families lived in Blocton. Other surnames were Kronenberg, Roseberg, and Achim. They built the League of Brothers Synagogue on Main street in 1905.
Many Italian Catholic's immigrated to Blocton as well and an Italian Catholic cemetery is located east of town. Many of these people served as shepherds, gardeners, and farmers in their native lands prior to arriving in Blocton. "On their journey to Blocton, immigrants faced many hardships. Not only did they have to cross the Atlantic, they also had a language barrier. Many of the immigrants wore tags around their necks that read, "Deliver to Blocton."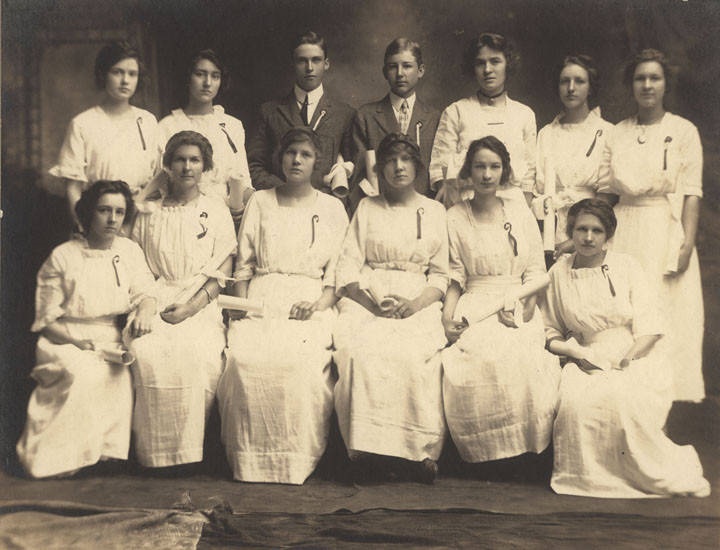 Graduating class at a public school in Blocton, Alabama ca. 1900-1919 –
Girls made their dresses at a cost of 45 cents to 65 cents and average cost 55 cents each. Top row, left to right, Annie Merle Farrar, Willard Thomas, Claud Howard, B. M. Huey, Jessie Winston, Eunice (?) Thomas, and Mary Wallace. Bottom row, left to right: Margaret Melvin, Mabel Wallace, Lida Morse, Kate Morse, Lavella (?) McIntosh, and Annie Morrison (Alabama Department of Archives and History)
Italians started own community
After arriving in this new place, the immigrants still faced many hardships. They first had to pay the mine owners back for their passage over to the new land. These debts were paid by physical labor. The families of the immigrants had to stay behind until the immigrants had earned enough money to pay for their passage. Until all of the debts were paid and the families arrived, the immigrants had to sleep in company owned dwellings called, "dog pens." The Italian miners started their own community that would soon come to be known as "Little Italy"
Other surnames associated with early Blocton were, Clements, Parker, Murphree, Gillespie, and Pope.
After functioning as separate communities for years, the immigrants and the local natives of Blocton joined together.
In 1892 the Tennessee Coal, Iron & Railroad Co. acquired its holdings and many immigrants left. "In 1909 US Steel authorized new tracks installed to the Beehive Coke Ovens at Blocton but company records do not record any coke being produced at Blocton after 1909."
A fire in 1927 nearly destroyed the town. The stock market crash was also a devastating blow to Blocton.
Today, West Blocton Coke Ovens Park blends history with nature, providing a place to relax and learn about the history of the industrial era of Alabama and how the Coke Ovens supplied the steel of the South.
SOURCES
Armes, Story of coal and iron in Alabama (1910), pp. 295-298
Wikipedia