THE CAMP MEETING
by
By HON. E. A. POWELL
(from FIFTY-FIVE YEARS IN WEST ALABAMA printed in the
Tuscaloosa Gazette August 12, 1886)
The leading instrumentality in building up the Methodist Church, and as for that matter assisting all other denominations, was the Camp Meetings.
At these meetings large crowds would gather, the preaching would generally be plain, pointed and powerful, and, the effects produced would cause the beholder to almost think that he was witnessing the reenactment of the scenes of the day of Penteicost. (sic)
Transferred from the saloon to the Pulpit
Could almost hear the cry of the startled multitude; "Men and brethern (sic) what shall we do' and then the answer coming as if from one of the sons of thunder, "repent." At these meetings would occur many things which some people would call extravagant, still looking back now and following the subsequent life of great numbers of the subjects of these exciting occasions. When I can remember that I have seen the saloon keeper of long years standing, transferred from the saloon to the Pulpit; the unfortunate inebriate taken out of the mire of the slough and made a sober man for life.
ALABAMA FOOTPRINTS – Settlement: Lost & Forgotten Stories (Volume 2)
The man whose habit of profanity had become so closely interwoven with his every day life that people regarded it as a part of his nature, at once and forever break off from the habit. Yes: when I can go back in thought and remember all these and many, very many more, of similar character, all the results of these if you please extravagant meetings. I am almost ready to say would to God that these days of religious excitement or if you prefer it extravagance, would return.
I can see old father McCraw, Murry, Mathew Davis
Speaking of camp meetings, I remember one place deserving particular notice—"Old Bethlehem." Oh! what are the memories clustering around thy sacred precincts; how many hundreds have I known to go there in the 'gaul (sic) of bitterness and in the bonds of iniquity'—return rejoicing in hope, and who have long since left the walks of men, but leaving behind them a bright evidence that all was well, blessing God that they ever attended a camp meeting at that place.
And then, too, I remember so many of the old, and elderly men of that day under whose auspices the meetings were held. In imagination I can see old father McCraw, James Murry, Mathew Davis, and scores of others giving their time and influence to the success of the meeting, and all for the good of others. The preachers—and where are they? There was Kennon, a Hearn, a Caloway, a Levert, a Weir, a Shanks, and a Murrah who filled the office of Presiding Elder, all of whom have long since gone to their reward except Murrah, he is still in the field, blowing the trumpet, though not in the effective work.
Then there were many of the Circuit riders who were menworthy of notice, Austin Gore, a man of fine preaching talent, pleasant in address, a sweet singer, and above, and better than all, a man of deep piety. His influence was great, he labored zealously and faithfully for a few years, and was called to his reward. S. B. Sawyer, who, that ever listened to the sweet, persuasive words, that fell from his lips, can forget the influence he exercised. He, too, after filling many appointments, finished his work, falling at his post.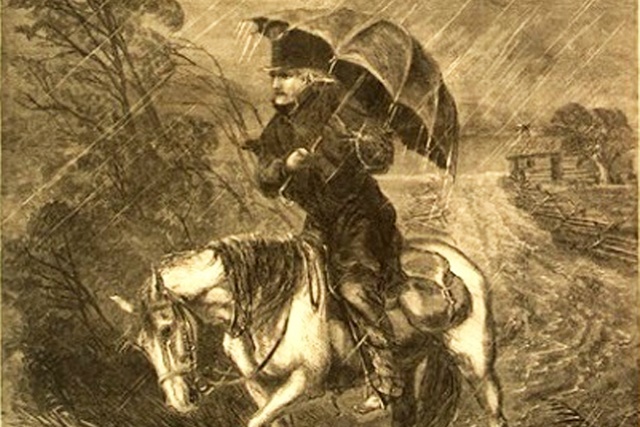 William B. Neal, was a man of more than average power in the pulpit, whose deportment was such as to command the respect of all. Well do I remember on one occasion when he was called back to the old camp ground (at camp meeting) to preach the funeral of James Murry—seeing him stand up in the stand, and sing a then popular hymn, commencing—"In evil long I took delight." He sang it alone, no one joined him, it seemed that the congregation regarded the occasion as being too solemn for any other; the effect on the congregation was simply powerful. He still lives and is an effective worker in the Alabama Conference. William G. Flemming was one of the giants of those days.
Twenty-seven or Twenty-eight camp meetings held at Old Bethlehem
As a preacher the equal of almost any, but a few years ended his course, and he was called home. Many other preachers on that work might be named, but 'space' says "thus far shalt thou go and no farther." But who that lived in those times, if he or she should happen to read this—would consider thenarrative incomplete without a reference to one, whose faith, zeal and energy was only commensurate with his deep toned piety. Who that ever witnessed one of his camp, or protracted meetings, will or can forget his never tiring energy, his plain, practical, and yet forcible sermons and exhertations, (sic) his sweet and melodious notes in song! his prayers and then the faith he exercised in the results! forty-nine years, have utterly failed to efface these scenes from memory.
What, forget the scenes at old Bethlehem, October 1838. No! they are not to be forgotten. George Scheaffer lingered in the camp; beloved of all who knew him, until last January when the master said "it is enough, come up higher." And no doubt thousands will rejoice in Heaven that they ever knew him. I think there was held at that place twenty-seven or twenty-eight camp meetings.
At first the meeting was not encouraging
But the days of its glory have departed, no sign of its original splendor is to be seen. One or two old shade trees remain and thus the tale is told. But before leaving the old ground, I must recur to one other camp meeting occasion, 1833; Rev. E. V. Levert was conducting a meeting, at first the prospect did not seem encouraging, (as I then understood not being at it.) But on Sunday night a deep interest sprung up, which grew in intensity until the whole country for miles around was so leavened by its influence, that for several days the topic of conversation every where was the meetings, and if you met a neighbor in the road, the first inquiry was the news from the meetings.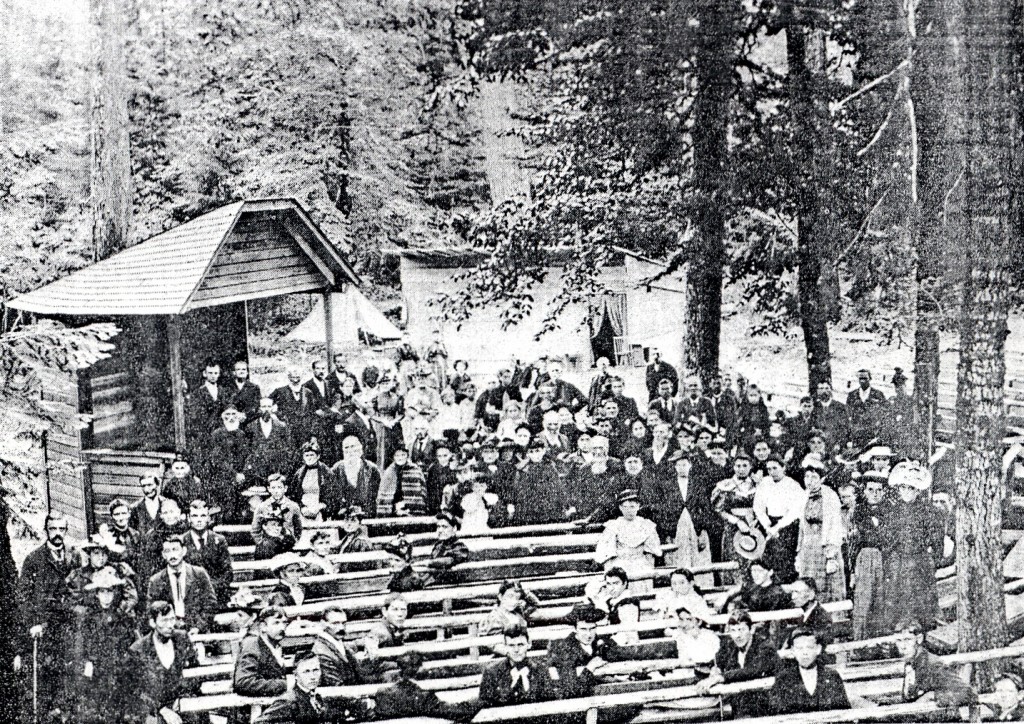 Fifty-three years have passed: nearly all who participated in the results of that meeting have gone to the far off land, but here and there I meet with one who waits for the word "come home."
Presbyterians also had a camp ground
The Cumberland Presbyterians also had a church and camp ground in the county. They were a good people, many of them would tent at the Methodist meeting, and many of the Methodists at theirs, so that each meeting would be well supported.
Among their preachers were several that ranked deservedly high. There was Shook, Stevenson, Wilson, Oden, and others. They preached and labored faithfully; many of them sang almost seraphically. Of the old side Presbyterians I know but little, they had no church organizations in the country. I only knew a few of their members, who were very excellent people.
Since that day the Campbellite, or Christian church has grown to considerable proportions and to day they have several churches, and quite a large membership. They are generally a very good people, their preachers are rather fond of debate, and proselyting. Some of them would transpose the declaration of Paul where he thanked God that he was sent not to Baptize, but to preach the Gospel. At this day the Methodists and Missionary Baptist are the leading denominations in point of numbers. But I must leave the religious aspect of the narrative and return to other matters.