An excerpt from
DALE COUNTY AND ITS PEOPLE DURING THE CIVIL WAR
(Reminiscences of Mary Love (Edwards) Fleming)
SCHOOLS DURING THE WAR
Our schools, which had been good before the war, were almost broken up within a year or two after it began. There were two schools near enough for us to attend, one at Pleasant Hill, about a mile south of us, and the other at Westville, about two miles north of us. Sometimes we attended the one, and sometimes the other depending upon which teacher we preferred.
Before the war there were from seventy-five to one hundred pupils enrolled in these schools, and "often more. Some of these pupils walked two and three miles to school and back each day, and some drove from much further. A few of the pupils were nearly grown, and among these were the Byrd and Dowling boys who came from communities six to eight miles away. But after the war began nearly all of the older pupils stopped to go into the army or to work at home. This reduced the attendance to about half of what it had been.
Nearly all of the younger children continued to attend school which opened for short terms of three or four months in winter and two months in summer. Soon after the close of the war, the school at Westville was discontinued. Our schools were better during the war than after it closed, but they were never again as good as they had been before the war nor so well attended, for so many families had left our community.
Our schools before the war were always taught by men, but during the war usually the teachers were women, for the few men at home had to do work that could not be done by the women. Two of my cousins taught our schools – Miss Lizzie Bullard of Russell County, Alabama, sister of Colonel Robert Lee Bullard, now of the United States Army, and Miss Nettie Mizell of our neighborhood. My sister, brothers, and myself attended school as long as the sessions lasted. But we had three men teachers at our school at Westville during the war. They were Dr. John Kennon, Professor Dowd, and Professor O'Rear. The last two were weak men and physically disqualified for army service, and Dr. Kennon practiced medicine. Professor Dowd died in Haw Ridge, Alabama a short time before the close of the war. Professor O'Rear continued to teach us as long as he was able to work. He taught me at Westville and he taught my children in Pike County. He died about two years ago in LaPine Montgomery County. The teachers were paid by the patrons, for there was little or no public money.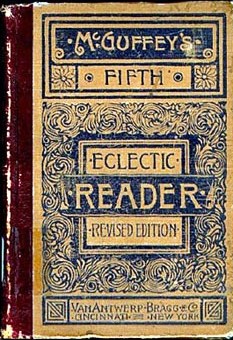 Textbooks in short supply
We used all kinds of textbooks after the war began. Nearly every store in the villages had some Smith's Crammers, Davis' Arithmetic, McGuffey's Readers, Webster's "Blue-Back" Spellers, and Geographies, which were the books most used. When the stock of these was exhausted no more could be had so we had to keep using these copies as long as the. books would hold together.
Our parents and teachers made us take the best of care of our books. If a part of the lesson was torn from one child's book, he studied with another until he reached the point where the text began again in his book. When these books were entirely worn out, we used any kind of speller or reader or grammar or geography that could be found at home or could be borrowed.
Brothers and sisters often used the same textbooks. If they were in the same class they could study together; if not, one could study his lesson, and then the other could use the book.
Discipline and report cards
The means of discipline in the schools of the time was the rod or switch. There were no demerits nor report cards as there are now. The children were switched for missing their lessons, for the slightest misbehavior, or for anything that the teacher disliked.
My first teacher, Mr. Thornton, had a class of large boys who read a lesson in McGuffey's Fifth or Sixth Reader directly after the noon recess. On one occasion Mr. Thornton heard of something that one of these boys had done that he considered deserved punishment. So at noon he went into the woods and cut four or five long switches and placed them behind the door. We knew that something terrible was about to happen.
When the boys stood in line for their lesson, the teacher walked to the one and said a few words in a low tone, then told him to stand in front of the class. The boy, who was nearly grown, did so and Mr. Thornton gave him a terrible whipping. The boy offered no resistance, but when Mr. Thornton had finished, the boy quietly took his books and left the school and never returned. His father came to the school that afternoon and tried to get Mr. Thornton to come outside so that he might fight him, but the teacher refused. We never knew what the boy's offense was.
The only time that I was whipped in school was caused by spilling milk on the floor. My cousin Elvira Mizell and I had spent the night before with Susie Bennett, another cousin. Whenever we stayed with any other girl, we always ate our lunch in ten buckets and baskets and took bottles of milk, which we put on a high shelf in the schoolhouse. These shelves were placed around the room for this purpose. When school was dismissed for noon recess, Elvira and I ran for our buckets and bottle, and in such haste that we dropped the bottle of milk, which broke and the milk was spilled on the schoolhouse floor. The teacher gave us each a little switching for our carelessness, which nearly broke our hearts and spoiled our appetites.
Some parents always wanted to fight the teachers who whipped their children, and the children of such parents usually were quite troublesome. Other parents would punish a child at home who had been punished at school.
Teachers rented or boarded in the community
Two of our teachers who had families rented houses in the community while teaching there; others boarded with some of the patrons. Soon after the war when conditions were bad, one of the teachers, Mr. J. S. Hare, boarded a month at a time with the patrons of his school. He had lost an arm in the army, and he afterwards married my cousin, Sue Bullard of Russell County.
Before the war, the school session lasted six months or more. But as the war went on and all the men and larger boys went into the army and so many others had to work at home, the sessions were shorter-usually about three or four months in winter and two months in summer.
Some of the boys and girls in our community went to larger towns to take advantage of better schools and academies. A number of them went to Newton, and others went to Brundidge, twenty-five miles away, to attend the high school, or Academy, as it was called. Among those who went to Brundidge to school after the war were my uncle Walter Edwards, and Cousin Emma Mizell. One of the Crittenden girls and I also went.
Graduating class at Haw Ridge Rural School in Dale County, Alabama – ca. 1900 – Principal Mrs. Read stands on the right (Alabama Department of Archives and History)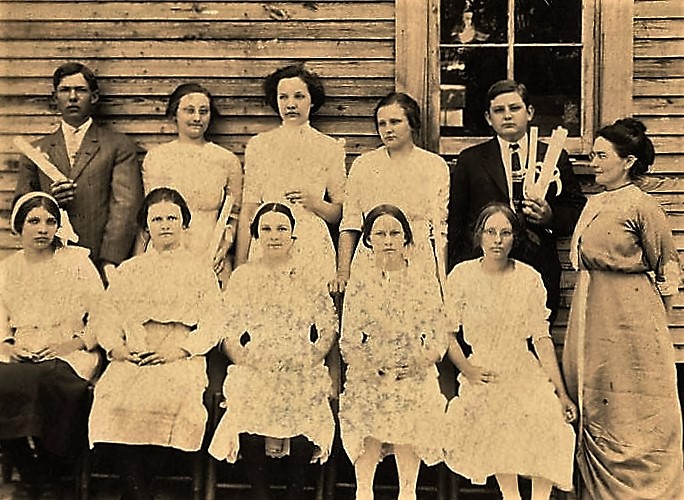 Lawyers, Doctors and visiting friends
The nearest lawyer was at Newton, twelve miles away, and at that time the county seat of Dale County. The two Doctors Kennon went to some medical college before they came to our community, but I do not know where it was located. Few, and none whom I knew went away to college.
Dr. John Kennon, the son, had just begun to practice before they came to Westville. School children had good times even if war was going on. I had four uncles in our community who had daughters whom I visited and who visited me-Uncle Amos Mizell, who lived a mile away, Uncle Hope Mizell, and Uncle Mordecai White, who were two miles from us and my Great Uncle Spencer Edwards, who lived about three miles away.
Grandfather Edwards lived two miles to the north and Grandmother Mizell two miles to the South. Nothing afforded us girls so much pleasure as to go home from school with each other and spend the night, or the night and day, or longer.
We played "thimble," "blind-man's bluff," and other games until late at night when the "old folks" stopped us and sent us to bed, for we never tired of playing games or telling tales. No cards were allowed. Sometimes we told ghost stories and other frightful tales that we had heard until we would be afraid to move or to go into another room. Towards the close of the war when we had grown older, we cousins spent the night and day or longer at Uncle Spencer Edward's home, three miles away, We enjoyed riding there on horseback, or more often we walked, and we were not afraid.
People were more reverent than today
After the war, our schools at Westville and at Pleasant Hill were not as large nor as good as when the war was going on because many of the families moved to Texas and to other western states. A few of the young men who had been in the army went to school for a year or two after the war closed. One of them was Stephen Weatherby who lives now in Montgomery; another was Curtis Byrd who had lost an arm. He was preparing himself to teach, and he followed this profession until his marriage when he became a farmer. He could plough and even do hoeing with his one arm, and he became a prosperous farmer. He raised a large family and is still living in the old neighborhood. At this time he is one of the commissioners of Dale County.
Although we had regular services in our churches only once a month and each preacher had to serve several churches, the people were, I think, more religious and seemed to have more reverence for church worship than they have now.
There were few grown people who did not belong to one of our churches, for it was considered necessary and proper to be a church member. In fact, it was not considered quite respectable not to be a church member, and as far as I can remember most of the people were consistent church members. There were no Episcopalians and few Presbyterians in Dale County; most of these lived in the Black Belt.
We had three churches in our neighborhood,—the Methodist, the Missionary Baptist, and the Primitive Baptist. The Methodist had more members than the two Baptist churches. We had good preachers. Reverent F. L. Lovelace and Reverend Leonard Skipper, both of the Alabama Conference, were the pastors of the Methodist Church during the war, and Reverend Pitt Galloway, one of the best of his denomination, was pastor of the Baptist church.
In those days the Primitive Baptists never held services in their churches at night, but at the residences of their members. They were more lax about whiskey drinking than the other churches, but they were sure to pay their debts, a reputation of which they were proud, There was some ill-feeling between the two Baptist churches in our community, and also between the Methodists and Missionary Baptists, which I am happy to say had now disappeared in nearly all the churches, and they now work side by side pleasantly and helpfully.
Soon after the close of the war Reverend Pitt Galloway, then pastor of the Church at Newton, and Reverend A. S, Dickinson of the Methodist Episcopal Church, South, had a long public debate about the doctrines of the two churches and about the proper mode of baptism, Both were highly intellectual men and well grounded in the theology of their respective churches. Such doctrinal debates were then common but have now ceased.
It was considered about equally desirable to belong to the Methodist or the Baptist churches, but not quite so much so to belong to the Primitive church. But the members of the Primitive Baptist Church were good, plain people, most of them living some distance from our community and in more thinly settled districts. Their church was about two miles from our home, but there were only two families in our community who belonged to it.
Nearly all of the children of the Methodist families joined the church before they were grown. In those days the children of the Baptist families did not join the church until they were about grown, though now most of them join when quite young. We had Sunday School every Sunday at the Methodist Church, and the superintendents during this time were my Uncle Amos Mizell and later my cousin Stuart Long.
Stuart Long was my father's cousin who came to Dale County from Columbus, Georgia in 1861 or 1862, was much interested in Sunday School work, and did much good in our community. He was too old for army service, had no sons, but four daughters. Of these girls, one married Arch Davis, one of our neighbors, and another married and lived in Columbus. Soon after the close of the War Cousin Stuart and Uncle Amos moved to Texas with a number of their relatives.
My father was then elected superintendent of the Methodist Sunday School and filled that office for that school until his death twenty-eight years later— a long time to serve a community that was constantly changing, and for the worse socially because so many of the better families were moving away. But he remained faithful to his duty to the end. of his life and I doubt if there was another man in this section of the country who had a longer record as a Sunday School superintendent. The Baptist Church in our community had so few members that they had no Sunday School. During the war, we always observed the fast days by abstaining from eating breakfast on the appointed days and in attending services at the church.
On these occasions, special prayers were offered for the success of 'our armies and our cause, and" for the preservation of the lives of our loved ones who were fighting for us. Most of the negroes were very religious, and they were glad to attend church services. At that time there were no separate negro churches and no ordained negro preachers in our community. So the negroes always worshipped in the churches of the white people.
When no section was built especially for them, they occupied seats in the "amen" corners or in the balcony. There was a section at one end of our Methodist church that was reserved for the negroes, to worship with the whites when they wished. A railing divided it from the rest of the church, and this section was nearly always filled at our morning service, and in the afternoon our white pastor held services for the negroes only, and at that time all the church was used by them. They were baptized by the white ministers and into membership of the Methodist and Baptist churches.
Usually, the negroes attended and joined their master's church, so, as there were fewer Baptists in our community, most of the negroes were Methodists. Among both races, the men sat apart from the women in the churches. The unordained preachers or religious leaders among the negroes were often called "exhorters" and "Pot-liquor preachers." These leaders held frequent meetings for their own race. Henry Edwards who belonged to my father, and Caleb Mizell, who belonged to my Grandmother Mizell, were "exhorters."
The moral character of the negroes was better at that time than it is now after nearly forty years of freedom. The marriage ceremonies of the negroes were sometimes performed by the white pastors, but when not convenient this was done by the masters. I understand that a state law gave the masters this authority. The same marriage service was used for both whites and blacks, and among the Methodists, the form used was the ceremony in the Book of Discipline of the church. The white families took great interest in the weddings of the negroes and did all they could to make them gala occasions for the servants.
They helped the bride in making pretty dresses and usually furnished bountiful refreshments for the wedding supper which was served to the many negro guests. These weddings were always greatly enjoyed by both whites and blacks. As ours was a community of strict Methodists and Baptists whose churches forbade dancing, the better class of white people did not think it proper and the parents did not allow it. But while the whites opposed dancing among themselves they did not prohibit the negroes from dancing.
Some of the negroes who were church members did not allow their daughters to dance, but their masters allowed them to use their own discretion about it. Grandmother Mizell owned a family of negroes whose eldest child was grown girl. Her parents did not allow her to dance and they tried to be as careful and particular with her regarding her conduct as any white parents would be. There were some few whites near us who danced, but they were not considered of the better class.
I do not remember a dance for whites in our immediate neighborhood before I was married in 1873 and left the community. The only occasion that I ever saw white people dance before that time was at a picnic at Parrish's Mill, about two miles from my home. Nearly all who took part were the poorer, ignorant people who lived outside our community. At that time if members of the Methodist and Baptist Churches danced, charges would be brought against them in the Church, and if they did not acknowledge their error, they would be "turned out" or excluded from membership.
SOURCE
Excerpt Transcribed from The Alabama Historical Quarterly, Vol. 19, No. 01, Spring Issue 1957