Early Representatives of Walker County, Alabama
(from FIFTY-FIVE YEARS IN WEST ALABAMA printed in the
Tuscaloosa Gazette August 12, 1886)
by
Hon. E. A. Powell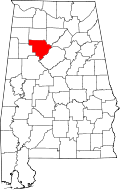 Walker County was first entitled to separate representation in 1834. I am not advised as to when the county was organized. Some two years before the county was separately represented, I remember meeting with a candidate for the position.
ELIJAH HUDSON
Elijah Hudson was the first representative for Walker County, Alabama. I saw him over in Fayette county. I remember it was said of him at the time, that he said in order to prevent any bad reports that might be started against him, he would himself tell the meanest thing he ever did.
He said that in the early days of the county, he and several others had been engaged in cattle stealing from the Indians and whites; that they had accumulated a large drove and carried them to Tuskaloosa to market.
When they had gotten within two or three miles of town he left his partners in charge of the cattle out in the woods, while he would go over the river to see whether or not the way was clear.
After being gone sometime he came back to his company, with his horse at full speed, shouting to his comrades to clear themselves, that the owners of the cattle were in town and would have them all in Jail directly.
He said he dashed by the herd without noticing them. His partners took the alarm, struck a bee line for the mountains and were soon out of danger. That as soon as they were gone, he dodged back, herded the cattle over to Tuskaloosa, sold them for a good price, pocketed the money and went home.
He said if any of his opponents could start a meaner report on him than that they were welcome to try it.
Some ten or twelve years ago I was relating the story to an old citizen of Walker county, about as I have stated it. The citizen laughed and said there was a great deal more of truth in the story than 'Lige' would have liked for the people to believe. However, he was not elected, and I never afterwards met him.
From Garrett's Book it appears that in 1834 and 1835 Walker county was represented by Solomon B, Patton. I know nothing of the history of Mr. Patton and must therefore pass him by.
AN INTELLIGENT FARMER
In 1836 Eldridge Mallard was elected. He was elected again in 1839 and also in 1840. Mr. Mallard was a very intelligent farmer and keeper of a very popular house of entertainment on the Bykler Road. He was a man of fine personal appearance, and of popular manners.
He was a Democrat of the Andrew Jackson school. In fact at that day, in that county, Jacksonianism was Democracy. His family were much more stylish than the people of the county generally, and this fact gave his very plain common sense opponent, James Cain, the advantage in their contest for the Legislature.
BEATEN IN TWO RACES
In 1841 and 1842 Mr. Cain defeated him in two straight races. This was the more remarkable from the fact that Cain was a decided Whig and the county largely Democratic. Of Mr. Cain I will speak further on. A few years later Mr. Mallard moved to Texas, where he died.
His oldest son, John, was a promising young man. He studied law and was admitted to the practice in Alabama:—moved to the Lone Star State and was fast rising to distinction in the profession, but death which always loves a shining lark, cut him off, and here the curtain falls.
JAMES CAIN
James Cain was elected from Walker county in 1837, 1841, 1842, and again in 1847. This was the last of his public life. Mr. Cain was a plain, well-to-do farmer.—He made no pretentions (sic) to public speaking, but in general conversation he was very strong, just suited to the people whose suffrages he was seeking.
These qualities made him a very formidable opponent, and notwithstanding he was a decided Whig, he was rarely beaten, even in the strong Democratic county of Walker. Mr. Cain was in every sense of the word a man of the people,—a kind neighbor and deservedly popular.
When I first knew him he was in easy circumstances, free from pecuniary embarrassments, but by indiscriminate and unlimited endorsements for a mercantile son-in-law he became very much entangled, which threatened the entire loss of property. But his indomitable energy never forsook him, and he was fast gaining and in a few years would no doubt have saved all. But, alas! the war came on and swept away his negro property, and the old man was compelled to yield.
To my certain knowledge he unresistingly paid a larger amount of security debts than any one I ever knew, according to his means. A few years ago he died, in his eighty-seventh year. I suppose I may add, having outlived his enemies, if he ever had any.
Walker County, Alabama Courthouse (Wikipedia.com)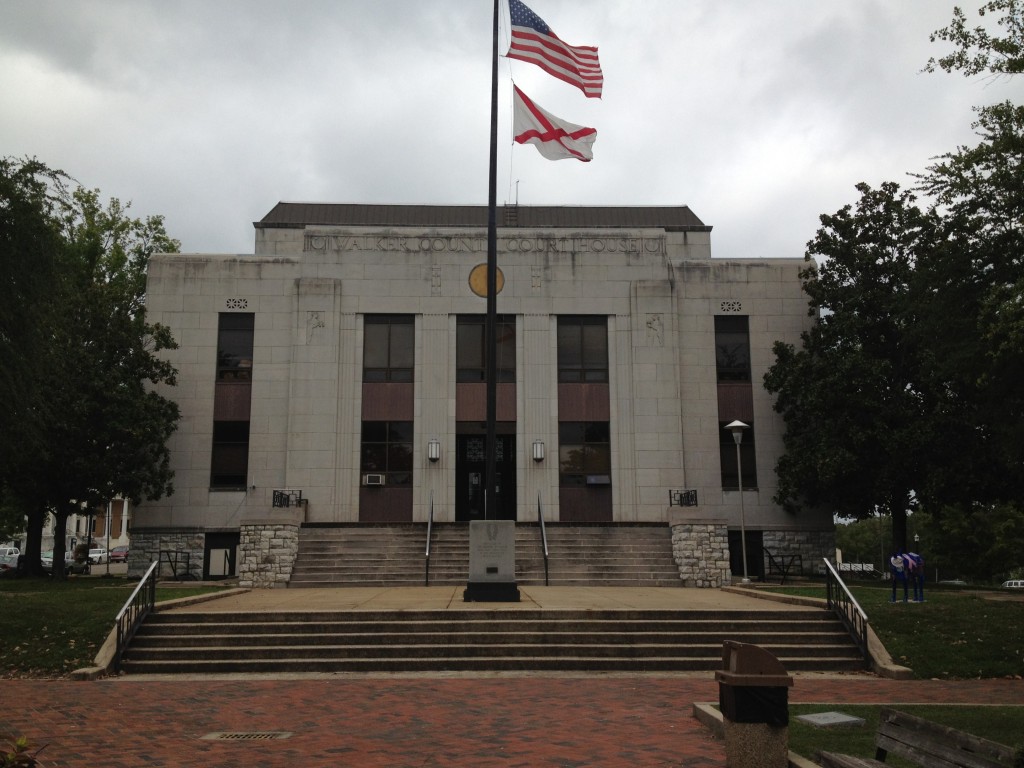 ECCENTRIC YOUNG LAWYER
In 1843 Walker county was represented by John E. Clancy, a rather who served but the one session. He was very fond of display, and really thought himself an orator. I will not say how many agreed with him in that opinion.
He was a very earnest Democrat and believed that Mr. Clay was the embodiment of all that was repulsive in politics. He was however far in advance of his party on the subject of internal improvements.
He made his big speech in the house in favor of internal improvement by the State. The speech was a unique one and caused a great deal of merriment in its delivery, and was published in most of the papers of the State as a specimen of mountain eloquence, accompanied by comments not over complimentary.
By what was thought to be the extreme of vagaries at that time would not now be looked upon in that light, and many of Mr. Clancy's speculative ideas are to day expressed in less bombastic style as the true policy of the State.
After the expiration of the term he engaged in merchandizing, in which he was unsuccessful. He went to Tuskaloosa to sell some cotton, and after selling it he missed the road leading back to Walker and was never afterwards seen in that county and long ago I lost sight of him.
LAMBERT W. BAKER
Lambert W. Baker a Whig, slipped in between two Democrats from Walker county in 1844. He served but one term and in a few years left for the far west, and disappeared from Walker county politics In 1845.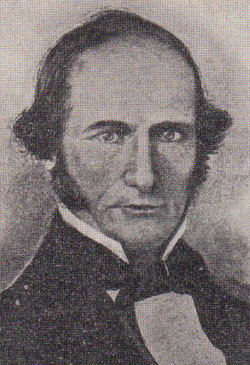 General John Manasco made his debut as a member of the House from Walker county. He was subsequently elected to the same position in the following years, 1949, 1851, 1853, 1863, 1865, and once or twice since reconstruction.
He was also elected to the constitutional convention of 1875. In all these positions he was watchful and faithful to the trusts reposed in him, according to his ideas of the duties and powers of government. He was and is a Jeffersonian and Jacksonian Democrat; considers the Alabama or constitution of 1819, the next thing to the perfection of human reason.
He very closely adheres to the doctrine that, that people is governed best who are governed least. Consequently he has generally opposed all kind of restrictive laws, and especially those restricting the sale of intoxicants, not so much on the grounds that he really advocates the sale, but on the grounds that it is an unauthorized limitation in our personal rights.
In 1860 when the storm-cloud of sectionalism was lowering over the country, and when the hearts of many of the true lovers of his country stood APPALLED at the prospect, General Manasco espoused the cause of Stephen A. Douglas, as the representative of the true Democracy of the country, and whose election would be more likely to avert the pending storm than that of either of the other candidates.
And, after the election of Mr. Lincoln, he was opposed to secession until it became an accomplished fact. But when the fact was accomplished and the contest was inaugerated, (sic) the South had no truer friend and supporter than he.
After the war was over, he took the true conservative ground that it was the duty of all good citizens to throw their influence in the scale of law and order so that the country would be restored to civil authority at the earliest practical period.
But while this was his position he had no words with which he could adequately express his contempt and loathing of the carpet-bagger and scalawag. General Manasco still lives in Walker county, I think his eighty-fourth year, highly respected by all parties.
One remarkable fact connected with the history of the General, is that notwithstanding he has always been a decided partizan and always spoke his sentiments without reserve, he made but few if any personal enemies.
I take pleasure in saying that during an intimate personal acquaintance of nearly a half century, and always up to the war in sharp political antagonism, still there never was a time when we met otherwise than as warm personal friends. Much more could be said of this aged commoner; but I have not the time to say it.
Who Controlled And Organized The New State of Alabama?
Tuscaloosa Had Three Other Names
Chandelier Falls & Capitol Burns
Alabama Throws Parties For General LaFayette
Francis Scott Key Was Sent to Alabama To Solve Problems
Join Amazon Prime – Watch Over 40,000 Movies & TV Shows Anytime – Start Free Trial Now