"SCRAPS"
RELATING TO THE EARLY HISTORY OF LIMESTONE COUNTY
By Thomas Smith Malone
The Athens Post, March 14, 1867.
Page 2, Column 3.
Part II
In 1805 the United States Government succeeded in making a treaty with the Chickasaw Indians, by the terms of which the Indians ceded most of their possessions to the Mississippi Territory, including a strip of land North of the Tennessee River, twenty-five miles wide, along the Tennessee State line and running down to the river at Ditto's landing, in the form of a triangle, about three or four miles wide, and named Madison County, with the little town of Huntsville as the County site. This county embraced all the territory ceded by the Indians to the Government in that treaty north of the Tennessee River.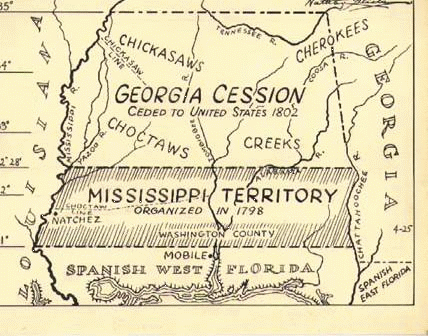 The then Governor of Mississippi Territory, Williams issued a proclamation, stating the above facts, and forbidding immigrants from settling outside of these limits, as the Chickasaws still held all other territory, South and Southwest of Madison County. Imigrants poured into Madison County from many of the Atlantic and Western States, chiefly from Tennessee, Virginia, and North and South Carolina, though but few from the latter State.
In 1807, a party came into this county, though it was forbidden ground, and yet held by the Chickasaws. This party, believed to be the first settlers in the county of Limestone, (Since named) consisted of Thomas Redus, William Redus, Wm. Simms, James Simms, James Witty, John Maples, Benjamin Murrell, and one Pridmore. They came from Rean County, Tenn., in flats, on the Tennessee River, to the North of Elks River, and up Elk to Buck Island, where they tied up, and proceeded to prospect; and in a few days, moved out and built cabins in the neighborhood known as Simms settlement.
On the third day of October, 1807, they erected the first cabin, for the Simms Brothers, hence the name of the settlement. In the following year, to-wit, 1808, many others settled in the county. Among these were the Frenches, (among whom was Uncle Amos), Levi Cummings, Wm. Greenhaw, Thomas Nichols and Wm. Kyle. These all save Kyle, settled on Limestone Creek, nine miles east of Athens. Kyle settled four miles this side of Mooresville. The same year came the Mitchells into the county, and settled on Limestone Creek, above the last named settlement some four or five miles.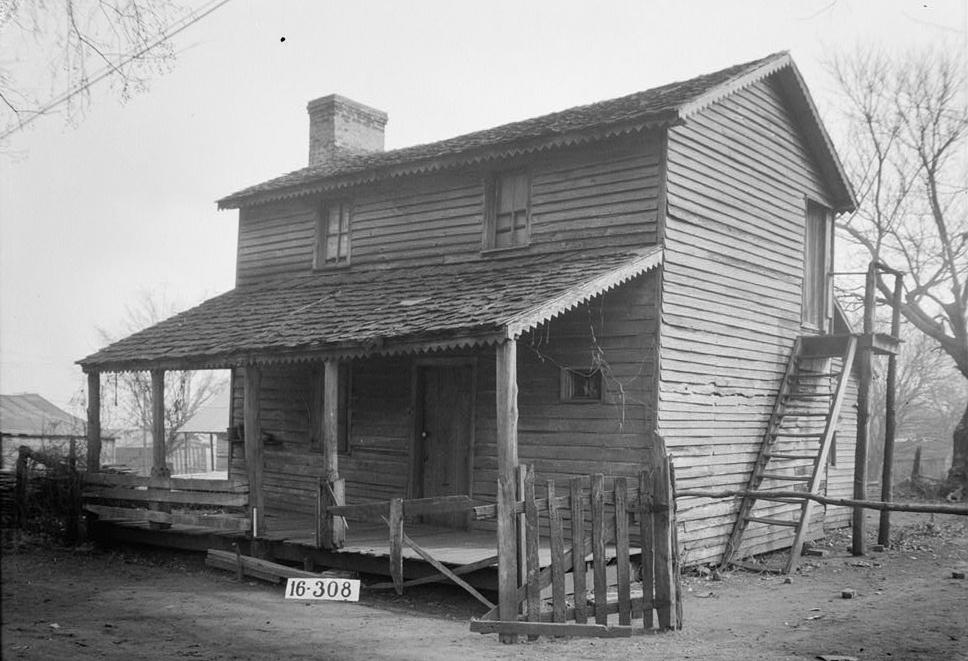 Old Tavern at Mooresville  on W. N. Manning, Photographer, March 31st, 1934, Mooresville, Limestone County, AL
Other first settlers
Their names are Flooda Mitchell, Sr. and sons, Randolph, James, John, Daniel and Flooda, Jr. The same year John, James and Joseph Burleson came into the county, and settled on the same creek a few miles above the present site of Mooresville. About this time, to-wit, the fall of 1808, two brothers, Robert and William Moore, came from near Huntsville and settled a little patch, the present site of Mooresville; and from whence the town derived its name. The first settlers in Simms settlement brought provisions with them to last till the year 1808, and in the spring of that year, they planted pretty extensively, the Indians having cleared up, previously, a few acres of land in that neighborhood. Respectfully, M.S.T
Who Controlled And Organized The New State of Alabama?
Tuscaloosa Had Three Other Names
Chandelier Falls & Capitol Burns
Alabama Throws Parties For General LaFayette
Francis Scott Key Was Sent to Alabama To Solve Problems