Faith and Courage: 2nd Edition –presents the religious persecution of Quakers in Pre-Revolutionary War days of America intertwined with a love story. The characters in this fictional story are based on the Cottingham of Bibb County, Alabama ancestors.
Actual court records dating back to the early 1630's create historical accuracy in this action-packed novel. Ribbon of Love is the 1st novel, Faith and Courage is the 2nd in this best-selling, Tapestry of Love Series, and FreeHearts is the 3rd. The family story continues in the next series The Cottinghams: Discordance
(Many Alabama ancestors became Quakers after arriving in America – This novel reveals some of the reasons why and the persecution they endured.)
REVIEWS:
"Faith and Courage is written with the reader in mind…..getting your attention and keeping it. A REAL page-turner and unpredictable love story." G. Farris
"I learned many unknown facts about America's history from this book…should be required reading." C. Davidson
"Not only is the story entertaining, it opens the eastern shore of the Early Virginia Colony to the reader as a picture book…I know this story will touch many peoples' hearts…. B. Thomas
"A well-structured story with many twists and turns..a gem of a book." I Reynolds.
"Beautiful heartwarming and unforgettable book. Knowing that 90% of the historic events are true makes this book even more enjoyable." J. Shugart
This series has been re-edited and published again as the 2nd edition in 2016. —All books are available in kindle and paperback!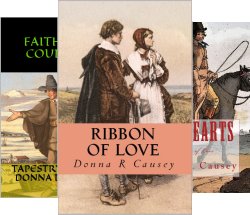 Download all three novels in Tapestry of Love Series from Amazon.com

in one

book!