Click http://www.alabamapioneers.com/honor-your-ancestor-on-alab…/to see how to honor your ancestor as a Notable Alabama Pioneer
GOVERNOR CHARLES HENDERSON
BIOGRAPHY and GENEALOGY
(1860-1937)
Pike County, Alabama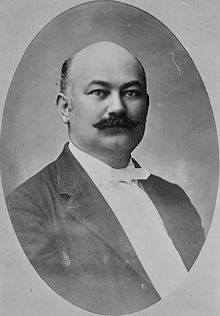 Charles Henderson capitalist, of Troy, Ala., was born in Pike County, Alabama, April 26, 1860. His parents were Jeremiah Augustus Henderson and Mildred Elizabeth (Hill) Henderson. J. A. Henderson was a son of Eli Henderson and his wife Mary Darby. He was born Aug. 11, 1831, being the third son of Eli Henderson, a farmer who came from the Edgefield district of South Carolina, as a pioneer of Pike County. Showing an aptitude for business, he was placed by his father in charge of a general store in 1852.
His father went to Texas, opened a store and sent for his son soon after, but they returned to Alabama a year later and resumed business. Shortly before the breaking out of the war, he disposed of his business interests, converting his possessions into lands, foreseeing a long and bitter struggle. Although a Whig, he was a delegate to the convention of 1861, voting for secession in accordance with the instructions of Pike County. He later enlisted in Love's cavalry, serving until the close of the war. He then farmed for a year, and re-entered mercantile life, opening a small store at Henderson, in Pike County. He prospered despite the disadvantages of being remote from railroads, and in 1870 moved to Troy, where he soon became the leader of that part of the State in a mercantile way, commanding a trade for many miles in every direction and accumulating a property in about eight years time which made him one of the wealthiest men in that part of Alabama. He died in 1877 at the age of forty-six.
He married at twenty-one, his wife being a daughter of William Murray and Martha (Ward) Hill; he left seven children, of whom the subject of this sketch is the fourth. Eli Henderson was the son of Nathaniel Henderson the second and moved from Edgefield district, S. C, to Clarke County, Alabama, in 1821.
Charles Henderson, the subject of this sketch, was educated at the Troy Academy under Prof. R. W. Priest, and took his college course at Howard College, Marion, Ala. The aptitude for business shown by his father was inherited by the son, and he was a very successful merchant in Troy for thirteen years, retiring from that line to take up larger interests as a capitalist. He was a director in the Standard Chemical & Oil company at Troy, the largest fertilizer and cottonseed oil company in the South; he was a director in the Troy Compress company, and also a director in the Farmers & Merchants National bank, of Troy, an institution capitalized at $125,000.
Mr. Henderson served his fifth term as mayor of Troy in 1904. He was one of the founders of the Troy State Normal college, having been largely instrumental in securing the necessary legislation for its establishment, and was a member of the board of trustees since its foundation in 1887, with an interim of four years, from 1898 to 1902, being reappointed by Gov. W. D. Jelks in November 1902, for two years; he was secretary and treasurer for some time. He also established in 1887 the present system of graded schools in Troy, which are the pride of the city.
Mr. Henderson was a Democrat and prominent in politics, and was aide-de-camp and colonel on the staff of Governor Jelks; he was formerly inspector general on the staff of Gov. W. J. Samford. He was Governor of Alabama from 1915-1919. "He was known as a business-friendly governor and was responsible for much of the economic growth in Alabama in the early 1900's. Earlier in his life he helped start what became Troy State University and upon his death, he left a large part of his estate to help start the local High School and a hospital for crippled children."
He was also a member of the Masonic order and a Knight Templar.
He married Laura Parker Montgomery, daughter of Thomas Alexander and Sarah Hill (Dowtin) Montgomery, at Raleigh, N. C., Nov. 7, 1888; they lived at Warrenton, N. C. Mrs. Henderson was appointed by Governor Jelks to represent the Second Congressional district as a member of the board of control of the Alabama Boys' Industrial school at Eastlake, Alabama. She was president of the Nineteenth Century Club, of Troy.
 Governor Charles Henderson passed away Jan 7, 1937, and is buried in Oakwood Cemetery, Troy, Pike County, Alabama. His wife Laura passed away Dec. 28, 1940 and is also buried in Oakwood
SOURCES
Notable Men of Alabama: Personal and Genealogical, Volume 1 edited by Joel Campbell DuBose 1904
Find A Grave Memorial# 7218925 # 5846792