SOME MEMBERS OF
FRATERNAL ORGANIZATIONS OF
GREENSBORO, ALABAMA1
(published in 1908)
ROYAL ARCH CHAPTER
Phoenix Royal Arch Chapter No. 11, under dispensation, was organized April 16, 1838, at Greensboro, Ala., with the following members:
Charles Whelan, H. P.; J. B. McVinoy, King; John Fife, Scribe; Henry Webb, C. of H.; R. Haygood, P. S.; W. 10. Baldwin, R. A. C.; R. B. Walthall, Charles Briggs, A. B. Winn, M. of Veils.
A charter was granted by the Grand Chapter dated December 6, 1838, and was forfeited in December 1876. The following are the names of the High Priests:
Charles Whelan, 1839 to 1844; Rev. Thomas Capers, 1845; Charles Whelan, 1846; William Kerr, 1847 to 1848; Volney Boardman, 1849; William Kerr, 1850; Francis M. Peterson, 1851 to 1859; William Kerr, 1860 to 1865; N. T. Lupton, 1866 to 1867; Thomas R. Ward, 1868; N. T. Lupton, 1869; Reuben H. Jackson, 1870 to 1872; Francis M. Peterson, 1873 to 1874.
A dispensation was issued August 29, 1902, to the following Companions to organize a new Royal Arch Chapter in Greensboro, to be known as Phoenix Chapter No. 121:
John M. P. Otts, Jr., H. P.; William Smaw, King; John G. Apsey, Sr., Scribe; Lee M. Otts, John G. Apsey, Jr., A. C. Jones, George Findlay, R. U. Dubois, H. T. Waller. After the organization of the Chapter other members were: J. D. Hamilton, Wm. E. W. Yerby, T. G. Jones, John A. Straiton, Richard Muckle, Henry A. Andrews, George Delaney, N. L. Castleman, Chas. E. Waller, E. P. McCollum.
In December 1907, Phoenix No. 121 forfeited its Charter.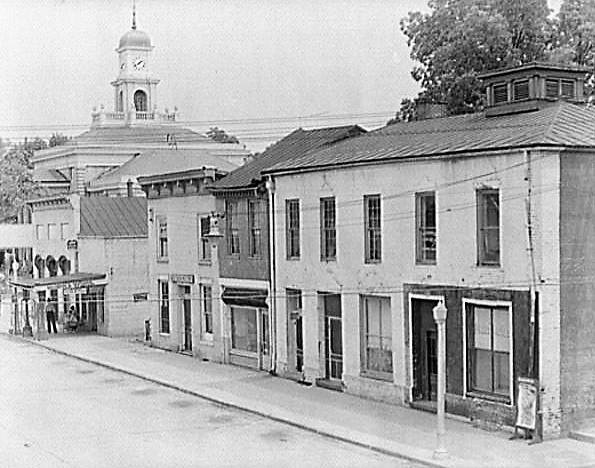 Greensboro, Alabama. Main street buildings and county courthouse cupola August 1936 by Walker Evans (Library of Congress)
KNIGHTS OF PYTHIAS.
Eureka Lodge No. 29, Knights of Pythias of Greensboro, was chartered by the Grand Lodge of the State of Alabama on the first day of April 1880.
The following are the charter members: Mayer Frank, S. Markstein, Abe Frank, Henry Beck, S. M. Marx, J. L. Levy, A. H. Williams, J. Friedlander, P. N. Booker, R. Inge, L. J. Lawson, J. B. Coleman, A. B. Loveman, J. M. Shivers, A. I. Klein and M. W. Redus.
The Charter is duly signed by George F. Taylor, Grand Chancellor of the State of Alabama. The charter members at once went industriously to work to build up Eureka Lodge No. 29, and the membership has at times been as high as one hundred.
Eureka No. 29 has never owned its lodge room but has rented quarters from various parties. The first ledge room was the upstairs over the hardware store of George Findlay, -now occupied as The Watchman office. The meetings were held there for a number of years, and then the Lodge rented other quarters from M. Steinhart, upstairs in the building immediately in the rear of the Steinhart store. After remaining there for a term of years, J. A. Blunt built a room in the third story of the OperaHouse building especially for Eureka Lodge, since which time the meetings have been held therein.
The present (1908) membership is about fifty.
THE ODD FELLOWS
On February 24, 1845, George W. Freiderick and five Others, applied for and obtained a Charter to establish a lodge of Odd Fellows in Greensboro, and on the 1st of March, 1845, Grand Chaplain Williamson came to Greensboro and instituted Lodge No. 8, I. O. O. F. It prospered for a time, and then the Charter was forfeited. There has been no lodge of Odd Fellows in the town for many years.