Cherokee County, Alabama – DeSoto and Chiaha where DeSoto visited
HUGH CARDON'S HISTORY OF CHEROKEE COUNTY, ALABAMA
 Part I
Mr. Hugh Cardon wrote the following history of Cherokee County on the occasion of the 100th anniversary of the county in 1936. This history was published in the COOSA RIVER NEWS on Friday, August 7, 1936. Mr. Cardon was a much respected historian of the county and a collector of antiques and Indian artifacts. He died February 11, 1953. The Historical Society collected a number of his articles written for the public presspublished them from time to time. The following article was preserved by Mr. J. Robert Embry of the Blanche, Lookout Mountain Valley, Little River Area and loaned it to the Historical Society. (Transcription continued below)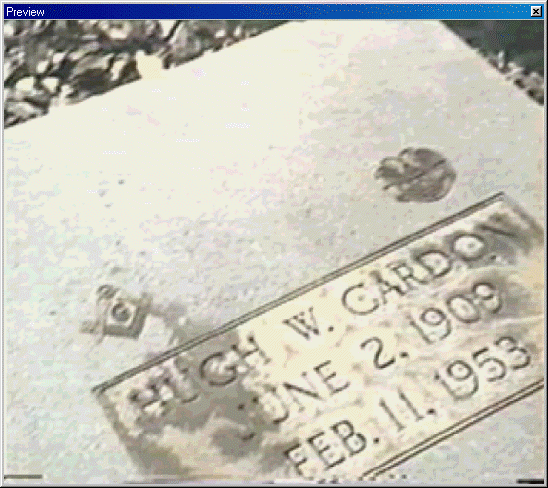 CARDON'S CHEROKEE HISTORY
A great thinker once aptly said, "A land without memories is a land without hope." In this year of the celebration of our century of existence as an organized body politic, it, too, is fitting that we reflect on the "rock whence we were hewn."
The State of Alabama as a whole owes quite a great deal to our county for it was on this soil that Alabama was discovered by DeSoto, the Spanish Governor of Florida, in 1540. After having traveled through Florida and Ga. with an entourage of soldiers and slaves, DeSoto, in 1540, stood on the banks of the Coosa before the great Indian city of Chiaha. From the natives of the seacoast and the 'Golden isles of Georgia,' the Spaniards had heard of the richness and beauty of the land and people whose territory they were now about to occupy.
Location of Chiaha
There has been some discussion among historians as to the exact location of Chiaha, some claiming that it was located on the site of Rome, Georgia, others that it stood on the land near where Chattooga River flows into the Coosa, and yet others maintain that it was located on what is now called McCoy's Island, near Poole's Perry. Scientifically and patriotically, we maintain that it was located on McCoy's Island.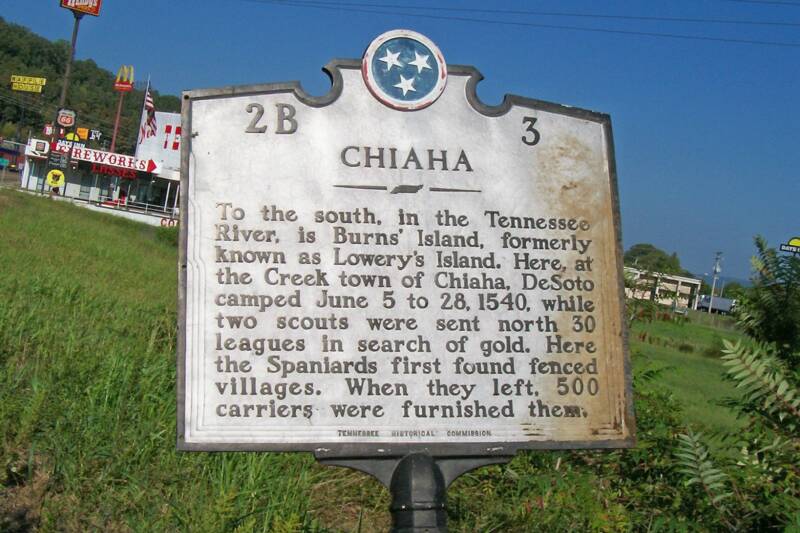 DeSoto secretaries kept records
DeSoto was accompanied by several secretaries, who kept daily records of travel and progress of the expedition. Posterity is greatly indebted to these gallant scholars for their diaries, and it is fitting that we pay tribute to them for first publicizing the value of our country to the civilized world. Two of the scribes we know by name, Biedma and Garcellasso, and the other is anonymously known as "The Gentleman of Elvas," a citizen of Portugal. From all of their narratives, we learn that Chiaha was located on an island of large size and it is agreed by all that it was located on the Coosa. There is today but one island in the Coosa that would in any way compare in size to that mentioned by the Spanish and Portuguese narrators, and that is McCoy's Island.
Located on McCoy's Island
Several years ago, D. M. Andrews, a highly scientific gentleman, who had thoroughly mastered the narratives of the DeSoto expedition, traversed by foot the route of the exploration. In addition to possessing a thorough understanding of the narratives, Mr. Andrews was assisted by maps and topographical sheets of the U.S. Geodetic Survey. After this type of survey, he came to the very definite conclusion that Chiaha was situated on McCoy's Island in Cherokee County, Alabama.
The report of his findings has been published by the Alabama Department of Archives and History, and included by Dr. Thomas Owen, in his invaluable HISTORY OF ALABAMA. No other commentator on the question has approached the subject with as much precision and as scientifically as Dr. Andrews, consequently we believe his opinion free from successful challenge.

Cherokees rebelled
DeSoto and his men spent some thirty days at Chiaha, feasting themselves and their mounts on the products of a soil more fertile than any of their eyes had yet beheld. It was here for the first time that they saw wild honey, black walnut oil, and crystal clear grease, held in gourds. Pearls in enormous quantities were given the Spaniards. These pearls were gathered from the mussels of the Coosa. In turn, DeSoto gave the Indians the first horses and pigs ever seen by them. After having fully recovered from a long and fatiguing march, the Spaniards decided to move on in search of more unconquered kingdoms, but before leaving demanded, women and slaves to accompany them, their entourage of five hundred women and slaves, shackled together in irons, having been depleted by the toilsome travel. At this suggestion our first Cherokeeans naturally rebelled, and under cover of darkness fled to the forests. Whereupon DeSoto and sixty of his soldiers scoured the country, ravaging and laying waste to homes and crops. In order to stop this waste, the Indians agreed to allow their men to go with DeSoto to carry the baggage.
Many of them had genius
From 1540 to 1816 we know very little of what happened within the bounds of this county, but suppose that it was occupied by the Cherokee and Creek Indians. Pickett tells us that the word 'Cherokee' means "men of divine fire", while others interpret it to mean "cave people." At any rate, it is the consensus of opinion that the Cherokee men were larger and more robust than any of the other Indians, and their women more graceful, erect and symmetrical. Their hands and feet were small and beautifully shaped, and on account of their outdoor life, cleanliness, and type of country in which they resided they enjoyed better health and longer life than any of our other aborigines.
Pickett says specifically, "Many of them had genius, and spoke well, which paved the way to power in council. Their language was pleasant. It was very aspirited, and the accents so many and various that one would often imagine them singing in their common discourse." The truth of Pickett's statement will not be doubted when we speak aloud some of their words, such as 'Coosa', 'Oostanaula', 'Chattooga', and 'Junaluska.'
 SOURCE
Alabama State Archives
Some stories include:
The true story of the first Mardi Gras in America and where it took place
The Mississippi Bubble Burst – how it affected the settlers
Did you know that many people devoted to the Crown settled in Alabama –
Sophia McGillivray- what she did when she was nine months pregnant
Alabama had its first Interstate in the early days of settlement
Check out genealogy, history books and historical fiction novels by Donna R. Causey