Relationship with the Indians
The relations of the settlers of Cherokee County with the Cherokees in the country were very friendly. Many of the Indians were professors of Christianity, and all were more or less under missionary influence.
But early in 1836, the feeling of security was somewhat marred by the incoming of several hundred Creeks, who settled in an abandoned Cherokee village on South Spring Creek, about three miles distant from the residence of Rev. Mr. Anthony. These Creeks claimed that they had left their nation because they did not wish to become involved in the hostility toward the whites then prevailing among a large portion of their people. The settlers and the Creeks for some apprehensions arose that the Creeks were meditating war.
The whites at once gathered a force and time were on a friendly footing. But finally drove them out of their town, but not out of the country. Not long afterward, Gen. Nelson gathered these scattered Creeks, took them across Coosa River at Cothran's Ferry, and thence moved them to their new homes in the west. Gen. Nelson is said to have acted tyrannically towards these unfortunate Indians in their removal, and in crossing Coosa River to have tacitly permitted low disreputable white men to inflict petty outrages upon them.
Named to commemorate the Cherokee Indians
Cherokee County was created by the Legislature January 9, 1836. Its territory lies wholly within the old Cherokee country, ceded by the treaty of New Echota, December 29, 1835. For a brief period after the cession, these lands were attached to St. Clair County for administrative purposes. It lost much of its western section by the creation of Etowah. then Baine County, December 7, 1866.
Its name was given to commemorate the occupation of the Cherokee Indians. The word is an English corruption of their tribal name Tsalagi or Tsaragi. which is supposed to be derived from the Choctaw Chlluk-ki, "Cave People," in allusion to the numerous caves in their mountain country. There appears to be no foundation for the genesis of the word from Chera, said to be the Cherokee word for "fire."
Cherokee rock outcropping (below) atop Lookout Mountain has been known by many names over the years including Cherokee Rock Village, Little Rock City, Sand Rock, and Sandrock. It is believed to have been of ceremonial importance to Native Americans. The view of Weiss Lake and the surrounding area is spectacular. Cherokee Rock Village has been popular with rock climbers since the early 1970s even before there was a road to the site. It is now a park and accessible to the public.(photograph from Cherokee Rock Village, Fall 2004. Photograph by Aja Bach.)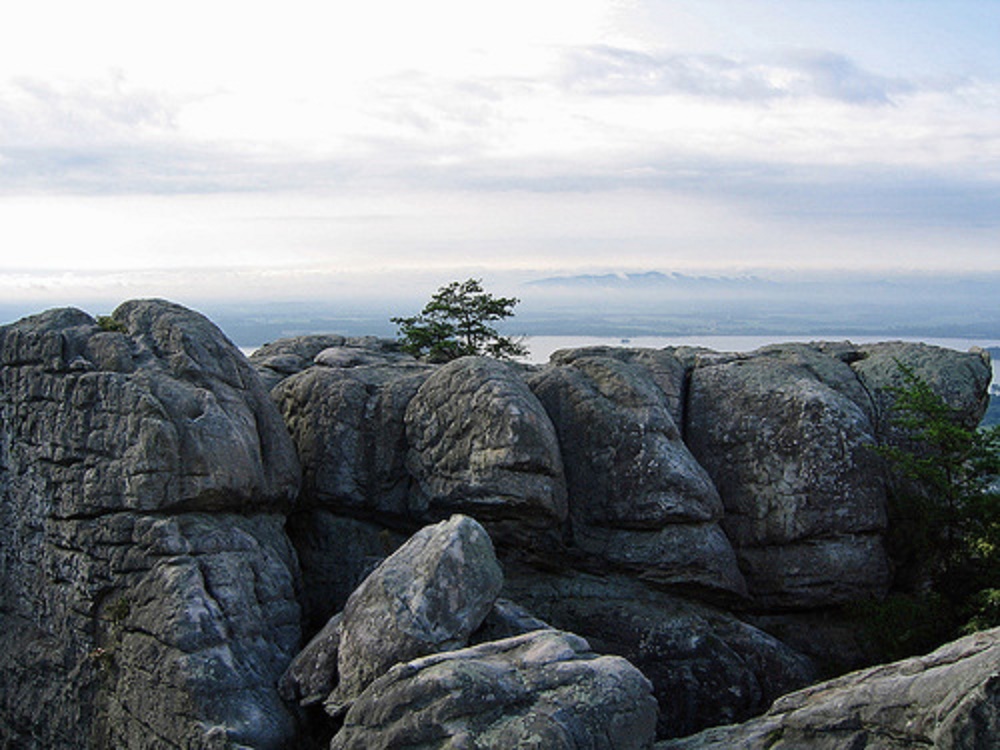 Fight over county seat
From the date of its establishment for more than ten years there was a continual agitation over the county seat. During this period the legislature was frequently called on for relief or other action. On June 24, 1837, an act definitely located it at Cedar Bluff, below William Woodley's ferry, on the Coosa River, and Z. McKraiken, J. J. Humphries, B. B. Thompson, A. S. Copeland, John C. Rhea, Henry L. Smith and John M. Hendricks were appointed commissioners "to lay off the town into lots, and provide for and superintend the public buildings."
The first officers, all appointed by the governor in 1836, were George Bridewell, judge of the county court; Robert Bell, sheriff; Henry L. Smith, clerk of the circuit court, and John S. Wilson, clerk of the county court.
There was evidently dissatisfaction over the selection, for January 15, 1844, James Montgomery, Magnus G. Williams, Andrew J. Copeland, Thomas Garrett, Joseph Wharton, Aaron Clifton and Asa R. Brindley were appointed commissioners to ascertain the center of the county and to certify the point selected to the sheriff.
An election was then held on the first Monday in Apri 1844, at which Cedar Bluff and the central point so selected were voted for. Cedar Bluff lost in the election, and the name Center (Centre) was applied to the new location.
Located in the northeastern part of the state
The town was then laid off. On January 27, 1846, further provisions were made with reference to the sale of lots. A still later act of February 22, 1848, named a new commission, consisting of Joseph Wharton, Aaron Clifton, Thomas Garrett, Asa W. Allen and Asa R. Brindley "to lay off, plan and superintend the erection of a court house in the town of Center (Centre), and County of Cherokee, under such rules and regulations as the commissioners court of said county may prescribe."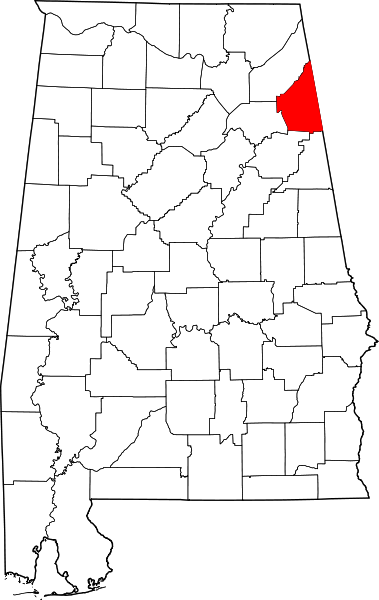 Cherokee County is located in the northeastern section of the state of Alabama. On the north it is bounded by DeKalb County, on the east by the State line and Chattooga and Floyd Counties, Ga., on the south by Cleburne and Calhoun, and west by Etowah and DeKalb Counties.
It lies largely in the western division of the Appalachian Province, and has many of the marked characteristics of that geographical area. These characteristics consist of broad, level plateaus, and alternating with narrow valleys. The character and position of both the plateaus and the intervening valleys are closely connected with the character and structure of the underlying rocks.
The elevations and the valleys have a northeast and southwest trend. To the northwest is Lookout Mountain. Shinbone Ridge and Tucker Ridge lie wholly within the county. The intervening area is known locally as Broomtown Valley. The Coosa River flows through entire extent of the county. Its principal tributary streams from the north are Chattooga and Little Rivers, and Yellow Creek. The streams flowing from the south are Spring, Cowan, and Terrapin Creeks.
Home of the Cherokees
The county from the earliest Native American period seems to have been the home of the Cherokees. Evidences of Indian life are found all along the Coosa River. The caves or rock houses on Little River must be ascribed to them. The Cherokees were known to other branches of the Iroquois as "people of the cave country," and the meaning of the tribal name carries the same suggestion.
The territory was first visited by De Soto in June, 1540, when he entered the town of Chiaha, now supposed to have been situated on McCoy's Island, near Cedar Bluff. The Indian burial places below the bluff, reported in later years, are doubtless referable to that town.
The De Soto chroniclers assert that they passed through many towns, and traces of them are yet seen. Turkey Town, named for a noted chief "The Turkey," is the only modern Cherokee town known to have existed in the county. It was founded about 1770 and was situated in the bend of Coosa River opposite Center.
It was an important place and there, under the leadership of "The Turkey," originated many inroads into Tennessee and Kentucky. A Cherokee, of a type totally different from the cruel leader just named, was Rev. Thomas J. Meigs, a Cherokee Methodist minister, who, at a later day, lived in the county, and who labored long and faithfully for the permanent interests of his people. The white settlers on coming into the county in 1836 found many of the Cherokee's professors of the Christian religion. The Cherokees migrated west in 1838.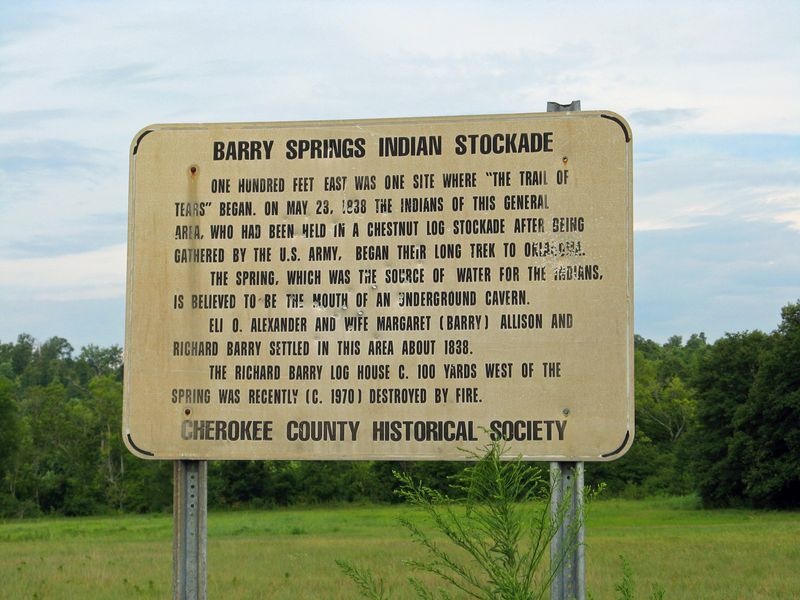 Barry Springs is located in the northern part of Cherokee County and is named after Richard Barry who settled there around 1838. There is a large spring at the site that feeds into Mill Creek which runs through the property. When the removal of the Cherokee Indians began in April 1838, United States troops built three removal forts in Alabama. Fort Payne was built in Dekalb County. The other two forts were built in Cherokee County.
Fort Lovell is thought to have been located near Cedar Bluff at present day Williamson Island. Fort Likens was established at Barry Springs in northern Cherokee County. The fort would have been constructed in early April 1838 and is believed to have consisted of a large circular structure built of chestnut logs surrounding the stockade. It is also thought to have been located on the hill next to the spring. All Cherokee Indians including men, women, and children living in the area surrounding the fort would have been rounded up and held there until they were sent to Fort Payne. There are few remaining records relating to Fort Likens, there are, however, documents from Fort Lovell that give a glimpse into life at Fort Likens. (Cherokee Historical Society)
First settlers from South Carolina
The first settlers found their way into the county in 1835, before the Cherokee title was extinguished. In the fall of that year, the Rev. Whitfield Anthony with his family came with a party from South Carolina, and settled on the south side of Coosa River, three miles to the west of the mouth of Mud Creek. Others of the party settled at convenient places south of the river.
This South Carolina party was composed of forty persons. The names of some of the early settlers of the county were Ambrose Vandever, Hezekiah Day, Thomas Miller, William Cozart, Mrs. McCoy, Absalom Reagan, Mr. McWright, John Lay, Col. John Cothran, Maj. Sam Martin and Rev. John Holmes. The settlers had to endure the usual privations incident to frontier life. Owing to the lack of mills they were forced to carry their corn to Georgia to be ground.
Churches established
With the advent of Methodist, Baptist and Cumberland Presbyterian ministers, church houses were built, churches organized, and soon the morals of the country were improved, deer hunting on Sunday and other irregularities coming to an end. The Rev. Mr. Anthony was greatly instrumental in bringing about these changes. In 1836 a camp ground was established near Gaylesville, called Sulphur Springs, where religious meetings were held. The Cherokees in large numbers attended these meetings. The first school in the county was taught by William Kincade, and the second, by Ellas Spann.
During the Civil War, Cherokee County provided 15 companies of infantry and two cavalry units to the Confederate Army. The Nineteenth Alabama Calvary was composed almost entirely of Cherokee County volunteers who fought under General Joe Wheeler. The area became a major supplier of iron ore to the Confederacy during the war. Stroup Furnace at Round Mountain and Rock Run Furnace were both destroyed by the Union Army but were reopened after the war. The first Confederate Cannon was made in Cherokee County, Alabama.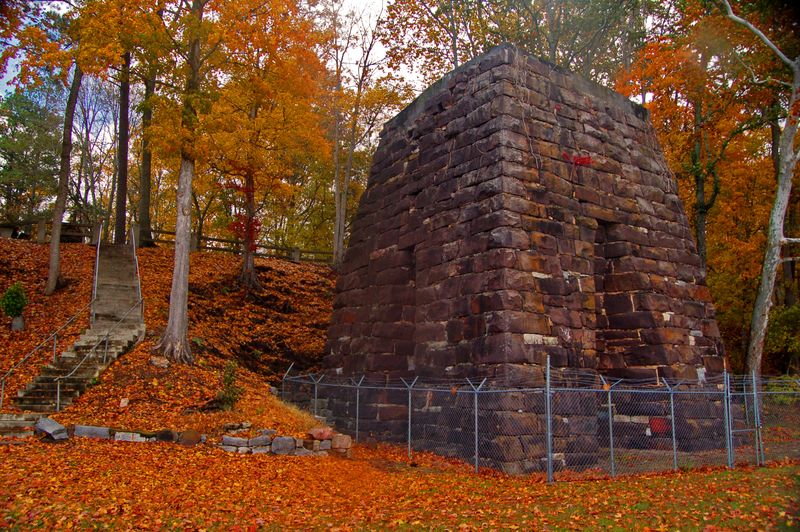 In 1862, Cornwall Furnace was built near the town of Cedar Bluff. It was built by the Noble Brothers to supply iron products to the Confederate States of America during the United States Civil War.(Wikipedia)
The Noble Brothers operated an iron foundry in Rome, Georgia and the Confederate State of America provided the financing to build the furnace.
The Noble Brothers signed a contract with the government in August 1862 and construction of the furnace began shortly thereafter. Constructed of limestone from the nearby Coosa River, the 35-foot-high furnace was the first to supply iron for the casting of Confederate cannons during the Civil War. It went into production in either late 1862 or early 1863.
The furnace used water power from the nearby Chattooga River to power the blast. The pig iron ingots manufactured at the furnace were sent to the Noble Brother's foundry in Rome, Georgia for the manufacture of war materials. Union General William Tecumseh Sherman twice ordered the furnace destroyed in 1864, but it still stands in its original location.
It was put back into blast after the war but was blown out permanently in 1875. Evangelist Samuel Porter Jones worked at the furnace sometime after the Civil War operating an ox cart. The property changed hands several times over the next 100 years. It was listed on the National Register of Historic Places in 1972. The stone stack still stands today and is the centerpiece of a war memorial park."
Confederate Commands from County.—The commands listed below were made up in whole or in part from this county.
Infantry.
Co. C, "Cherokee Greys," 7th Regt.
Co. D, "Curry Guards," 19th Regt.
Co. E, "Cherokee Guards," 19th Regt.
Co. F, "Davis Guards," 19th Regt.
Co. G, "Cherokee Mountaineers," 19th Regt.
Co. H, "Cherokees," 19th Regt.
Co. I, "Cherokee Rangers," 19th Regt.
Co. D, "Cherokee Beauregards," 22d Regt.
Co. A, 31st Regt.
Co. B, "Ralls Rifles," 31st Regt. (Sometime called Co. C.).
Co. E, 47th Regt.
Co. G, "Elisha King Guards," 48th Regt.
Co. H, "Cherokee Greys," 48th Regt. (Formerly Co. C, 7th Regt., supra).
Co. B, "Cherokee Davis Guards," 55th Regt.
Co. K, 55th Regt. (Formerly Co. D, Snodgrass' 16th Inf. Battn.).
Cavalry.
Co. B, "Russell's 4th Regt." (Formerly Co. E, Forrest's Tenn. Cav. Regt.).
Co. G, 12th Regt. (Formerly Co. G, 12th Cav. Battn., which Co. appears to have been a remnant of Co. E, 1st Cav. Regt.).
See more of Cherokee County History at Cherokee County Historical Society
Post Offices and Towns.—Revised to July 1, 1917 Official Postal Guide
Blanche
Bluepond
Bluffton
Cedar
Bluff Center (ch)
Farill
Forney
Gaylesville
Howels
Crossroads
Jamestown
Key
Lawrence
Leesburg
Loop
Mackey
Pleasant Gap
Rock Run Rock
Run Station
Round Mountain
Slackland
Spring Garden
Taff
Tecumseh
Delegates to Constitutional Conventions
1861— James F. Dowdell, William H. Barnes
1865— Toliver Towles, Jonathan Ware
1867 — Oliver Towles
1875— E. G. Richards.
1901- J. J. Robinson, J. Thomas Heflin, J. B. Duke
Senators
1839-40—Solomon C. Smith.
1841-2—Arthur Foster.
1843-4—J. M. Hendrix.
1844-5—Solomon C. Smith.
1847-8—William H. Garrett.
1849-50—William H. Garrett.
1855-6—Benjamin C. Yancey.
1857-8—Samuel K. McSpadden.
1861-2—F. M. Hardwick.
1865-6—A. L. Woodlief.
1868—H. C. Sanford.
1871-2—H. C. Sanford.
1872-3—Thos. B. Cooper.
1873—Thos. B. Cooper.
1874-5—T. B. Cooper.
1875-6—T. B. Cooper.
1876-7—J. L. Cunningham.
1878-9—J. L. Cunningham.
1880-1—J. L. Cunningham.
1882-3—S. K. McSpadden.
1884-5—S. K. McSpadden.
1886-7—John L. Burnett.
1888-9—J. L. Burnett.
1890-1—James P. Waddell.
1892-3—Thomas Tumlin.
1894-5—Thomas Tumlin.
1896-7—D. C. Case.
1898-9—D. C. Case.
1899 (Spec.)—D. C. Case.
1900-01—L. B. Stone.
1903—Lucius Bennett Stone.
1907—W. W. Barbour.
1907 (Spec.)—W. W. Barbour.
1909 (Spec.)—W. W. Barbour.
1911—J. A. Nance.
1915—W. H. Elrod.
1919—J. A. Nance.
Representatives
1837-8—George Clifton.
1838-9—George Clifton.
1839-40—George Clifton; Samuel -D. J. Moore.
1840-1—John H. Garrett; W. H. Hale.
1841 (called)—John H. Garrett; W. H. Hale.
1841-2—John H. Garrett; William Henslee.
1842-3—Thomas B. Cooper; J. H. Hendrix.
1843-4—William H. Garrett; J. M. Hendrix.
1844-5—William H. Garrett; Thomas B. Cooper.
1845-6—William H. Garrett; F. M. Hardwick.
1847-8—William W. Little; F. M. Hardwick.
1849-50—Thomas B. Cooper; F. M. Hardwick.
1851-2—Thomas B. Cooper; John S. Moragne.
1853-4—James M. Clifton; G. W. Lawrence; Henry C. Sandford.
1855-6—E. G. Bradley; Samuel C. Ward; Henry C. Sanford.
1857-8—Thomas Espy; L. M. Stiff; A. G. Bennett; W. R. Richardson.
1859-60—Thomas B. Cooper; James M. Clifton; F. M. Hardwick; Dozier Thornton.
1861 (1st called)—Thomas B. Cooper; James M. Clifton; F. M. Hardwick; Dozier Thornton.
1861 (2d called)—William W. Little; A. Snodgrass; A. R. Brindley; John D. Miller.
1861-2—William W. Little; A. Snodgrass; A. R. Brindley; John D. Miller.
1862 (called)—William Snodgrass; A. R. Brindley; John D. Miller.
1862-3—William W. Little; A. R. Brindley; John D. Miller
1863 (called)—Thomas B. Brandon; W. A. Vincent; G. W Howell
1863-4—Thomas B. Cooper John Brandon; W. A. Vincent; G. W. Howell.
1864 (called)—Thomas B.Cooper; John Brandon; W. A. Vincent; G. W Howell
1864-5—Thomas B. Cooper, John Brandon; W. A. Vincent; G. W. Howell.
1865-6—Thomas B. Cooper; J. W. Brandon; John Potter; John Lawrence.
1866-7—Thomas B. Cooper; J. W.. Brandon; John Potter; John Lawrence.
1868—Jas. A. Reeves.
1869-70—Jas. A. Reeves.
1870-1—James H. Leath.
1871-2—J. H. Leath.
1872-3—G. W. Lawrence.
1873—G. W. Lawrence.
1874-5—W. T. Bell.
1875-6—W. T. Bell
1876-7—W. P. White.
1878-9—John Lawrence.
1880-1—D. H. Shields.
1882-3—J. N. Swan.
1884-5—J. L. Burnett.
1886-7—Hugh W. Cardon.
1888-9—Charles Rattray.
1890-1—M. A. Cornelius.
1892-3—P. T. Ewing.
1894-5—R. T. Ewing.
1896-7—A. Shamblin.
1898-9—A. M. Cornelius.
1899 (Spec.)—A. M. Cornelius.
1900-01—Thomas Blair.
1903—William Siglin.
1907—Charles Rattray.
1907 (Spec.)—Charles Rattray.
1909 (Spec.)—Charles Rattray.
1911—Win. H. Lumpkin.
1915—William Siglin.
1919—John W. Mitchell
SOURCES
History of Alabama and Dictionary of Alabama Biography, written by Thomas McAdory Owen, 1921 by the S.J. Clarke Publishing Company
Youtube
Inspired by real people and actual events, the family saga of colonial America continues with Ambrose Dixon's family. Faith and Courage presents the religious persecution of Quakers in Pre-Revolutionary War days of America intertwined with a love story.
In this action packed novel, George Willson witnesses the execution of King Charles II and is forced to leave the woman he loves to witch hunters in 17th century England as he flees to his sister, Mary, and her husband Ambrose Dixons home in Colonial American. Ridden with guilt over difficult decisions he made to survive, George Willson and the Dixon's embrace the Quaker faith which creates more problems for their survival in the New World.
Read for FREE with Kindle Unlimited – Click below to see how