Established in 1821 when still a part of Pike County, Louisville is one of the oldest towns in Alabama and was the county seat for about two years.
She had to take her roses
It was hard to leave everything behind and move to the wilderness of Alabama. The story is told of a prominent Louisville woman who moved with her family from North Carolina and pulled up her rose bushes to bring with her. Her husband questioned the practicality of bringing the bushes all the way from North Carolina to which she replied, "I will go with you into hardship, if you will in turn let me take my roses with me."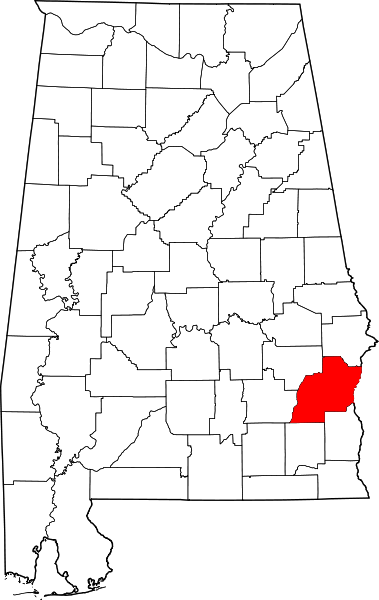 Barbour County, Alabama (Wikipedia)
Early Physicians
Early physicians of Louisville were Dr. E. M. Heron and Dr. McRae.The first settlers of Louisville had to go to Fort Gaines, Georgia to mill until Hagler's Mill was built three miles east of Louisville. Most of the first settlers came from Georgia, North and South Carolina and Virginia. Often they were large slave owners.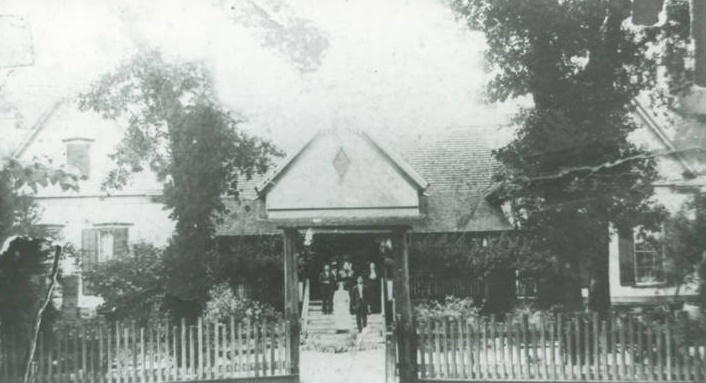 Front (west) elevation of the Duck House in Louisville, Alabama ca. 1890 (Alabama Department of Archives and History)
First stores and houses
Louisville had four stores in 1820, by 1840 they had twelve stores. The first houses were log houses. The Methodist church organized in 1820, is one of the oldest churches in Barbour County, Alabama. Among the first settlers were the names of Lewis, Faulk, Grubb, McSwain, Pugh William, McRae, Lee, Shipman, and Burch. Daniel Lewis built the first house and named the town Lewisville.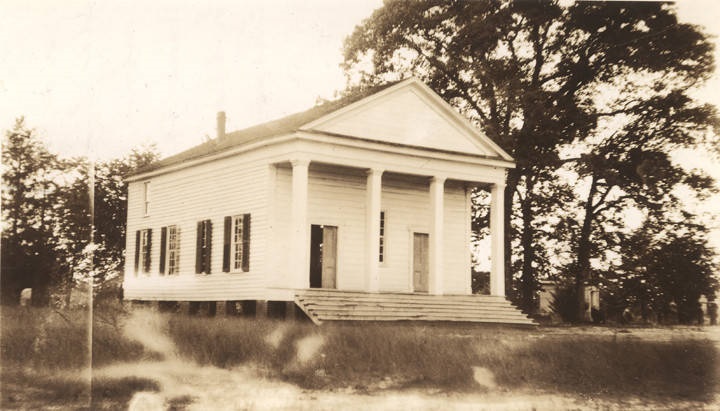 Methodist Church over 100 years old, Old Spring Hill, Barbour County,ca. 1930 (Alabama Department of Archives and History)
Town named Lewis family
Dr. E. M. Heron recalled that the original name was spelled Lewis, honoring the Lewis family, but from some unknown reason, the spelling was suddenly changed to Louis. John G. Morgan was one of the early merchants. He was a blacksmith and had previously been sheriff of Henry County. Tradition says that Rev. Jessee Burch formed a Methodist church and built a church house in the community near Louisville with the family of John McDonald.
Settlement of Williamston
Bartley C. Williams was the first Postmaster at the settlement of Williamston. Even though most of the early settlers were Scotch Presbyterians, the early Williamston settlers organized a Methodist church in 1823 which the named New Hope. "Ground was prepared for Camp meetings and for many years this was a famous Camp Meeting ground, where devout worshipers came from all parts of Southeast Alabama."
Early settlers
The first recorded marriage in the county was between Daniel McCall to Mary McDaniel both of the Pea River settlement. Tradition states that they had to go nearly to Franklin to find someone who could legally unite them in marriage.
The McNeill's were early settlers of Louisville. According to Green Beauchamp, who wrote an early history of Barbour county, "Mount Pleasant, which was on the road from Louisville to Hobdy's Bridge, John McNeil was buried." But Mrs. Addie McRae, who died at Clayton in 1932, age 98 contradicted him and said, "that it was on a road which ran from Joiner's Bridge north to Louisville- Hobdy's Bridge road.
John McNeil had one son, a physician, who died at Clayton in 1875 and seven daughters:
Mrs. John Windham;
Mrs. Daniel Currie;
Mrs. Emanuel Cox;
Mrs. Harrell Hobdy;
Mrs. Judge S. Wiliams;
Mrs. Dr. E. M. Heron and
Mrs Lemuel Long, who was killed in the Indian War of 1837.
Curry was for years clerk of the session of Pea River Church. Heron was a pioneer physician of Louisville. Cox, Hobdy and Williams were Prominent planters. Mrs. Long, the last of the family, died at Louisville, 1891, at the age of 91. Jaon McNeill's descendants are numerous throughout Barbour County.
SOURCES
The above has been transcribed from History of Barbour County, Alabama – Eufaula, Alabama, 1939 by Mattie Thomas Thompson
ALABAMA FOOTPRINTS Pioneers: Lost & Forgotten Stories (Volume 3)