If you have ever driven south from Birmingham on I-65 you will see a huge peach tower on the side of the interstate at Exit 212. This tower marks the area of Chilton County, and is a "testament to the fruit that makes the region famous means two things: First, you're slap in the middle of Alabama's peach country; and second, you better take a nearby exit if you want the freshest and the sweetest."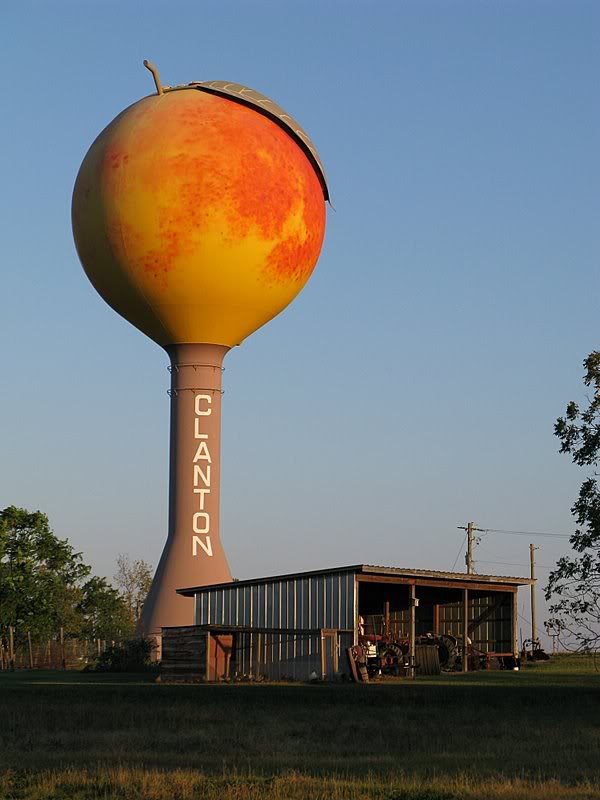 Constructed in 1992, Clanton's Big Peach is 120 feet tall and holds 500,000 gallons of water! It was built to celebrate the importance of peaches to the area's economy. There is a peach-themed (of course!) restaurant nearby and fresh peaches, when in season.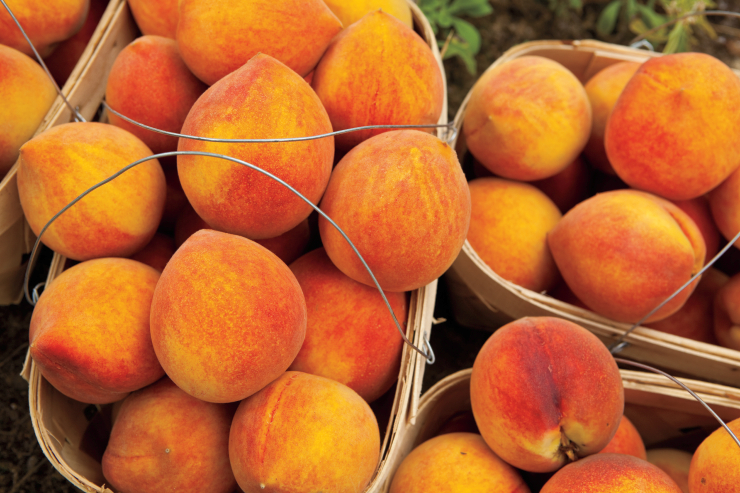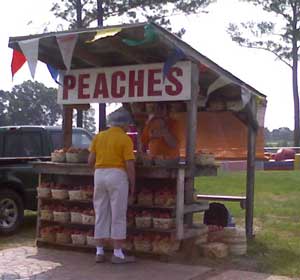 Chilton County was created by the legislature, December 30, 1868. Its territory was taken from Autauga, Bibb, Perry and Shelby Counties.
When first established it was given the name Baker County, for Alfred Baker, a citizen of the Autauga section of the county.
Alfred Baker, Sr.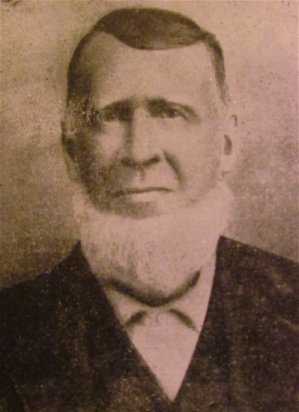 Sadly, in 1870, a Courthouse fire destroyed many original records for Chilton County, Alabama.
On December 17, 1871, it was changed to the present name, in honor of Judge William Parrish Chilton, chief justice of the supreme court, and later a member of the provisional and regular Congress of the Confederacy from the Montgomery District.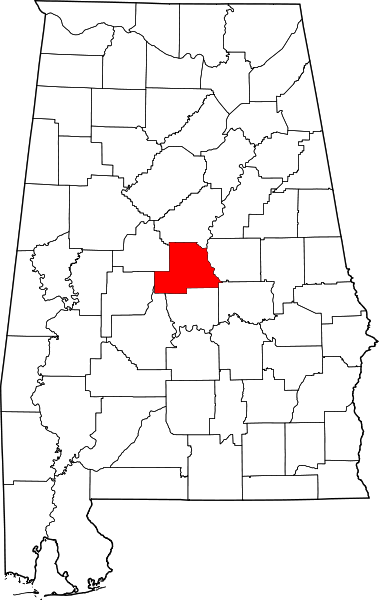 The act of establishment named Reuben Powell, Anderson Baker, William Vines, E. Ward and John Pernell as commissioners to hold an election to locate a county seat. No date is named, but they were required to advertise the election at least 20 days.
The commissioners were authorized and  required to contract for the building of a suitable court house and jail, and a county tax was authorized to be levied by the county commissioners to pay. therefor. The governor was required to appoint all officers.
Chilton County, Alabama Courthouse ca. 1930
Alabama State Archives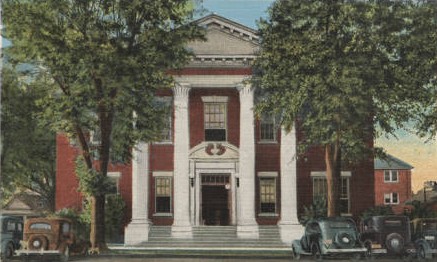 At the election held as required, a point on the Louisville and Nashville R. R. was chosen to which the name Clanton was given in honor of Brig. Gen. James Holt Clanton, prominent in the political life of the state.
The first officers were Mordecai Robertson, probate judge, and Thomas H. Williams, sheriff, both commissioned in 1869.
The county lay within the domain of the Upper Creek Indians. On De Crenay's map of 1734, the town of Pacanatache, correctly spelled Pakana Talahassi, is placed on the west side of Coosa River and apparently on the south side of Walnut Creek, nearly opposite the mouth of Pakana Talahassi Creek in Coosa County. In latter times, the town moved across the river and settled on that creek, spelled Puc-cun-tal-lau-has-see, by Col. Benjamin Hawkins.
Chipped implements and other evidences of Native American residence are to be found in some sections of the county. Along Mulberry Creek and the larger streams are a few unidentified village sites. In sec. 16 T. 21. N., R. 16 E.. near the Old Repito "Gold mine" at Varna, are several mounds.
One and a half miles southwest of Thorsby, near Little Mulberry Creek is a large mound.
Train Station at Jemison, Chilton County, Alabama ca. 1906
Alabama State Archives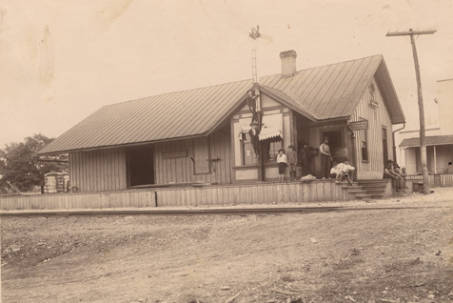 Stone heaps are found in T. 23 N., R 14 E., three and a half miles northeast of Jemison station on the Louisville £, Nashville R. R.
Train Station at Maplesville, Chilton County, Alabama  ca. 1906
Alabama State Archives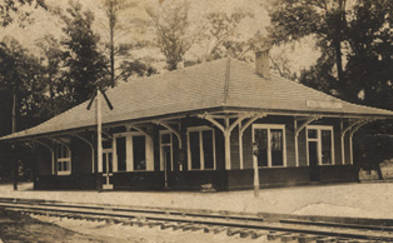 Early Post Offices and Towns – Revised to July 1, 1917
Clanton (ch)
Cooper
Jemison
Maplesville
Mountain Creek
Fletcher
Riderville
Stanton
Thorsby
Verbena
DELEGATES TO CONSTITUTIONAL CONVENTIONS
1875 – William A. Smith
1901 – L. H. Reynolds
SENATORS
1876-7 – W. L. Johnson
1878-9 – W. L. Johnson
1880-1—W. P. Oden.
1882-3—W. P. Oden.
1884-5—Jefferson Falkner.
1886-7—Jefferson Falkner.
1888-9—J. H. Parker.
1890-1—John H. Parker.
1892-3—A. T. Goodwin.
1894-5—A. T. Goodwin.
1896-7—G. B. Deans (of Shelby.)
1898-9—G. B. Deans.
1899 (Spec.)—G. B. Deans.
1900-01—W. R. Oliver.
1903—Walter Robert Oliver.
1907—H. S. Doster.
1907 (Spec.)—H. S. Doster.
1909 (Spec.)—H. S. Doster.
1911—T. A. Curry.
1915—W. W. Wallace.
1919—J. C. Harper.
REPRESENTATIVES
1878-9—J. W. Foshee.
1880-1—Wm. A. Collier.
1882-3—J. S. Edwards.
1884-5—K. Wells.
1886-7—W. E. Johnson.
1888-9—J. M. Dykes.
1890-1—G. A. Northington.
1892-3—O. M. Maston.
1894-5—O. M. Maston.
1896-7—Lewis H. Reynolds.
1898-9—Lewis H. Reynolds.
1899 (Spec.)—Lewis H. Reynolds.
1900-01—Louis B. Pounds.
1903—Lewis H. Reynolds.
1907—J. O. Middleton.
1907 (Spec.)—J. O. Middleton.
1909 (Spec.)—J. O. Middleton.
1911—W. L. Popwell.
1915—W. E. Thomas.
1919—W. A. Reynolds.
SOURCES
History of Alabama and Dictionary of Alabama Biography, written by Thomas McAdory Owen Vol. 1
Alabama State Archives
They felt the lure of the frontier and struck out for unknown territory that would become Alabama, bringing with them only very few implements to survive. From Tennessee, North Carolina, South Carolina, Georgia and many other states they came to settle in the newly opened Mississippi Territory. Alabama Footprints Pioneers continues the series with lost and forgotten stories of the earliest Alabama pioneers.
ALABAMA FOOTPRINTS Pioneers includes the following stories
The Yazoo land fraud
Daily life as an Alabama pioneer
The capture and arrest of Vice-president Aaron Burr
The early life of William Barrett Travis, hero of the Alamo
Description of Native Americans of early Alabama including the visit by Tecumseh
Treaties and building the first roads in Alabama.