GRAPHIC TRANSCRIPTION OF THE DEATH OF W. A. SMITH
Coosa River News", Centre, Alabama, Friday August 21, 1908: Volume 31, #24
Rome Tribune" Borden Springs, Alabama, August 17: After tying the horses on the station platform here, the body of William A. Smith slain by the hand of Will Chandler, has been removed to his home for burial. His slayer who emptied Smith's own pistol into his body, after his brother, Dave Chandler had knocked Smith senseless with a rock fled, was captured and jailed in Heflin, Ala.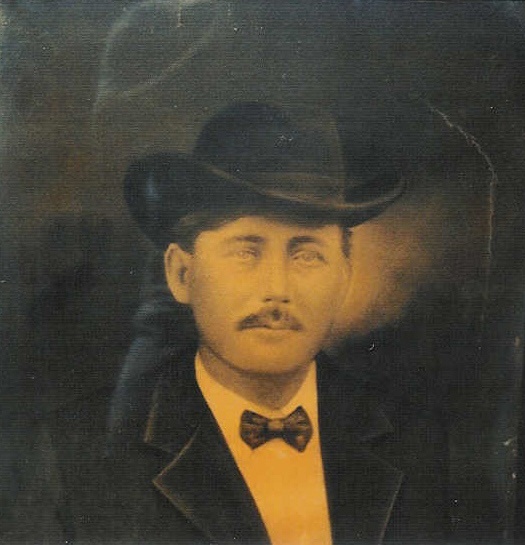 William Anderson Smith Find A Grave Memorial# 5057611
The killing took place near the little church where there had been an all-day singing and was witnessed by scores of people. Chandler, the slayer has a wife and several children. He lived in the same community as Smith and bore a good reputation.
Accounts as to how the quarrel arose differ. The most reliable seems to be that a quarrel and fight arose between two boys over a shoe trade. A fight followed and Will Chandler rebuked the larger of the two boys for cuffing the smaller. Then Smith took a hand and it is said drew his pistol, forced Chandler to his knees, and told him to pray as he had but a moment to live. At this moment, while Smith was pecking Will Chandler in the face with his revolver, Dave Chandler the brother, seized a rock, and felled Smith to the ground, with a well-directed blow. As he fell his pistol dropped from his hand, and Will Chandler, scrambling from his knees, seized the weapon, and fired three shots into Smiths body, one of which took affect and proved fatal.
_____________________
The above dispatch and the news which it brings will prove of great interest in Rome (Georgia), marking as it does the passing of a character well known to many residents of this city, and telling of the stormy close of a career in which good and evil were strangely mingled.
BELL-TREE SMITH
"Bill" Smith, the dead man, was a unique character and was known throughout all of this section as "Bell-Tree" Smith. Standing alone in the annals of illicit liquor-selling, was his scheme for disposing of mountain dew.
His home was just on the State line, where Cherokee County, Alabama, joins Polk county, Georgia. A water oak stood by a little branch and marked the geographical division. Nailed to the little oak was a common soapbox, about three and a half feet from the ground. A pad of paper was nailed to the tree, and misspelled words directed the observer to "Rite your order and leve the muney." There were no specification as to what the commodity was, but the fame of the tree was such that no one ever ordered Sunday School literature or sandwiches. Above the writing pad was another sign also misspelled, warning the purchaser not to remain there after ringing the cowbell which hung on the tree on penalty of being shot.
Go down the road and wait
Directions were given to "go down the road and wait, you can tell the place when you get to it." The "place" was fifty yards down the road around a bend and here seats were provided. The purchaser could wait in comfort until still following directions, he heard the bell ring again. He was then to walk slowly back to the bell tree. There he would find any brand of whiskey, beer, wine or other liquor, that he might have ordered, left upon deposit of the regular price charged in any market. Should the establishment be out of the particular liquid ordered a note would so state, and ask tersely "What else?"
A BIG TRADE
There were many summer visitors to Bluff, Borden-Wheeler and other nearby resorts, who learned of the Belltree's famous product, and the probation bench was rarely without an occupant during the summer days.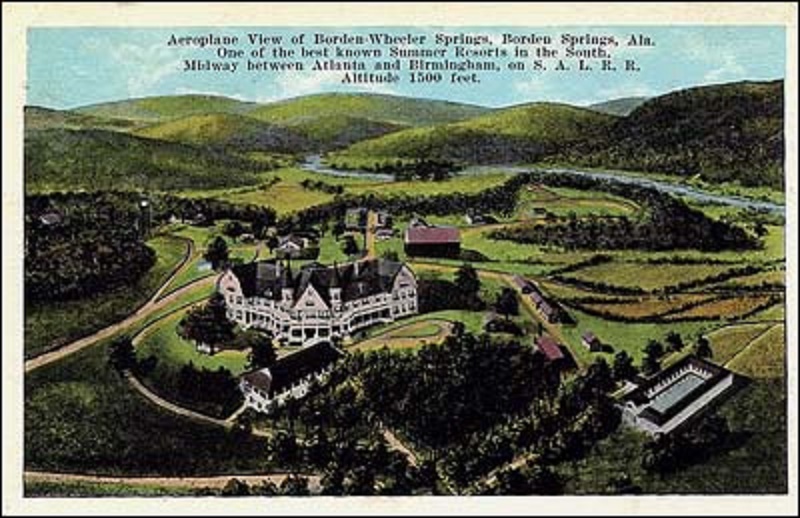 Postcard of Borden-Wheeler Resort (Alabama Department of Archives and History)
But of all the people who patronized the tree, and there are some in Rome (Georgia) who admit it, none knew the manner in which the mysterious liquor appeared. And no one could swear that Will Smith was the man behind the scheme. He carried a United States liquor license, and was never molested by revenue officers, but has been under indictments scores of times, by county officials of both Georgia and Alabama.
But he was never convicted, and finally, the officers grew weary of fruitless arrests. Last March the operation of bell tree was suddenly stopped, and thirsty visitors might wake the echoes with their clamor, and wait for hours on the bench and no liquor appeared.
WAS WEALTHY MAN
Smith was a man of great wealth not all of it coming from the bell-tree. He inherited some money from his father, and purchased hundreds of acres of land, upon much of which mineral was found. He made lucky sales and was one of the few men in the County who had money when the Bluffton boom broke. This but served to increase his holdings and he was continually buying more land. At the time of his death, he was said to pay taxes on $185,000 worth of property.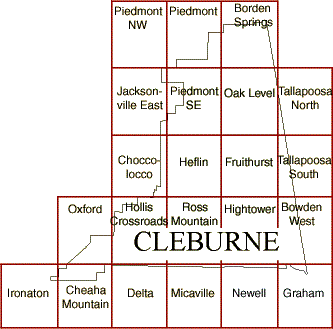 Towns in Cleburne County, Alabama (University of Alabama Maps)
He owned practically all of Signal Mountain, and had every inch of his farm under cultivation. He raised stock and supplied many Alabama hotels with meat during the resort season.
WAS OF GENEROUS HEART
The dead man was a frequent visitor to Rome and was well known to many people here, who welcomed him to their homes. He was a man of general disposition, except when crossed. He was of great physical strength, weighing more than 200 pounds and standing six feet two. He had a wife and seven children, and was very good to them, meeting their every wish. His generosity was not confined to his home, where he lived the life of a feudal lord, but extended to others. He paid the entire salary of the pastor of the church near Bluffton, and his home was the center for relief operations during the recent cyclone.
THE DARKER SIDE
But there was a darker side to this character. He is described by those who feared him, as domineering and insolent. Certain it is that "Marse Bill" had his own way, and that what he said "went," or there was trouble, usually for the other man. More than one person had yielded up their life before the pistol that he always carried. At one time he killed two men on the porch of the old Etna Furnace near Bluffton, and at different times he slow(sic) two negroes, making four to his private cemetery. For all of these killings he was acquitted on the grounds of self defense. Smith also shot a white man, his brother-in-law, for beating his wife. His house was well provided with weapons, and he, in former years always carried a pistol.
Such are a few of the interesting points in the career of a man who might well furnish the outlines for a drama of romance. Esteemed by some as a benefactor, a friend, a gentleman by nature, condemned by others as a bully, blackguard, desperado, and blind tiger keeper, unable to read a line, or write his name, yet of keen intellect and business acumen, this section well not again see his likes.
NEWSPAPER issue of Saturday, August 22, 1908
WILL SMITH IS KILLED; THE FAMOUS BELL TREE MOONSHINER IS SHOT BY WILL CHANDLER IN SELF DEFENSE; FATAL SHOOTING OCCURRED AT BORDEN SPRINGS.
He was killed with his own pistol and had been a desperate character for many years. William Smith, the notorious "Bell Tree" blind tiger keeper and desperado, is dead. He died with his boots on as he had sworn he would, at the hands of a man he tried to kill. Last Sunday afternoon at Borden Springs, a station on the Seaboard Air Line Railroad in the extreme northern part of this county, Will Smith was killed outright by Will Chandler. It seems that both parties had been to an all day singing at New Bethel church a short distance away and while passing Borden Springs station, a row or scuffle between other parties was in progress, one of whom was an employee of Chandler and he left his wagon in care of his wife and children to go down and investigate the trouble.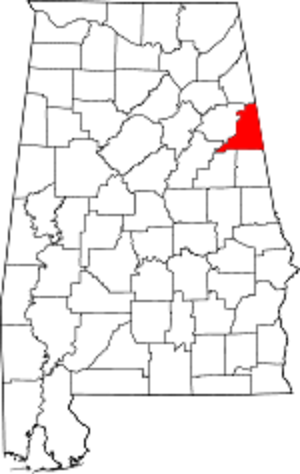 Map of location of Cleburne County, Alabama (Wikipedia)
When he arrived at the place where the trouble was going on, Will Smith and Chandler became involved in a heated controversy because Chandler asked the boy who was in his employ to come away. During the time of the trouble both Smith and Chandler's brothers got into the mix-up and Smith's brother got Chandler's brother down and was choking him severely, while Will Smith was standing over Will Chandler with his gun on him having him to pray and occasionally kicking him and telling him to get down to it; when Smith observed that his brother was about choked to death, he threw his gun on Chandler's brother and told him to stop; just at this time Chandler took advantage of the opportunity and knocked Smith down with a rock from behind and then it became a hand to hand fight between the four for the gun, each realizing that whichever side got the gun it meant death to the other.
Finally, Will Chandler got possession of the deadly weapon and fired four shots at Will Smith, three of which took effect in the head, spattering Smith's blood over the grass around. Immediately after the killing, Chandler gave himself up to the authorities and came to Heflin that night and was in jail by 2:00 A.M. Chandler waived preliminary trial Monday morning. He made bond for $2500. and will await further action by the grand jury. This is the second killing that has taken place at Borden Springs within the last few months and it is said that six men have been killed within a short distance of that place. As to the character of the two men we personally know nothing, but it comes to us that Mr. Smith was the possessor of a dark record.
He was one of the most notorious moonshiners in the State of Alabama and as proprietor of the recent "Bell Tree" blind tiger near the state line, on Flagpole Mountain, has made a fortune selling liquor, having no respect for law and order. Rumor has it that part of his life was stained by the blood of seven human beings. We sympathize with the ones deserving but to Smith we have no sympathy to offer. Alas, when will our county rid its golden hills from such characters as "Bill Smith, the Bell Tree man" ? ____________ (The Cleburne new Era, Heflin, Cleburne County, Alabama for August 22, 1908)
NEWSPAPER issue of Friday, September 26, 1908
WILL CHANDLER TRIED FOR KILLING WILL SMITH AT BORDEN SPRINGS
Will Chandler was placed on trial here Wednesday evening for the killing of Will Smith, the famous Bell Tree desperado, which occurred at Borden Springs. The trial closed Friday afternoon. The evidence in the case showed that Chandler acted as would any other man under similar circumstances, but according the the law he was guilty of either murder in the second degree or manslaughter and the jury was so charged by Judge Pelham.
The jury after having been out only a few moments, brought in a verdict of manslaughter and placed his sentence at one year in the penitentiary. Within thirty minutes after the jury rendered it's verdict, all the jurors, the solicitor and the judge had signed the petition asking the governor to grant him a pardon and had it not been for the technicalities of the law, all would have favored giving him his freedom. (The Cleburne new Era, Heflin, Cleburne County, Alabama , Friday, September 26, 1908)
The Coosa River News, Centre, Alabama, Friday, October 16, 1908, Volume 31, # 32.
Will Chandler gets a Prompt Pardon.- With a little delay after he read the facts presented to him, Governor Comer, yesterday, gave pardon to Will Chandler, a white convict of Cleyburn (sic) County, who was found guilty of manslaughter on last September 23. There was every effort made to hurry the proceedings in behalf of Chandler, as it was believed an injustice was being done for every hour he spent in the penitentiary. The circuit court jury before whom the case against Chandler was tried, returned a verdict little more than 2 weeks ago against the defendant. The jury under the instructions of the court who was also bound by technicality, had to return a verdict of guilty.
The sentence was for 1 year, which was the limit of the law minimum of the statute for manslaughter. The circumstances of Chandler's alleged killing are still fresh in the minds of those familiar with the parties. Last summer Chandler was engaged in a difficulty with another white man named W. A. Smith in Cleyburn (sic) County.
Smith is alleged to have jerked out his pistol and leveling it at his antagonist commanded him to drop on his knees and remain thus humiliated for a few minutes. A brother of Chandler arrived on the scene, it is said, and pleaded with Smith to desist from further humiliation of his brother, where upon Smith switched the gun from Will Chandler, to his brother, whom he commanded to keep his mouth out of the trouble or words to that effect.
The interference of Chandler's brother served to divert the attention of Smith so that the former, rushed in with a rock upon Smith and they engaged in a scuffle. It is reported that in this scuffle the pistol was discharged, the ball almost instantly killing its owner. Under these facts presented to him, the board of pardons, and the Governor, could not see but freedom should be given Chandler, therefore a pardon was issued Saturday. – Montgomery Advertiser
As family historian, do you have friends and family ask you how to get started in family research? This is a hard question to answer in a few minutes. Refer them to the book below to help them get started in this fun hobby. Purchase several – Books make great Christmas gifts!