Summerfield had many grand houses and a beautiful college in pre-Civil War, Alabama.

 Denominational college for boys and girls in pre-Civil War, Alabama
The photographs below show the grandeur of the Centenary Institute, a denominational college for the education of boys and girls located at Summerfield, Dallas County, controlled by the Alabama Conference Methodist Episcopal Church South. It was established in 1839, the centenary year of Methodism.
Methodist established institution for both sexes
The Methodists of Alabama in that year determined upon the establishment of a high-grade educational institution for both sexes, as an expression of "gratitude to God for his beneficent providence, abundant grace, and expanded kingdom." Energetic plans were inaugurated and much enthusiasm was manifested. On October 25, 1839, special services were held in the several churches and places of worship throughout the State.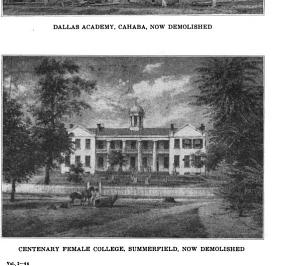 The institution was chartered by the legislature January 2, 1841, with Eugene V. LeVert, Ebenezer Hearn, William Murrah, Asbury H. Shanks, Seymore B. Sawyer, Alfred Battle. Daniel H. Norwood, Daniel Pratt, Aaron Ready, Elisha F. King, Franklin C. Shaw, Benjamin J. Harrison, Noel Pitts, and Shadrach Mims. It was made unlawful "to retail or vend ardent or intoxicating liquors within two miles of said institution." The trustees were authorized to hold real and personal property to the value of $60,000, in excess of the value of its library and apparatus.
Methodist Episcopal Church, College Street, Summerfield, Dallas County, AL March 23, 1934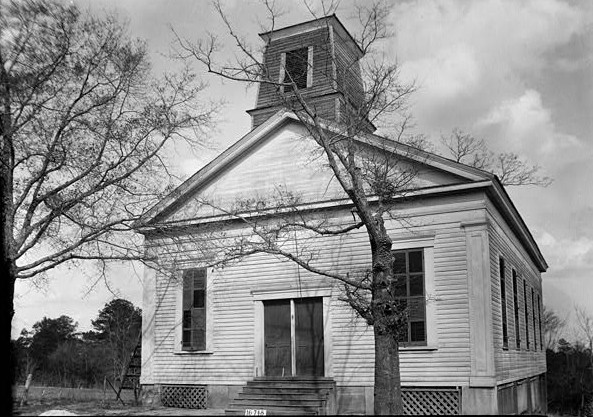 Located in Dallas County, Alabama
The institute was located in the Valley Creek community, Dallas County. On January 15, 1829, the Valley Creek Academy had been incorporated by the legislature. It was in operation at the time of the selection for the site of the new institution. The people of Valley Creek had given $9,000 in consideration of the location there.
In 1843 the new buildings were ready for occupancy. The buildings for the male and female departments were at a distance from each other, with a deep and beautiful valley intervening.
Summerfield College main building ca. 1934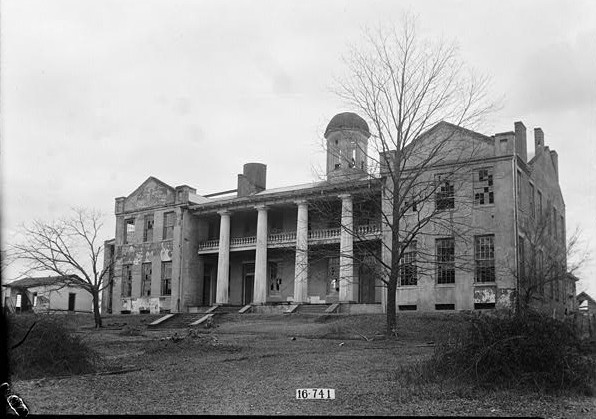 Many beautiful residences for the staff
The other buildings of the Institute consisted of a fine residence for the occupancy of the President; and a two-storied wooden building, containing five good recitation and study rooms, ( each with a fire-place) for the male department; and an excellent brick edifice, two stories high, and containing on the first floor one large study room and two smaller rooms for the use and accommodation of the pupils; and on the second floor six commodious rooms, two for the department of music, two designed for the Library and apparatus, and two as Lecture and Recitation rooms, for the female department.
Boys' Methodist College, Centenary & Main Streets, Summerfield, Dallas ca. 1934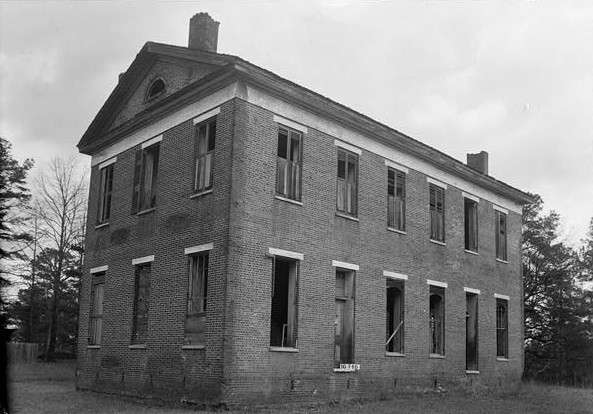 Opened in  1842
In the spring of 1842 some sort of opening was made of Centenary Institute, but the session was attended with more or less friction, and but little was accomplished. In the summer of 1843 the Trustees elected the Rev. A. H. Mitchell, who had been connected with Emory College, Georgia, President of Centenary Institute, and on the sixteenth of October of that year he opened the session of the Institute with encouraging prospects. There were between sixty and seventy pupils, including both sexes, present at the beginning of the term.
March 23, 1934. Fireplace and Mantel (Second Floor) – Boys' Methodist College, Centenary & Main Streets, Summerfield, Dallas County, AL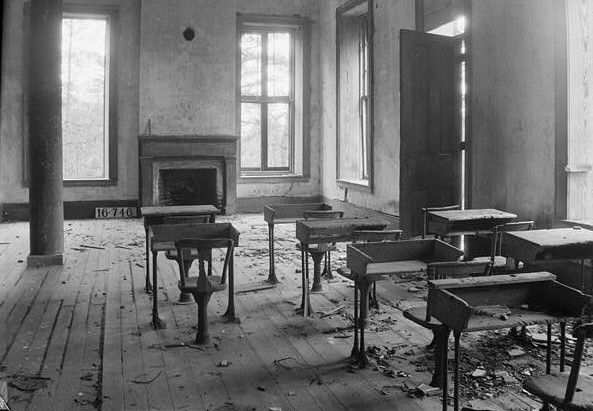 GENERAL FRONT VIEW. NORTHWEST – Summerfield College, Main Building, Main & College Streets, Summerfield, Dallas County, AL, March 23, 1934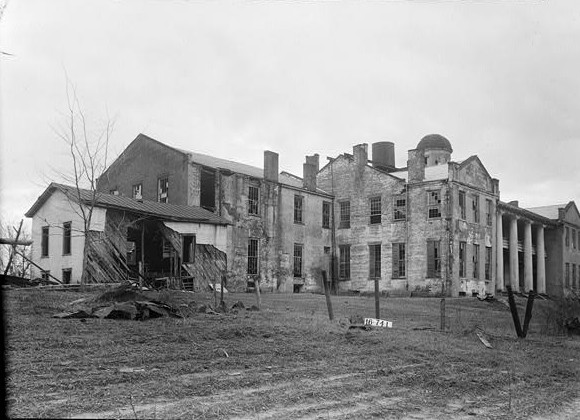 Under the supervision of Rev. A. H. Mitchell
Both the male and female departments, at that time, were under the supervision of the Rev. A. H. Mitchell. The session contained ten months, and consequently there was but one session per annum. The terms of tuition were twenty-five, thirty, and forty dollars per session, according to studies, and it was advertised that board could be had in any family in the neighborhood for ten dollars per month, including fuel, lights, and washing. The President of the Institute was assisted during that session in the male department by Mr. Holcombe, and in the female department by Miss Dutton and Miss Casswell, and the music was taught by Mrs. Walker. That session closed Thursday, July 25, 1844.
The next session opened Monday, October 7,1844, and during that term, and in the month of April, 1845, there was a sweeping religious influence at Valley Creek, and the Church there, the School sharing largely in the religious influence, received about fifty members. About one hundred and thirty pupils matriculated that session, and at the close of the session on Friday, the eleventh of July, 1845, five graduates, Miss J. M. Hawkins, Miss C. Bradley, Miss M. Paulding, Miss M. H. Norwood, and Miss C. Coleman, were sent forth from the Halls of that Institution of learning. At that time Mr. W. A. Simmons, and Mrs. Walker resigned their positions as teachers.
REAR VIEW. – Summerfield College, Dr. Hudson Building, College Street, Summerfield, Dallas County, AL March 23, 1934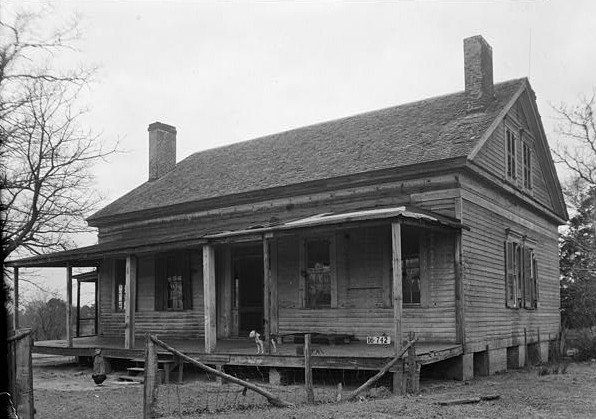 Summerfield Historic marker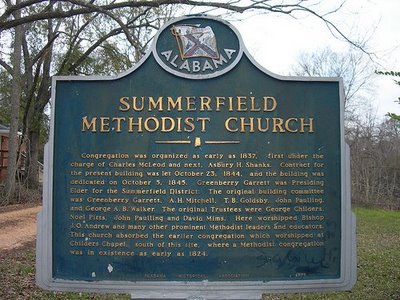 Name changed from Valley Creek to Summerfield
In the summer of 1845 the name of the place was changed from Valley Creek to that of Summerfield. It was thought that the name of Valley Creek would give the idea that the place was in a valley on a sluggish creek, and that those abroad getting that idea would be afraid of the place as sickly, and so they changed. Summerfield would have a more pleasant association, and make a better impression upon foreigners who had never seen the place. It is said that the then Mrs. A. H. Mitchell and Mrs. Greenberry Garrett suggested the name of Summerfield in honor of the noted John Summerfield, the great preacher. At the time the name Summerfield was given to the place the citizens thereabout entertained the idea, that as the place was near the center of the State and had other advantages, that the capital of the State might finally be located at Summerfield.
The Teachers connected with the School during the session which opened Monday, October 6, 1845, were, in addition to the Rev. A. H. Mitchell, who somewhere about that time had the degree of Doctor of Divinity conferred on him by the University of Alabama, Mr. A. R. Holcombe, A.M., Professor of English Language; Mr. D. S. T. Douglass, A.M., Professor of English Literature ; in the female department Miss M. D. Casswell and Mrs. R. A. E. Jordan, Teachers in Literary and Scientific departments; and Mrs. Cann and Mrs. Frances Davenport, Teachers in Music. During that session there were one hundred and sixty-five pupils in attendance upon all departments.
Rev. Ebenezer Hearn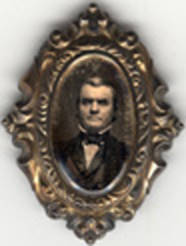 Agents for Centenary Institute
The Rev. Ebenezer Hearn and the Rev. William B. Barnett were Agents for Centenary Institute for 1841, and for 1842 they were Agents for that Institution and also for La Grange College. For 1843 and 1844 the Rev. Ebenezer Hearn was Agent for these two Institutions of learning. The Rev. Jesse Boring was Agent for Centenary Institute for 1845. At this stage of things it is impossible to ascertain what was accomplished for the enterprise by the agency of Brother Barnett, and there is no official statement at command to indicate what pecuniary aid was secured by Brother Hearn. There is on record a personal statement, made by Hearn, how reliable it is cannot be known, in which he says he collected certain amounts each year for Centenary Institute, and the amounts given in the four years aggregate twenty thousand and seventy-seven dollars and fifty-nine cents. In an official report still extant there is a statement asserting that the Rev. Jesse Boring, during the year of his agency, " booked some three thousand dollars new subscriptions, and collected some three thousand dollars on old subscriptions."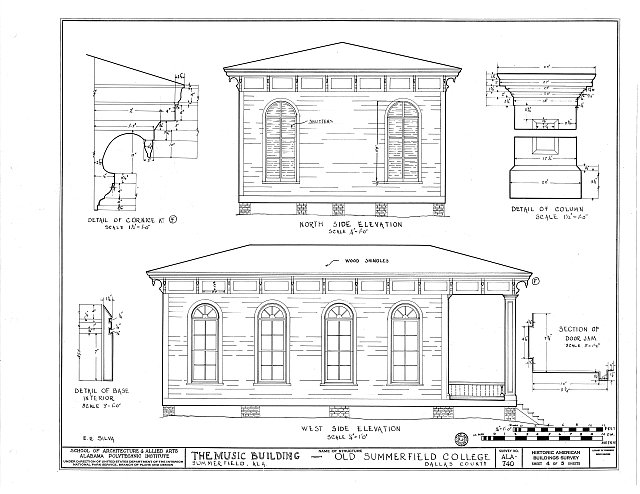 In the selection of the fourteen Trustees as corporators of the projected School, named Centenary Institute, there was brought into requisition eminent talents and extensive influence. Of the preachers named as corporators all, except the Rev. E. V. Le Vert and the Rev. William Murrah, have been sketched in this History on other pages and in other connections, and while these two men here excepted were not distinguished as specialists in institutions of learning, yet what is to be said about them may as well be said here and now.
Feb. 3, 1934. FRONT VIEW. – SOUTH ELEVATION – Summerfield College, Music Building, Main & College Streets, Summerfield, Dallas County, AL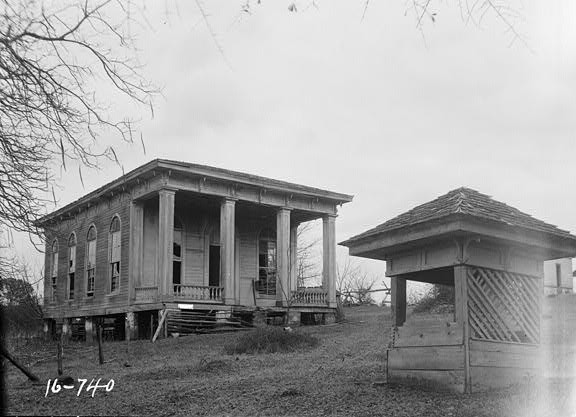 Rev. Eugene V. LeVert sketch
The following was said about  Rev. Eugene V. Le Vert.
The Rev. Eugene V. Le Vert was in his forty-fifth year when he was named as a Trustee of the Centenary Institute. He was a native of Virginia. His father was a native of France. This native of Virginia was endowed with superior intellectual powers, but for some reason he grew to manhood without education. His tuition at a regular School did not exceed three months. Under the instruction of his father he received some training in the French language. September 13, 1819, he was renewed by divine grace, and July 20, 1821, he was licensed to preach, and immediately thereafter was employed by the presiding elder for the remaining months of the Conference year on the Tuskaloosa Circuit. There was no Jones's Valley Circuit at that time. Jones's Valley was then a part of the Tuskaloosa Circuit. At the end of the year he was received on trial in the Mississippi Conference, and appointed for the next year junior preacher on the Tuskaloosa Circuit. In due course he was advanced to the orders of the ministry. He served to the full measure of his strength in the Christian ministry for more than half a century, and he served well. He not only performed much labor, but he endured many hardships. He devoted much time to the defense of the doctrines of Christianity in the public assemblies. He met antagonists fearlessly, and brought into requisition logic, satire, pathos, and eloquence as occasion required. In the pulpit he was deliberate, earnest, graceful, eloquent, and attractive. Through his ministry, so it is said, hundreds were brought to Christ.

At this juncture may very properly be narrated an incident in his ministry which led to a case of religious renewal and Christian usefulness. During the year 1822 he fell into a state of despondency, being then, perhaps, less than a year old as a preacher. In the hour of his gloom he rashly determined to abandon the ministry. To the Rev. James Tarrant, an aged local preacher in Jones's Valley, he revealed his purpose to renounce his call and abandon the Christian ministry. Brother Tarrant understood his case, and with great sagacity and with much painstaking analyzed it for him, and showing him the possibility of eventually overcoming his impediments and of being successful in the work to which he was persuaded he had been called, he relieved his gloom, turned his mind, and induced him to continue in the high calling upon which he had entered.

July 28, 1936 VIEW TO SOUTH OF HALL SHOWING STAIR – Sturdivant-Moore-Hartley House, Centenary & Main Streets, Summerfield, Dallas County, AL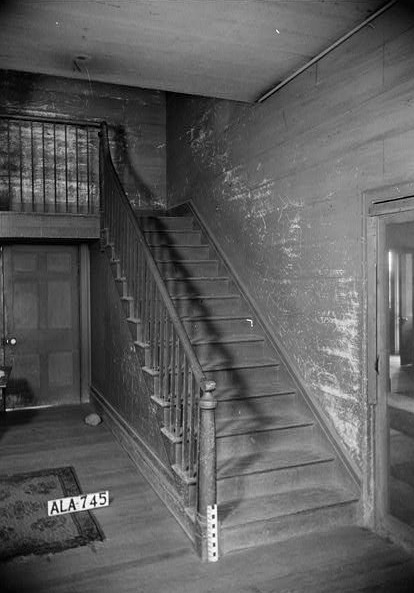 In 1842, just twenty years after that eventful interview, the Rev. E. V. Le Vert, as presiding elder of the Selma District, held a Quarterly Conference for Jones's Valley Circuit at. Smith's Chapel, about twelve miles from the town of Elyton. Benjamin Tarrant, one of the sons of the Rev. James Tarrant, was in attendance on that Quarterly Conference. He was then near fifty years of age, and was a politician, a drunkard, and a gambler, and had, all his life, to use his own words, " served the devil faithfully."

March 17, 1934. FRONT VIEW. – NORTH ELEVATION – Sturdivant-Moore-Hartley House, Centenary & Main Streets, Summerfield, Dallas County, AL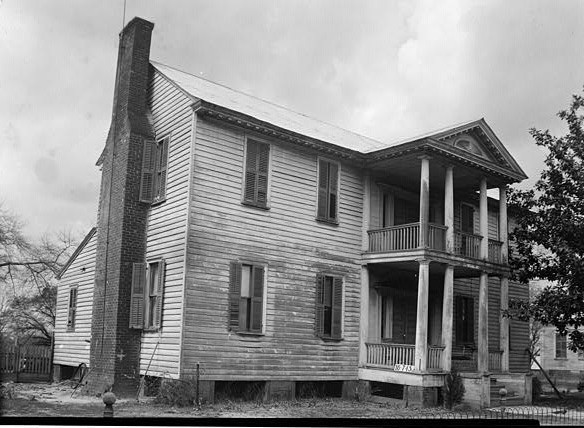 In his public ministrations at that Quarterly Conference the Rev. Mr. Le Vert took occasion to refer to his early ministry in that country, and especially to the incident of his life when he received the counsel of the Rev. James Tarrant which settled the issues of his cause. He told in pathetic terms and with poetic beauty of his lack of education, and of his lack of experience, and of his inability to sing, and of the deep gloom which came over him; and how he described to Brother Tarrant, the patriarch, his deficiencies, difficulties, and despondency; and how by the tender sympathy and wise counsel of the aged man of God he had been induced to change his mind and prosecute the divine work. In glowing terms and earnest spirit he pronounced a tribute to the memory of his benefactor, and in conclusion announced that were there of the posterity of the Rev. James Tarrant in that congregation still strangers to God and his grace, it would afford him supreme delight for them to turn to God, repent of their sins, and obtain justification through their father's Saviour.

July 28, 1936 WEST ELEVATION – Sturdivant-Moore-Hartley House, Centenary & Main Streets, Summerfield, Dallas County, AL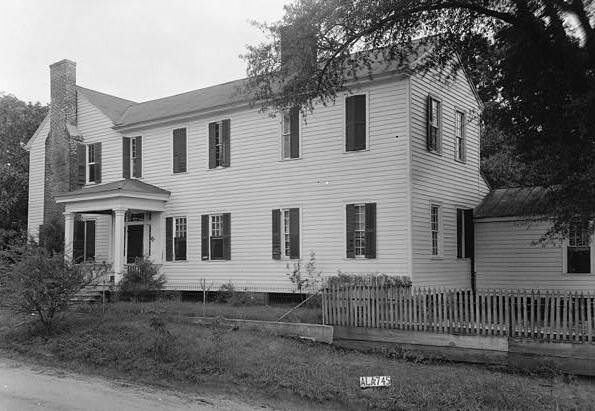 Benjamin Tarrant sketch
That reference, narrative, and appeal arrested Benjamin Tarrant, and led to his conviction and his salvation. He at once set about seeking the renewing grace of God, and in a short while came into a happy Christian experience. His character and life were entirely changed, and in a few brief months he was licensed to preach in the Methodist Episcopal Church. During the remaining part of his life he was an accredited minister of the gospel, and while he was never anything but a local preacher he was in labors abundant, and was unsurpassed by any in his section in efficiency and usefulness. He spent months of each year, and without pecuniary compensation, in protracted meetings. He was generally the first to reach the place of a protracted meeting and the last to leave it. He preached everywhere in Jefferson County and much in other Counties. He claimed near the end of his pilgrimage that he had, with his own hands, received into the Church twelve hundred persons, in a ministry of thirty years, which was an average of forty a year. He was a man of much prayer, and of great faith, and as, what is called, an evangelist he had but few if any equals in all the country where he labored. He led thousands to the triumphs of faith in Jesus Christ. He died at the age of eighty-one, February 14, 1874, and was buried in a grave-yard about five miles north of Birmingham, Alabama.
July 28, 1936 REAR ELEVATION – SOUTH – Sturdivant-Moore-Hartley House, Centenary & Main Streets, Summerfield, Dallas County, AL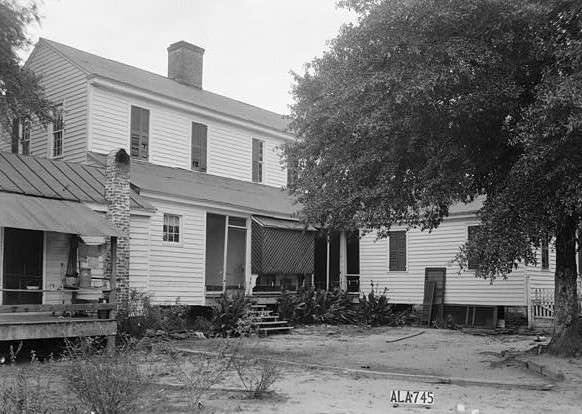 The Rev. E. V. Le Vert was twice married, and his first wife was the mother of fifteen children. His last ministerial act was the administration of the Lord's Supper, which occurred the Sunday before his death. He died surrounded by his children and many friends, April 16, 1875, and his body was laid to rest in the cemetery at Marion, Alabama.
The Rev. William Murrah was born in Georgia, in 1807; educated at Franklin College, Athens, Georgia; admitted on trial into the South Carolina Conference in the first part of 1829; transferred to the Alabama Conference in the first part of 1835; transferred to the North Mississippi Conference in 1874; died at his home in Pickens County, Alabama, October 9, 1887; and was buried at Columbus, Mississippi.
He filled many important and leading charges in Alabama, and was a delegate to several General Conferences. He represented Pickens County, Alabama, in the Legislature of the State in the days of reconstruction. There was much political corruption in that time, and, alas! some in high places became degenerate children. For 1879 his appointment read: West Point and Tibbee, William Murrah. That was his last pastoral charge. At the end of that year he went on the superannuated list, where he remained till he went hence to his reward.

July 28, 1936 LOOKING WEST AT OLD WELL – Sturdivant-Moore-Hartley House, Centenary & Main Streets, Summerfield, Dallas County, AL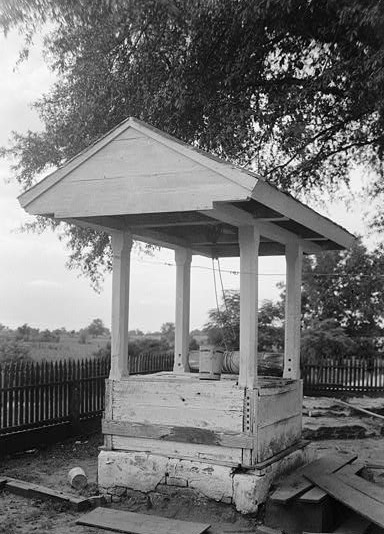 The Hon. Daniel H. Norwood was a devout Methodist, possessed of mental endowments, literary attainments, and an opulent estate. He was eminently qualified to fill the position of a Trustee of an institution of learning. He was a Trustee of Centenary Institute for a term less than three years. He died previous to February, 1845.
Hon. Daniel Pratt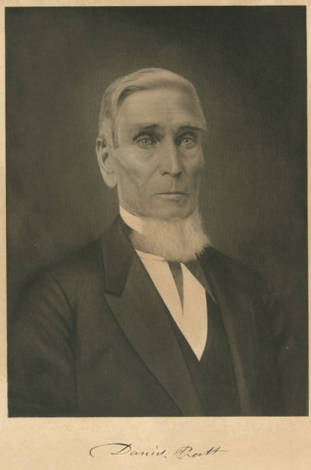 Daniel Pratt appointed Trustee and Incorporator
The Hon. Daniel Pratt had been in Alabama about three years, and was little more than forty years old, when he was appointed Trustee and incorporator of Centenary Institute.
He was a tall man and straight, had large hands and feet, a Roman nose, and eyes the color of the sky. Not only did his countenance beam with benevolence, but his entire person indicated benevolence. He was the embodiment of energy, integrity, and philanthropy. He was Master of Mechanical and Useful Arts. By his industry and skill he accumulated large wealth, and did much for the common country and the general good. He was without guile and malice. He was a Methodist, and bore good will to all Christians, and to every people. He served his generation.
Benjamin Inabnit Harrison, a native of South Carolina, a man of many excellencies, and who was made Trustee of Centenary Institute when in the twenty-seventh year of his age, moved to Valley Creek, Alabama, where Centenary Institute was finally located, in 1832.
He was an educated man, and during much of his time followed the profession of teaching. He lived many years at Valley Creek (Summerfield), but finally moved away and died at the University of Alabama, in 1872. He married in 1834 Miss Martha I. Cuilders. She died in 1843. In 1845 he married Miss Adaline H. Simmons, the daughter of the Rev. John Simmons, and a native of Henry County, Georgia. At a Camp-meeting held near Valley Creek in 1835 Mr. Harrison was convicted, and firmly resolved to forsake the world, seek the Saviour, and from thenceforth pursue the path of life, and, though not then renewed, he immediately joined the Methodist Episcopal Church. From that hour-salvation was first in the thought of his mind and supreme in the desire of his heart, and he prayed earnestly and without ceasing. Though for twelve months his soul lingered in darkness, finally, one day, as he went on horseback, in company with two godless men, to the town of Selma, in the interest of some secular affairs, he, while the two companions in travel talked of worldly things, fell into deep meditation and secret prayer, and though he was surrounded by circumstances which were trying and distracting, the last clouds of doubt drifted away, and his soul was bathed in the light of the divine Spirit.

March 23, 1934. FRONT VIEW. – King House, Centenary Street, Summerfield, Dallas County, AL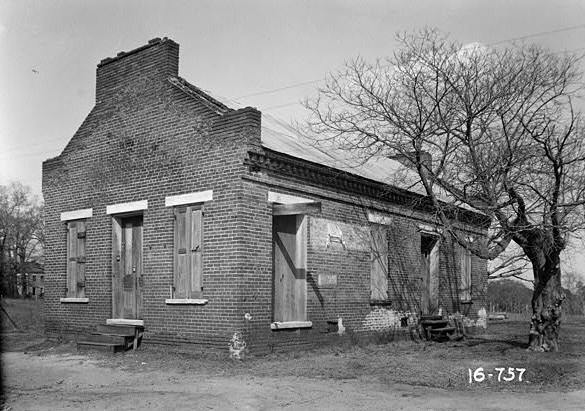 His wives were both excellent women and of noble families. His first wife was cut down in early womanhood. His last wife still lived in 1892. She was born in 1825, and is the sister of the Rev. J. C. Simmons, who has worked so long in California. She joined the Methodist Episcopal Church when less than eleven years of age, and at that time obtained a sense of divine acceptance not before realized by her. Through all the years she maintained a lovely Christian character. Her children honor her. In a deed made in 1845 conveying certain property to Centenary Institute Robert A. Baker is named as one of the Trustees. He was elected to fill the vacancy caused by the death of Norwood, and from that time until his death, or for more than twenty years, he was connected with that Institution of learning, and was one of its most zealous friends and liberal benefactors. Than Robert A. Baker a more efficient layman never wrought in Alabama.

March 23, 1934. FRONT VIEW. – Childers-Tate House, Centenary Street, Summerfield, Dallas County, AL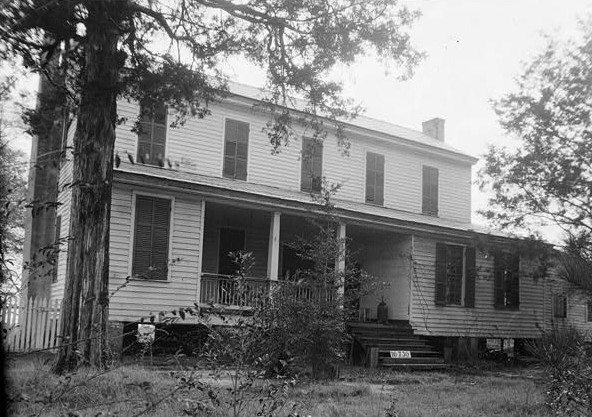 Robert A. Baker sketch
Robert A. Baker was brought up in poverty and in orphanage, but these circumstances and accidents could not keep him in obscurity nor detain him from usefulness.
A more efficient layman never wrought in Alabama. He was born during the first half of the first decade of this century; it is said he began his Christian labors in a Sunday-school, and it is possible that he began said labors about the time he was converted in 1826. His name first appears upon the official Records of the Church for the Franklin Circuit in 1829. His name is registered in the Quarterly Conference Records for that Circuit as a class leader. He was steward on the Franklin Circuit in North Alabama from October, 1830, till June, 1841. At the close of 1841 he moved out of the bounds of the Franklin Circuit and made his home in Sumter County, Alabama,  till about 1848, when he moved to Summerfield, Alabama. From the time of his joining the Methodist Episcopal Church till his death, a period of about forty years, he was an active Christian. Wherever he was he worked for the divine cause, and while he never entered the ministry, he filled all the offices common to laymen, and participated actively in the public services of the public assemblies. For months together he would attend and work in the protracted meetings and Camp-meetings which were held from year to year for promoting the interests of the Church and securing the salvation of men.

March 23, 1934. FRONT VIEW. – Summerfield College, Dr. Jackson Building, Main & College Streets, Summerfield, Dallas County, AL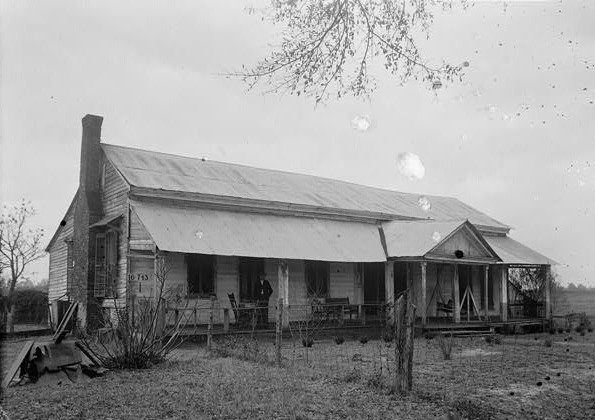 He attained place and influence in the Church and in the State as well. He was a member of the General Assembly of Alabama from Franklin County for a number of sessions, and attained to the position of Speaker of the House of Representatives. He exerted a good influence as a member of the General Assembly of the State, and did good work in guiding legislation. He was calm, considerate, and conservative, and was noted for industry and integrity. Had he been ambitious, he might have filled higher offices in the State. He prosecuted large business and controlled large funds.

March 23, 1934. HALL STAIRS. – Moore House, Persimmon Street, Summerfield, Dallas County, AL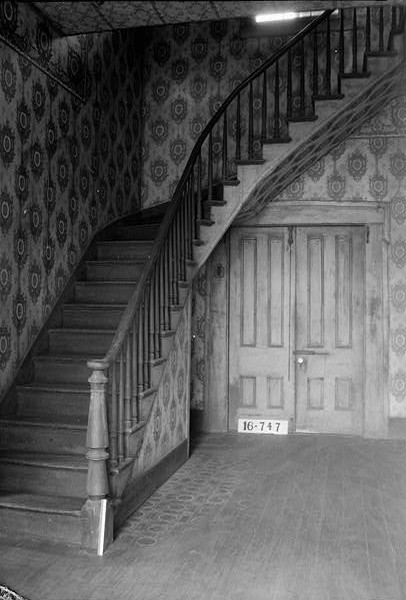 The ample means at his command were used for every benevolent purpose. He made large contributions to the various enterprises of the Church, inaugurated and sustained enterprises. He gave by hundreds and into thousands. He knew the meaning of a widow's sorrows and of an orphan's woes, and he responded with liberal alms for the relief of the helpless and the destitute. He was fervent in his prayers and in his piety, and he was generous in his sympathies and his alms. His prayers and his alms are allied in his memorial. Whether or not he was a man of undue sentiment, it is certain he was a man of large charity, of numerous alms-deeds, and of nobility of character. With his mind and money he instituted and supported public enterprises and Christian benevolence. He did liberal things himself, but he did more; he infused into the communities of the Commonwealth wherever he touched them a spirit of enterprise and benevolence, and he  led those with whom he came in contact to high purposes and to noble deeds.

March 17, 1934. FRONT VIEW. – Moore House, Persimmon Street, Summerfield, Dallas County, AL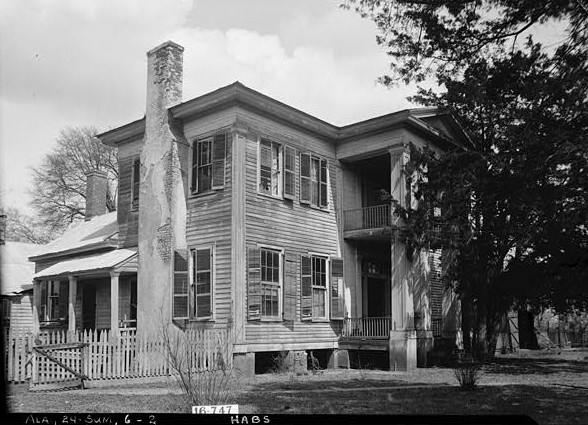 He was not that despicable character who, under the sanctimonious assumption of being a peace-maker, strolls through a community prying into secrets, rehearsing vituperation, and complicating difficulties, but he was that character whose very presence is a benediction, and who promotes good will and establishes peace among men. He was as good and great in the private circle of home as in the public affairs of men. In his home he found sublime felicity, and to all the members of his household, including the domestics or slaves, he dispensed blessings with beneficence. He was gentle and generous in the administration of the affairs of home.  On his wife and children he bestowed warm affections and on his servants just consideration. His mind was adorned with truth, his heart was gemmed with righteousness, and his soul was illumined with love.

The divine instincts were vital in him, he was rich in the consciousness that God was formed in him the hope of glory, and his passions and desires were subordinated to the divine will. Charmed by the beautiful, refined by the good, and filled with the fellowship of the saints and the communion of God, he maintained  consistency and efficiency, and was great in faith, love, and deeds. He died suddenly in the last part of December, 1865, and was buried at Summerfield, Alabama. He died across the Bay from the city of Mobile. He served his generation according to the will of God, and fell on sleep. One of his sons entered the ministry, and was a member of the Alabama Conference at the time of his death. Another of his sons is an efficient member of the Church in the city of Mobile, Alabama. One of his daughters married the Rev. Henry Clay Stone, who was in the itinerant ministry in Alabama. Another daughter married the Rev. Thomas C. Weir, long in the regular ministry. " God is in the generation of the righteous." There is nothing better than that a man should teach his children the divine ordinances, and command his household after him, for the mercy of God is upon them that love him and keep his commandments, even to a thousand generations."i
Of the place of the institute in the history of the State, Dr. John Massey, who taught in the male department for many years, says:
"During the later forties and the fifties, and even into the early sixties, this school became the most noted institution in all central Alabama. Much of the time from 1845 to 1865 there were as many as five hundred students in attendance. The work done was not of the highest grade according to the modern standards, but it was of a kind that made good men and good women. From the evidences they left behind them, as large a portion of them served their generation efficiently while they lived and then went to the kingdom of God above as of any generation that has ever lived in Alabama."
Officers and Agents.—As indicated a full history of the institution cannot possibly be compiled because of the loss of records. However, from various sources a few of the names of those associated with it as officers and agents have been located. Presidents of the female department: Dr. Archelaus H. Mitchell, Rev. J. S. Montgomery, Rev. Robert Kennon Hargrave, Prof. W. J. Vaughan, Rev. A. D. McVoy, Rev. H. M. Ross. Principals of the male department: Rev. D. C. B. Connerly, Prof. John Massey, Prof. Wm. H. Hill, Rev. R. S. Holcombe, Prof. Thomas D. Mitchell, Rev. R. T. Barton, and Prof. A. B. Chandler. Assistants in the male department were: Rev. John S. Moore, Prof. F. M. Hopkins and Prof. W. W. Caruthers. In the primary school the following were teachers: Mr. H. Brown, Miss Julia Heard and Mr. Robins. The following were financial agents: Rev. Ebenezer Hearn, Rev. William B. Barnett, Rev. Jesse Boring, and Rev. L. M. Wilson.
SOURCES
Acts, 1840-41, p. 12; West, History of Methodism in Alabama (1893), pp. 609621; Dr. John Massey, Reminiscences (1916), pp. 230-263; and
Alabama Conference, Minutes, 1856-1885.
A History Of Methodism in Alabama by Anson West
Photographs are from Historic American Buildings Survey W. N. Manning, Photographer,1934 and 1936 – Library of Congress
Family Surname Books – use the Search box to find your ancestor
Stories include: The Yazoo land fraud; daily life as an Alabama pioneer; the capture and arrest of Vice-president Aaron Burr; the early life of William Barrett Travis, the hero of the Alamo; Description of Native Americans of early Alabama including the visit by Tecumseh; Treaties and building the first roads in Alabama.