Continued from Part III
(Albert James Pickett has been given the title of the first historian in the State of Alabama. Col. Michael Leonard Woods was his son-in-law. The following is Part IV of a transcribed speech given by Col. Woods about his father-in-law to the Alabama Historical Society prior to 1904 when it  was reprinted in book form by the Alabama Historical Society)
PERSONAL REMINISCENCES OF COLONEL
ALBERT JAMES PICKETT
BY COL. MICHAEL LEONARD WOODs1
Montgomery (Alabama)
PART IV
After the publication of the History of Alabama, Colonel Pickett very soon applied himself with great assiduity and increased energy to the self-imposed but pleasing task of writing a history of the Southwest, and in this behalf his labors were for a time indefatigable. It was his intention to have visited France and Spain for the purpose of collecting necessary material for the work, but he applied himself with such intensity to his work that his health was so seriously impaired thereby that he was compelled to abandon the idea of going abroad.
Mr. J. J. Hooper, the editor of the Montgomery Mail, said editorially in his paper, April 11, 1857, that already two-thirds of this history had been written.
I am. however, under the impression that, perhaps, while Colonel Pickett estimated that two-thirds of the necessary labor had been performed, and so informed Mr. Hooper, I do not believe that two-thirds of the book had been actually written. I do know, though, that a great deal of matter had been gathered and systematically arranged for the book. I would be glad to be able to state here what became of the manuscript of this work, but I am unable to do so.
Col. Albert J. Pickett's house is now the home of Montgomery County, Alabama Historical Society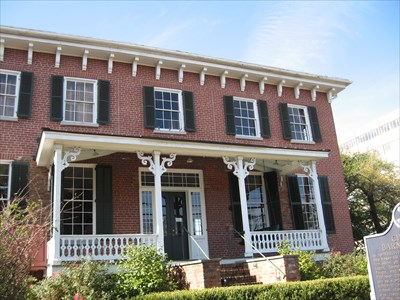 Paused to regain health
It was impossible for Colonel Pickett to remain idle. Therefore, when he temporarily suspended actual labor on the contemplated history of the Southwest and sought to regain his health by visiting Florida and other places, his mind and pen were busy. He wrote and published several letters in 1857 descriptive of the country and people upon the route from Montgomery to Pensacola, including an interesting history of Pensacola. About the same time he wrote a series of articles entitled "The Mystery of a Century," in which he gave his opinion of Junius as a writer and a man. These articles displayed much learning and ability. Their publication created such a demand for the writings of Junius that I was told at the time by one of our booksellers that it was impossible to supply that demand.
Health became more precarious
In the spring of 1858 Colonel Pickett's health being precarious, he visited Bladon Springs, where he remained for a few weeks. I accompanied him on this trip. We traveled to Mobile by boat, then up the Tombigbee river by boat to the landing near- Bladon Springs. Thence we were conveyed to the Springs in the hotel stage or omnibus. I think it was Sunday morning when we reached the hotel, which was beautifully situated near the spring.
As was usual, a large proportion of the visitors there were on the porch and lawn in front of the hotel to greet the newcomers. Colonel Pickett usually in his latter years walked with a cane, and at this period leaned pretty heavily upon it. The landlord was an open-faced, quite talkative person and gave the new visitors a hearty reception. Colonel Pickett began at once to inquire about accommodations for himself and for me, and as was generally usual on such occasions he was more or less jocular. He informed the landlord that he had come there for his health and brought me as his nurse—that he wanted two rooms for us, with a door between; that he would not have me in the room with him for the world, neither would he have me without close reach of him for the world.
The landlord suggested that he had a row of very comfortable cabins built on the lawn at right angles with the hotel, the doors of alternate cabins being on opposite sides, so that two doors were close together and quite as convenient for entrance from one to the other, as if they were between the cabins on the inside. This seemed to satisfy Colonel Pickett and he said we would take two of them if upon examination they were found satisfactory.
Are there any loafers?
It was some distance to the nearest two adjoining cabins that were empty and we started under charge of a hotel servant to investigate the cabins. We had not taken more than one or two steps when Colonel Pickett stopped and, turning around, addressed the landlord about as follows: "Are there any loafers, sir, in those cabins down there?" "No, sir, we do not permit any loafers upon these premises," the landlord answered. Colonel Pickett said: "Sir, do you see that young man there," pointing to me. "He, sir, is by and large about the greatest loafer in Alabama, and I tell you now, sir," bringing his cane heavily to the ground, "he is going to stay here, notwithstanding what you say, sir." The landlord quickly appreciated the humor of the situation and replied that he would take the risk upon me. After that for several days as I passed about the grounds I several times heard visitors laughingly remark, "There goes that sick old gentleman's loafer."
Observant of men
When we went to our dinner that day there were two gentlemen sitting at the table at which we were placed. Very little was said by either of the party during the meal, but while Colonel Pickett and I were walking back to our cabins he asked me if I had noticed particularly the two gentlemen at the table with us. I replied that I had, whereupon he asked me what I thought of each of them. I told him as well as I could the opinion I had formed of each, which seemed to please him, as he remarked in substance that he was glad to see that I was observant of men. –
Colonel Pickett was possessed of the idea that "the proper study of mankind is man," hence, he said, that as it was probable the two gentlemen would be our associates at our meals and at the hotel for some time he intended to seek a conversation with them when we next met at the table, in order to ascertain who they were, telling me at the same time the impressions each of them had made upon him.
One of the gentlemen was very quiet, without pretensions of any kind, while the other was rather talkative, with considerable pretension.
Histories were making him the wise man
I was curious to see how Colonel Pickett would approach the gentlemen when we met again, but it was easily accomplished by him at the supper, where we were again seated at the same table. He soon learned that the quiet gentleman was a citizen of Mobile, where he was engaged in trade and was the brother of one of Alabama's most learned chancellors. This gentleman showed great familiarity with the commerce of Mobile and the character and standing of the leading citizens of that city and he and Colonel Pickett were soon upon a familiar footing.
The other gentleman proved to be a prosperous business man of St. Louis. When this fact became known the conversation turned at once upon that city, its early history, growth, population, commerce and land titles. It was not long, however, before instead of gathering information from the citizen of St. Louis about his own city Colonel Pickett was imparting to that gentleman without the least pretension and in the most familiar and interesting manner important information about the city of which he had been a resident for years.
Bacon said: "Reading maketh a full man, conference a ready man and writing an exact man," and that "histories make men wise." Colonel Pickett's life exemplified the correctness of what Bacon said. No one can follow Colonel Pickett's writings without discovering that the more he wrote the nearer he approached exactness; that reading was making him the full man; that conference was making him the ready man, and histories were making him the wise man. '
During Colonel Pickett's last illness, when he was impressed with the belief that his end was near, he spoke to me about his History of Alabama.Some criticisms upon it by Col. Thomas S. Woodward had appeared in the public prints. Colonel Woodward had undertaken to ridicule the statement that Alexander McGillivray was an educated man.
Col. Thomas Simpson Woodward – Brig. Gen. of the Alabama Militia – died in 1861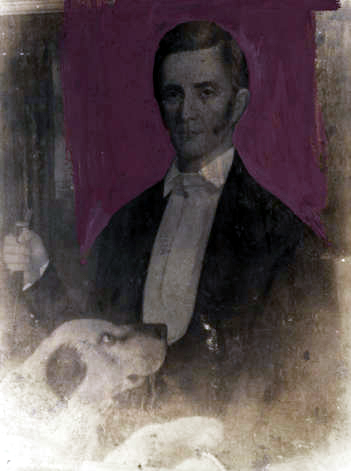 A short while prior to this conversation Colonel Pickett had received a letter from Hon. John A. Campbell, then an associate justice of the Supreme court of the United States, in which Judge Campbell had sent a copy of an obituary notice of McGillivray published in The Gentleman's Magazine of London, just subsequent to his death.
Judge Campbell was aware of what had been published in Alabama, and in reading the notice in the Magazine, which he found in the Congressional Library at Washington city, he discovered that it contained the statement that Colonel McGillivray was a well-educated man. Therefore be procured a copy of the notice and enclosed it to Colonel Pickett. Judge Campbell expressed his pleasure at finding in this unexpected manner a confirmation of Colonel Pickett's statements. He greatly appreciated this kindly courtesy on the part of Judge Campbell, between whom and himself there had long existed the warmest friendship.
Print Judge Campbell's letter
Colonel Pickett stated to me that it was his wish that none of his friends should ever enter into a controversy with any one about the accuracy of his work; that he had in all instances cited the authority upon which every important statement in it was made, and he desired all other matters to rest there. But with respect to this single matter mentioned in Judge Campbell's letter, he said that he had in a measure made McGillivray the hero of his book, and that as Judge Campbell was a man of great learning and distinction, whose statement would have great weight with the public, he desired me at some opportune time to simply print Judge Campbell's letter and the obituary notice enclosed in it.
Not very long after Colonel Pickett's death Col. J. F. H. Claiborne made a most effective refutation of Colonel Woodward's criticism, and that afforded me the opportunity to print Judge Campbell's letter.
Col. Albert J. Pickett – Alabama Historian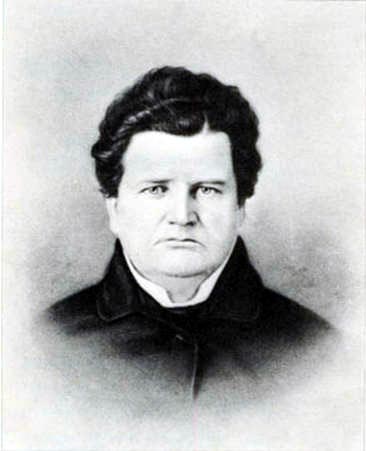 Personal habits and characteristics
I shall now conclude with some brief references to the personal habits and characteristics of Colonel Pickett.
He was about five feet, nine inches in height, and weighed about one hundred and seventy-five pounds. He had a frank and open face, and was always smooth shaven. He was the very impersonation of energy. He was always occupied, and had a great capacity for work. He was methodical in all things, with the possible exception of irregularity at his meals. As I have indicated, he was full of humor and loved a quip or a joke, but with all he was moody at times. This was due to excessive labor or preoccupation. He was strictly temperate. He was affectionate and demonstrative. He loved his family with a devoted passion. He supervised the instruction of his children and manifested a lively interest in their progress. He loved music and art. He was fond of society and in no sense a recluse.
Punctilious in meeting obligations, he had all the high sense of honor of the Southern gentleman. He was public spirited, often served on juries, wrote on public questions for the press and was a member of all local committees charged with public duties. As a planter, he took a lively interest in scientific and progressive agriculture.
He died at "Forest Home" (Chisholm near the present Pickett's Spring), and was interred first in the family graveyard at Cedar Grove. In 1894 his remains were removed to Oakwood Cemetery in Montgomery. He reared a large family of sons and daughters but lost three children in infancy. The names of his adult children are as follows: (1) William Raiford, who m. Laura Holt—he is dead, she resides with their children in Montgomery; (2) Martha, m. M. L. Woods, the writer—she is dead; (3) Corinne, m. Edward Brett Randolph—she is dead, no descendants; he lives in Montgomery; (4) Eliza W., m. Edwin A. Banks—he is dead, she resides with their children in Montgomery; (5) Mary, m. Bishop Samuel S. Harris—both dead, sons in Detroit and one daughter in Berkeley, Cal.; (6) Sarah Julia, m. Robert Carter Randolph—he is dead, she lives with their children in Montgomery; (7) Albert James, m. Eugenia Durden —-—he is dead, she and children live near Autaugaville; (8) Alston Harris, m. Elizabeth Jackson—they have children, and both live in Montgomery; (9) John Gindrat, unmarried, and lives at Autaugaville.
1'For a sketch of Col. Woods see the Alabama Official and Statistical Register, 1903, pp. 18-19.—Em'rox.