"The Creek Nation was once one of the largest and most powerful Indian groups in the Southeast." Much of their land was lost as the federal government sought land for white settlement after the American Revolution, through cessions, treaties and other arrangements between Chiefs and agents of the federal government.
William McIntosh (Alabama Department of Archives and History)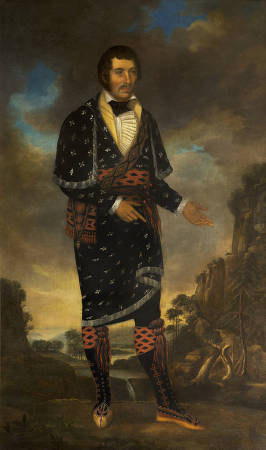 Opposition to land cession
After the first Creek-Indian War, Creeks began moving from Alabama after William McIntosh signed the Treaty of Indian Springs which ceded all the Lower Creek land in Georgia and a large tract of land in Alabama to the United States. "Most Creeks were overwhelmingly opposed to the land cession, and the sale of land without the approval of the Creek National Council was punishable by death under Creek law. Thus, in May 1825 McIntosh was executed at one of his plantations on the Chattahoochee River McIntosh and his followers received $200,000 and land in present-day Oklahoma."1 A delegation of Creeks traveled to Washington, D. C. and were successful in having the treaty nullified. In late 1827, followers of William McIntosh began emigrating to Fort Gibson in Oklahoma and many more voluntary emigrations followed.
Troubles continued between the whites and the Creeks as plantations were looted and destroyed in the Alabama counties of Chambers, Macon, Pike, Lee, Russell, and Barbour. This erupted into  a 2nd Creek War in 1836. The violence provided President Andrew Jackson with justification for removing all the Creeks from Alabama.
Below are some transcriptions of Alabama newspaper articles of stories about their journey in 1837.
Transcriptions from the Jacksonville Republican, Calhoun County, Alabama, February 1837
Indian Diturbances (sic)
Uchee, Alabama, Jan. 8, 1837
Messrs. Editors of the Enquirer:
The citizens of Russell county, Alabama have held a public meeting in consequence of the late murder and burning that took place at Dr. Battle's plantation at which they adopted resolutions requesting Capt. Page, the Indian Agent to remove to some convenient point on the western limits of the Creek nation so called all the Indians still remaining within their former territory.
This measure the citizens think is absolutely necessary for their own preservation; as well as for the personal safety of the Indians themselves. All, or nearly all, of those warriors, who had been friendly during the late war, are either gone to Arkansaw (sic) or to Florida; and a majority of those capable of bearing arms now in the several camps have come in subsequently and are uncontrolable (sic) sometimes in camp, but most frequently out, prowling about the country, and well armed. It is believed that such are the Indians who committed the recent outrages at Dr. Battles. They must be disarmed, and if a military force is necessary to effect this object, the nearer the Indians are encamped to those who shall be called to board them, the less inconvenience will be felt by the soldiery thus employed. Besides, the Government Agents for investigating land transactions are resident int that quarter, with whom they may have business, and by considering all the camps, there would be less visiting and revisiting among them; during which visits not unfrequently (sic) happens that a horse is stolen or other theft committed. The citizens from the zeal and industry hither to manifested by Capt. Page in Indian affairs. and his known urbanity (?) and accommodating disposition have sanguin (sic) hopes that their wishes in this particular will be duly considered. It will be seen however by the 4th resolution, that the citizens think of not being trampled upon much longer. The time is fast approaching when their duty….. (rest of page torn)
Letter from the Arkansas Gazertte
Port Gibson – Dec. 10, 1836
My Dear Sir:
Ye-poth-la-ho-lo has arrived at this place and there is to be no war nor rumors of war. The two chieftains, Ye-poth-le-ho-lo and Rolly McIntosh, with their principal men, met yesterday―all was pacific. The pipe of peace was puffed, and a glass of old rye (perhaps new corn) kindly drank by all to commemimorate (sic) their union. The emigrating people will remain here until all the stragglers have arrive, [8 or 10 gangs] when they will separate and select for themselves, each their favorate (sic) portions of their new country and occupy it without a murmur―unless there should be a deficiency in the supplies promised them by the Government, which I do not anticipate.
We expect the first Regiment of Arkansas volunteers here in a few days. They will necessarily be compelled to occupy tents during their stay, which will be until the expiration of their term of service (6 months.) The companies now at this place appear quite at home; in fact, I think they would be satisfied for much longer time than their present term of service, particularly the officers, many of whom are very clever fellows; and I feel particularly gratified that the officers of the regular army at this post, treat them with much attention."
————-
Little Rock, Ark. Dec. 20
John Ross, the celebrated Indian Chief has been for several weeks past, among the western Cherokees, for the purpose it is said, of getting up a delegation from them to join the delegation from Georgia, to proceed to Washington City, for the purpose of inducing the government to renounce Schemerhorn's Treaty to which it is averred they never gave their consent. ―Gazette
Chief John Ross (Alabama Department of Archives and History)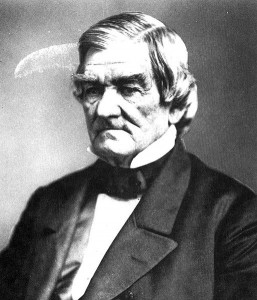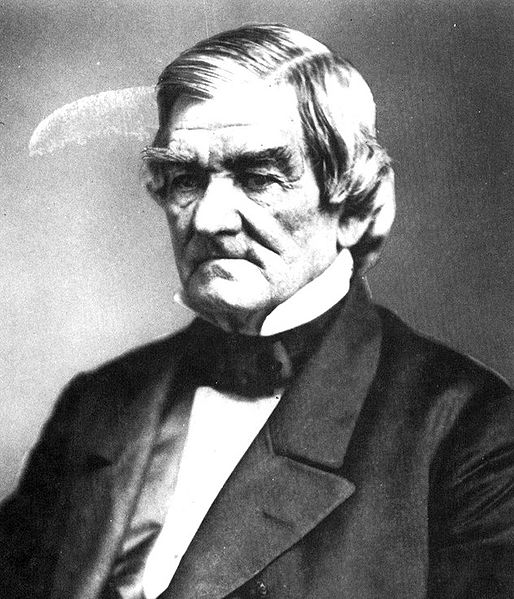 Tuck-e-batch-I-had-jo, with his body of Creeks, 2 or 3000 strong has stopped above Potts, it is said and will go no further until it suits him. He says he is west of the Mississippi and there is no power to compel him to proceed.―Ib.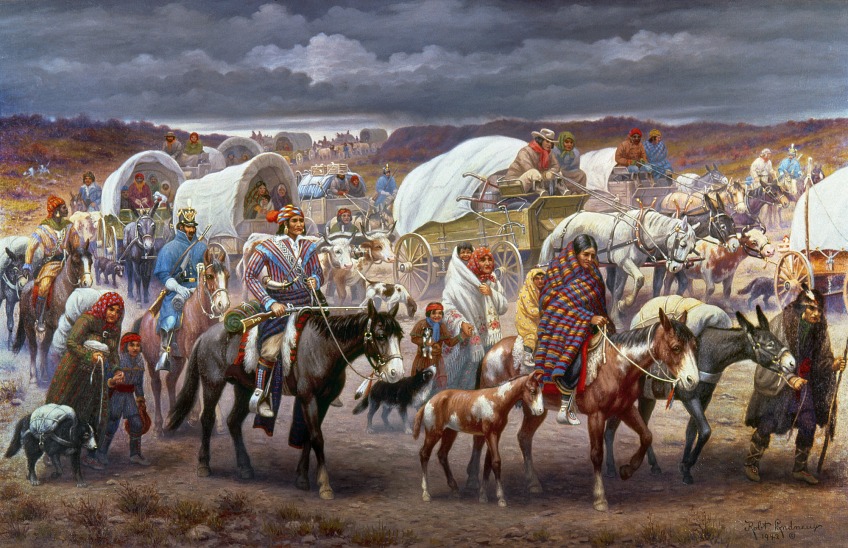 Later in the same paper, the story is continued.
It will be recollected by some of our readers that a few weeks since information was received here, that a party of Creek Indians, under their chief Tuck-e-batch-i-hard-jo had made a stand a few miles west of Potts'―and after remaining there a longer time than was necessary for them to recquit (?), were ordered away on their march, by Mr. Potts which they peremptorily refused―saying they were west of the Mississippi, and it was not in the power of any one to compel them to go on. They said the threats of the whites might alarm little boys―but they were men! Intelligence being conveyed to Col Teevault, commandant of the Pope (?) county militia, of the audacious language held by this chief, he, by authority of two proclamations issued by the Governor of the State on the 22nd October and 6th December, dated December 26th on the companies of his regiment, for an armed force; and in two or three days, upwards of 100 mounted men under arms for a forcible expulsion. But they were not needed―the Indians getting wind of the movement, decamped in the night about the 1st of January, and made a precipitate flight.
This circumstance (unimportant of itself) has been noticed by us, merely for the example it affords―and as affording another proof of the promptness of our militia, when called to duty.―Arkansas Gazette
——-
Late accounts represent the Lower Creeks in a hostile attitude. A number of them it is said have deserted Lieut. Sloan's camp, and numbers are also daily returning from Florida and other parts to the Creek Nation. If these accounts are true, more trouble may be expected the ensuing Spring.
SOURCES
Jacksonville Republican, Calhoun County, Alabama, February 1837
Encyclopedia of Alabama
Stories include:
Tecumseh Causes Earthquake
Terrified Settlers Abandon Farms
Survivor Stories From Fort Mims Massacre
Hillabee Massacre
Threat of Starvation Men Turn To Mutiny
Red Eagle After The War