Excerpts about people and events in Alabama – transcribed from Birmingham Iron Age published in Birmingham, Alabama on March 5, 1874 by Duval, Roberts & Persinger – one of the first newspapers in the new city of Birmingham, Alabama.
News around the State of Alabama
John G. Saxe, the Orator and Poet, will deliver a lecture, by invitation, in Montgomery, some time soon. Can't we induce him to come to Birmingham? Our folks need lecturing.
They have the Knights of Pythias organized in Montgomery.
Mr. D. W. McIver has become editor and proprietor of the Tuskegee Weekly News
Last week the stables and fodder house on the plantation of Mr. D. T. McCrary, in Marengo county, Ala., (near Dayton) with 17 highly valuable mules, about 15,000 lbs. of fodder, plough, gear, etc., were completely destroyed by fire. There were 18 mules and one horse in the stable, of which the horse and one mule were saved. Loss $5,000.
It is rumored that Albert Fink has obtained control of the Mobile and Montgomery railroad, and also of the road leading to Pensacola. It is regarded as a coup d'etat to control several roads under one combination.
A guest at the Exchange Hotel in Montgomery, in Montgomery, blew out the gas in his room the other night, instead of shutting it off. He was found in bed the next morning in an unconscious -condition.
On Monday, 23d ult., little George, a son of Major Willett, of Carrollton, fell from the top of a high fence and broke his thigh.
Mr. Joe Hall, one of the most successful planters in Greene county, has planted this year twenty acres of wheat more than at any time since the war.
Pratt is the name of the Post Office at Ironton, five miles below this city. Mr. H. F. Fancher has received the appointment of P. M. there.
HUMPTY DUMPTY – This pantomime company will be in Montgomery tonight and Friday and Saturday nights. Will not the News man and the Advertiser man, and the Ledger man, use their combined efforts to induce the company to come here? We are "spoiling" for something of the sort. We have a splendid Theatre – cheap.
The new coal mines of the Vicksburg Coal Company, 17 miles below Birmingham, at Helena, will be in full operation by the first of next month, when the best of coal will be launched by the ship-load daily.
STATIONERY, BOOKS, &c. – Our friend J. L. Lockwood has purchased the stock of Stationery, &c., from Mr. Morefield, and will hereafter conduct that business at the Post Office. He intends to keep in store a fine variety of French Note and Initial paper, Sheet Music, Books and Periodicals, etc., etc.
Tuskaloosa has, comparatively, more "womanhood" than any other place in the State. They aggregate weight of nineteen ladies there is 4,226 pounds.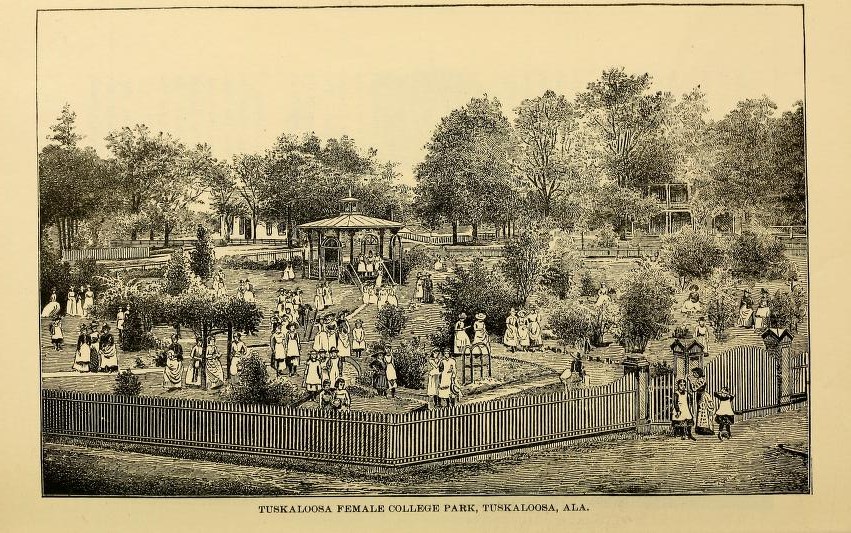 Tuscaloosa/Tuskaloosa Female college, ca. 1887
Visitors from out of state
Col. Powell introduced into our office on Saturday last Hon. W. L. Smith, Alex McFarlane, Col. W. B. McCrary and Eli Smith, of Flint, Michigan. They are gentlemen of wealth and education, who have been prospecting this section with a view to investment. The Iron Age goes to Flint, Michigan, now.
Wm. N. McClure, late conductor on the S. & N. Ala. Railroad, and for years a conductor on the L & N Railroad, died in Montgomery, of consumption, Sunday last, aged about 34 years. He was formerly a citizen of Covington, Kentucky, to which place his remains were being conveyed on Monday last.
Col. Powell; a few nights since, introduced us to Albert Finck, Vice-President of the L. & N. and G. S. R. R., Mr. Stewart, and others of Louisville. They were a party of railroad officials examining the mines in this neighborhood and inspecting the S. & N. R. R. The special palace car in which they were traveling was a gorgeous one, not wanting in any comfort or convenience. And yet they are not happy.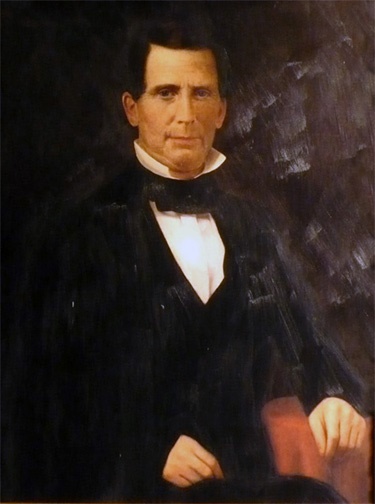 Col. Powell
Marriages and personal mentions
Mr. C. W. Saunders and Miss A. A. Dyson were married at the residence of the bride's father, in this county, on the 1st inst.
Pratt is the name of the Post Office at Ironton, five miles below this city. Mr. H. F. Fancher has received the appointment of P. M. there.
City of Birmingham news
THE POLICE AGAIN – On Tuesday night Messrs. Bailey and Taylor, night policemen, arrested some disorderly parties after considerable resistance on the part of the latter, who cut Mr. Taylor on the arm and shoulders. The disorderly ones were pursued below the Round House, and while our two policemen were there, all the balance of the city was unprotected — the whole of 2d Avenue and 20th Street, to say nothing of premises on other streets in our extensive city. The people of the city are crying aloud for more night watchmen, and their cry should be heeded. Suppose we don't have all the money of the $50,000 of bonds for macadamizing the streets expended in that way, and spend some of it for additional night police, fire apparatus, &c.
The disorderly persons mentioned above, appeared before the City Court, and the small fine of $5, only, and costs were imposed: while the resistance to the City's Guardians was ignored.
EUREKA – The new company at Ironton, Pratt's P. O., five miles below this city, is called the Eureka Company. The old Furnace is closed, after two years' service, and a new one was opened yesterday. The yield, we learn, is from 38 to 46 percent, and by improvements now making, 50 will be attained. Success to the "Eureka."
BIBLES FREE – There is a Depository of Bibles in this city, by the American Bible Society, at the store of our friends Ellis & Woods, under Sublett Hall, 2d Avenue. Persons unable to purchase a Bible can obtain them of Ellis & Woods "without money and without price."
Kieser, the Ledger man, offers ten or fifteen thousand dogs for sale at panic prices, and wants us to send him an agent for a supply. We don't want any Montgomery dogs in Birmingham. They behave too rudely on the streets.
We don't know which one it was — but one of the Aldermen, we are told (rumor says it, anyhow), offered an ordinance that no citizen of Birmingham should own a hog. Why not say he should not own a cat, a monkey, a canary birf, or any other pet?
GONE, GONE! – Before our first number was issued we solicited an advertisement from the proprietor of the Alamo House. He declined on the plea of poverty, and now he is poorer than ever, for his house "busted" on the 1st inst. So much for not advertising in a good paper.
PUBLIC SCHOOL – Next week our Free School will be open to the white children of this county, under the management of Prof. D. C. B. Connerly. As we have said before, Mr. Connerly is one of the most successful teachers of the age. His long experience, his learning and close attention to all the details of a school, class him as a number one teacher. His assistants are all capable and have their hearts set upon the good work before them. Rev. F. M. Grace, 1st assistant teacher, is too well and favorably known in "old Jefferson" to require a word of commendation. In fact, every department of the school will be ably managed. We have the pleasure of announcing, too, that Miss Sallie Harrison, an accomplished teacher of music, has been chosen to preside over the Music department. She is fully competent to discharge her important duties, and we'll guarantee she will give complete satisfaction to all concerned.
SMALL PIPES – Are not the water pipes now being laid on 2d Avenue too small in diameter to supply fireplug? We are not a Civil nor a "Hydraulic" Engineer; but it seems to us that the volume of water to pass through such pipes and supply fire-plugs would be insufficient. If they are completed as intended we hope a speedy trial may be made of them through a plug corner 19th Street and 2d Avenue.
The Birth of Twickenham
Captain Slick – Fact or Fiction
Vine & Olive Company
The Death of Stooka
President Monroe's Surprise Visit To Huntsville