CHEROKEE COUNTY, ALABAMA
REMINISCENCES OF ITS EARLY SETTLEMENT
By
Part VIII
A clipping from the Gadsden Times
(Transcribed with misspelled words from The Alabama Historical Quarterly, Vol. 08, No. 03, Fall Issue 1946)
THE SECOND INDIAN WAR
At the close of my last paper, I promised to give in this some interesting particulars of the second Creek Indian war in the Cherokee nation. My recollection is that in about two months after the aforesaid reported murder of Cazort and his family, a man by the name of Churchwell Jackson, in connection with two other gentlemen, whose names I do not now remember, arrested a man at the grogshop of Jackson by the name of Thomas Chambers, who was a stranger to the whites in the nation. He had been seen at Jackson's grocery two or three times a day-for a week or two. His conduct was of such a character as to cause the whites to suspect that his purpose was to aid the Indians in carrying out some fiendish plot. He evidently ate and slept with them, and was often seen in secret council with small groups of them. He had but little to say to the whites.
Jackson and his two friends determined to arrest him, which they did, and brought him before Esquire Hezekiah Day. Chambers had made some confessions to his captors which confirmed their suspicions of his guilt. The news of the capture of Chambers spread like fire in a prarie. In the course of a few hours the men, women and children of the white population for many a mile around met at the "Squire's cabin." After due consultation it was agreed to put Chambers on his oath.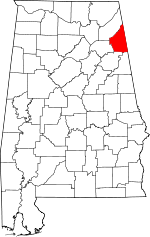 Map with location of Cherokee County, Alabama
HE WAS SWORN
After which he was informed by one Mr. James Step that he was to die by being shot to death with rifle bullets, "just as soon as he finished givin' his testermony." I never in life have seen a man more completely unstrung by the fear of death. His voice trembled, his limbs shook, and the palpitation of his heart could positively be heard by the bystanders. Two gentlemen were appointed to write down his statement.
HE SWORE
That the Indians, were, according to agreement, to begin their work of death on the following Sunday night. This was on Thursday evening. He swore that the programme was to kill all the whites from the cradle to gray hairs, except the young and handsome among females to whom the warriors might take a fancy. All such were to be taken as "squaws." They were to take all the available property of the whites and appropriate it to their own uses. They expected, he said, to get a good quantity of guns and ammunition. As soon as their bloody work should be accomplished they were to return with their booty to the seat of war in their own nation.—They might not be ready to begin on Sunday night; if not, they would certainly be ready by the following night. The witness was questioned, requestioned, and cross questioned, and in fact all kinds of questions were put to him; but his answers only confirmed his original statements. When they had finished questioning the prisoner, Mr. James Step (familarly known as "Jim Step") took up his gun and in the most positive manner swore he would . . .
SHOOT THE PRISONER
My father and some others, who were more merciful than Step, interposed and prevented him from murdering the poor fellow at that time; what became of him afterwards I do not know. I was told that he was "turned loose," but I have learned in later years that this expression often means simply to convey the idea of being "thoroughly killed," but "denied a burial."
It was growing late. The women and children must be carried to some place of safety. A good portion of our crowd determined to go to my grandfather's Mr. Thomas Miller, who lived in the centre of an Old Indian field, in a little Indian cabin 12 x 14. At the end of this "big-house stood the kitchen, which was considerably smaller than the dwelling.
In our party there were two boys, who were in that state which my grandfather as pleased to denominate "hob bidy-boy—neither man nor boy."—These two hopefuls were known by the respective names of John and Bill. John had a sister, younger than himself, by the name of Bettie; Bill had a sister, about the age of Bettie, by the name of Mahaly. John and Bill had agreed to swap each his sister to the other for sweetheart. These juvenile lovers enjoyed refugeeing from the Indians as no others of our party did. It afforded them opportunity of being in each other's company.
We reached our place of destination about sunset. No sooner had our young lovers reached the house than they assembled in the kitchen; and oh! can I ever forget the demonstrations of the tender passion that were given in that kitchen? Both couples were remarkably fond of kissing. In the midst of their enjoyment the old lady of the house spoke out, in a loud and unmistakable voice: "Boys, come out of that kitchen and go get some wood to cook supper with, or you'll get nothing to eat here to night." The boys hastened to imprint another kiss upon the cheeks of their dearly beloved ones, and in a moment were wending their way to the forest for wood. They knew full well that the old lady had to obeyed.
On their way in quest of wood John said: "Bill, I folly, I'm a man, caze dad's shoe jist fits my foot 'zactly." John was rather of a tallowish hue and illy grown, but his' "understanding" was of immense proportions—i.e. he had a very large foot. I suppose his gross weight was about seventy pounds. Bill replied: "Well, hoss, I guess I'm some man myself, 'cause dad's britches jist fits me to a tee." Bill's father was a very small man, but little if any above five feet in height.
In our party there was a lady by the name of Sandling, who had with her a servant girl of about ten summers, and of, pure African "scent". As these two hopefuls approached the house, the writer noticed their sweethearts on the way to the spring; he also saw the aforesaid little servant maid going into the kitchen. As John threw the wood from his shoulder he rushed into the kitchen. It was now growing dark. John saw a female form in the chair in which he had left his "dulcine." He rushed to her, embraced and kissed her; but seeming to have some idea of the mistake, he said, in most sorrowful accents: "Is this you, Haley ?"
The response was: "No, it's me—Nerva." Oh, horror! He had made a mistake and kissed Mrs. S.'s little servant girl! Poor John never ceased to hear of that kiss while the writer knew him.—John still lives in Cherokee, and no doubt will have a feeling recollection of the above incident when he reads this paper.
COURIERS
Couriers were sent to all the white settlements, and active preparations were being made to give the Indians a warm reception. The men of our party thought it proper to carry the women and children across the river. So, late in the evening of the day following the capture of Chambers, our party moved on, like an army of infantry, to Cothurn's ferry. It was deep dark before the entire party had crossed the Coosa. It was resolved to bring the ferry boat and both canoes to the opposite side of the river from the Indians.
Having done this, we felt a thousand-fold more secure. It seemed that the fact that all Indians are good swimmers was lost sight of. We wended our way through the canebrake to the cabin of Mr. McWright, who I suppose lived near one mile from the ferry, up the river. He had parted the cane and chopped it with his axe, so as to afford a foot-path.
Our party, moved on cautiously, feeling their way. I think it would be safe to say that some one of our juveniles cut or snagged his foot on a cut cane every rod of the way from that ferry to Mac's cabin. Every time a little fellow would cut his foot we were sure to hear a cry. One old lady of our party had a full half dozen of the noisiest little fellows it has ever been my fortune to meet in a pilgrimage of fifty years. One of her urchins, of about ten summers, cried out, "Oh, Lordy! oh, Lordy! I'm killed dead! My foot is cut smack in two!"
His affectionate mother screamed out so loud that she could have been heard a full mile "Shut your confounded mouth! The Injins will hear you a-cryin' and come and kill us every one." He cried on. Again her soothing voice, rising louder than before: "Dod-rot you! I wish the Injins would kill you and scalp you, you infernal fool you! Never had no sense nohow."
When we reached McWright's cabin we found him and his family asleep. They had not heard of our late troubles. He welcomed us to his cabin, and our party slept in and around it until next morning. He had about three acres of corn around his house, all in the roasting-ear-state. His wife rose early, milked their only sow, which was as fat as a butter-ball.
While his wife was milking, McWright was loading his gun. When she finished milking he shot his cow down, and she was soon reduced to beef. He had no salt to season the beef with, but we boiled and roasted and ate roasting-ears with it, and satisfied the demands of hunger. In all my travels I have never met a more generous-hearted or nobler spirited man.
The whites met from all parts of the country and marched in force upon the Creek town, dispersing them without firing a gun. Soon after, General Nelson, with a small army, collected the Indians together and carried them to Arkansas. Nelson crossed the Coosa with them at Cothurn's ferry. I never will forget their woebegone appearance. Quite a number of their aged females, true to the instincts of their sex, were carrying large pots and other articles necessary to housekeeping.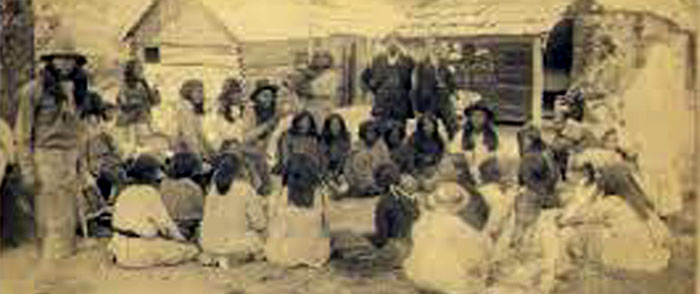 As the whites had but few baggage wagons, these women carried their plunder on their backs. Their men never cumbered themselves with any burdens while the Indians were crossing the river, some low-down white men stood on the bank and shot the dogs of the Indians as they were swimming across. I saw many an Indian shed tears as his dog was killed. Near Jack Nichol's in the edge of Chattooga valley, we were informed a baggage wagon broke down. Gen. Nelson ordered the Indians to take their baggage out of the wagon, which all obeyed except one, who refused.
Nelson ordered out twelve men to shoot him, which they did, shooting out both his eyeballs and riddling his body with bullets. After being shot he jumped on a pony, uttered a groan, and fell dead. Years after, I was present at the erecting of a monument, at Calhoun Ga. to the memory of General Nelson. While the orators of the occasion (sic) were presenting his virtues, I could but think of the poor Indian he had, I thought unnecessarily murdered. After the Creeks left, the whites and Cherokees lived on amicable terms until they were carried to the West. With the departure of the Creeks the Indian wars of Cherokee came to an end. Many amusing little incidents occurred during our Indian troubles that I may recur to again. I propose to notice religious and educational progress in Cherokee in my next.
Check out all genealogy books and novels by Donna R. Causey
Discordance: The Cottinghams (Volume 1)

 – 

A novel inspired by the experiences of the Cottingham family who immigrated from the Eastern Shore of Virginia to Bibb County, Alabama. 

Filled with drama, suspense, humor, and romance, DISCORDANCE continues the family saga from the Tapestry of Love series with the children of Mary Dixon who married Thomas Cottingham.