This excerpt is a transcribed history of Prattville in Autauga County, Alabama from the History of Autauga County, Alabama which was written around 1886 by former resident Shadrack Mims and includes many early settlers names.
EARLY PRATTVILLE
AUTAUGA COUNTY, ALABAMA
Now, Reader, I will pass on to Prattville, some twelve miles east. On this route, there were very few houses, one I described settled by Ben Motley and sold to L. M. Whetsont.
Autauga Creek area
Just after crossing Autauga Creek you see to the left the farm of Charles Booth, who had a large family and was poor but highly respected. In a few years, however, he made money enough to render him quite independent. His sons were raised to hard work on the farm and when they made their start in the world, they all showed energy and pluck, but some succeeded better than others. They were, however, all respected young men and have raised families.
The next house we come to is Mr. Thomas Smiths', of whom I spoke further back. The next place is Thos. Coleman's, who had a mill on a little creek two miles west of Prattville. Mr. Coleman was a Hardshell Baptist—he had considerable property, was very liberal, social, and hospitable. He had two sons, both of whom joined the Methodist Church. Further along, we come to Martin R. Burts', who married a Miss Griffis, and she being a Methodist the whole family became members of that denomination. Mr. Burt was an industrious, thrifty, money making man of good character. His children all did well. The next house is that of Mrs. Mathews, the mother of Jesse W. and Jimmie Mathews—the first named a citizen of Prattville, the other of Georgia. Both men of sterling worth and members of the
Missionary Baptist church.
I am now ready to enter upon the history of Prattville, a village started in 1839 by Daniel Pratt. This will require considerable space as it proved a success from the very start and has benefitted thousands besides its illustrious founder, who for the last 13 years has rested in his grave on a high eminence overlooking the village.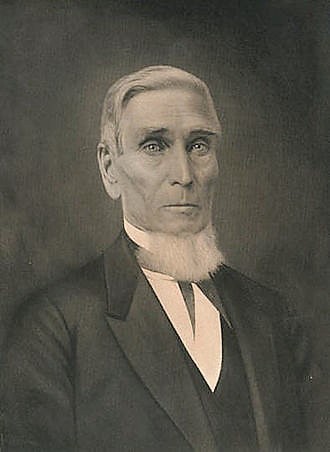 To write out the history of Prattville to me is a pleasure, as I was identified with its business for fifteen years and during that time brought into close association with the head and chief of all the enterprises gotten up in the place. For fifteen years, I was Agent of the Cotton Factory and five years of the time, had one-fourth interest in the Ginshop. I also managed the books and was financial Agent of both the Cotton Mill and Ginshop. During my connection with the Ginshop, I think there is no risk in my saying that I enjoyed the confidence of Mr. Pratt.
In 1845 I paid a visit to Mr. Pratt and in the course of his conversation he said in regard to the founding of Prattville, that at the time his lease expired with Col. McNeil, he made the proposition to Mrs. P. that if she wished, they would move back east amongst their relatives and build up a home for life; or else, he would remain here and build a manufacturing village on the present site of Prattville. The decision was in favor of the latter enterprise and it has turned out to be a most fortunate decision both for the County and State as I expect to show before I finish this history. He told me his object was to give employment to as many operatives as his means would justify to furnish them with educational and religious advantages. How faithfully he has carried out his benevolent purpose, no man who knows the history of Prattville will for one moment question.
The Daniel Pratt Gin Manufacturing Company on Autauga Creek in Prattville, Alabama. March 2010 (uploaded to Wikipedia by Chris Pruitt)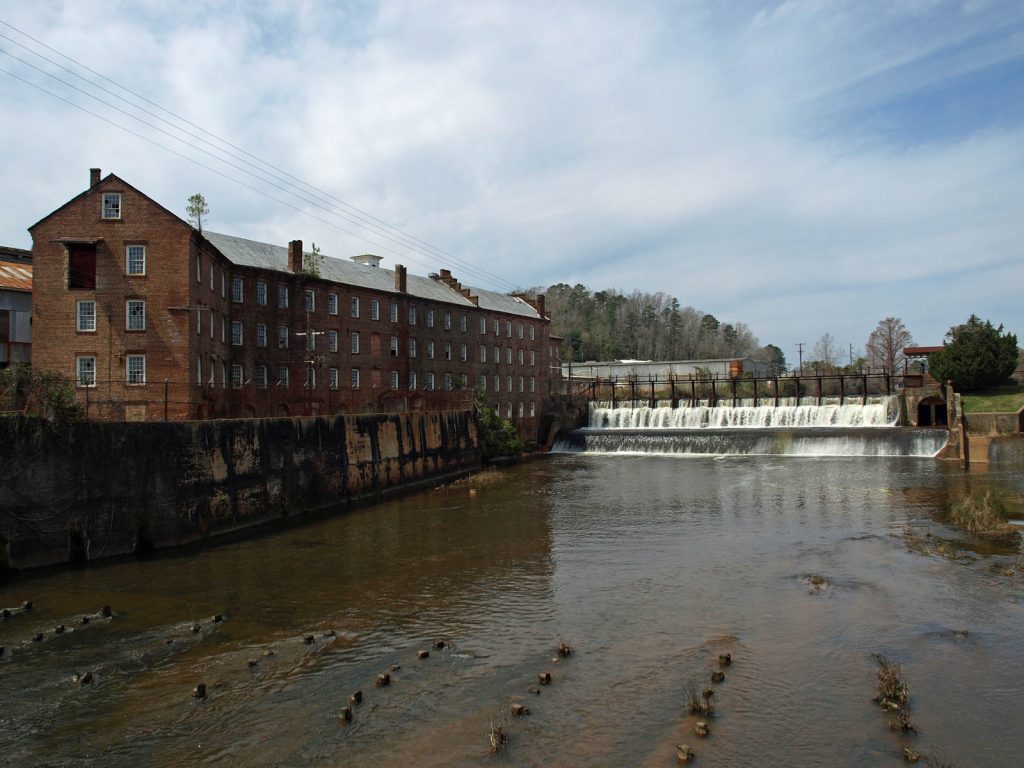 Built a schoolhouse
When I first came to this place there was a school house built by him located on the side of the hill southwest from where the Foundry now stands. This building was complete in all its arrangements the seats built on the Lancastrian plan, i.e. one above the other with desks complete, leaving a space in front for the teacher and recitations. The schoolhouse was situated in a cool sequestered place completely surrounded by a forest growth of young oaks and a cool spring running from the hill.
The school was taught by Mr. T. B. Avery, an accomplished scholar, and gentleman. I liked his method of teaching on the Induction plan—drawing out the mind and teaching it to be self-reliant. It is far preferable to the Lecture plan which teaches the pupil to let others think for them. This house could not with all its fixtures cost less than one thousand dollars. Not only the children of the village, but those from all the surrounding country attended. C. Whitt Smith and Wm. Slaton were among his pupils, both of whom have followed teaching as an occupation and are not only men of solid worth as citizens, but men of science.
Coe-Swift-Fay House -Thomas Avery Fay House, 203 Washington Street, Prattville, Autauga County, AL March 26, 1935 (Library of Congress)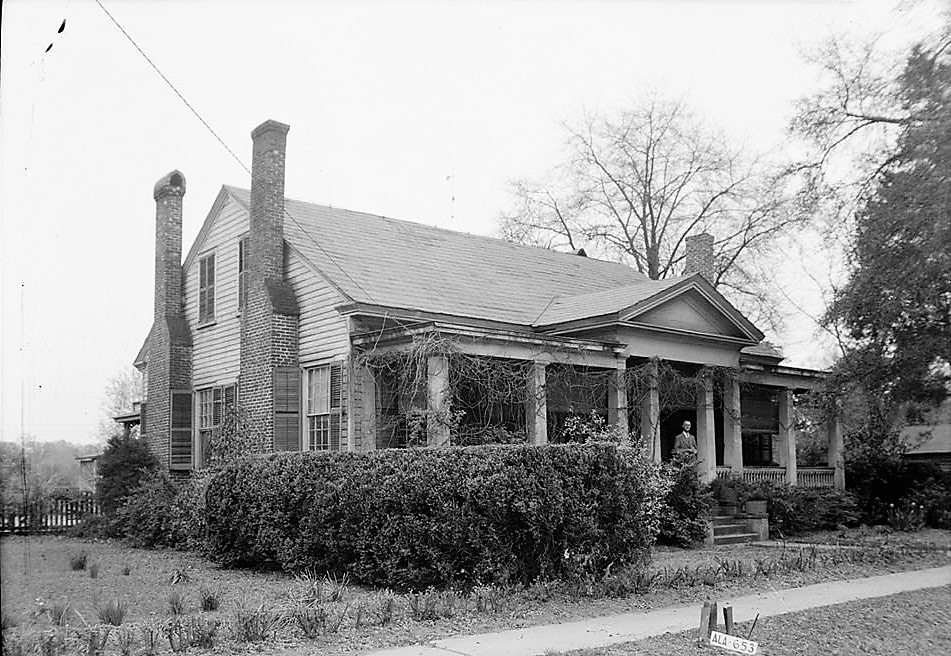 Daniel Pratt Cotton Gin Factory, Prattville, Autauga County, AL original (Library of Congress)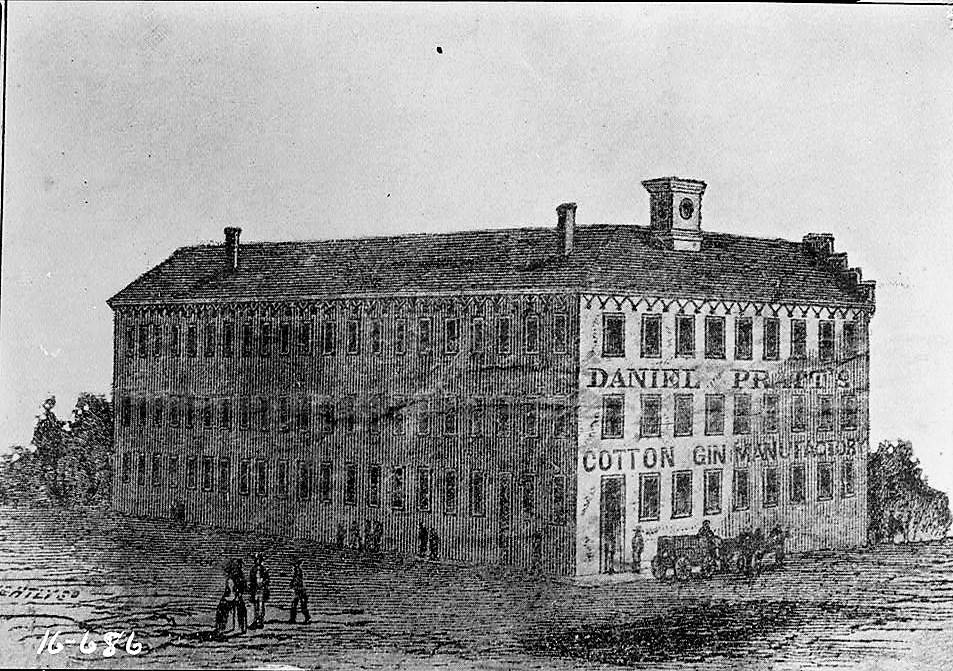 Temporary church in a two-story storehouse
Mr. Pratt put up a temporary place for a church in the upper room of a two-story storehouse. Upstairs for a church. This was fitted with seats. Mr. Pratt soon found that the building in which he started his gin business was too small and commenced and built the magnificent building which now shows for itself. But before this building was put up—indeed before 1845, (quite likely 1840, it was running in 1841), he built a large flouring mill, grinding wheat brought from several surrounding counties.
Moved the flouring mill
After a few years when a flouring mill was built more convenient to where the grain was raised, he discontinued his mill and sold out his elevators, etc. (He moved the mill to where it is now below the lower, bridge). Maj. Wm. Montgomery became the owner of the water power at McNeil's Mill.
Our lives depended on quick action
While Mr. Pratt was fitting up the building for a machine shop and the workmen were engaged in digging out a cellar, they approached too near the brick foundation and it gave way. Just at that time Mr. Pratt and I were standing some fifteen or twenty feet from the building on the bluff of the creek, talking about building a brick dam where the old dam stood which was built in 1839. All at once the building began cracking and crashing; we found that our lives depended upon quick action. Mr. Pratt took his chances for escape through the falling timbers. I took mine by plunging into the creek and swimming out. I stood and watched to see which way the building would fall if towards the creek. I was ready to plunge. It so turned out that all the workmen and Mr. Pratt passed out of the building unhurt. I mentioned this little incident to show how differently men will act when life is at stake; on comparing notes with Mr. Pratt we soon found out what influenced our action; I could swim and Mr. Pratt could not.
Daniel Pratt Cotton Gin Factory, Prattville, Autauga County, ALW. N. Manning, Photographer, March 26, 1935, COPY after being enlarged(Library of Congress)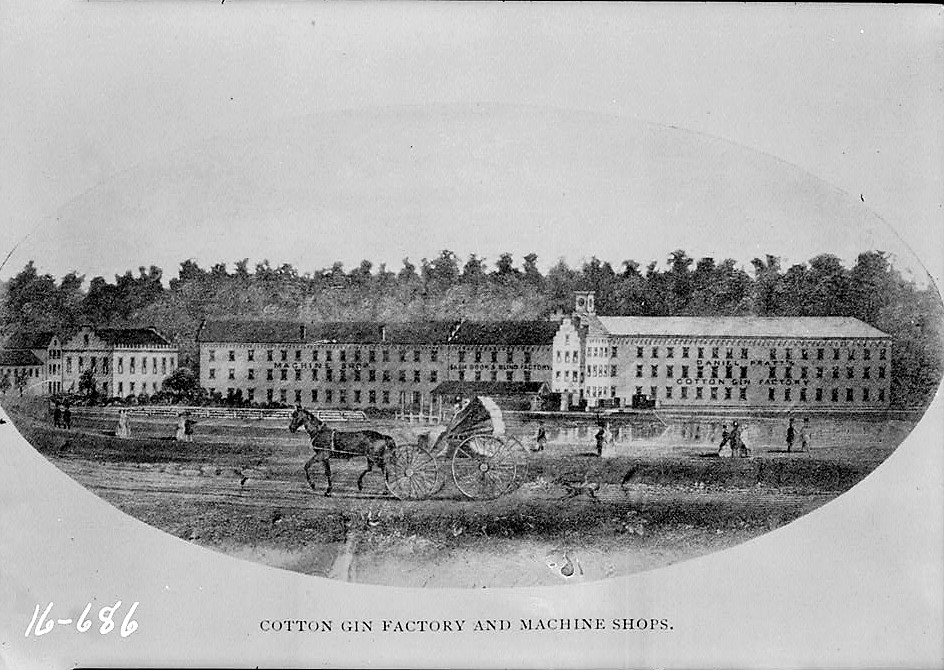 Replaced with a brick building
This accident determined Mr. Pratt to remove the old wooden superstructure and put up a brick building which is now occupied by Mr. G. L. Smith as Sash and Blind factory. He afterward commenced his new church and built it at a cost of twenty thousand dollars. The lower floor was fitted up for stores and offices and upper for church and Sunday school rooms. He intended the rents of the lower floor to pay church expenses and repairs of the building. As long as he lived his purposes were carried out to a considerable extent, but in six or nine months after his death, the property changed hands and only a few of those lower rooms are now used.
Higher grade of society
Having acted as Agent for the Prattville Manufacturies for fifteen years, no one has a better knowledge of the amount of good done to the operatives and their families, both in a pecuniary way and in the improvement of mind, manners, and morals. They are at this time a much higher grade of society than when they first came to the place. I am truly glad to know that the Trustees of our school are advancing the educational advantages so that this class of people may now have a still better chance for intellectual improvement. The citizens of Prattville cannot do better for themselves than carry out the plans of Mr. Pratt as to their educational and religious interests—these two interests if properly attended to will assure respectability in this life and a blissful immortality in the next.
Mr. Pratt was not only highly practiced in business affairs, but was also a true Christian—these two qualities make him a safe guide to follow. There is one thing the young mechanics of Prattville should look to, i.e. a good substantial education in the English branches, if no further. Education if properly used, is power; if improperly, a curse. Several young men of my acquaintance, who were raised in the different departments of the machine shop, could have held high positions as heads of business at a good salary but for their lack of education which compelled them to submit to lower wages as mere workmen. I should like to give young men more good advice, but perhaps the reader might not think such in the line of this history.
Facts about the Cotton Mill
There are some facts connected with my connection with Cotton Mill which I should like to bring to the light of history. It is nothing more than is due to Mr. Pratt as a great and good man. I was called to the position of Agent in January 1865. I made a statement of the business as it then stood. There were
There were about 700 bales of cotton on hand, but the whole machinery having worked steadily for four years, it was worn down and could not compete, either in quality or quantity of cloth, with mills that were in better condition. I so notified the managers and further said there were only two alternatives before them, either stop the mill, sell the cotton and divide out the proceeds; or fill the mill with new machinery. My opinion was that the latter would be the most profitable to the stockholders. So thought all parties; but there were two things that troubled Mr. Pratt; 1st. what would become of the operatives, 2nd one of his darling projects would have to be
My opinion was that the latter would be the most profitable to the stockholders. So thought all parties; but there were two things that troubled Mr. Pratt; 1st. what would become of the operatives, 2nd one of his darling projects would have to be abandoned. Mr. Pratt was president of the Board and the other managers yielded to his wishes. New machines having been ordered, the mill continued to run and the old machinery worked up all the cotton and the goods were sold at reduced rates.
U. S. Government took possession of the cotton
The machinery was ordered in the winter of 1865-66 and came that summer or early fall from Wm. Higzaur & Sons of England. The loom came from Jenks & Sons near Philadelphia. The managers of the Autaugaville Factory, like those of the Prattville, met and concluded to ship their cotton although it was under Federal orders. It was traced up and the U. S. Government took possession of it; a long lawsuit ensued. The suit ended in favor of the Company, but the value of the cotton was all used in expenses, as cotton had fallen to comparatively low figures. The Autaugaville Factory never started and the building now stands a mass of ruins. The Prattville Factory continues running and has for several years been paying heavy dividends to its owners, the Messrs. Faber.
What would have become of them?
There have been no strikes and no dissatisfaction with the hands that I have heard of. It did seem to me that in this instance Mr. Pratt's judgment was guided by a higher source than that of mere human judgment; I know or have the best reason for believing that Mr. Pratt's private opinion was to stop the mill and sell the cotton. But the operatives lay on his heart, "What would become of them", was the great question with him.
Buckets of water used on a fire
On one occasion the picking room took fire. It had communicated with the card room and there seemed no possible chance to save it as nothing but buckets of water could be used, but the fire was subdued. Mr. Hale, who was superintendent, remarked that so long as Daniel Pratt had any stock in that factory it would never be destroyed by fire. Mr. Hale was not a Christian but believed in the overruling of Providence in earthly matters.
I have always felt the deepest interest in that Factory, for I spent fifteen years in the prime of my life working to advance it and they were fifteen years of the hardest work I ever did. My health broke down and at the beginning of the war in 1861, I was not worth a dollar more than when I moved to Prattville in 1846; but I must not repine at God's dealing with me, nor do I.
Reader please excuse the so frequent use of that offensive personal pronoun I; the history of the county is being written out by me and the use of that letter I could not well be avoided as I have formed a part of its history and no inconsiderable part in my business associations with different parties. Fifteen years I was merchandising, farming, warehousing, etc.; and fifteen years Agent of the Cotton Mill. In 1846 (when I moved here) there had been but few buildings put up. There was one where John Hearn lived, two between that an Joe Kurd's drug store—I do not know who occupied this house, but think it Amos Smith, the father of G. L. Smith, lived there—there was also a building where Mrs. Merrill lives, built by Joseph May, from whom Mr. Pratt bought 1000 acres of land and the water privilege, paying him $20,000—
He did an immense work on the land
In 1846 (when I moved here) there had been but few buildings put up. There was one where John Hearn lived, two between that an Joe Kurd's drug store—I do not know who occupied this house, but think it Amos Smith, the father of G. L. Smith, lived there—there was also a building where Mrs. Merrill lives, built by Joseph May, from whom Mr. Pratt bought 1000 acres of land and the water privilege, paying him $20,000— one-half in gins at factory prices. The land was valuable for nothing but its pine timber and was not intrinsically worth more than $1.25/100 per acre. The location was but little else than a quagmire that cost Mr. Pratt thousands of dollars to drain, and fit for building. He did an immense amount of work on the place, it was very sickly while the ditching was being done.
Houses built
I settled where F. E. Smith now lives and my family were healthy—that has been one of the most healthy places in Prattville, water very cool, pure and abundant. A tinner by the name of George H. Tisdale built the house which is now the Methodist parsonage, Eber Coe built the house where Mrs. W. H. Northington lives, Poe Robinson built the house on the opposite side of the street. Goe. W. Coe. built the house where Mrs. Fay lives and E. S. Morgan built all the houses on the west side of the street from the lower bridge to the house nearest the creek—this a Mr. John Buil, a Methodist local preacher from North Carolina, built.
Copy photograph of businesses in downtown Prattville, Alabama ca. 1890 (Alabama Department of Archives and History)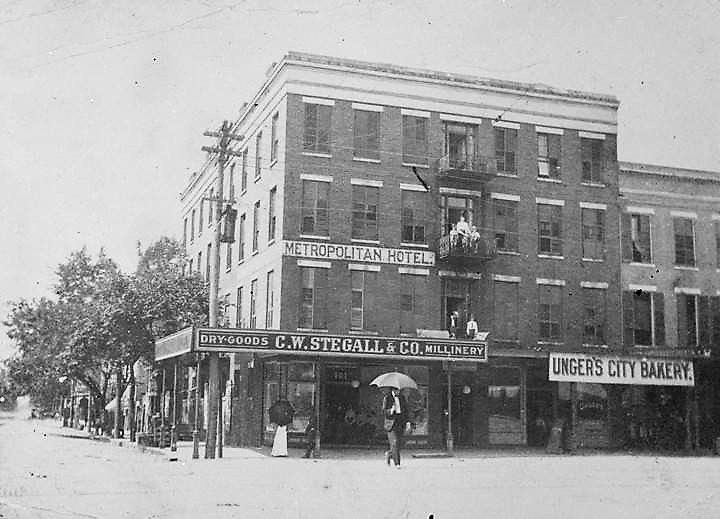 Many early settlers
In finishing up the history of Prattville, there are several names to be mentioned—some of the persons still living here. Col. L. G. Spigner came here very soon after its first settlement, perhaps in 1840. He was engaged in the business of wagon making and repairing and had a blacksmith's shop in connection with it. He married a daughter of James Ramsey who lived at the Pollard place, between McNeil's Mill and Washington. There were four children raised to maturity from this marriage, two sons, and two daughters. This was a Methodist family after the Colonel's marriage, his wife was a pious woman from her early life and ever remained true to her religion and raised her children up in that way. E. S. Morgan, an eastern man, who worked in the Gin shop for many years and then in the sash and blind shop, made quite a competency and married a Miss Sarah C. Carmichael of Prattville. There was quite a large family from this marriage, all of whom still live in Prattville. Mr. Morgan died several years since.
Mr. F. E. Smith has worked in the Gin shop ever since Prattville was founded and has made quite a handsome little fortune. He married a Miss Amanda Riggs who was raised by Mrs. Brock. They have quite a family, all well educated and doing well. This is a Methodist family. G. L. Smith, a son of Amos Smith who was foreman of the Ginshop, married first Mary Ownsby, a niece of Mrs. Esther Pratt. By this marriage, there were only two children, a son and a daughter, who are still living here. His second wife was Miss Abbie Holt, a niece of Mr. Pratt, and by this marriage there were two sons. There were two other Smiths, brothers of F. E. Smith and cousins of G. L. Smith. Frank Smith married Miss Asenath Holt, a sister of G. L. Smith's wife. Frank was a Baptist and died at an early age, leaving a widow with one daughter and three sons. John Smith, a brother of Frank and Fred, did not remain here long, but was cast in the same mold as his brothers, he was a Baptist. This family of Smiths was from the New England States and were remarkable for their steady, quiet, and orderly lives. Honest, industrious, punctual and economical, they were all successful in business. They were law-abiding and faithful to all their church duties. Their success lay principally in their prudent, economical way of spending their money. They were not extravagant givers, but gave according to their means, which is the only true economy. They were model men and have model families. If the world was fitted up with just such people, we should have a comparatively happy world.
Other settlers
LaFayette Ellis, a southern boy raised in the Ginshop, made money and has raised and educated a respectable family besides taking care of an aged father and mother. Many other families have done well and are highly respected and many more would have done well had they abstained from liquor and other vices which ruined them early in life. No one is better calculated than the writer to judge of the agreeable change which has come to that portion of the population of Prattville which worked in the Cotton Mill. When it first started, they were of the very poorest class with very few exceptions and withal ignorant people from obscure parts of the county—many of them having never enjoyed any religious privileges. They were wild, and many of the fathers were drunken, and abandoned men whose children had never been trained to work of any kind. There were a few families who had seen better days, but the heads of the families had become dissipated and as a last resort to keep starvation from their doors, had come here to make their families work in the factory– such would have done well, but for the fact that the father still kept up his old habits. The children seemed to have an aversion to Sunday School, although special pains were taken by many ladies of the different churches to visit the families and furnish them. In this way many of the girls, and some few of the boys of the better class were induced to enter the school.
How changed their morals are now
The boys who did not enter the Sunday School were roaming about over the country robbing orchards and melon patches, and they would do this at night as well as on Sundays. How changed their morals are now, though many are far from being good as they might be, yet much better than then. One generation has passed away and if the improvement is as marked as in the past, we shall have quite an intelligent and respectable population. Now let me ask what causes have brought about this change; 1st. the training of these people to regular habits of work under proper restrictions. 2nd, bringing them in contact with a higher grade of civilization which has taught them some self respect. 3rd. the Sunday School and the church together with pastorial visits and the visits of pious ladies teaching not only religious precepts, but also how to manage their domestic affairs more presently. Strange to say, yet true, this class of people are the most wasteful where they can get the provisions to waste. Let me repeat it—there were some noble exceptions, but these exceptions were mostly widows who had seen better days and society, but had been reduced to poverty.
Interior of the Prattville Mercantile Company in Prattville, Alabama.ca. 1901 (Alabama Department of Archives and History)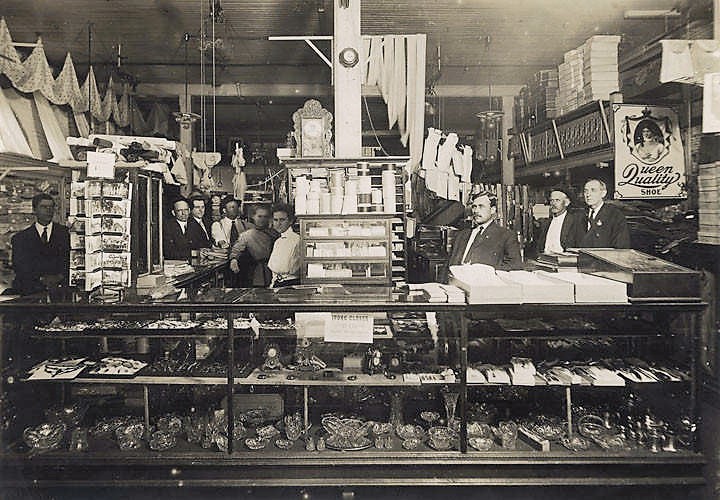 I have one such now in my mind, who is still living and must be over fourscore. She had two sons, one a cripple, and two or three daughters that worked in the factory. Her youngest son fell in the army. With these children and her own industry, she made not only enough to support their family decently, but bought her a comfortable house and lot. Her girls all married respectably and have raised their families so. This woman was a Presbyterian and her church stood up to her nobly. I can not forbear here to remark that of all people in the world, the religion of Christ does most for the poor, for such Christ came and they always claimed the preference, to the poor the gospel is preached. The rich of this world have their portion in this life. I do not mean to say that religion is not intended for the rich; personally, they need it as much as the poor, for Christ died for all. The rich can do far more in alleviating the sorrows and afflictions of the poor, if they will only give of their abundance.
Copy photograph of a Presbyterian church building in Prattville, Alabama ca. 1910 (Alabama Department of Archives and History)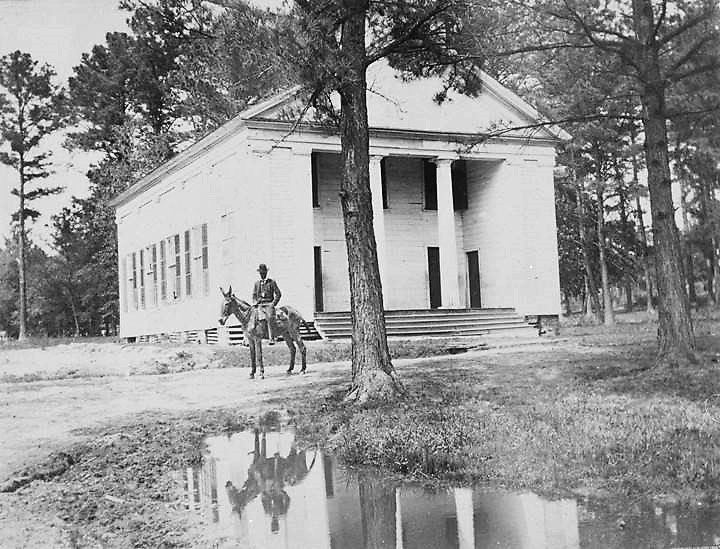 I have already alluded to the exertions of the Trustees towards getting up a first class school—these men are all intelligent Christian gentlemen and I sincerely hope they will continue to exert themeselves in behalf of the youth of Prattville and surrounding country. Having already devoted a large space to this history, I cannot refrain from relating an interview I had with Daniel Pratt, the Illustrious founder of our town, about twelve months before his death. He was talking on the subject of his investment near Birmingham in the mining business . Said he, "I well know I cannot expect to live to see the mines in operation, yet I want to start that business as the last act of my life for the good of my adopted state." Mr. Pratt had no experience in the mining business, neither had his son-in-law, H. F. Debardelaben, who was quite a young man then. Mr. Pratt, however, had great confidence in Henry's ability to carry this project through after his death. How well he has done this, his works thus far show. Mr. P. lived just long enough to see his experiment turn out its first pig iron at Oxmore, Jefferson County.
Mr. Pratt gave employment to the laboring poor
Mr. Pratt was not an avericious man, grasping money to hoard up—he knew no other use for money than to make it subserve a valuable purpose, to give employment to the laboring poor. This I think was his purpose from first to last and his great success in business is, no doubt, due to the purity of his motives in keeping everything and everybody astir. That he possessed a good judgment, indomitable perseverance, and good management, no one can doubt. He was firm and decided and had nerve to risk capital when his judgment dictated. Although firm and decided himself, he was not dictatorial, especially in other men's matters. In politics, he was a decided Whig and continued so, as long as the party hung together, after that he was as decided a Democrat and perhaps contributed more money to advance the Southern Cause during the war than any other man in Alabama. In his religious views he was a Methodist both in heart and practice—he was not merely a nominal member of the church, but one who enjoyed his religion.
Faith and Courage: A Novel of Colonial America (Tapestry of Love) Inspired by real people and actual events, the family saga of colonial America continues with Ambrose Dixon's family. Faith and Courage presents the religious persecution of Quakers in Pre-Revolutionary War days of America intertwined with a love story.