On February 15, 1823, Hunter Peel, a civil engineer from England, executed an agreement with the Board of Trustees to furnish water to the town.
Established by an Englishman
Hunter Peel was born in England on July 17, 1785, the son of Joshua Peel. He passed away on March 9, 1831, in Huntsville, Alabama. Hunter had served in the British Army as an engineer and arrived in Huntsville in 1816 to survey part of the public domain in 1818. (Smith and De Land's Northern Alabama, p. 251) He settled near Big Spring near John Hunt, the founder of Huntsville,  and Peel became the county engineer. Big Spring is located near the center of Huntsville, and has furnished the water supply of Huntsville since its earliest days.  It formed the nucleus for the South's first–and the nation's second–public waterworks system.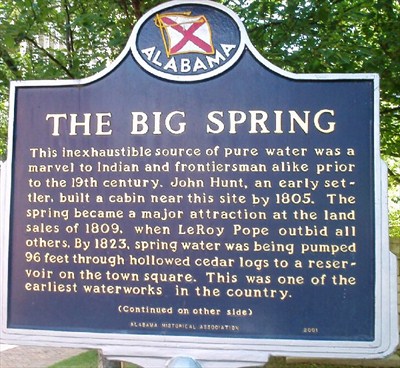 "Peel believed that a water system with a reservoir of water on the public square would serve two purposes. It would be of great convenience for public use and it would also greatly improve the town's ability to fight fires."
Under the franchise Peel was given exclusive right to convey the water provided always that he "shall within one year from this date cause good spring water to be conveyed in strong hydrants (cedar log conduits) iron 25 bound at their juncture, to a waterproof reservoir of good thick plant, containing at least 1,000 cubic feet (7,500) gallons) to be by him built on the public square of said town."1
Peel formed a partnership with James Barclay, a machinist to build the waterworks at the Big Spring in Huntsville.
Leroy Pope was an early pioneer of Huntsville and owned much of the land around the Big Spring. Peel executed a contract with Pope which granted him the right to erect a dam across the stream from the spring and to construct a house, "not exceeding thirty feet long by twenty-four wide to house the water works.
Used hollowed-out cedar logs
The water system was originally called Huntsville Waterworks. It used a system of hollow cedar logs to transport water from the Big Spring to wooden reservoir tanks.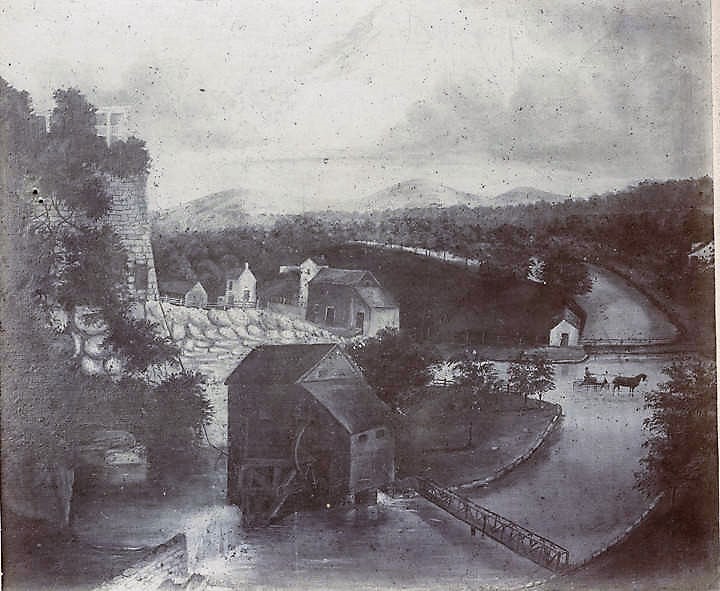 Painting of Big Spring and water works in Huntsville ca. 1850 by Laura Bassett (Alabama Department of Archives and History
The first water plant "consisted of an awkward looking self-propelled turbine wheel turned by the spring flow which pumped water through cedar log pipes to the reservoir on the Square."The log pipes were up to fourteen feet in length and how they were hollowed out is still a mystery. The cedar pipes apparently used after 1827 were all bored with an auger."2
Peel and Barclay's first attempts were crude and there were extended periods when the reservoir was empty so they lost their franchise in 1825. Then Joshua Cox took over the franchise, but his operation was "no better than Peel's, and in 1826 he sold the system to Thomas A. Ronalds of New York. Ronalds hired Sam D. Morgan as the supervisor and he commenced a significant improvement of the facilities which included a new dam, engine house, new cedar log pipes, and a more powerful pump."3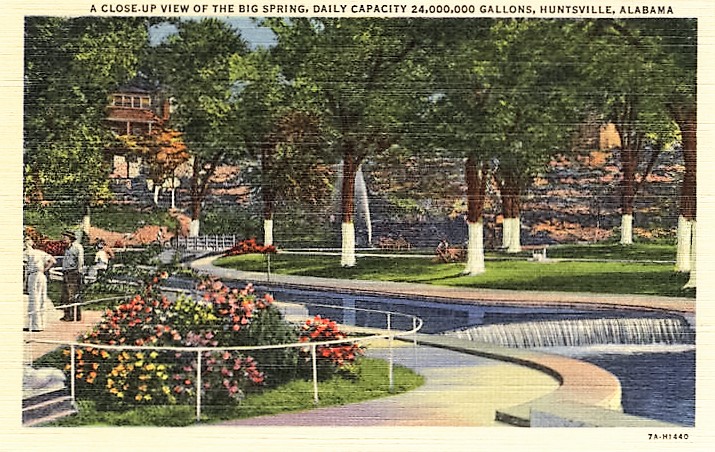 A close-up view of the Big Spring, daily capacity 24,000,000 gallons, Huntsville, Alabama ca. 1930 (Alabama Department of Archives and History)
Water system was successful
Ronalds waterworks system was evidently successful because, in 1828, the town council contracted with Ronalds to construct a new larger reservoir at a cost of $900. The new reservoir was a wooden tank eighteen feet square and ten feet high, with a capacity of 24,300 gallons. It was enclosed by a two-story brick structure, the upper portion of which was a meeting room for the town council. In addition to providing the new reservoir, Ronalds agreed to erect fire plugs at each corner of the public square "for the exclusive use of the fire engines of said town with three and one-half inch pipes (made from cedar logs) leading from the Reservoir thereto, such Fire Plugs are to be kept in such good order and repair that a plentiful supply of water can at all times be had therefrom for the extinguishments of Fire."4
Ronalds and Morgan operated the water system until 1836 when it was acquired by Dr. Thomas Fearn and his brother George Fearn.
In 1858 the Huntsville Municipal Corporation bought the privately owned water distribution system from Dr. Thomas Fearn for $10,000 after having acquired the deed to the Big Spring in 1843 from William Pope for $1. From then on, the city of Huntsville operated the system.
Some stories include:
Who Controlled And Organized The New State of Alabama?
Tuscaloosa Had Three Other Names
Chandelier Falls & Capitol Burns
Alabama Throws Parties For General LaFayette
Francis Scott Key Was Sent to Alabama To Solve Problems