COLBERTIANS
By R. L. James
SECTION III OBITUARIES AND CEMETERY RECORDS
To the Readers of the Alabama Historical Quarterly: (The Alabama Historical Quarterly, Vol. 07, No. 03, Fall Issue 1945)
I am releasing another section. No. 3, of my article "Colbertians." I hope it will be possible for me to add one more section but I am sure there will still be many interesting people whom I cannot include. In addition to those to .whom I expressed thanks in the preface (See No. 2 Vol. 7) I wish to acknowledge my appreciation to Mr. James Carloss of Elkmont; Mrs. J. F. Craig, Jasper; Mrs. William Malone and Mrs. W. D. Brotherton, Cherokee; Mrs. Emma Scruggs and Miss Mattie Guy, Tuscumbia; and there are probably others who deserve to be mentioned in this connection whom I cannot at this moment recall. Mr. Woodruff Delony gave me quite a bit of information. I was at his house on August 6, 1946, which incidentally, was his eighty-sixth birthday, and had a long conversation with him. Since then this venerable citizen of Leighton, has passed away. He was a son of Dr. Edward B, Delony. I hope to write more about the Delony family in some future issue of the Quarterly. Sept 4, 1946, R. L. JAMES
Stairway of the Manoah B. Hampton House in Leighton, Alabama (Alabama Department of Archives and History)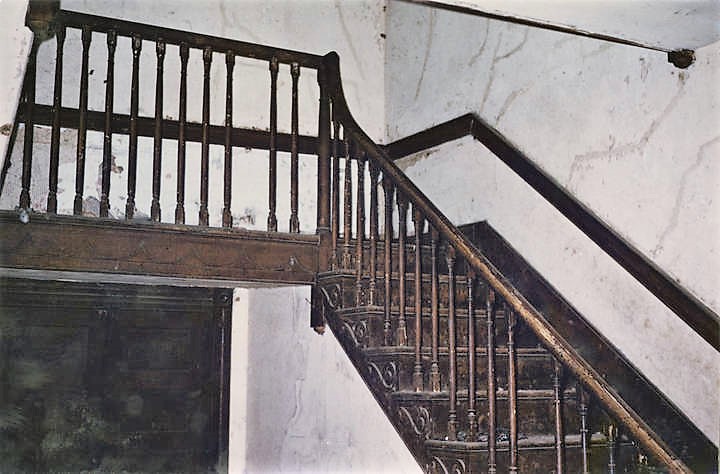 Many interesting records are to be found in the old cemeteries of Colbert (the same is doubtless true of every other Alabama county). I have not visited all the old ones of Colbert, but I do have records from quite a number of public and family burial grounds.
The following is from the Hampton cemetery northeast of Leighton in the Town Creek-Triangle.
In memory of Cynthia Hampton
Daughter of Andrew & Sarah Mitchell
Born in Ioredell County, N. C.
June 24th, 1795 married M. B. Hampton
the 28th of February 1822
Departed this life at
Murfreesboro, Tenn.
the 21st of May 1853
She lived and Died a Christian and was
beloved by all who knew her
M. B. H.
Front (northern) elevation of the Manoah B. Hampton House in Leighton, Alabama. Looking SE. Built in 1825 burned in 1975 (Alabama Department of Archives and History)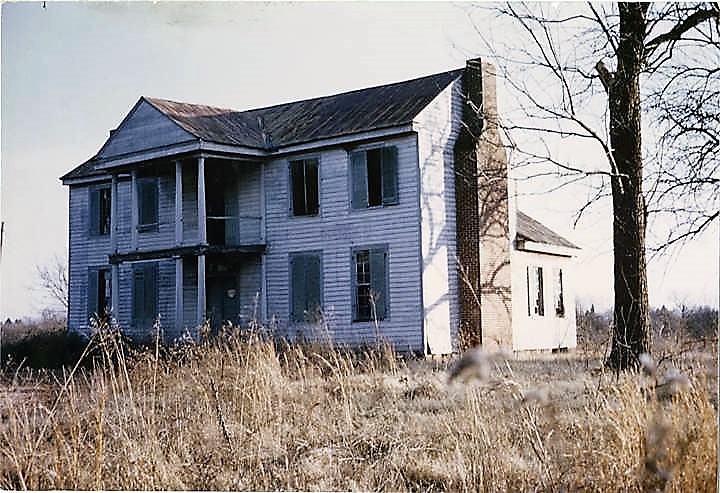 Mrs. Hampton's husband, Monoah Bostic Hampton, was born, so states his tombstone, in Stoke County, N. C. June 25, 1799, and died Feb. 16, 1858. He was, therefore, four years younger than Mrs. Hampton. The reader will notice that their birthdays were in consecutive order. Mr. Hampton was a large planter and his children had fine opportunities for an education. In the family cemetery is the grave of Cynthia Amanda Hampton who died at school in Athens, Ala. on Sept. 28, 1843, in her seventeenth year. M. B. Hampton, Jr. attended LaGrange College but did not graduate. He lived at the old homestead and was said to have been a scientific farmer. I believe there was one son who was prominent physician of Madison County, and there were several daughters one who married Dr. Wm. Parbury or Parberry. Dr. Parbury was a native of Kentucky but was reared in Cole and Pettus Counties, Missouri. He was a successful physician but the last years of his life were devoted mainly to sheep raising in Montana.
In the cemeteries at old Brick and Mt. Pleasant are to be found the names of Carlock, Harrison, Alexander, Carter, Letsinger, Hughes, Craig, Karg, Davison, Gillean, Morrow, Hooks, Hall, Wingo, and others but I wish to call special attention to the three other cemeteries and then I shall bring Section III to a close.
Mantelpiece of the Manoah B. Hampton House in Leighton, Alabama (Alabama Department of Archives and History)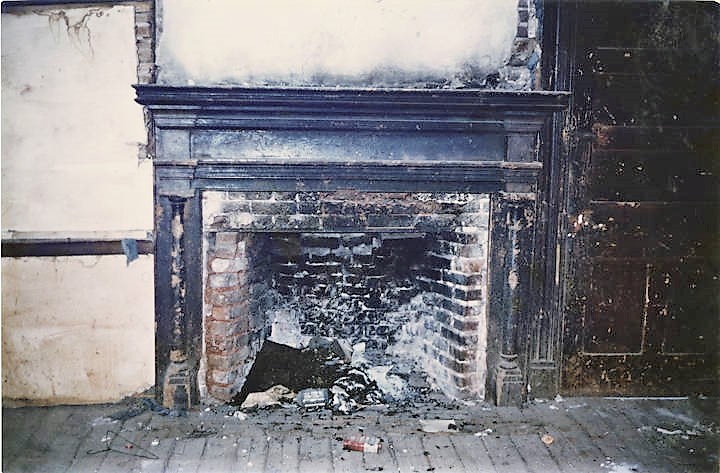 Some three or four miles southwest of Tuscumbia is a small cemetery where M. C. Byrd, Mrs. Byrd, and a number of their descendants are buried. This cemetery is near the home of Cicero Byrd who is a grandson of Michael C. Byrd. James Byrd, son of Michael C. and father of Cicero, reared his family there, and others of the Byrd family lived nearby. Ten children were born to Michael C. Byrd and wife. Mrs. Byrd before her marriage was E. J. Donley, a member of the well known Donley family of whom I spoke in connection with the Hector Atkisson family. M. C. Byrd was one of the first Superintendents of Education that Colbert had, perhaps he was the first. In 1874 he was a candidate for Sheriff of the county but he took sick and died on the 9th of September, so says his gravestone record. Mrs. Michael C. Byrd, who was born Nov. 16, 1832, lived until August 26, 1909.
But the most interesting record in this cemetery is not to be found on the Byrd markers, but on that of a young man whose name was Patrick H. Sheffield. And here is the reproduction :
In memory of Patrick H. Sheffield
Born Sept. 12th, 1813.
Died Deer. 6th, 1834 for want of
Skill in a pretended physician
Then basely slandered
By the quack imposter;
after thus depriving him
of life
This is indeed a rare type of gravestone inscription. I should like very much to know what malady young Mr. Sheffield had and who the "quack imposter" was.
There is perhaps a very interesting bit of history connected with the Sheffields and this farm where the Byrds have lived so long. It appears that Patrick H. Sheffield's father owned it and was living there at the time of the young man's death.
This is perhaps the same farm formerly owned by a Samuel H. Doxey. In The North Alabamian for April 12, 1878, is a reproduction of an advertisement that appeared in that paper in 1836 by "Old Joe Sheffield" offering a farm for sale. He described the scenery and the advantages of the place in picturesque style and he said the farm was four miles from Tuscumbia, on Bear Creek and was formerly owned by Samuel H. Doxey.