REMINISCENCES OF PEROTE IN BULLOCK
By A Native
Catharine Elizabeth (Hixon) Rumphi
Foreword
(This transcribed excerpt was written before 1958)
Nestled among the rolling hills of Bullock County, five miles from the Pike County line, fifteen miles south of the country seat, Union Springs, lies the community of Perote, Alabama. The well-traveled U.S. Highway 29, splits it through the center and passengers in expensive Florida bound autoes (sic) scarcely turn their heads as they whiz past. A person standing in front of Capps' Store cannot see the homes as he gazes northward. So well shielded are they by thick-growing vegetation and cedar, elm and age-old oaks that line the curve of the highway.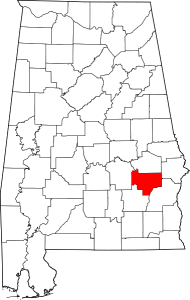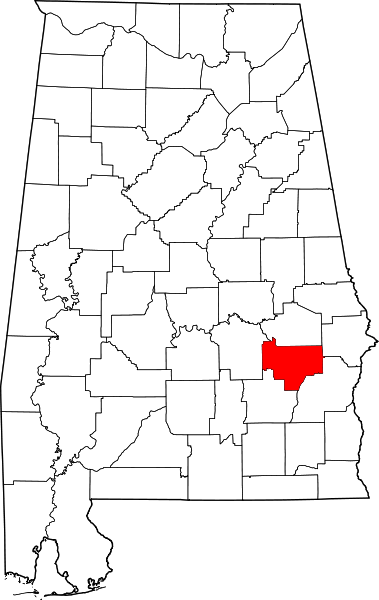 Only two general stores are in operation where was once a thriving business center, now characterized by empty buildings that scarce can stand. These two stores are owned by Jerry Capps and C. Melvin Blue, Jr., and cater chiefly to the colored trade who run accounts until they get their "draw." A short distance is Brabham's Store, while to the south is Perote's Post Office. Twice a day the inhabitants of Perote. make their way to the post office to ask for the "Montgomery Advertiser" and whatever the U: S. mail truck may bring on its northward run from Troy and its southward run from Union Springs, Men gather around a coal heater in winter and talk of crops, politics, old times, or listen to the oft-repeated stories of Charles White, (Charles White departed this life November 2, 1957, shortly after this was written.) who was once champion baseball player, fisherman, hunter and farmer of the village. At times the "Union Springs Herald" arrives with news of local interest, lately supplemented by comic strips, jokes, and stories of no particular interest.
Northwest of the post office stands the Methodist Church, and behind slightly right, is the building which once was a school, but is now a community club house. A dwindling white population caused the school to be cut to six grades in 1945, and in 1947, the elementary school was consolidated with the Inverness School five miles away.
Only a few of the older residents of Perote are left to recall the days when the community was a thriving, bustling town which served as a social and educational center for the surrounding territory. It is of the development and gradual decline of this little village that this is now written in the hope that relatives of those who loved and cherished it will treasure these memories and that they may find passing interest. —Mrs. Thaxton Harris (Carolyn (Hixon) Harris)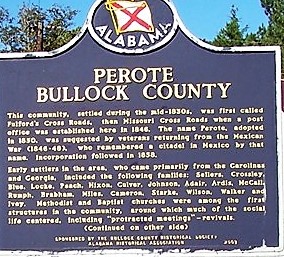 SETTLEMENT AND EARLY HISTORY OF PEROTE
Samuel Sellers
The first settler who came to this part of the country was Samuel Sellers from Georgia in 1834. He located 2 ½ miles west of the present site of Perote and called the settlement Missouri because the land resembled that on the Missouri River. Samuel Sellers served as first postmaster. (Information from Miss Helen Davis of Montgomery, Ala., great granddaughter.) About 1835 Daniel Fulford came from South Carolina on the Tar River, and built the first house and store at what is now the present site of Perote and it was called Fulford's Cross Roads. About the same time Samuel Hixon and his sister Abigail, who married a Peach came. Daniel Fulford married Sarah Hixon, daughter of Samuel Hixon and moved to Geneva, Alabama.
Daniel Fulford
The house that Daniel Fulford built was of logs and is still standing on the northeast corner of the cross roads. It now belongs to the estate of Mrs, B. G. High. The house originally had two large rooms and a wide open hall. There were two rooms forming an ell on the south room and a shed room on the east of the north room. A porch extended the length of the ell. There was a porch across the front with a shed room on each end. The house was remodeled by B. G. High about 1907. The shed rooms on the front were made much larger and the logs were covered with weatherboards. A hip roof replaced the original gable roof. Mr. Fulford sold his house and store to Mr. William Johnson from beyond Double Creek, 3 miles south of Perote.
Mr. Johnson rented this house to Dr. Reynolds, who moved here from Georgia, and he took boarders. Later Mr. C. W. Rumph came into possession of it and sold it to Mrs. Carrie Wilson, widow of Dr. LaFayette Wilson. She was the 2nd wife of Dr. Wilson. Mrs. Wilson and Mrs. Engram lived there together. Mrs. Wilson had a hat shop and Mrs. Engram took in sewing. Mrs. Engram moved to Eufaula where her son clerked for Mr, Cliff Lock, a relative of theirs. Mrs, Wilson remarried and moved to Florida and sold the house to B, G. High.
Missouri Crossroads
When the post office was moved from the Sellers settlement, about 1846, Fulford's Cross Roads became known as Missouri Cross Roads, Mr. Johnson was the first postmaster and earned a salary of $12.91 for 34 of that year. After the return of the soldiers from the Mexican War, Mr, Allen Main, father of John G, Main (some of his children still live in Perote) suggested that the name of the place be changed to Perote for the beautiful fortress Perote, Mexico. Through the influence of Mr. Johnson and the Postmaster General, the name was changed in 1852.
It is not known how often the mail came to Missouri Cross Roads, but in the 1880's it came three times a week. Almost every family took the Tri-Weekly Atlanta Constitution. All enjoyed the articles by Bill Arp, Aunt Susie, Uncle Remus, and Talmage's Sermons. Later postmasters and postmistresses were Miss Willie Locke, Mr. Caleb Cox, A. B. Laney, J. G. Main, Miss Helen Davis and Mrs. Eulalia Main who is the present postmistress.
Soon after the post office was moved to Missouri Cross Roads, large bodies of land were entered for speculation by Ben Petty of Clayton, Alabama and Mr. Aaron Packer of Eufaula. This land was entered at from 25 to 50 cents an acre and sold for $5.00 to $10.00 an acre. Each realized a handsome fortune from these sales. (Taken from Mrs. M. J. Rumph's scrapbook.)
Tillmans and Patterson
Settlers began coming in rapidly. Among the first were a family of Tillmans who lived in a house where Mr. Job Patterson lived. Charlie Tillman became an evangelist and wrote revival songs. In 1911 he held a revival here and many were converted. Margie Rumph, the Whites and Eloise Peach West were among them. When a small boy, he accidentally shot and killed his eight month's old sister his mother held in her arms. This tragedy occurred in 1868. (Tombstone record.)
Job Patterson came from Ireland to Georgia and from there to Perote arid is buried in the cemetery here. He built the house that is owned by Jerry Capps now. (1958). It had two large rooms with a wide closed in hall between, three rooms on the south room forming an ell. A porch ran the length of the north room and in front of the ell. The front porch was the width of the hall and had two large columns. It had a gable roof. It has been remodeled but the front is the same except the hall had double doors. Now it has a single door.
Mr. Patterson built another house for his son. He died and his son's wife died and they sold the house to Mrs. Saphronia (?) Carroll All of the Carrolls died, John Carroll died in 1957 and the house was sold to Mrs. Ethel Lott Brown. It has two large 18 x 18 x 16 foot rooms with a wide closed in hall between and two smaller rooms back of them. The hall extended the length of the rooms. It had two rooms on the east side of the south room that formed an ell. A porch extended the length of them and the hall and north room; There was a wide porch all across the front with four large columns. There was a hip roof.
C. W. Rumph, Sr.
Mr. C. W. Rumph, Sr. built a house directly in front of the Carroll house on the same plan.
The McCall brothers opened a store opposite the C. W. Rumph residence. (They evidently lived here before the Pattersons. I remember the Pattersons but not any McCalls.) The Pattersons left here about 1883. John Peach built to the south of the C. W. Rumph's and kept a stock of groceries. He later moved his grocery store south of the cross roads on the west side of the highway. Mr. Tasso Culver lived in a house just south of C. W. Rumph, Sr. early in the 1880's.
Doctors
Dr. Thacker Walker of Texas and Dr. William Harris formed a co-partnership. They built an office in the northwest corner of what is now Jerry Capps' front yard and practiced medicine for a while. Dr. McLester came to Perote, probably from Georgia, and afterwards married Miss Jemima Hixon; Dr. William Crossley graduated in medicine and located here about the same time. Dr. Huey came from Salem, Alabama soon after and built a small house which became the property of Bascom Laney. His father-in-law, Dr. Kennon, came the next year, and about the same time, 1857, Dr. J. D. Rumph moved in from his plantation in Barbour County to school his children at Perote and bought a house that Rev. Robert Haynes built back of the school house and Dr. Dunn improved. Dr, Padgett came from Midway. Drs. Bryan and Skinner moved from their plantations, three miles west of Perote for the benefit of the school. In the course of seventeen years all of these doctors practiced medicine with the exception of Dr. Rumph and Dr. Bryan. In addition to these were Drs. McSwain, Reed, Hayse, Cook and Moye served as physicians. 'The lands were very heavily timbered and clearing them in such large bodies produced much sickness."
Dr. J, D. Rumph came from Orangeburg, South Carolina and settled in Barbour County near Mr, Andrew, He graduated in medicine from the South Carolina Medical College, March 9, 1836, and practiced medicine there moving to Alabama, He always kept a jar of leeches to bleed his patients. After moving to Perote he did not practice medicine except for the negroes who lived on his plantation.
Other doctors were Dr. Lafayette Wilson who married Miss Imogene Pitts, died in 1887; Dr. J. Olin Zeigler who married Miss Florence Pitts, died in 1897; Dr. William A. Walker who married Miss Velisha Pitts, died in 1907s; Dr. Frank P. Hixon moved to Pensacola, Florida in 1913 and died there in 1936. He graduated in medicine at Vanderbilt University in 1898 and practiced medicine in Perote before moving to Pensacola. He married Miss Daisy Everitt of Pensacola in 1904; Dr. William Shaw married Miss Jennie Mae DeLoach of Perote. He moved to Clio, Alabama; Dr. James W. Thomason, married Miss Virginia Mizelle of Ozark, Alabama; Dr. James Robertson, married Miss Turpsie Wicker of Perote; Dr. Stanley was here in 1925, moved to Banks, Alabama and Perote has been without a doctor since 1926.
John Tullis and Col. E. W. Starke
Three miles north of Perote was the John Tullis home. The first gravel that was put on a road in Bullock County was on Tullis Lane, one mile in length. It was the worst road in the area but the most travelled.
One of the earliest settlers was Col. E. W. Starke. His house was built in the bend of the road north of town is still standing and in good repair. It is built on the same plan as the Carroll home. Col. Starke owned a large plantation and had a carriage and horses. When he and his family rode to church on Sunday, the Colonel would stop at Mr. Bill Miles' house for a flower to wear on his coat. In winter Mrs. Starke carried a small coal to church to keep her feet warm. Colonel Starke was a member of the Home Guard during the Civil War. He was Tax Assessor at the time of his death.
Samuel Hixon and Abigail Peach
Samuel Hixon and his sister Abigail Peach came to Perote in 1835 from Kershaw County, South Carolina. It is not known where the Peach family lived but they are buried in Perote Cemetery and their descendants are prominent citizens of Alabama, several of them becoming lawyers, one school teacher and one a dentist. All of them are college graduates.
Samuel Hixon built a house about ½ mile south of the cross roads. it was of logs and had a large living room with a wide fireplace on the south end, a long narrow bedroom on the north, two rooms on the west of these, There was a shed room on the north end of the front porch. This room was called the "Doctor's Room" because Dr. William MeLester boarded there and that was his room. There were two rooms upstairs. The original kitchen was in the back yard, some distance from the house and the family ate out there. There were two smoke houses, one without a floor where meat was cured and smoked. Mrs. Hixon would send five miles for bear grass with which to hang the meat to the rafters. A loom house stood to the south of the house. It was here that Mrs. Hixon wove cloth and made coverlets for the beds. In the winter she would roast eggs, potatoes and chestnuts in the fireplace for her grandchildren.
iCatherine Elizabeth (Hixon) Rumph was born in Bullock County and has lived during her entire life time there. She is the daughter of a Confederate Veteran who was some time a prisoner at Ship Island off the coast of Mississippi and grew up in the environment of the small country village about which she writes and among interesting Confederate associates, Mrs. Rumph has collected Americana, folk lore and historical data and contributed in no small way to the life of this rural community.
SOURCE
The Alabama Historical Quarterly, Vol. 20, No. 03, Fall Issue 1958
The first four Alabama Footprints books – Volumes 1-IV have been combined into one book
ALABAMA FOOTPRINTS Exploration
ALABAMA FOOTPRINTS Settlement
ALABAMA FOOTPRINTS Pioneers
ALABAMA FOOTPRINTS Statehood