Happy Birthday!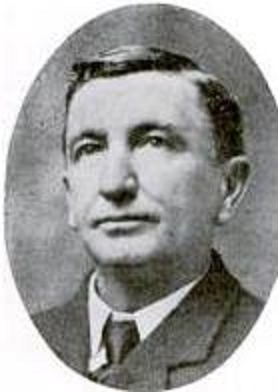 DR. ANDREW JAY, Jr.
BIOGRAPHY and GENEALOGY
(1851-1903)
Conecuh County, Alabama
Dr. Andrew Jay, Jr. of Evergreen, Alabama was born at Jay Villa, Conecuh county, June 28, 1851. His parents were Andrew and Caroline Elizabeth (Ashley) Jay, the former a native of Clarke county, Alabama, who later moved to Jay Villa, and the latter, the daughter of Wilson and Mary (McCreary) Ashley, old and respected residents of Old Town beat, Conecuh county.
Dr. Jay received a good common school and academic education in his native county. Taking up the study of medicine, he graduated from the Medical college at Mobile in 1872. He immediately located at Evergreen and began the practice of his profession, in which he was very successful. He gave some attention to farming and the drug business, but the practice of medicine has occupied his time almost exclusively for thirty years. He filled acceptably all of the offices in Conecuh County Medical society and was a senior life counselor in the Alabama State Medical association. He was coroner of Conecuh county for four years.
He was elected in November, 1902, a representative in the State legislature, as a Democrat, and during the session of 1903 proved himself to be one of its most useful members. His work in committee was especially commendable. It may be truly said that Dr. Jay took naturally to successful lawmaking from heredity, for his maternal grandfather, Wilson Ashley, and his father, Andrew Jay, Sr., were both prominent members of the Alabama legislature in the forties and fifties.
On Dec. 15, 1880, he was married in Brooklyn precinct, Conecuh county, to Georgia Aurelia, daughter of Noah and Mary M. Robson, the former a native of Wayne county, Georgia, and the latter of Montgomery county, Georgia. To this union have been born six children:
Irma Jay
Caroline Elizabeth Jay
Leonora Jay
Dr. Jay took an active interest in fraternal orders, being a member of the Masonic, Knights of Pythias and Knights of Honor orders. He died May 8, 1903, when in the prime of life and actively engaged in the practice of his profession. He always took an active interest in local and State affairs and was ever ready to assist his fellow-men in the upbuilding of the community. Dr. Andrew Jay is buried in Evergreen Cemetery in Conecuh County, Alabama.
His father, Rev. Andrew Jay, Sr., probably did more in his day toward organizing the Baptist church of Conecuh county than any other man. He gave the lot and erected on it the first Baptist church ever built in Evergreen. He also built a church in Brooklyn and one in Old Town and devoted his entire life to the ministry. He left an inheritance of a life well spent in the cause of humanity.
William A. Ashley, a son of Wilson Ashley, served as a member in both the house of representatives (1849 -1853 and 1861 to 1863) and the senate of Alabama (1853 to 1857 and 1865 to 1868). Rev. Andrew Jay, Sr., served in the house (1853 to 1857).
SOURCES
Notable Men of Alabama: Personal and Genealogical, Volume 1 edited by Joel Campbell DuBose
Find a grave.com #24821577 # 24821579 # 53626416 # 74247742 # 69965763
Do you need some guidance in your tracing your family tree? Genealogy is a fun hobby that can include the whole family.
Save time and avoid pitfalls in your research. WHERE DO I START? Hints and Tips for Beginning Genealogists with On-line resources is filled with simple, no-nonsense instructions to set you on the path of your families' ancestry with the following information:
WHERE TO FIND – on-line resources, experienced genealogists will not be aware of many of these.
COURT RESEARCH – how to do courthouse research, where to find birth, death, social security records free on-line.
EIGHTY – ONE QUESTIONS – you should ask your elderly loved ones before it's too late.
TIPS ON BREAKING DOWN THE WALL – Everyone faces some difficulties in research, often called a 'brick wall' but
WHERE DO I START? provides suggestions for overcoming them.