Early Immigrants Brought Their Past With Them
There were many different lifestyles in the Mississippi Territory which ranged from the gentility of the plantation mansion to the crudeness of the roughest log cabin. Whatever their prior circumstances, immigrants from all walks of life, made their way to the Mississippi Territory to search for the great opportunities available to them. "Inducements were great: a rich soil easily reduced to cultivation, and the price of cotton was very high; The country was filled up in a short space of time by settlers, generally of high respectability and a good education; and a large proportion of whom were members of the church."1 Ministers were in great force and wonderful revivals occurred during the first decade of settlement in Alabama.

Physicians were needed
Physicians also came in great numbers to the new territory and a fair proportion were men of experience. They were much needed because malaria, yellow fever epidemics, and other illnesses killed off great numbers of people. Remedies were often of a drastic nature, "such as gamboge, scammony and tartar emetic, backed by the calomel, and the lancet. If this thorough practice did not cure the patient it was taken for granted that the case was incurable."2
From hats to shoes, almost every article of dress had to be made at home. Merchants' with considerable wares made great fortunes in a few years. As soon as the people began making and selling their crops, there as an active demand for their supplies. From basic needs to the finest fabrics sold in Philadelphia, all items were found on their shelves, but were usually sold for high prices.
Lawyers who arrived were generally young and in a favorable time they rose rapidly in their profession and often participated in the politics of the communities where they resided.
Each immigrant added to the stock of information
People arrived from various states and countries and were thrown together in communities; each added to the common stock of information. All came to establish themselves in a new society and when they met socially, they were anxious to make friends with new neighbors.
"When they met, the old men, after having their glasses of grog (which hospitality usually tendered in those times) had two unfailing topics of conversation; one was the plans of farming, and the other, the laws which prevailed, respectively, in the states from which they came. The old women (while they sipped their wine sangaree or rum toddy) one after another would rehearse what they possessed, and the amenities where they came from."3
Along with the great influx of people from various states, there is always an element of criminal activity. Gambling was a common vice as well as horse thievery. Horses were valuable in the primitive days in the Mississippi Territory and there were usually many thieves in every town. Col. James Edmonds describes an incident that took place in North Alabama in his book Early Settlers of Alabama with Notes and Genealogies.
Horse thief
A Mr. McDaniel, who lived near Oakville, had a fine horse, which was stolen. He pursued the thief and found him and his horse in West Tennessee. He brought them back to Moulton and put the man on trial before two magistrates. The prisoner was a very decent looking man, of middle age, who was dressed neatly. McDaniel could prove that the prisoner sold the horse, but he had been so altered by the new cut of his mane and tail, that there was difficulty in proving his identity. There were about twenty witnesses, and about equally divided in opinion on this point. At length, McDaniel stepped forward and informed the court that he had taught his horse some tricks, amongst them to put his forefeet, when bid, on a stump, and was willing to abide by this test. The court agreed to witness the ordeal, and the whole company passed out of the courthouse, in some excitement and confusion, during which the prisoner was separated from the sheriff, mounted one of the horses hitched to the rack outside the courtyard, and rode rapidly down the Tuscaloosa road. There were, at least, a hundred mounted men in town that day. The "hue and cry" was raised, and instant pursuit made. Such a sweepstake I never witnessed before. The cavalcade in starting was scattered all the way from the square to Spring Hill. We pedestrians waited in much impatience to hear the result, and after awhile the pursuers, one by one, began to drop in. When the full report was made, it appeared that the prisoner was superbly mounted on a filly which could beat any horse in the field, and had easily escaped. The question was then asked, to whom she belonged? But it turned out that no person had lost a horse that day; that the filly had been placed by one of his gang for the purpose of enabling the prisoner to escape, and there being no strangers in town but him, that day, that we had members of his gang in our own county. This disclosure opened the eyes of our people; every good man, after this, became a detective, and they were watched so closely, that we had but little trouble afterward.
Brought their own beliefs
Many young female teachers came from New England with a desire for independence that they could not attain at home. They often quickly acquired husbands as the number of women in the Mississippi Territory was limited.
People also bought their beliefs from former homes as well, including their opinions about witchcraft. Saunders relates the story of a witch trial that took place in north Alabama.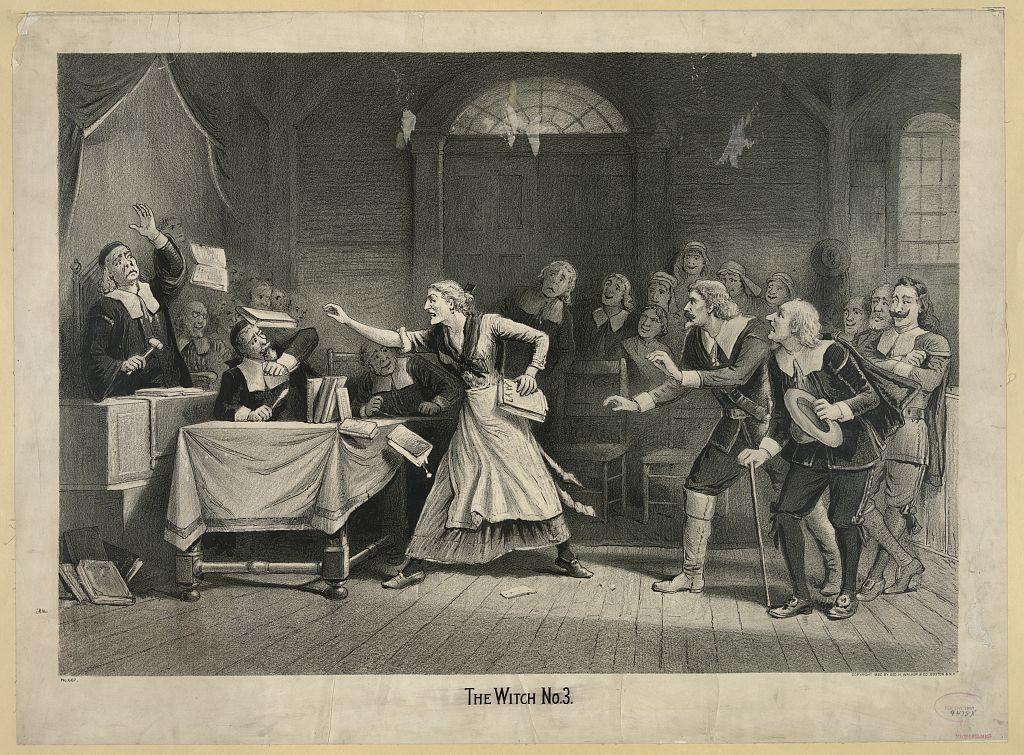 On Flint river, there lived a poor, friendless woman, who had the misfortune of being suspected of witchcraft. At first, it was spoken of in whispers, then more boldly, until it culminated in a warrant issued for her arrest by David Knott, Esq., living near Oakville. A day was fixed for the trial, and it needed no public proclamation to make it widely known. When it arrived many of the young men of Moulton went out to witness the trial. A good many witnesses were examined without a definite result, until a young woman (who was pale and seemed to be in bad health) was introduced, who swore that she was washing on the creek one day, got very tired, and sat down at the root of a beech tree to rest herself, and that the old woman, who was accused, came down the tree in the form of a squirrel with his tail curled over his back, barking at her and put a spell on her, and that she had been sick ever since, and had puked up a good many hair balls. The squire, who seemed before to have been in a brown study, seemed relieved of his perplexities, straightened up and announced that as the proof was now positive, he should send the prisoner to jail, and commenced writing the mittimus. An expression of dumb amazement settled on the face of every sensible man in the crowd, except Gallagher's. (the accused woman's attorney). He was calm and self-possessed. He rose and very modestly asked permission of the court to make a single remark. The squire replied: "You can make as many remarks as you please." "Then, sir,' said Gallagher, "allow me to remind you that it would be useless to send the woman to jail, for if she is really a witch, she can escape through the key-hole; and if she should be innocent, it would be a great pity for her to be sent to prison." The old squire was in a great quandary, muttered to himself: "That's so; that's so!" and added, "but what shall we do with her?" Gallagher answered "that the case might rest just where it was until the grand jury met, and then it could be laid before them." This course was adopted, but the matter was never more moved.
Regardless of their background or past history, the Mississippi Territory was a land where opportunities for immigrants to achieve economic independence and wealth seemed boundless.
1Saunders, Col. James Edmonds, Early Settlers of Alabama with Notes and Genealogies, Graham & Son, Ltd., Printers, 1899
2Saunders, Col. James Edmonds, Early Settlers of Alabama with Notes and Genealogies, Graham & Son, Ltd., Printers, 1899
3Saunders, Col. James Edmonds, Early Settlers of Alabama with Notes and Genealogies, Graham & Son, Ltd., Printers, 1899
ALABAMA FOOTPRINTS Immigrants: Lost & Forgotten Stories (Volume 5)
ALABAMA FOOTPRINTS Immigrants includes some lost & forgotten stories of their experiences such as:
The Birth of Twickenham
Captain Slick – Fact or Fiction
Vine & Olive Company
The Death of Stooka
President Monroe's Surprise Visit To Huntsville